This website uses cookies to ensure you get the best experience while browsing it. By clicking 'Got It' you're accepting these terms.
90% of American Moms Want Labels on GMO Food
Dec. 02, 2015 10:03AM EST
By an overwhelming margin, American voters say consumers should have the right to know if their food is genetically modified, with 89 percent in support of mandatory GMO labeling, according to a new national poll. Nearly the same number of consumers would like to see the labels in an easy to read format.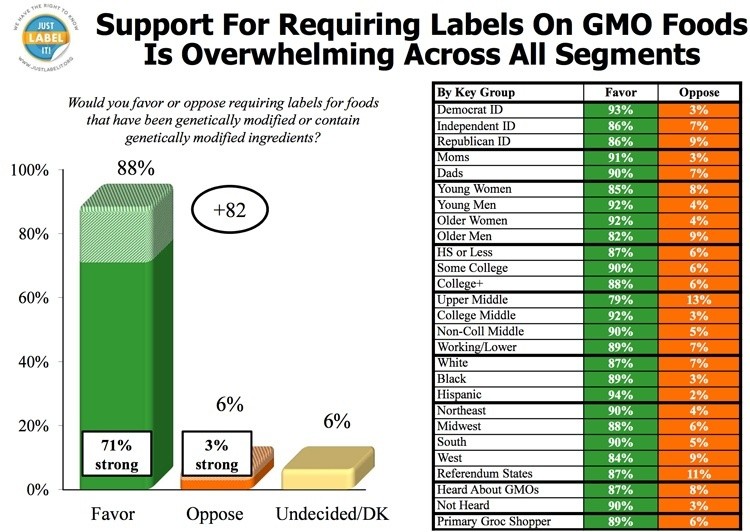 The survey by the Mellman Group confirms previous polls that found heavy support for GMO labeling. The new poll shows labeling is supported by large majorities of Democrats, Republicans and independents, as well as people with favorable or unfavorable views of GMOs. Overall, 77 percent of respondents were strongly in favor of labeling.
"Everyone needs information to make informed food choices, not just those who have smart phones," said Wenonah Hauter, executive director of Food & Water Watch. "There is no acceptable substitute for mandatory on-package labeling of GMO food."
The poll, commissioned by a coalition of consumer and environmental groups, comes at a timely moment. In Congress, some lawmakers want to add a provision to the omnibus spending bill that would block states from requiring GMO labels for produce and processed food, as would the so-called DARK Act passed by the House last summer.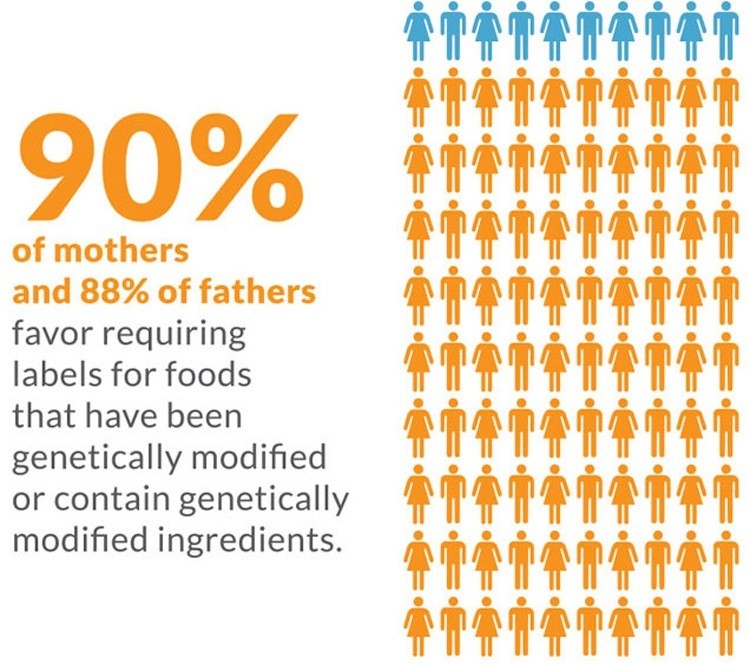 "This is yet another poll that shows broad and deep support for clear GMO labeling at a time when the issue is more important than ever," said Scott Faber, executive director of Just Label It. "Food manufacturers and lawmakers should work together to give Americans a more transparent food system by crafting a non-judgmental, mandatory GMO labeling system that is easily found on the packaging."
The U.S. Food and Drug Administration (FDA) approved last month the sale of genetically engineered salmon—which grows to maturity twice as fast as normal salmon and is cobbled together from the genes of different species—but the FDA will not require the salmon to be labeled. Other key findings of the poll include:
Almost nine in 10 (88 percent) would prefer a printed GMO label on the food package rather than use a smartphone app to scan a bar code.
Just 17 percent say they have ever scanned a bar code to get information and only 16 percent say they have ever scanned a "QR" code.
If bar codes were used, more than 80 percent say food companies should not be allowed to use the app to gather information about shoppers.
"GMO labeling via QR code technology is unworkable, threatens privacy and is discriminatory since more than a third of Americans, many of which are low-income or live in rural areas with poor internet access, don't own smartphones," said Lisa Archer, food and technology program director at Friends of the Earth. "FDA's approval of GMO salmon makes it all the more urgent that Congress require mandatory, universally accessible GMO labeling that any consumer can read on the package when they're choosing what to feed their families."
"QR code labeling discriminates against the poor, minorities, rural populations and the elderly," said Andrew Kimbrell, executive director at Center for Food Safety. "They are a completely unacceptable substitute for clear, concisely worded on package labeling," "The right to know is a right for all, not just those who can afford it."
The Mellman Group surveyed 800 likely general election voters, on mobile and landlines, from Nov. 16 through Nov. 19. The poll was paid for by the Center for Food Safety, Consumers Union, Friends of the Earth, Food & Water Watch and Just Label It.
"Americans have yet again expressed an overwhelming desire to know what's in their food," said Jean Halloran, director of food policy initiatives for Consumers Union, the policy and advocacy arm of Consumer Reports. "Shoppers want to see clear labels on food packaging that tell them if products are made with genetically engineered ingredients without having to use confusing codes or smartphone apps. We hope lawmakers hear consumers' call for meaningful, mandatory national GMO labeling."
YOU MIGHT ALSO LIKE
Michael Pollan: It's Time to Choose Climate-Friendly Food
27 Examples of Journalists Failing to Disclose Sources as Funded by Monsanto
Costco and Red Lobster Say No to GMO Salmon
The Russian military is taking measures to protect the residents of a remote Arctic settlement from a mass of polar bears, German press agency DPA reported.
The move comes after regional authorities declared a state of emergency over the weekend after sightings of more than 50 bears in the town of Belushya Guba since December.
This year's letter from Bill and Melinda Gates focused on nine things that surprised them. For the Microsoft-cofounder, one thing he was surprised to learn was the massive amount of new buildings the planet should expect in the coming decades due to urban population growth.
"The number of buildings in the world is going to double by 2060. It's like we're going to build a new New York City every month for the next 40 years," he said.
Over the past few years, it seems vegan cooking has gone from 'brown rice and tofu' to a true art form. These amazing cooks show off the creations on Instagram—and we can't get enough.
The USS Ashland, followed by the USS Green Bay, in the Philippine Sea on Jan. 21. U.S. Department of Defense
By Shana Udvardy
After a dearth of action on climate change and a record year of extreme events in 2017, the inclusion of climate change policies within the annual legislation Congress considers to outline its defense spending priorities (the National Defense Authorization Act) for fiscal year 2018 was welcome progress. House and Senate leaders pushed to include language that mandated that the Department of Defense (DoD) incorporate climate change in their facility planning (see more on what this section of the bill does here and here) as well as issue a report on the impacts of climate change on military installations. Unfortunately, what DoD produced fell far short of what was mandated.
The Paradise Fossil Plant in western Kentucky. CC BY 3.0
Trump is losing his rallying cry to save coal. The Tennessee Valley Authority (TVA) voted on Thursday to retire two coal-fired power plants in the next few years despite a plea from the president to keep one of the plants open.
Earlier this week, the president posted an oddly specific tweet that urged the government-owned utility to save the 49-year-old Paradise 3 plant in Kentucky. It so happens that the facility burns coal supplied by Murray Energy Corporation, whose CEO is Robert Murray, is a major Trump donor.