This website uses cookies to ensure you get the best experience while browsing it. By clicking 'Got It' you're accepting these terms.
8 Surprising Health Facts About the Superfood Spinach
Aug. 17, 2015 11:18AM EST
Popular
Full of nutrients and delicious taste, spinach is a winter superfood. But what's the best way to eat it? Read the following surprising facts about this leafy green: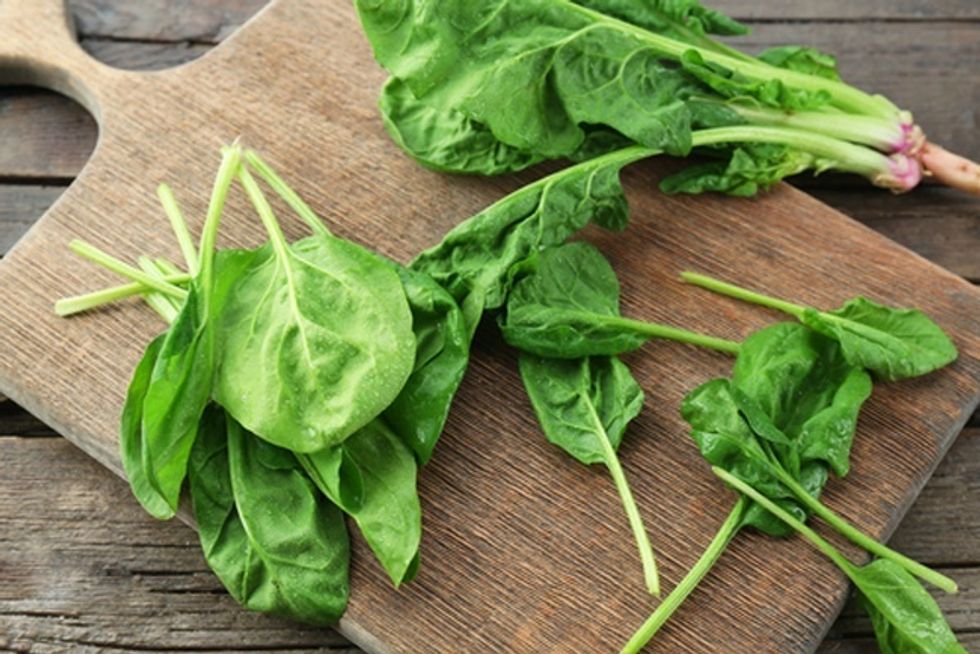 Taking spinach in juice form is actually the healthiest way to consume it. Photo credit: Shutterstock
1. It's wiser to choose tender baby spinach leaves. The larger the leaves, the more mature they are and more likely to be tough or stringy. Also, spinach leaves that are placed under direct light in the stores have been found to contain more nutrients than those stored in darkness.
2. Cooking spinach actually increases its health benefits. Just half a cup of cooked spinach will give you three times as much nutrition as one cup of raw spinach. That's because the body cannot completely break down the nutrients in raw spinach for its use.
3. As an exception to the advice above, research studies show that taking spinach in juice form is actually the healthiest way to consume it. Blend spinach with other vegetables or fruits to create a delicious glass of juice, or try a green smoothie.
4. There's a compound in spinach called oxalic acid, which blocks the absorption of calcium and iron. An easy way to solve this problem is to pair spinach with a food high in vitamin C. Mandarin oranges and cantaloupes spring to mind here. Another way to reduce the power of oxalic acid is to boil the spinach leaves for at least two minutes.
5. Freezing spinach diminishes its health benefits. The way to get the best from the leaf is to buy it fresh and eat it the same day.
6. Do place spinach on your "organic shopping" list, because the leaf tends to be sprayed heavily with pesticides that don't come off with normal washing.
7. Everyone talks about the benefits of spinach in nourishing the eyes and building bones. What few know is that it also very good for digestion. Spinach eases constipation and protects the mucus lining of the stomach, so that you stay free of ulcers.  It also flushes out toxins from the colon.
8. Another lesser known benefit of spinach is its role in skin care. The bounty of vitamins and minerals in spinach can bring you quick relief from dry, itchy skin and lavish you with a radiant complexion. Regular consumption of fresh, organic spinach juice has been shown to improve skin health dramatically.
YOU MIGHT ALSO LIKE
8 Vegetables You Should Eat Raw
10 Health Benefits of Antioxidant-Rich Mangos
EcoWatch Daily Newsletter
Investing in grid infrastructure would enable utilities to incorporate modern technology, making the grid more resilient and flexible. STRATMAN2 / FLICKR
By Elliott Negin
The Royal Swedish Academy of Sciences' recent decision to award the 2019 Nobel Prize in Chemistry to scientists who developed rechargeable lithium-ion batteries reminded the world just how transformative they have been. Without them, we wouldn't have smartphones or electric cars. But it's their potential to store electricity generated by the sun and the wind at their peak that promises to be even more revolutionary, reducing our dependence on fossil fuels and protecting the planet from the worst consequences of climate change.
Two Javan rhinos deep in the forests of Ujung Kulon National Park, the species' last habitat on Earth. Sugeng Hendratno / WWF
The global population of the critically endangered Javan rhinoceros has increased to 72 after four new calves were spotted in the past several months.
A tiger looks out from its cage at a new resort and zoo in the eastern Lao town of Tha Bak on Dec. 5, 2018. Karl Ammann believes the "zoo" is really a front for selling tigers. Terrence McCoy / The Washington Post / Getty Images
Are tigers extinct in Laos?
That's the conclusion of a detailed new study that found no evidence wild tigers still exist in the country.
A group of scientists is warning that livestock production must not expand after 2030 for the world to stave off ecological disaster.
The largest wetland in Africa is in the South Sudan. George Steinmetz / Corbis Documentary / Getty Images Plus
Methane emissions are a far more powerful greenhouse gas than carbon dioxide – about 28 times more powerful. And they have been rising steadily since 2007. Now, a new study has pinpointed the African tropics as a hot spot responsible for one-third of the global methane surge, as Newsweek reported.