This website uses cookies to ensure you get the best experience while browsing it. By clicking 'Got It' you're accepting these terms.
8 Surprising Health Facts About the Superfood Spinach
Aug. 17, 2015 11:18AM EST
Popular
Full of nutrients and delicious taste, spinach is a winter superfood. But what's the best way to eat it? Read the following surprising facts about this leafy green: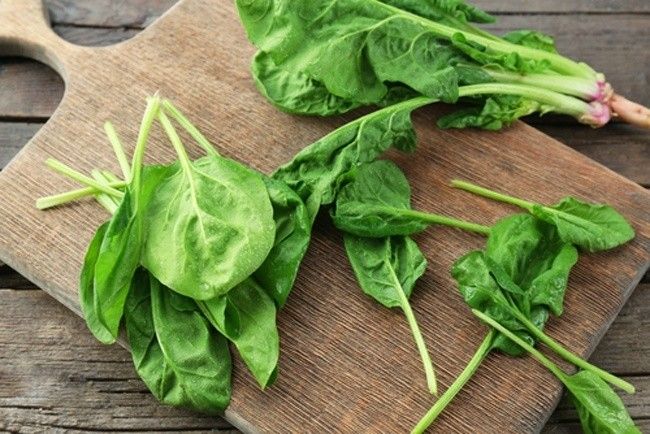 Taking spinach in juice form is actually the healthiest way to consume it. Photo credit: Shutterstock
1. It's wiser to choose tender baby spinach leaves. The larger the leaves, the more mature they are and more likely to be tough or stringy. Also, spinach leaves that are placed under direct light in the stores have been found to contain more nutrients than those stored in darkness.
2. Cooking spinach actually increases its health benefits. Just half a cup of cooked spinach will give you three times as much nutrition as one cup of raw spinach. That's because the body cannot completely break down the nutrients in raw spinach for its use.
3. As an exception to the advice above, research studies show that taking spinach in juice form is actually the healthiest way to consume it. Blend spinach with other vegetables or fruits to create a delicious glass of juice, or try a green smoothie.
4. There's a compound in spinach called oxalic acid, which blocks the absorption of calcium and iron. An easy way to solve this problem is to pair spinach with a food high in vitamin C. Mandarin oranges and cantaloupes spring to mind here. Another way to reduce the power of oxalic acid is to boil the spinach leaves for at least two minutes.
5. Freezing spinach diminishes its health benefits. The way to get the best from the leaf is to buy it fresh and eat it the same day.
6. Do place spinach on your "organic shopping" list, because the leaf tends to be sprayed heavily with pesticides that don't come off with normal washing.
7. Everyone talks about the benefits of spinach in nourishing the eyes and building bones. What few know is that it also very good for digestion. Spinach eases constipation and protects the mucus lining of the stomach, so that you stay free of ulcers.  It also flushes out toxins from the colon.
8. Another lesser known benefit of spinach is its role in skin care. The bounty of vitamins and minerals in spinach can bring you quick relief from dry, itchy skin and lavish you with a radiant complexion. Regular consumption of fresh, organic spinach juice has been shown to improve skin health dramatically.
YOU MIGHT ALSO LIKE
8 Vegetables You Should Eat Raw
10 Health Benefits of Antioxidant-Rich Mangos
EcoWatch Daily Newsletter
Brown bear fishing for salmon in creek at Pavlof Harbor in Tongass National Forest, Alaska. Wolfgang Kaehler / LightRocket / Getty Images
The Trump administration has moved one step closer to opening Earth's largest intact temperate rainforest to logging.
The Democratic primary candidates take the stage during Tuesday's debate. SAUL LOEB / AFP via Getty Images
On Tuesday night, the Democratic presidential candidates gathered for what The Guardian said was the largest primary debate in U.S. history, and they weren't asked a single question about the climate crisis.
A. Battenburg / Technical University of Munich
By Sarah Kennedy
Algae in a pond may look flimsy. But scientists are using algae to develop industrial-strength material that's as hard as steel but only a fraction of the weight.
Variety of fermented food korean traditional kimchi cabbage and radish salad. white and red sauerkraut in ceramic plates over grey spotted background. Natasha Breen / REDA&CO / Universal Images Group / Getty Image
Even if you've never taken probiotics, you've probably heard of them.
These supplements provide numerous benefits because they contain live microorganisms, such as bacteria or yeast, which support the healthy bacteria in your gut (1, 2, 3, 4).
Pexels
Singapore will become the first country in the world to place a ban on advertisements for carbonated drinks and juices with high sugar contents, its health ministry announced last week. The law is intended to curb sugar consumption since the country has some of the world's highest diabetes rates per capita, as Reuters reported.
A typical adult takes around 20,000 breaths per day. If you live in a megacity like Beijing, with many of those lungfuls you're likely to inhale a noxious mixture of chemicals and pollutants.
Fred Stone holds his brown swiss cow Lida Rose at his Arundel dairy farm on March 18 after a press conference where he spoke about PFAS chemical contamination in his fields. Gregory Rec / Portland Portland Press Herald via Getty Images
By Susan Cosier
First there was Fred Stone, the third-generation dairy farmer in Maine who discovered that the milk from his cows contained harmful chemicals. Then came Art Schaap, a second-generation dairy farmer in New Mexico, who had to dump 15,000 gallons of contaminated milk a day.
Protesters attend the 32nd annual Fur-Free Friday demonstration on Nov. 23, 2018 in Beverly Hills, California. Ella DeGea / Getty Images
California Governor Gavin Newsom signed into law a bill that that bans the sale and manufacture of fur products in the state. The fur ban, which he signed into law on Saturday, prohibits Californians from selling or making clothing, shoes or handbags with fur starting in 2023, according to the AP.