This website uses cookies to ensure you get the best experience while browsing it. By clicking 'Got It' you're accepting these terms.


The best of EcoWatch, right in your inbox. Sign up for our email newsletter!
"Dr. Hyman, I've been suffering from seasonal allergies for years," writes this week's house call. "Is there anything that I can do to make these go away or am I doomed forever?"
You are definitely not doomed; however, I do know how miserable seasonal allergies can be, especially in the spring and summer.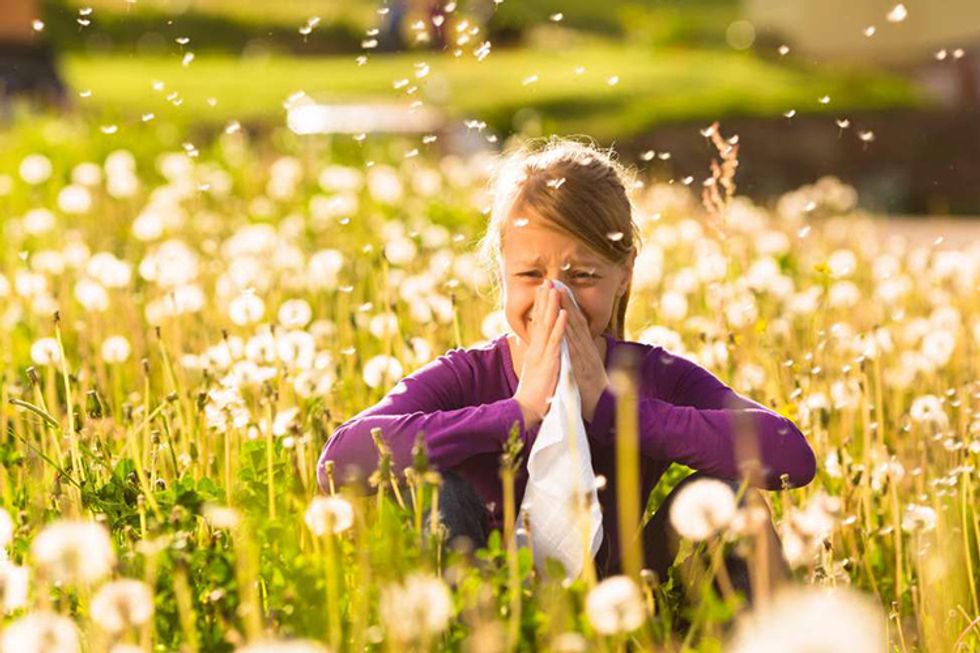 Conventional medicine treats seasonal allergies with injections and pills, which unfortunately creates side effects and fails to address the root problem. If you don't address the root cause, then the allergies will never go away.
I've seen countless patients arrive complaining about gut issues. Once we fixed their diets and healed their guts, their seasonal allergies also disappeared. When the immune system (60 percent of which is in the gut) is irritated, it reacts to everything—kind of like when you don't get enough sleep everything makes you more irritable.
One patient struggled with allergies, asthma and hives. She almost nearly died twice from anaphylaxis. She arrived in my office on 42 different pills, sprays and inhalers; yet, she still felt awful. These drugs were suppressing and inhibiting her immune function, causing her body to attack everything. None of her doctors had questioned why her immune system was so compromised in the first place. But due to my Functional Medicine approach, that's the first question I asked.
Turned out, she had leaky gut that was triggered by celiac disease, a gluten-related autoimmune disease. Until that point, nobody had actually tested her for this condition. When we eliminated gluten and other dietary allergens, we healed her leaky gut and calmed down her allergies. Thankfully, after six weeks she was able to stop the 42 medications she used daily.
For her and countless other patients, a key strategy involves getting your gut healthy. After all, an unhealthy, inflamed gut can't fight off potential allergens. To do that and eliminate seasonal allergies, I've found these four strategies incredibly helpful:
1. Replace bad with good. An elimination diet becomes the first step for a healthy gut. The simple foundation of Functional Medicine is taking out the bad and putting in the good. Eliminate common toxic triggers like wheat, corn, dairy, soy and alcohol. Eat a whole foods, high-fiber diet that is rich in anti-inflammatory plant chemicals called phytonutrients. Avoid anything that contains sugar or trans fats. Focus on eating healthy fats from extra virgin olive oil, nuts, avocados and omega-3 fats like those found in small fish (sardines, herring, sable, wild-caught salmon). I provide an easy-to-implement plan in my book Eat Fat, Get Thin.
2. Use powerful gut-healing nutrients—including probiotics, which provide good bacteria to improve digestion and reduce inflammation. Other gut-healing nutrients include glutamine, zinc, curcumin and fish oil. I always recommend a high-quality multivitamin. Quercetin (which has anti-inflammatory and anti-histamine properties) and nettles can also relieve symptoms from allergies. You can find these and other allergy-relieving supplements in my store.
3. Manage stress. A mind-body disconnect can mean being stressed out, wired and tired and can really damage your gut and worsen seasonal allergies. Practice relaxation techniques like yoga or meditation every day.
4. Get adequate sleep. Optimal sleep is crucial for gut health and overall health. Research shows inadequate sleep shortens your lifespan and increases inflammation, which can lead to chronic disease. Insufficient sleep can also increase your risk for diabetes through insulin resistance, paving the way for diabesity. Aim for at least eight hours of uninterrupted, deep sleep every night. To help meet that quota, check out my eight simple hacks for a better night's sleep.
Occasionally, I'll have a patient who has tried all these things and still suffers. In those cases, we need to dig a little deeper for other causes such as food additives, pesticides, chemicals and pollution in their environment. You should also check for mold in your home or work—check out this site to learn more.
Also, consider a very important blood test called C-reactive protein, which measures the degree of hidden inflammation in your body. Almost every modern disease is caused by or affected by hidden inflammation, including heart disease, cancer, obesity, dementia, arthritis, autoimmune disease, allergies and digestive disorders.
Chronic inflammation that contributes to seasonal allergies and much more can come from many sources, including:
Inflammatory fats like omega 6 fats found in processed vegetable oils and trans fat
Hidden or chronic infections, such as viruses, bacteria, yeasts or parasites, mold and other environmental allergens
Toxicity from an overload of environmental toxins
Ultimately, lifestyle choices and how we care for our bodies and souls is not part of our education, values or even our daily planning; yet, these basic skills form the root cause of our happiness and health.
While these principles are disarmingly simple, even the best and brightest people fail to make the connection between how we treat our bodies and how we feel. Most of us never learned how to care for and feed our bodies and souls. A few simple acts implemented into your daily life could change everything, including seasonal allergies.
YOU MIGHT ALSO LIKE
10 Ways to Stop Eating Late at Night
11 Foods That Would Disappear Without Pollinators
Sea Salt vs. Table Salt: Which Is Healthier?
By Helen West
Many people find themselves eating late at night, even when they aren't hungry. Nighttime eating can cause you to eat more calories than you need and lead to weight gain.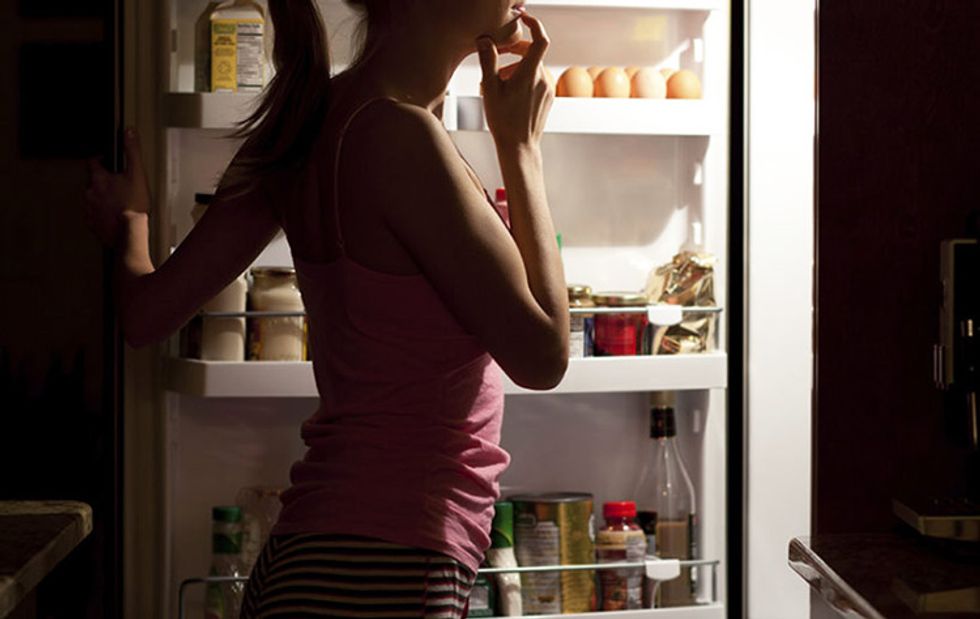 Here are 10 things you can do to stop eating late in the evening or at night:
1. Identify the Cause
Some people eat most of their food late in the evening or during the night.
To change this habit, you need to identify the cause of the problem.
Nighttime eating may be the result of overly restricted daytime food intake, leading to ravenous hunger at night. It may also be caused by habit or boredom.
However, nighttime eating has also been linked to some eating disorders, including binge eating disorder and night eating syndrome (1, 2, 3).
These two disorders are characterized by different eating patterns and behaviors, but can have the same negative effects on your health (4, 5).
In both, people use food to curb emotions such as sadness, anger or frustration and they often eat even when they are not hungry.
Binge eaters also tend to eat very large amounts of food in one sitting and feel out of control while they are eating (6).
On the other hand, people with nighttime eating syndrome tend to graze throughout the evening and wake up during the night to eat, consuming more than 25 percent of their daily calories at night (7, 8).
Both conditions have been linked to obesity, depression and trouble sleeping.
Bottom Line: Nighttime eating can be caused by boredom, hunger, binge eating disorder and nighttime eating syndrome. Identifying the cause will help you take the right steps to solve the problem.
2. Identify Your Triggers
As well as identifying the overall cause of your overeating, you may find it useful to look for a specific pattern of events that usually sets off your eating behavior.
People reach for food for many reasons. If you're not hungry but nonetheless find yourself eating at night, think about what led up to it.
Often you will find you are using food to meet a need that isn't hunger.
With nighttime eating syndrome, your entire eating pattern may be delayed due to your lack of daytime hunger (9, 10, 11).
One effective way to identify the cause of your nighttime eating and the things that trigger it is to keep a "food and mood" diary (12, 13).
Tracking your eating and exercise habits alongside your feelings will help you identify patterns, enabling you to work on breaking any negative cycles of behavior.
Bottom Line: Monitoring your behavior patterns and identifying what triggers you to eat at night will help you break cycles of emotional eating.
3. Use a Routine
If you're overeating because you aren't eating enough during the day, then getting yourself into a routine can help.
Structured eating and sleeping times will help you spread your food intake over the day so that you're less hungry at night.
Getting good sleep is very important when it comes to managing your food intake and weight.
Lack of sleep and short sleep duration have been linked to higher calorie intakes and poor-quality diets. Over a long period of time, poor sleep can increase your risk of obesity and related diseases (14).
Having set times for eating and sleeping can help you separate the two activities, especially if you are prone to waking in the night to eat.
Bottom Line: Having a routine for meal and sleep times can help you break unhealthy cycles of behavior. This can help if you have no appetite during the day or tend to binge at night.
4. Plan Your Meals
As part of your routine, you may also benefit from using a meal plan.
Planning your meals and eating healthy snacks can reduce the chances that you will eat on impulse and make poor food choices (15, 16).
Having a meal plan can also reduce any anxiety about how much you are eating and help you spread your food throughout the day, keeping hunger at bay.
Bottom Line: Planning your meals and snacks can help manage your food intake and stave off hunger.
5. Seek Emotional Support
If you think you may have nighttime eating syndrome or binge eating disorder, then you may want to seek professional help.
A professional can help you identify your triggers and implement a treatment plan.
These plans often use cognitive behavioral therapy (CBT), which has been shown to help with many eating disorders (17, 18, 19, 20, 21).
Creating an emotional support network will also help you find ways to manage negative emotions, which otherwise might lead you to the fridge (22).
Bottom Line: For some people with eating disorders, seeking professional help and support can be key to overcoming problematic eating at night.
6. De-Stress
Anxiety and stress are two of the most common reasons why people eat when they aren't hungry. However, using food to curb your emotions is a bad idea.
If you notice that you eat when you are anxious or stressed, try to find another way to let go of negative emotions and relax.
Research has shown that relaxation techniques can help manage eating disorders such as nighttime eating syndrome and binge eating (23, 24, 25).
Relaxation techniques you may find useful include breathing exercises, meditation, hot baths, yoga, gentle exercise or stretching.
Bottom Line: Instead of eating, try to deal with stress and anxiety using relaxation techniques, gentle exercise or stretching.
7. Eat Regularly Throughout the Day
Overeating at night has been linked to erratic eating patterns that can often be categorized as disordered eating (26).
Eating at planned intervals throughout the day in line with "normal" eating patterns can help keep your blood sugar stable.
It can also help prevent feelings of ravenous hunger, tiredness, irritability or a perceived lack of food, which can lead to a binge (27).
When you get really hungry, you are more likely to make poor food choices and reach for high-fat, high-sugar junk foods (28, 29).
Studies find that those with regular meal times (eating 3 or more times per day), have better appetite control and lower weight (30, 31).
Generally speaking, eating less than 3 times per day is thought to reduce your ability to control your appetite and food choices (32, 33).
However, it's important to note that results in this area have been mixed.
The best eating frequency for controlling hunger and the amount of food consumed is likely to vary among people (34, 35).
Bottom Line: Eating regular meals will prevent you from getting too hungry and will help you manage your cravings and food impulses.
8. Include Protein at Every Meal
Different foods can have different effects on your appetite.
If you eat due to hunger, including protein at every meal may help curb your hunger.
It could also help you feel more satisfied throughout the day, stop you from being preoccupied with food and help prevent snacking at night (36).
One study found that eating frequent high-protein meals reduced cravings by 60 percent and cut the desire to eat at night by half (37).
Here is a list of 20 healthy high-protein foods.
Bottom Line: Protein is known to keep you fuller for longer. Including protein at every meal can reduce cravings and nighttime eating.
9. Don't Keep Junk Food in the House
If you are prone to eating high-fat, high-sugar junk food at night, remove it from your house.
If unhealthy snacks aren't within easy reach, you are much less likely to eat them.
Instead, fill your house with healthy food that you enjoy. Then when you have the urge to eat, you won't snack on junk.
Good snack-friendly foods to have available if you get hungry include fruits, berries, plain yogurt and cottage cheese.
These are very filling and probably won't cause you to overeat in the case that you do end up becoming ravenously hungry in the evening.
Bottom Line: Take any unhealthy junk food out of the house. Doing so will stop you from snacking on it throughout the night.
10. Distract Yourself
If you are preoccupied with thoughts of food because you're bored, then find something else you enjoy doing in the evening.
This will help keep your mind occupied.
Finding a new hobby or planning evening activities can help prevent mindless late-night snacking.
Bottom Line: If you are eating out of boredom, then try finding something else you enjoy doing in the evening to keep your mind occupied.
Take Home Message
Nighttime eating has been linked to excess calorie intake, obesity and poor health.
If eating at night is a problem for you, then try the steps above to help you stop.
This article was reposted from our media associate Authority Nutrition.
YOU MIGHT ALSO LIKE
Is Drinking Carbonated Water Healthy?
Diet vs. Exercise: What's More Important?
5 Energizing Drinks Healthier Than Coffee
EcoWatch Daily Newsletter
By Terita Heath-Wlaz
Time for a dash of salt on that sheet pan of roasted veggies. What do you reach for? Pink Himalayan crystal salt? Hawaiian red salt? Black lava salt? Or, good old Morton's table salt?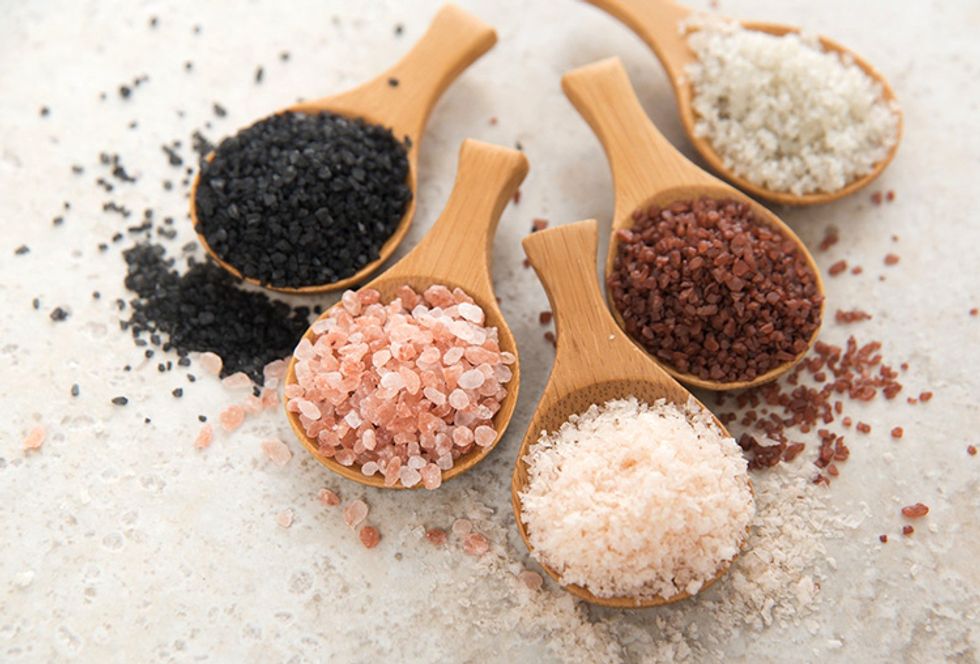 Colorful, exotic sea salts are marketed as minimally-processed, healthful alternatives to refined table salt. But since your individual diet and health influences what you need from salt, it's worth examining the claims and true differences among salts before you choose.
Processing in Sea Salt vs. Table Salt
It's true that sea salt undergoes less processing than table salt; it's produced simply by evaporating water from oceans or salinated lakes. Trace minerals like potassium, calcium and magnesium remain in sea salt, altering its texture, flavor and nutritional content in subtle ways.
Table salt, on the other hand, is mined from salt deposits underground. Manufacturers strip the salt of minerals to yield a uniformly white color, grind it to a fine consistency and add an anti-caking agent like calcium silicate. Finally, most table salts contain added iodine to combat iodine deficiency and goiter.
Many consumers gravitate toward sea salt because of its "close-to-nature" status–and its easy to understand why! We know minimal processing benefits our health when it comes to grains, meats and vegetables, so shouldn't the same be true for salt?
There's more to consider.
Trace Minerals
The promise of trace minerals in sea salt is alluring, but experts with the American Heart Association note that most minerals in sea salt occur plentifully in other foods. If you eat a varied diet rich in fruits, vegetables, whole grains and legumes, you likely already consume plenty of potassium, magnesium, calcium and other nutrients.
Sodium Content
By weight, the amount of sodium in sea salt and table salt is roughly equal. That means if you're trying to keep your sodium intake below the recommended limit of 2,300 milligrams per day, use either type of salt in moderation.
Worthy of note: most sodium we ingest doesn't come from the salt we add to food, but from packaged and processed food. The most effective change you can make to reduce sodium intake is to eat fewer processed foods and less restaurant fare.
Iodine
Dietary iodine added to table salt—but not sea salt—protects the health of your thyroid, which in turn helps regulate your metabolism, heart rate, nervous system and many more functions.
Certain foods supply iodine naturally, including seaweed, fish, yogurt and eggs. If you eat these foods regularly (especially seaweed!), you may be getting the recommended 150 micrograms of iodine your body needs in a day.
If your diet is low in iodine, however (which is common), choosing iodized table salt might act as a good insurance policy for thyroid health.
So, What Should I Choose?
The salt you choose depends on your tastes, nutritional status and diet. If you are neither pregnant nor breastfeeding and you regularly eat iodine-rich foods, you might choose sea salts for their beautiful array of colors, textures and flavors. A little jar of special salt makes a charming gift and if you enjoy eating foods close to their natural state, sea salt can complement your cooking.
But sea salt, unlike table salt, does not supply iodine and its trace minerals probably have little effect on your health. Most importantly, remember that sea salt contains as much sodium as table salt, so whatever you choose, use just a sprinkle!
YOU MIGHT ALSO LIKE
Is Drinking Carbonated Water Healthy?
Diet vs. Exercise: What's More Important?
5 Energizing Drinks Healthier Than Coffee
By Maggie McCracken
Inverting—positioning your body so that your feet are higher than your heart—holds a number of health benefits. Seniors are especially likely to benefit from inverting, but everyone can enjoy improved circulation, reduced foot and leg swelling, a rush of oxygen to the brain and perhaps even relief from back pain if they include regular inversions in their yoga practice.
By Franziska Spritzler
Carbonated water is a refreshing beverage and a good alternative to sugary soft drinks. However, concerns have been raised that it may be bad for your health.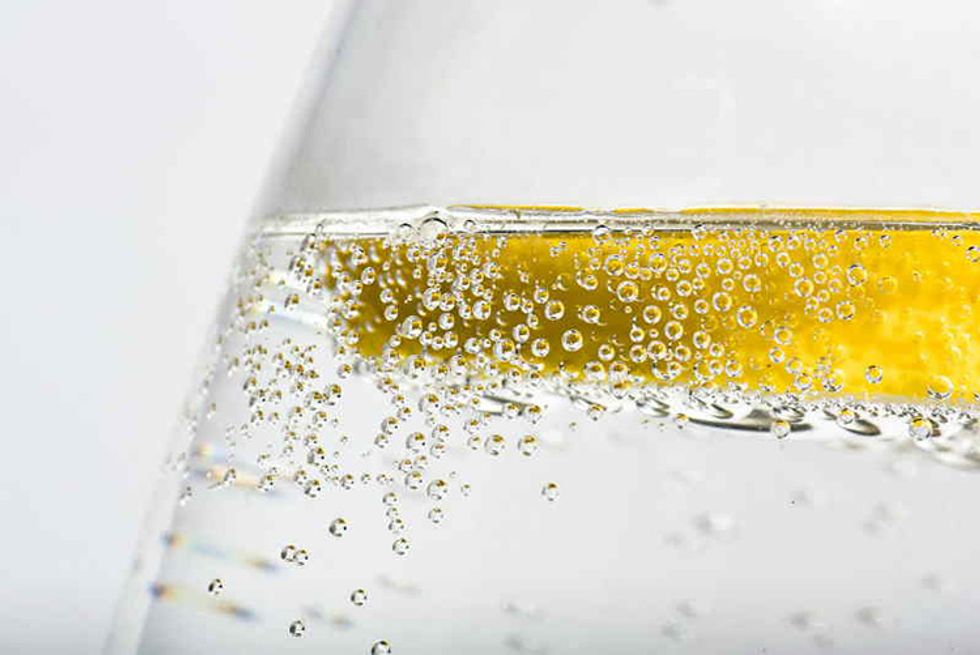 This article takes a detailed look at the health effects of carbonated water.
What is Carbonated Water?
Carbonated water is water that has been infused with carbon dioxide gas under pressure.
This produces a bubbly drink that's also known as sparkling water, club soda, soda water, seltzer water and fizzy water.
With the exception of seltzer water, they usually have salt added to improve the taste. Sometimes small amounts of other minerals are included.
Natural sparkling mineral waters, such as Perrier and San Pellegrino, are different.
These waters are captured naturally from a mineral spring and tend to contain minerals and sulfur compounds. These waters are often carbonated as well.
Tonic water is a form of carbonated water that contains a bitter compound called quinine, along with sugar or high-fructose corn syrup.
Bottom Line: Carbonated water is created by combining water with carbon dioxide under pressure. Sodium and other minerals are often added.
Carbonated Water is Acidic
Carbon dioxide and water react chemically to produce carbonic acid, a weak acid that's been shown to stimulate the same nerve receptors in your mouth as mustard.
This triggers a burning, prickly sensation that can be both irritating and enjoyable for many people (1, 2).
The pH of carbonated water is 3–4, which means it's slightly acidic.
However, drinking an acidic beverage like carbonated water does not make your body more acidic.
Your kidneys and lungs remove excess carbon dioxide. This keeps your blood at a slightly alkaline pH of 7.35–7.45, regardless of what you eat or drink.
Bottom Line: Carbonated water is acidic, but your body maintains a stable, slightly alkaline pH no matter what you consume.
Does it Affect Dental Health?
One of the biggest concerns about sparkling water is its effect on teeth, since the enamel is directly exposed to acid.
There is very little research on this topic, but one study found that sparkling mineral water damaged enamel only slightly more than still water. Furthermore, it was 100 times less damaging than a sugary soft drink (3).
In one study, carbonated beverages showed strong potential to destroy enamel, but only if they contained sugar. In fact, a non-carbonated sweet beverage (Gatorade) was more harmful than a carbonated sugar-free drink (Diet Coke) (4).
In another study, samples of tooth enamel were placed in various beverages for up to 24 hours. The sugar-sweetened carbonated and non-carbonated beverages resulted in significantly greater enamel loss than diet drinks (5).
Another review of several studies found that the combination of sugar and carbonation may lead to severe dental decay (6).
However, plain sparkling water appears to pose little risk to dental health. It's only the sugary types that are harmful (7).
If you're concerned about dental health, try drinking sparkling water with a meal or rinsing your mouth with plain water after drinking it.
Bottom Line: Sugar-sweetened carbonated beverages can erode tooth enamel, but plain carbonated water appears to be relatively harmless.
Does it Affect Digestion?
Carbonated water may benefit digestive health in several ways.
It Can Improve Swallowing Ability
It might seem surprising, but studies suggest that sparkling water may actually improve swallowing ability in both young and older adults (8, 9, 10).
In one study, 16 healthy people were asked to repeatedly swallow different liquids. Carbonated water showed the strongest ability to stimulate the nerves responsible for swallowing function (9).
Another study showed that the combination of cold temperature and carbonation strengthened these beneficial effects (10).
In a study of 72 people who felt a persistent need to clear their throats, drinking ice-cold carbonated water led to improvement in 63 percent of the subjects. Those who had the most frequent and severe symptoms experienced the greatest benefits (11).
It May Increase Feelings of Fullness
Carbonated water may also help you feel full longer than plain water does.
Sparkling water may help food remain in the first part of the stomach for longer, which can trigger a sensation of fullness (12).
In a controlled study of 19 healthy young women, fullness scores were higher after the participants drank 8 oz (250 ml) of soda water, compared to still water (13).
However, larger studies are needed to confirm these results.
It May Help Relieve Constipation
People who experience constipation may find that drinking sparkling water helps relieve their symptoms.
In a two-week study of 40 elderly people who had suffered strokes, average bowel movement frequency nearly doubled in the group that drank carbonated water, compared to the group that drank tap water.
What's more, the participants reported a 58 percent decrease in symptoms (14).
There's also evidence that sparkling water may improve other symptoms of indigestion, including stomach pain.
One controlled study looked at 21 people with chronic digestive issues. After 15 days, those who drank carbonated water had significant improvements in digestive symptoms, constipation and gallbladder emptying (15).
Bottom Line: Carbonated water has benefits for digestion. It may improve swallowing, increase feelings of fullness and reduce constipation.
Does Carbonated Water Affect Bone Health?
Many people believe that carbonated beverages are bad for bones because of their high acid content. However, research suggests the carbonation isn't to blame.
A large observational study of more than 2,500 people found that cola was the only beverage associated with significantly lower bone mineral density. Carbonated water appeared to have no effect on bone health (16).
Unlike carbonated water and clear soda, cola drinks contain a lot of phosphorus.
The researchers proposed that the cola drinkers may have been consuming too much phosphorus and not enough calcium. This is a potential risk factor for bone loss.
In another study, teen girls who consumed carbonated drinks were found to have lower bone mineral density. This was attributed to those beverages replacing milk in their diet, resulting in inadequate calcium intake (17).
In a controlled study of 18 postmenopausal women, drinking 1 liter (34 ounces) of sodium-rich sparkling water for 8 weeks led to better calcium retention and no negative effects on bone health, compared to drinking plain mineral water (18).
Animal research suggests carbonated water may even improve bone health.
Supplementing the diets of hens with carbonated water for six weeks led to increased leg bone strength, compared to tap water (19).
Bottom Line: Drinking carbonated cola drinks may harm bone health, but plain sparkling water appears to have a neutral or positive effect.
Does it Affect Heart Health?
There's very limited research on how carbonated water affects heart health, but the existing evidence is positive.
In the same group of 18 postmenopausal women from the bone health study, the researchers measured indicators of heart health.
Those who drank sodium-rich carbonated water had a decrease in LDL (the "bad") cholesterol, inflammatory markers and blood sugar.
What's more, they also had an increase in HDL (the "good") cholesterol (20).
Additionally, the estimated risk of developing heart disease within 10 years was 35 percent lower for those drinking the carbonated water, compared to the control water.
However, since this was only one small study, a lot more research needs to be done before drawing conclusions.
Bottom Line: Carbonated water may have beneficial effects on cholesterol, inflammation and blood sugar. However, this needs to be studied a lot more.
So is Carbonated Water Actually Bad For You?
There is currently no evidence that carbonated or sparkling water is bad for you.
It is not really that harmful for dental health and seems to have no effect on bone health.
Interestingly, a carbonated drink may even enhance digestion by improving swallowing ability and reducing constipation.
It's also a calorie-free beverage that causes a pleasurable bubbly sensation. Many people prefer it over still water.
There's no reason to give up this beverage if you enjoy it. In fact, it may actually improve your overall health.
This article was reposted from our media associate Authority Nutrition.
YOU MIGHT ALSO LIKE
Diet vs. Exercise: What's More Important?
5 Energizing Drinks Healthier Than Coffee
15 Calcium-Rich Foods, Many Which Are Non-Dairy
14 Delicious Avocado Toast Recipes Perfect for a Healthy Diet
By Ann Pietrangelo
"If everyone was a healthy weight we could close half the hospitals and get rid of half the doctors," according to Philip Caravella, M.D., F.A.A.F.P. The family physician says obesity and being overweight are the leading causes of serious medical problems.
"The huge costs of medical care and medical insurance could be dramatically reduced if people understood the importance of fitness and normal weight," he said.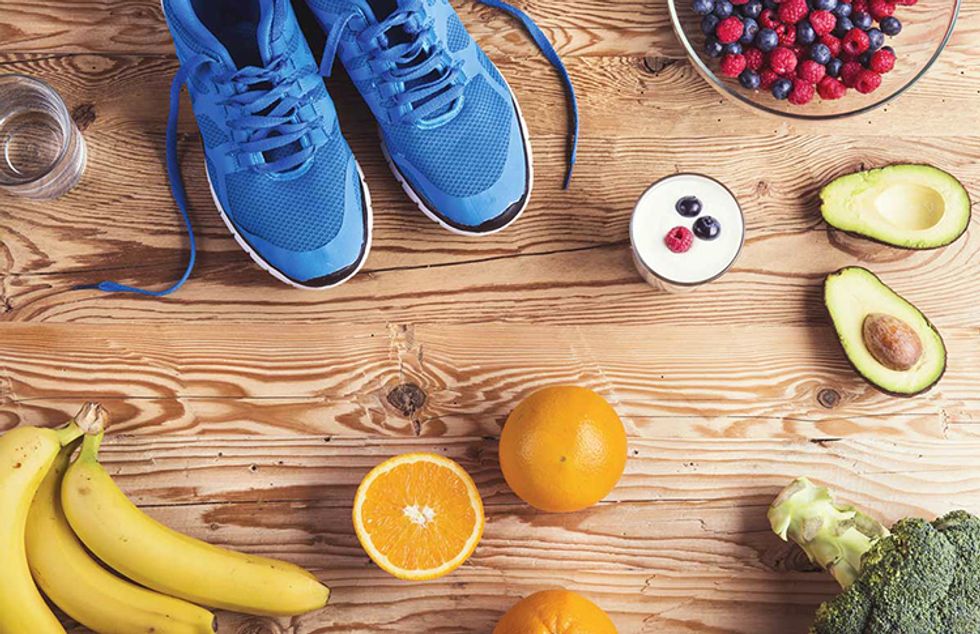 So, is It the Diet or is It the Sedentary Lifestyle?
Caravella believes a nutritionally sound diet and exercise are both important for maintaining a healthy weight, but not enough credit is given to exercise.
"Experts focus on diet as the main cause of obesity when it isn't," Caravella said in an interview. He's been studying the cause and effect of obesity for 20 years.
"Nutrition incorporates the building blocks," he explained. "Exercise is the tool to build your body into the fine, precision machine it can be. They are entirely different from each other, yet critical to each other just as cement and steel are the requisites of a well-engineered building. Exercise gives you strength and power. A sound diet provides the building blocks. One without the other will result in a deficient, inadequate body that is full of compromises, weaknesses and potential problems as time goes on. Good exercise yields strength and minimizes the effects of a diet that sometimes is too rich in sugars, carbohydrates and fats and is nutritionally deficient in vitamins and minerals."
Why is Weight Control So Important?
According to the National Heart, Lung, and Blood Institute, obesity is often a contributing factor in:
gallstones
arthritis
fertility problems
sleep apnea and other breathing disorders
high triglycerides, high LDL cholesterol, low HDL cholesterol
high blood pressure, heart disease, stroke
type 2 diabetes, metabolic syndrome
some types of cancer
When it comes to the nutrition part of the equation, Caravella's advice is simple and will come as no surprise to regular Care2 readers. Our diets should consist of foods that exist in nature. "We've gotten way away from that in modern times because of processed foods, cakes, cookies, etc. We should focus on what lives and grows out in nature, not what our modern diet has morphed into."
He believes that focus on natural foods should start with infants. "Breastfeeding lowers the incidence of obesity and leads to a healthier life all around. We need to change nutrition from the get go. We should give them foods that are natural. If you don't introduce babies to processed foods, they'll have no interest in them."
Exercise is Good for Your State of Mind, Too
In addition to warding off serious health problems, exercise helps increase endurance, promotes good balance and keeps you flexible—all of which help get you through the day at your best.
"Exercise improves general well-being, one's intellect, their sense of purpose, their emotional goodness and dispositions, their sleep patterns and especially their ability to interact with others," according to Caravella. "Fit men and women will have an easier chance of attracting a significant other. People who exercise often will have less anxiety and depression. If they feel great about themselves, they will also feel excellent around others. With good form comes great personal achievement."
What is a Healthy Weight and How Do You Get Started?
To determine your healthy weight goal, you need to evaluate your body mass index (BMI). Dr. Caravella explains how to go about that in his book, Weight No Longer: The Prescription for Amazing Fitness & Living.
If you haven't been exercising regularly, he recommends consulting with your doctor first. Your general health, medications and pre-existing medical problems such as diabetes and high blood pressure must be considered before you start a regular exercise program. If you're going to do it, you want to do it right.
Do you happen to be one of those rare people who never exercises but still manages to maintain a good weight? Well, don't be too quick to pat yourself on the back and call it a day. You still need to exercise to prevent health problems, keep your bones and muscles healthy and boost your emotional well-being.
"All who exercise—regardless of their weight—will enjoy a longer, healthier life; diminishing their chances of developing dementia and arthritic conditions later down the line," said Caravella.
"Exercise fine-tunes our bodies. It prepares us for the unexpected while giving us the ability to participate in nearly any activity that most would find to be enjoyable. Life is worth living when your body is worth having."
I couldn't agree more. We've only got one body to get us through this life and it's worth keeping it in good shape. And once you get used to regular exercise, it's actually hard not to exercise.
If you need a little inspiration, Caravella put it quite succinctly: "We all make compromises. Exercise must never be one of them."
YOU MIGHT ALSO LIKE
5 Energizing Drinks Healthier Than Coffee
15 Calcium-Rich Foods, Many Which Are Non-Dairy
14 Delicious Avocado Toast Recipes Perfect for a Healthy Diet
By Lauren Bowen
Ahhhh, coffee … Java, go juice, liquid energy or rocket fuel. Whatever you choose to call it, coffee is America's go-to drink of choice. In fact, Americans drink an average of 3.1 cups of coffee each day. That's $40 billion spent by the U.S. alone on coffee each year.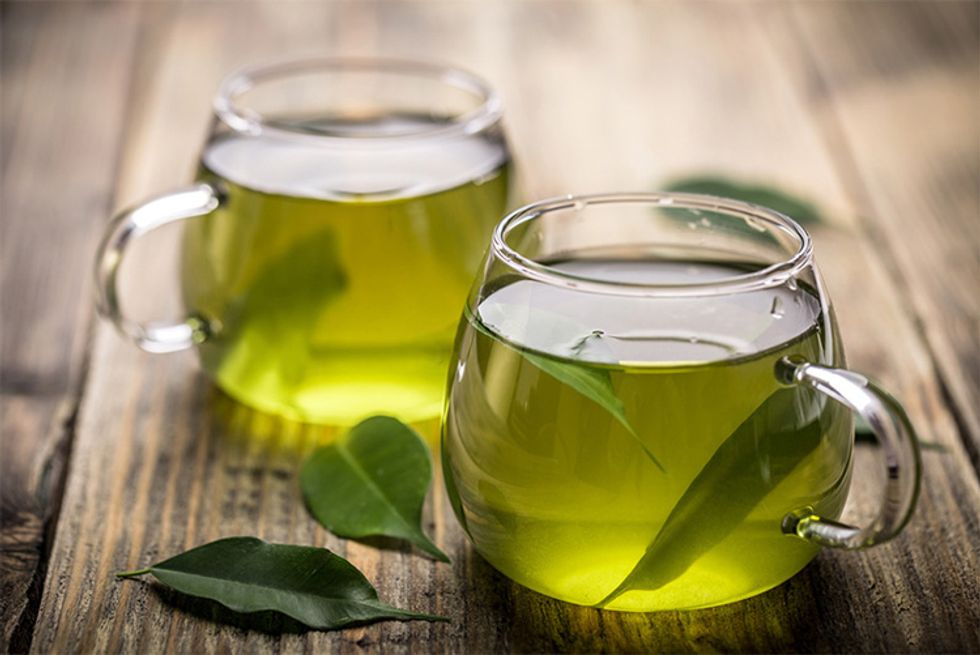 The Good News
The good news? Some recent scientific studies suggest that consumption of caffeinated coffee in moderation may help to reduce some risks of diseases such as onset type 2 diabetes, heart disease, liver cancer, Parkinson's and event gallstones.
The Not-So-Good News
However, not every aspect of regular coffee consumption is positive. Coffee has a tendency to carry with it a laundry list of unwanted extras (heavy creams, processed sugar, flavored syrups of all sorts) and is highly addictive, often forcing regular coffee drinkers into a habit that is difficult to break. No one likes those caffeine withdrawals …
Coffee also has a tendency to do a number on our mood. The "don't talk to me until I've had my coffee" trope isn't an overstatement.
The Crossroads
Maybe you're thinking, "Coffee is my fuel. Without it I'm a zombie!" or "I'm always more productive when I have a little coffee kick" or possibly, "It just tastes good. There's nothing like a mocha frappuccino on a hot day."
Those are all fair statements. Many of us lead incredibly busy lives; we're always on our toes, working hard and running on coffee to make things happen at home and at work.
But what if there was another way?
The Alternatives
Part of holistic health is understanding that life requires balance: that we keep ourselves free from restraints that hold us back or habits that keep us tied down when we don't want to be.
If you feel like you're ready to try some other options, check out the healthier coffee alternatives below.
1. Green Tea: Green tea is one of those drinks that is super-packed with nutrients, antioxidants and digestive benefits. It's just the right sort of drink to give you a boost without the unwanted coffee jitters.
2. Yerba Mate: For those who can't get their wheels turning without a cup of caffeine, yerba mate is a great choice. Made from the naturally caffeinated leaves from the South American holly tree, it's known for its "pump up" abilities. Bonus: Tastes great hot or cold.
3. Pomegranate Juice: Not kidding; this juice is full of energy boosters and antioxidants. Tastes great on its own or mixed with others.
4. Shizandra Tea: If you've never tried shizandra, you're in for a treat. Considered an easy swap for your daily java fix, shizandra is a berry tea that comes from East Asia. It also has some incredible health benefits: shizandra balances blood sugar, takes care of your liver and may even increase your memory.
5. Wheatgrass Juice: There's a reason wheatgrass makes its way into smoothies of all sorts. It's packed with a laundry list of vitamins, minerals and nutrients that aid digestion and boosts energy.
Well, there you have it. You're all set. No go on your non-coffee-addicted way.
YOU MIGHT ALSO LIKE
15 Calcium-Rich Foods, Many Which Are Non-Dairy
11 Reasons Why You Should Eat Pumpkin Seeds
14 Delicious Avocado Toast Recipes Perfect for a Healthy Diet
For consumers who want to avoid bisphenol A, Environmental Working Group (EWG) has created the first easily, searchable database of nearly 16,000 processed food and drinks packaged in materials that may contain this hormone-disrupting chemical, better known as BPA. The list was compiled from a little-known food industry inventory and is now available at EWG's Food Scores database.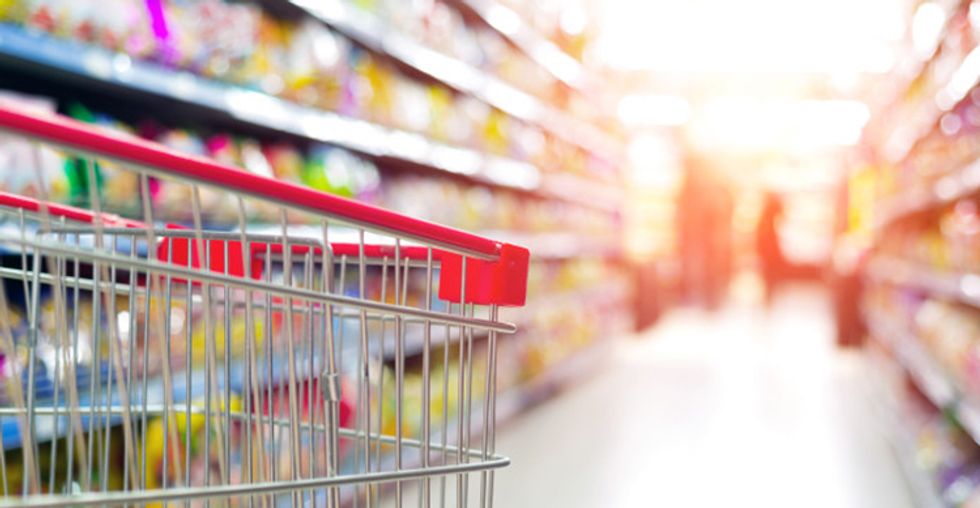 BPA acts like estrogen in the body and is especially dangerous for pregnant women and children in critical stages of development. Independent scientific studies link it to cancer, infertility, diabetes, obesity and brain, nerve and heart disorders and it's just been listed by California as a chemical known to cause reproductive problems.
"No other industry in the world is more adept at marketing products to its customers than food and beverage companies—except apparently when it comes to informing them about the possible presence of a toxic chemical linked to hormone disruption and cancer," EWG President Ken Cook said.
"So we decided to give them a little help in making their own data accessible. Our new database shines a light on just how pervasive BPA is in our food system and will help Americans navigate the supermarket armed with more information."
Most concern about BPA has focused on its use in polycarbonate plastic bottles and canned food linings. But the voluminous list of products brought to light by EWG shows that Americans are exposed to BPA in food packaging far more widely than previously known. The array of products from 926 brands includes:
The lids of glass jars for baby food, pickles, jelly, salsa and other condiments;
Aerosol cans for whipped toppings and non-stick sprays;
Bottles and tins of cooking oil;
Aluminum beverage cans, metal coffee cans and even beer kegs.
Food packaging is the largest source of exposure to BPA. The U.S. Centers for Disease Control and Prevention found it in the urine of more than 90 percent of Americans sampled. In 2009, tests commissioned by EWG were the first to find BPA in the umbilical cords of nine of 10 infants sampled.
California officials added the hormone disrupting chemical to the Proposition 65 list, which requires warnings on products or store shelves with listed chemicals. The state allowed instead for generic warning signs at checkout registers that don't name specific products.
Food companies set up a website with a list of products, but made little effort to publicize it. The website is a chaotic jumble—incomplete, inconsistent, poorly organized and not searchable.
EWG downloaded files from the industry website, which were in a variety of non-compatible formats, then extracted the brand names, product descriptions and barcodes. The data was then matched against information in Food Scores and the matches were hand-reviewed to ensure accuracy.
Despite the mounting evidence of BPA's health risks at very low doses, federal regulation is lagging. EWG urges regulators and lawmakers at the state and federal levels to regulators, federal and state lawmakers to look at the evidence and reassess BPA's use in the U.S. food supply.
YOU MIGHT ALSO LIKE
Your Guide to Optimal Nutrition During Preganancy
Pollution in People: Cancer-Causing Chemicals in Americans' Bodies
In 17 Days Vermont's Historic GMO Labeling Law Goes Into Effect: Is Big Food Ready?
Atrazine and Glyphosate More Harmful Than Scientists Once Thought
By Kerri-Ann Jennings
You have more calcium in your body than any other mineral and it's very important for health. It makes up much of your bones and teeth and plays a role in cardiovascular health, muscle function and nerve signaling.
The recommended daily intake (RDI) of calcium is 1,000 mg per day for most adults. It is also recommended that women over 50 and everyone over 70 get 1,200 mg per day, while children aged 4-18 are advised to get 1,300 mg.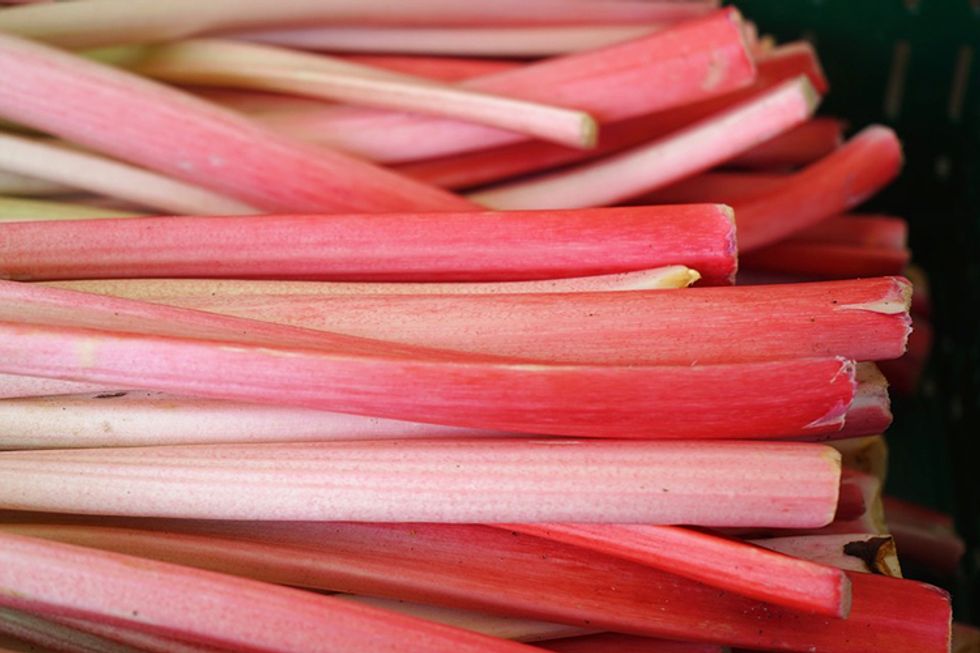 However, a large percentage of the population does not get enough calcium from the diet (1).
The main foods rich in calcium are dairy products like milk, cheese and yogurt. However, many non-dairy sources are also high in this mineral. These include seafood, leafy greens, legumes, dried fruit, tofu and various foods that are fortified with calcium.
Here are 15 foods that are rich in calcium, many of which are non-dairy:
1. Seeds
Seeds are tiny nutritional powerhouses. Some of them are high in calcium, including poppy, sesame, celery and chia seeds.
For instance, 1 tablespoon (15 grams) of poppy seeds has 126 mg or 13 percent of the RDI (2).
Seeds also deliver protein and healthy fats. For example, chia seeds are a rich source of plant-based omega-3 fatty acids (3).
Sesame seeds have 9 percent of the RDI for calcium in 1 tablespoon. They also have other minerals, including copper, iron and manganese (4).
Bottom Line: Several kinds of seeds are good sources of calcium. For instance, 1 tablespoon of poppy seeds has 13 percent of the RDI.
2. Cheese
Most cheeses are excellent sources of calcium. Parmesan cheese has the most, with 331 mg—or 33 percent of the RDI—per ounce (28 grams) (5).
Softer cheeses tend to have less. One ounce of brie only delivers 52 mg or 5 percent of the RDI. Many other varieties fall in the middle, providing about 20 percent of the RDI (6, 7).
As an added bonus, the calcium in dairy products is more easily absorbed by your body than when it comes from plant sources.
Many kinds of cheese are also packed with protein, such as cottage cheese. And aged, hard cheeses are naturally low in lactose, making them easier for people with lactose intolerance to digest.
Dairy may have additional health benefits as well. A recent study suggests dairy may lower the risk of heart disease (8).
Another study found that eating cheese daily was linked to a lower risk of metabolic syndrome, which raises your risk of heart disease, stroke and type 2 diabetes (9).
However, remember that full-fat cheese is also high in fat and calories. Most cheeses also have a lot of sodium, which some people are sensitive to.
Bottom Line: Parmesan cheese delivers 33 percent of the RDI of calcium. While high in fat and calories, cheese may actually lower your risk of heart disease.
3. Yogurt
Yogurt is an excellent source of calcium.
Many types of yogurt are also rich in live probiotic bacteria, which have various health benefits.
One cup (245 grams) of plain yogurt contains 30 percent of the RDI. It also contains vitamin B2, phosphorous, potassium and vitamin B12 (10).
Low-fat yogurt may be even higher in calcium, with 45 percent of the RDI in one cup (11).
While Greek yogurt is a great way to get extra protein in your diet, it delivers less calcium than regular yogurt (12).
One study linked eating yogurt to better overall diet quality and improved metabolic health. Participants who ate yogurt had lower risks of metabolic diseases, such as type 2 diabetes and heart disease (13).
Bottom Line: Yogurt is one of the best sources of calcium, providing 30 percent of the RDI in one cup. It's also a good source of protein and other nutrients.
4. Sardines and Canned Salmon
Sardines and canned salmon are loaded with calcium, thanks to their edible bones.
A 3.75-ounce (92-gram) can of sardines provides 35 percent of the RDI and 3 ounces of canned salmon with bones have 21 percent (14, 15).
These oily fish also provide high-quality protein and omega-3 fatty acids, which are good for your heart, brain and skin (16, 17).
While seafood can contain mercury, smaller fish such as sardines have low levels. Not only that, both sardines and salmon have high levels of selenium, a mineral that can prevent and reverse mercury toxicity (18).
Bottom Line: Sardines and canned salmon are super healthy choices. A can of sardines gives you 35 percent of the RDI for calcium.
5. Beans and Lentils
Beans and lentils are high in fiber, protein and micronutrients.
They also boast lots of iron, zinc, folate, magnesium and potassium.
Some varieties also have decent amounts of calcium.
However, winged beans top the chart. A single cup of cooked wing beans has 244 mg or 24 percent of the RDI (19).
White beans are also a good source, with a cup of cooked white beans providing 13 percent of the RDI. Other varieties of beans and lentils have less, ranging from around 4–6 percent of the RDI per cup (20, 21, 22).
Interestingly, beans are credited with being one of the reasons that plant-rich diets are so healthy. Research suggests that beans may help lower LDL (the "bad") cholesterol levels and reduce the risk of type 2 diabetes (23).
Bottom Line: Beans are highly nutritious and one cup of cooked wing beans delivers 24 percent of the RDI for calcium.
6. Almonds
Of all the nuts, almonds are the highest in calcium. An ounce of almonds or about 22 nuts, delivers 8 percent of the RDI (24).
Almonds also provide 3 grams of fiber per ounce, as well as healthy fats and protein. They are an excellent source of magnesium, manganese and vitamin E.
Eating nuts may help lower blood pressure, body fat and other risk factors for metabolic disease (25).
Bottom Line: Almonds are high in nutrients like healthy fats, protein, magnesium and others. One ounce or 22 nuts, delivers 8 percent of the RDI for calcium.
7. Whey Protein
Whey protein is found in milk and has been extensively studied for its health benefits.
It's an excellent protein source and full of quickly digested amino acids (26).
Several studies have linked whey-rich diets to weight loss and improved blood sugar control (26).
Whey is also exceptionally rich in calcium. A 1-ounce (28-gram) scoop of whey protein powder isolate contains 200 mg or 20 percent of the RDI (27).
Bottom Line: Whey protein is an exceptionally healthy protein source. A scoop of whey protein powder has 20 percent of the RDI for calcium.
8. Some Leafy Greens
Dark, leafy greens are incredibly healthy and some of them are high in calcium.
Greens that have good amounts of it include collard greens, lambs quarters, spinach and kale.
For instance, one cup of cooked collard greens has 266 mg—a quarter of the amount you need in a day (28).
Note that some varieties are high in oxalates. These are naturally occurring compounds that bind to calcium, making some of it unavailable to your body.
Spinach is one of them. So although it has a lot of calcium, it's less available than the calcium in low-oxalate greens, such as kale and collard greens.
Bottom Line: Some dark, leafy greens are rich in calcium. One cup of cooked collard greens contain 25 percent of your daily needs.
9. Rhubarb
Rhubarb has a lot of fiber, vitamin K, calcium and smaller amounts of other vitamins and minerals.
It contains prebiotic fiber, which can promote healthy bacteria in your gut (29).
Like spinach, rhubarb is high in oxalates, so much of the calcium is not absorbed. One study found that only a quarter of it was absorbed from rhubarb (30).
On the other hand, the calcium numbers for rhubarb are quite high. So even if you're only absorbing a quarter of it, that's still 87 mg per cup of cooked rhubarb (31).
Bottom Line: Rhubarb has lots of fiber, vitamin K and other nutrients. The calcium may not be fully absorbed, but the numbers are still high.
10. Fortified Foods
Another way to obtain calcium is through fortified foods.
Some types of cereal can deliver up to 1,000 mg (100 percent of the RDI) per serving and that's before adding milk.
However, keep in mind that your body can't absorb all that calcium at once and it's best to spread your intake throughout the day (32).
Flour and cornmeal may also be fortified with calcium. This is why some breads, tortillas and crackers contain high amounts of it.
Bottom Line: Grain-based foods may be fortified with calcium. Read the label to find out how much is contained in fortified foods.
11. Amaranth
Amaranth is a pseudocereal that is super nutritious.
It's a good source of folate and very high in certain minerals, including manganese, magnesium, phosphorous and iron.
A cup of cooked amaranth grain delivers 116 mg of calcium or 12 percent of the RDI (33).
Amaranth leaves contain even more, at 28 percent of the RDI per cooked cup. The leaves also have very high amounts of vitamins A and C (34).
Bottom Line: The seeds and leaves of amaranth are very nutritious. A cup of cooked amaranth grain provides 12 percent of the RDI of calcium.
12. Edamame and Tofu
Edamame are soybeans in the pod.
One cup of edamame has 10 percent of the RDI of calcium. It's also a good source of protein and delivers all your daily folate in a single serving (35).
Tofu that's been prepared with calcium also has exceptionally high amounts. You can get 86 percent of the RDI of calcium in just half a cup (36).
Bottom Line: Tofu and edamame are both rich in calcium. Just half a cup of tofu prepared with calcium has 86 percent of the RDI.
13. Fortified Drinks
Even if you don't drink milk, you can still get calcium from fortified non-dairy beverages.
A cup of fortified soy milk has 30 percent of the RDI.
Its 7 grams of protein make it the non-dairy milk that's most nutritionally similar to cow's milk (37).
Other kinds of nut- and seed-based milks may be fortified with even higher levels.
However, fortification isn't just for non-dairy milks. Orange juice can also be fortified, providing as much as 50 percent of the RDI per cup (38).
Bottom Line: Non-dairy milks and orange juice can be fortified with calcium. A cup of fortified orange juice can have 50 percent of the RDI.
14. Figs
Dried figs are rich in antioxidants and fiber.
They also have more calcium than other dried fruits. In fact, dried figs contain 5 percent of the RDI in an ounce (28 grams) (39).
Moreover, figs also provide decent amounts of potassium and vitamin K.
Bottom Line: Dried figs contain more calcium than other dried fruits. A single ounce has 5 percent of your daily needs for this mineral.
15. Milk
Milk is one of the best and cheapest calcium sources.
A cup of cow's milk has 276–352 mg, depending on whether it's whole or non-fat milk. The calcium in dairy is also absorbed well (40, 41).
Additionally, milk is a good source of protein, vitamin A and vitamin D.
Goat's milk is another excellent source of calcium, providing 327 mg per cup (42).
Bottom Line: Milk is a great source of well-absorbed calcium. A cup of milk provides between 27 percent and 35 percent of the RDI.
Take Home Message
Calcium is an important mineral that you may not be getting enough of.
While dairy products tend to be the highest in it, there are plenty of other good sources—many of which are plant-based.
You can easily meet your calcium needs by eating from this diverse list of foods.
This article was reposted from our media associate Authority Nutrition.
YOU MIGHT ALSO LIKE
WHO: Coffee Does Not Cause Cancer
Dr. Mark Hyman: 7 Ways to Achieve Optimal Brain Health
8 High-Protein Vegan Snacks You Can Take With You Anywhere
Pumpkin seeds may be small, but they're packed full of valuable nutrients. Eating only a small amount of them can provide you with a substantial quantity of healthy fats, magnesium and zinc.
Because of this, pumpkin seeds have been associated with several health benefits. These include improved heart health, prostate health and protection against certain cancers.
What's more, these seeds can be easily incorporated into your diet.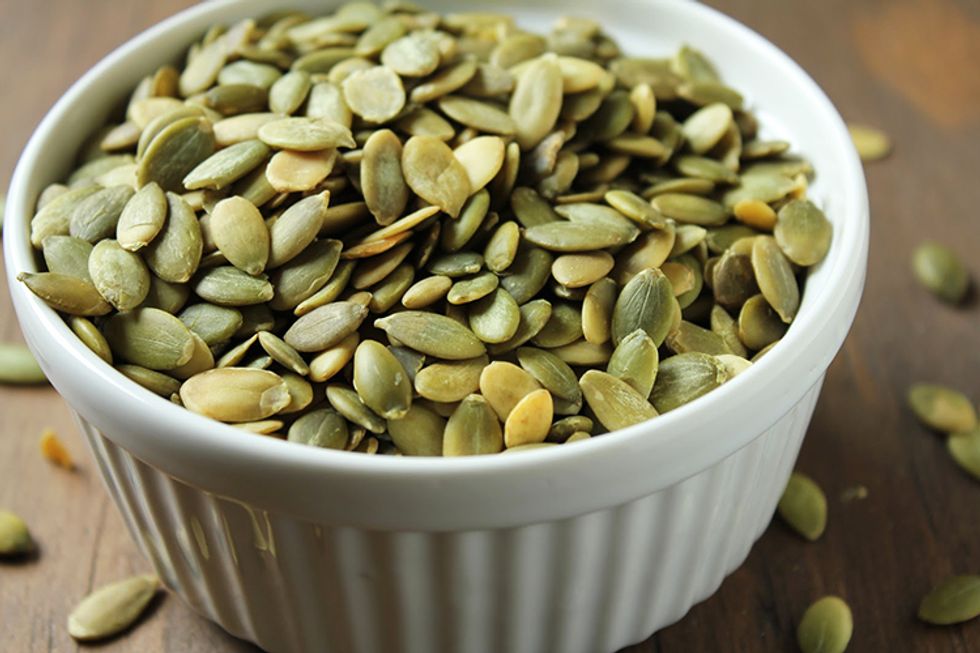 Here are the top 11 health benefits of pumpkin seeds that are supported by science:
1. Full of Valuable Nutrients
Pumpkin seeds are the edible seeds of a pumpkin. They are also known as "pepita"—a Mexican Spanish term.
Unlike the hard white seeds from a carving pumpkin, most pumpkin seeds bought from the supermarket do not have a shell.
These shell-free seeds are flat and oval in shape and have a green color.
This is what whole (white) and shell-free (green) pumpkin seeds look like: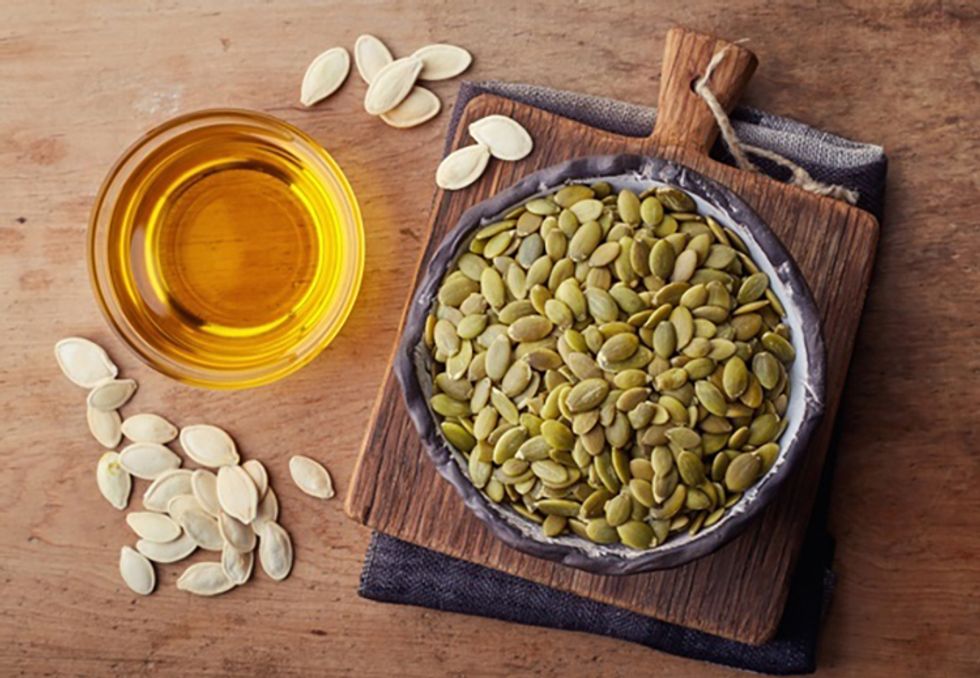 There are roughly 151 calories in an ounce (28 grams) of shell-free pumpkin seeds, mainly from fat and protein.
In addition, a 1-oz (28-gram) serving contains (1):
They also contain lots of antioxidants and a decent amount of polyunsaturated fatty acids, potassium, vitamin B2 (riboflavin) and folate.
Pumpkin seeds and seed oil also contain many other nutrients that have been shown to provide health benefits (2, 3).
Bottom Line: Pumpkin seeds are rich in antioxidants, iron, zinc, magnesium and many other nutrients. An ounce (28 grams) contains about 151 calories.
2. High in Antioxidants
Pumpkin seeds contain antioxidants like carotenoids and vitamin E (4, 5, 6).
Antioxidants can reduce inflammation and protect your cells from harmful free radicals. Because of this, consuming foods rich in antioxidants can help protect against many different diseases (7).
It is thought that the high levels of antioxidants in pumpkins seeds are partly responsible for their positive effects on health.
In one study, inflammation was reduced when rats with arthritis were given pumpkin seed oil. Rats given an anti-inflammatory drug experienced negative side effects, whereas rats given pumpkin seed oil had no side effects (8).
Bottom Line: Pumpkin seeds are full of antioxidants that may help protect against disease and reduce inflammation.
3. Linked to a Reduced Risk of Certain Cancers
Diets rich in pumpkin seeds have been associated with lower levels of stomach, breast, lung, prostate and colon cancers (5).
A large observational study found that eating them was associated with a reduced risk of breast cancer in postmenopausal women (9).
Others studies suggest that the lignans in pumpkin seeds may play a key role in the prevention and treatment of breast cancer (10).
Further test-tube studies found that a supplement containing pumpkin seeds had the potential to slow down the growth of prostate cancer cells (11, 12).
Bottom Line: Some evidence suggests that pumpkin seeds may help to prevent certain cancers.
4. Improve Prostate and Bladder Health
Pumpkin seeds may help relieve symptoms of benign prostatic hyperplasia (BPH), a condition where the prostate gland enlarges and can cause problems with urination.
Several studies in humans found that eating these seeds reduced symptoms that are associated with BPH (13).
A study of over 1,400 men looked at the effects of consuming pumpkin seeds on BPH. After one year, men receiving them reported reduced symptoms and a better quality of life (14).
There is also research to suggest that taking pumpkin seeds or their products as supplements can help treat symptoms of an overactive bladder.
One study found that taking a supplement of 10 grams of pumpkin seed extract daily improved urinary function in 45 men and women with overactive bladders (15).
Bottom Line: Pumpkin seeds may reduce symptoms of benign prostate enlargement and an overactive bladder.
5. Very High in Magnesium
Pumpkin seeds are one of the best natural sources of magnesium. This is important, since magnesium deficiency is common in many Western countries.
In the US, around 79 percent of adults had a magnesium intake below the recommended daily amount (16).
Magnesium is necessary for more than 600 chemical reactions in the body. Adequate levels of magnesium are important for:
Bottom Line: Pumpkin seeds are a rich source of magnesium. Healthy magnesium levels are important for your blood pressure, heart health, bone health and blood sugar levels.
6. May Improve Heart Health
Pumpkin seeds are a good source of antioxidants, magnesium, zinc and fatty acids, all of which may help keep your heart healthy (22).
Animal studies have also shown that pumpkin seed oil can help reduce high blood pressure and high cholesterol levels.
These are two important risk factors for heart disease (23, 24).
A study involving 35 postmenopausal women found that pumpkin seed oil supplements reduced diastolic blood pressure by 7 percent and increased the "good" HDL cholesterol by 16 percent over a 12-week period (25).
Other studies suggest that it may be the nitric oxide enzymes contained in pumpkin seed oil that are responsible for its positive effects on heart health (26).
Nitric oxide helps expand blood vessels, improving blood flow and reducing the risk of plaque growth in the arteries.
Bottom Line: Nutrients in pumpkin seeds may help keep your heart healthy by reducing blood pressure and increasing good cholesterol.
7. Can Lower Blood Sugar Levels
Animal studies have shown that pumpkin, pumpkin seeds, pumpkin seed powder and pumpkin juice can reduce blood sugar (27, 28).
This is especially important for people with diabetes, who may struggle to control their blood sugar levels.
Several studies have found that supplementing the diet with pumpkin juice or seed powder reduced blood sugar levels in people with type 2 diabetes (28).
The high magnesium content of pumpkin seeds may be responsible for its positive effect on diabetes.
An observational study involving over 127,000 men and women found that diets rich in magnesium were associated with a 33 percent lower risk of type 2 diabetes in men and a 34 percent lower risk in women (29).
More research is needed to confirm this beneficial effect on blood sugar levels.
Bottom Line: Pumpkin seeds may help reduce blood sugar levels for people with type 2 diabetes. However, more research is needed.
8. Very High in Fiber
Pumpkin seeds are a great source of dietary fiber. Whole seeds provide 5.2 grams of fiber in a single 1-oz (28-gram) serving.
However, pumpkin kernels with the shell removed contain 1.7 grams of fiber per ounce. These are the green pumpkin seeds available in most supermarkets.
A diet high in fiber can promote good digestive health.
In addition, high-fiber diets have been associated with a reduced risk of heart disease, type 2 diabetes and obesity (30).
Bottom Line: Whole pumpkin seeds are an excellent source of fiber. Diets high in fiber are associated with many health benefits, including a reduced risk of heart disease, diabetes and obesity.
9. May Improve Sperm Quality
Low zinc levels are associated with reduced sperm quality and an increased risk of infertility in men (31).
Since pumpkin seeds are a rich source of zinc, they may help improve sperm quality.
Evidence from one study in mice suggests they may also help protect human sperm from damage caused by chemotherapy and autoimmune diseases (32).
Pumpkin seeds are also high in antioxidants and other nutrients that can contribute to healthy testosterone levels and improve overall health.
Together, all these factors may benefit fertility levels and reproductive function, especially in men.
Bottom Line: The high zinc content of pumpkin seeds may help improve sperm quality and fertility in men.
10. May Help Improve Sleep
If you have trouble sleeping, you may want to eat some pumpkin seeds before bed. They're a natural source of tryptophan, an amino acid that can help promote sleep.
Consuming around 1 gram of tryptophan daily is thought to help improve sleep (33).
However, you would need to eat around 7 oz (200 grams) of pumpkin seeds to get the necessary 1 gram of tryptophan.
The zinc in these seeds can also help convert tryptophan to serotonin, which is then changed into melatonin, the hormone that regulates your sleep cycle.
In addition, pumpkin seeds are an excellent source of magnesium. Adequate magnesium levels have also been associated with better sleep (34).
Some small studies have found that taking a magnesium supplement improved sleep quality and total sleep time in people with low magnesium levels (35, 36).
Bottom Line: Pumpkin seeds are a good source of tryptophan, zinc and magnesium, all of which help promote good sleep.
11. Easy to Add to Your Diet
If you'd like to experience the benefits of pumpkin seeds, they're easy to incorporate into your diet.
In many countries, they're a popular snack that can be eaten either raw or roasted, salted or unsalted.
As well as eating them alone, you can add them to smoothies or to Greek yogurt and fruit.
You could incorporate them into meals by sprinkling them into salads, soups or cereals. Some people use pumpkin seeds in baking, as an ingredient for sweet or savory bread and cakes.
However, as with many seeds and nuts, they contain phytic acid, which can reduce the bioavailability of some nutrients you eat.
If you eat seeds and nuts regularly, you may want to soak or sprout them to reduce the phytic acid content. Roasting them may also help.
Bottom Line: Pumpkin seeds can be easily incorporated into the diet as a snack or as an additional ingredient in meals or baking.
Do Pumpkin Seeds Have Any Other Benefits?
The rich nutrient content of pumpkin seeds means they may provide many other health benefits, such as improved energy, mood and immune function.
Eating them can help solve dietary deficiencies and may protect against various health problems.
This article was reposted from our media associate Authority Nutrition.
YOU MIGHT ALSO LIKE
WHO: Coffee Does Not Cause Cancer
Your Guide to Optimal Nutrition During Preganancy
Dr. Mark Hyman: 7 Ways to Achieve Optimal Brain Health
Lucky for us, avocados are grown year-round, so there's never a time when we can't get our hands on a luscious, ripe one. What better way to celebrate this random factoid than to offer a list of insanely gorgeous avocado toast recipes.
Here are some ideas that raise avocado toast to an art form:
1. Avocado, Chickpeas and Sriracha Toast
Gluten Free Vegan Pantry knows what's up with avocado toast. This super-simple recipe, which includes only three toppings, is guaranteed to rock your morning or post-workout snack time.
2. Kimchi Tempeh Avocado Toast
With layers of marinated tempeh and kimchi, this offering from Gratitude & Greens is more like a meal than a snack.
Sometimes simple makes the most sense. The Edgy Veg understands that with a sprinkle of nutritional yeast, salt and pepper, you'll have a scrumptious snack.
4. Avocado Toast with Spiced Skillet Chickpeas
Happy Healthy Life uses turmeric, paprika and maple syrup to flavor the chickpeas. The site's goal is "to bring you guys recipes that you will actually make. Not just gawk at." We appreciate this practical approach.
This Mexican-tinged toast isn't messing around. Guacamole, black-bean mash, corn and vegan nacho cheese sauce round out this hefty recipe, courtesy of Veggie Primer.
6. Avo Toast with Hemp and Chia Seeds and Tomato
Vegan Wave is a Los Angeles–based vegan foodie who knows how to make a simple yet breathtaking avocado toast.
7. Avocado Toast with Radish, Basil and Coconut Mayo
No one could deny a mélange of avocado, coconut mayonnaise, sliced radishes and mint or basil. Thanks to Blissful Basil, you won't have to.
8. Pecan Parmesan–Crusted Avocado & Kale Florentine with Smoked Paprika Hollandaise
Vegan Parmesan-encrusted avocados replace eggs in this fancy twist on avocado toast, courtesy of Vegan Richa.
9. Winter Smashed Avocado Toast
Chef Chloe Coscarelli has taken Manhattan and Los Angeles by storm with her fast-casual vegan restaurants named "by CHLOE." They serve this fantastic toast, but if you don't live in either of those cities, you can check out the recipe here.
10. Smashed Avocado & Sautéed Mushroom Toast
Blissful Basil knows that baby portobellos are both cute and delicious. Bonus points for adding a punch of plant-based protein to your toast!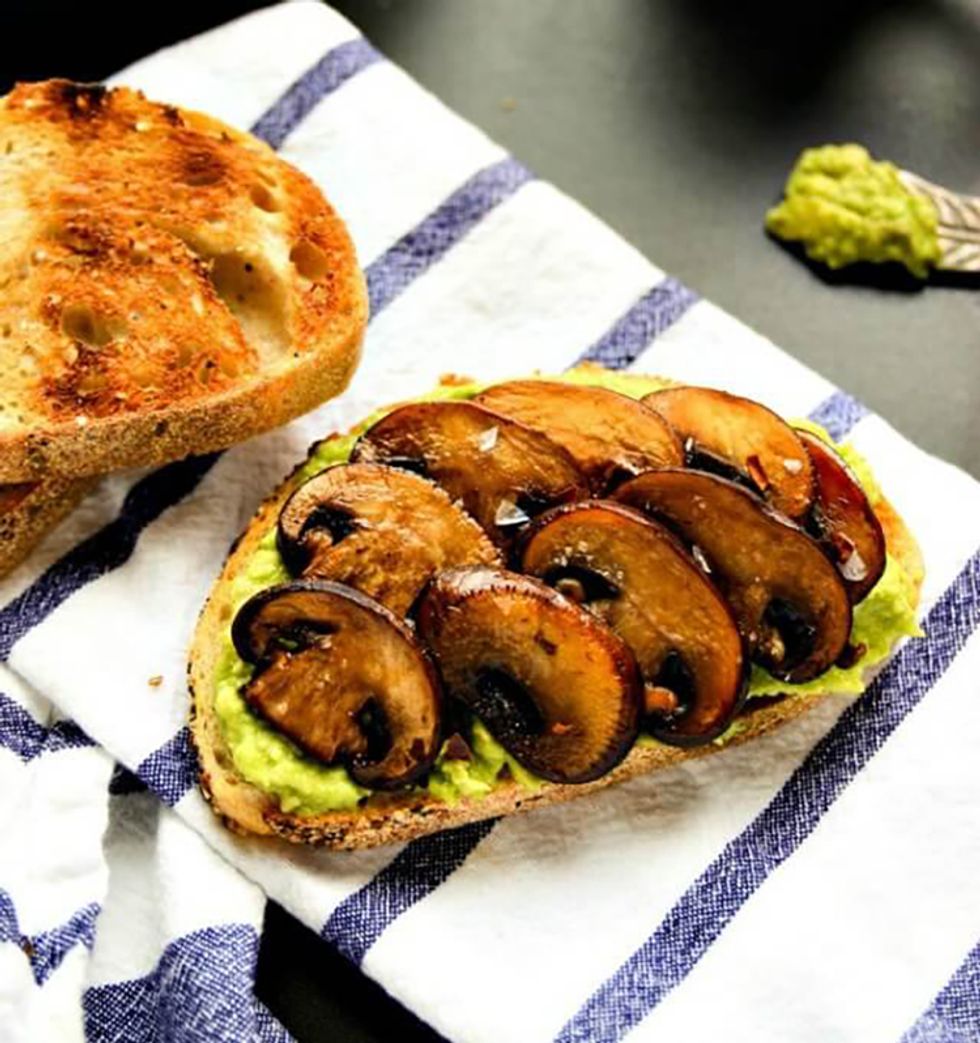 11. Roasted Artichoke Avocado Toast
Dill, garlic and scallions add flavor to this absolutely stunning snack, courtesy of Love & Lemons.
If you haven't tried strawberries and avocados together, Hummusapien is giving you a chance. A drizzle of maple syrup makes this toast divine.
13. Spanish Salmorejo and Avocado Toast
Simple Vegan Blog explains that salmorejo is a "typical Spanish cold soup" similar to gazpacho. This one is made with tomatoes, garlic, bread, vinegar, extra virgin olive oil and salt. Slather all that onto toast and add avocado slices to transport your taste buds.
14. Avocado Toast with Arugula, Chili Flakes, Red Onion and Salsa
Sheer Nutrition brings us this simple, tasty recipe, because tangy arugula and mellow avocado go so well together.
YOU MIGHT ALSO LIKE
WHO: Coffee Does Not Cause Cancer
Dr. Mark Hyman: 7 Ways to Achieve Optimal Brain Health
8 High-Protein Vegan Snacks You Can Take With You Anywhere