This website uses cookies to ensure you get the best experience while browsing it. By clicking 'Got It' you're accepting these terms.
By Ann Pietrangelo
"If everyone was a healthy weight we could close half the hospitals and get rid of half the doctors," according to Philip Caravella, M.D., F.A.A.F.P. The family physician says obesity and being overweight are the leading causes of serious medical problems.
"The huge costs of medical care and medical insurance could be dramatically reduced if people understood the importance of fitness and normal weight," he said.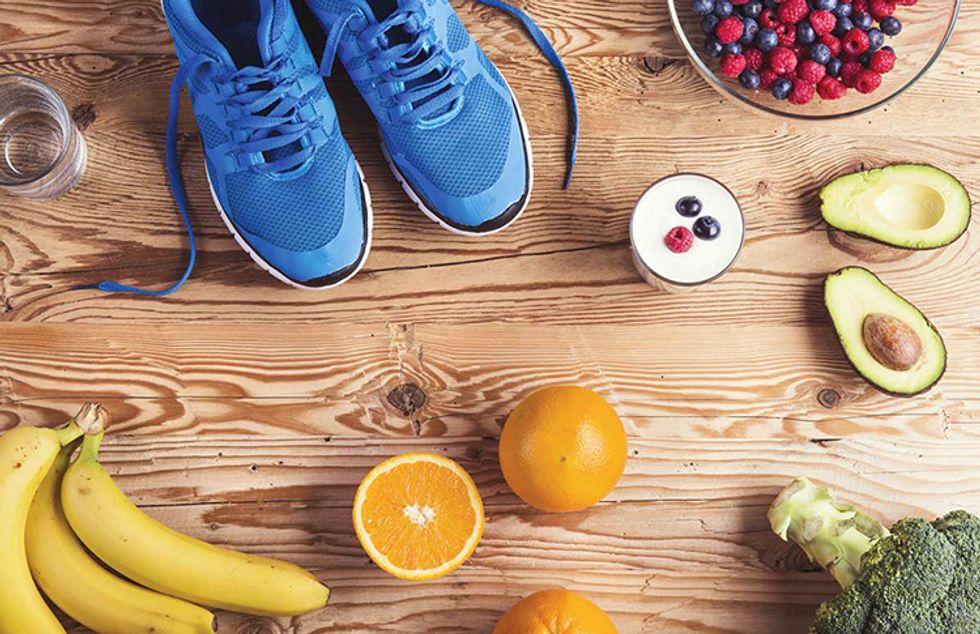 So, is It the Diet or is It the Sedentary Lifestyle?
Caravella believes a nutritionally sound diet and exercise are both important for maintaining a healthy weight, but not enough credit is given to exercise.
"Experts focus on diet as the main cause of obesity when it isn't," Caravella said in an interview. He's been studying the cause and effect of obesity for 20 years.
"Nutrition incorporates the building blocks," he explained. "Exercise is the tool to build your body into the fine, precision machine it can be. They are entirely different from each other, yet critical to each other just as cement and steel are the requisites of a well-engineered building. Exercise gives you strength and power. A sound diet provides the building blocks. One without the other will result in a deficient, inadequate body that is full of compromises, weaknesses and potential problems as time goes on. Good exercise yields strength and minimizes the effects of a diet that sometimes is too rich in sugars, carbohydrates and fats and is nutritionally deficient in vitamins and minerals."
Why is Weight Control So Important?
According to the National Heart, Lung, and Blood Institute, obesity is often a contributing factor in:
gallstones
arthritis
fertility problems
sleep apnea and other breathing disorders
high triglycerides, high LDL cholesterol, low HDL cholesterol
high blood pressure, heart disease, stroke
type 2 diabetes, metabolic syndrome
some types of cancer
When it comes to the nutrition part of the equation, Caravella's advice is simple and will come as no surprise to regular Care2 readers. Our diets should consist of foods that exist in nature. "We've gotten way away from that in modern times because of processed foods, cakes, cookies, etc. We should focus on what lives and grows out in nature, not what our modern diet has morphed into."
He believes that focus on natural foods should start with infants. "Breastfeeding lowers the incidence of obesity and leads to a healthier life all around. We need to change nutrition from the get go. We should give them foods that are natural. If you don't introduce babies to processed foods, they'll have no interest in them."
Exercise is Good for Your State of Mind, Too
In addition to warding off serious health problems, exercise helps increase endurance, promotes good balance and keeps you flexible—all of which help get you through the day at your best.
"Exercise improves general well-being, one's intellect, their sense of purpose, their emotional goodness and dispositions, their sleep patterns and especially their ability to interact with others," according to Caravella. "Fit men and women will have an easier chance of attracting a significant other. People who exercise often will have less anxiety and depression. If they feel great about themselves, they will also feel excellent around others. With good form comes great personal achievement."
What is a Healthy Weight and How Do You Get Started?
To determine your healthy weight goal, you need to evaluate your body mass index (BMI). Dr. Caravella explains how to go about that in his book, Weight No Longer: The Prescription for Amazing Fitness & Living.
If you haven't been exercising regularly, he recommends consulting with your doctor first. Your general health, medications and pre-existing medical problems such as diabetes and high blood pressure must be considered before you start a regular exercise program. If you're going to do it, you want to do it right.
Do you happen to be one of those rare people who never exercises but still manages to maintain a good weight? Well, don't be too quick to pat yourself on the back and call it a day. You still need to exercise to prevent health problems, keep your bones and muscles healthy and boost your emotional well-being.
"All who exercise—regardless of their weight—will enjoy a longer, healthier life; diminishing their chances of developing dementia and arthritic conditions later down the line," said Caravella.
"Exercise fine-tunes our bodies. It prepares us for the unexpected while giving us the ability to participate in nearly any activity that most would find to be enjoyable. Life is worth living when your body is worth having."
I couldn't agree more. We've only got one body to get us through this life and it's worth keeping it in good shape. And once you get used to regular exercise, it's actually hard not to exercise.
If you need a little inspiration, Caravella put it quite succinctly: "We all make compromises. Exercise must never be one of them."
YOU MIGHT ALSO LIKE
5 Energizing Drinks Healthier Than Coffee
15 Calcium-Rich Foods, Many Which Are Non-Dairy
14 Delicious Avocado Toast Recipes Perfect for a Healthy Diet
EcoWatch Daily Newsletter
A Starbucks barista prepares a drink at a Starbucks Coffee Shop location in New York. Ramin Talaie / Corbis via Getty Images
By Cathy Cassata
Are you getting your fill of Starbucks' new Almondmilk Honey Flat White, Oatmilk Honey Latte, and Coconutmilk Latte, but wondering just how healthy they are?
By Sharon Kelly
Back in April last year, the Trump administration's Environmental Protection Agency decided it was "not necessary" to update the rules for toxic waste from oil and gas wells. Torrents of wastewater flow daily from the nation's 1.5 million active oil and gas wells and the agency's own research has warned it may pose risks to the country's drinking water supplies.
Swedish climate activist Greta Thunberg takes part in a "Friday for Future" youth demonstration in a street of Davos on Jan. 24, 2020 on the sideline of the World Economic Forum annual meeting. FABRICE COFFRINI / AFP via Getty Images
Treasury Secretary Steven Mnuchin pretended not to know who Greta Thunberg is, and then he told her to get a degree in economics before giving world leaders advice, as The Guardian reported.
The Visible Infrared Imaging Radiometer Suite on the Suomi NPP satellite acquired this image of forest fire smoke hovering over North America on Aug. 15, 2018. NASA Earth Observatory
New York City isn't known for having the cleanest air, but researchers traced recent air pollution spikes there to two surprising sources — fires hundreds of miles away in Canada and the southeastern U.S.
If temperatures continue to rise, the world is at risk from global
sea-level rise
, which will flood many coastal cities as seen above in Bangladesh. NurPhoto / Contributor / Getty Images
The mounting climate emergency may spur the next global financial crisis and the world's central banks are woefully ill equipped to handle the consequences, according to a new book-length report by the Bank for International Settlements (BIS), as S&P Global reported. Located in Basel, Switzerland, the BIS is an umbrella organization for the world's central banks.