This website uses cookies to ensure you get the best experience while browsing it. By clicking 'Got It' you're accepting these terms.
Dr. Mark Hyman: 7 Ways to Achieve Optimal Brain Health
Jun. 13, 2016 12:52PM EST
Food
"Dr. Hyman, most days I feel like I can't focus for more than 15 minutes at a time," writes this week's house call. "I lose my train of thought and feel like I'm living in a daze. I used to be so sharp. Now I feel like I have brain fog. Is there anything I can do to build better brain health?"
Honestly, I know this feeling all too well. About 20 years ago, when I became seriously ill with chronic fatigue syndrome, I felt like I simultaneously had dementia, depression and ADD. My brain felt broken!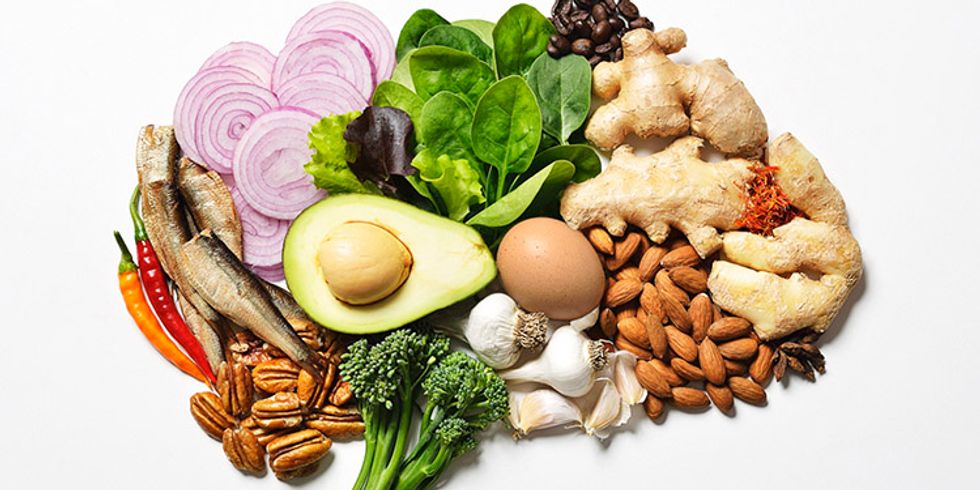 Eventually, I discovered I suffered from mercury toxicity and was completely exhausted from overworking. My brain health suffered the most. I had terrible brain fog and couldn't focus for long periods of time. Here I was, a physician with brain fog: Some days I couldn't even remember my patients' names.
I knew things had to change. That's when I discovered Functional Medicine. One huge benefit I experienced when I reversed chronic fatigue syndrome was how well my brain improved. Over the years, I fine-tuned my approach for a sharper, faster and better brain.
I want you to experience this same transformation. Whatever your situation might be, optimal brain health creates more opportunities and makes life better.
What leads to a broken brain? Most of us never learn how to manage our energy and bodies. Instead, we use drugs like sugar, caffeine and alcohol to self-medicate and manage our energy and moods. We don't connect our behaviors and choices with how we feel. The key insight is that your brain is an organ that's connected to everything else happening in your body. It is not just some object sitting on the top of your shoulders. Fixing your brain starts with fixing your body. Optimizing all the inputs and taking out the bad influences. The brain is resilient and can recover and heal when given the right conditions.
We do a lot of things to damage the brain—too much sugar and refined carbs, not enough good fats, inadequate intake of the right nutrients and exposure to excito-toxins like artificial sweeteners and MSG and environmental toxins such as mercury and lead. Other things that cause "brain damage" include inadequate sleep, stress, lack of exercise and an overuse of alcohol and drugs.
Over the years, I've found many patients don't connect how they feel with how they eat, how much they rest and sleep, how much they exercise, how much time they make for friends and community, as well as the media and news to which they expose themselves. Once you make these connections, you can change your approach to these important factors and to the other dozens of daily decisions you make.
Feeling fully energized and maintaining great brain health ultimately requires taking out bad stuff and putting in good stuff, including food choices and lifestyle choices.
Many of us get too little good food, nutrients, light, air, water, rest, sleep, rhythm, exercise, community, love, meaning and purpose. We're exposed to far too much poor-quality food, stress, toxins and allergens.
The good news is that with these seven strategies, you can eliminate the bad stuff to cultivate your best brain ever.
1. Eat real food. When I say real food, I mean whole, organic, fresh, local and unprocessed food. If it has a label or a barcode, you should probably avoid it. If your great-grandmother wouldn't recognize it, don't eat it. Processed junk foods mostly exist in the middle aisles of the grocery stores, so avoid those aisles!
2. Eat lots of colorful fruits and vegetables. These colorful super-foods come loaded with brain-boosting stuff like phytonutrients. The dark, deep reds, yellows, oranges, greens and blues mean these foods contain powerful anti-inflammatory, detoxifying antioxidants and energy-boosting, brain-powering molecules. Enjoy an array of colorful plant foods like blueberries and dark leafy greens like kale, Swiss chard, spinach, watercress and arugula.
3. Go for slow carbs, not no carbs. Cauliflower and an ice cream sundae fall under the "carbs" category, but you know the former is healthy and the latter isn't. Eating whole plant foods with plenty of fiber, including small amounts of beans, non-gluten whole grains, nuts and seeds, keeps toxins moving out of your body and keeps your gut bacteria healthy. A healthy gut means a healthy brain!
4. Eat plenty of healthy fat. I provide an excellent, detailed healthy fat food plan in my new book Eat Fat, Get Thin. Fat is actually very good for your brain. In fact, 60 percent of your brain is made up of DHA—an omega-3 fat that you get from algae and fish. My brain worked pretty well before, but embracing fat (even good saturated fats like coconut oil and MCT oil) pushed my mental clarity through the roof.
5. Optimize protein. We need about 30 grams of protein per meal to build muscle. When you lose muscle, you age faster and your brain takes a huge hit! Eat protein at every meal, including omega-3 eggs, protein shakes nut butters, even fish for breakfast.
6. Stop poisoning your brain. Eliminate sugar, high-fructose corn syrup, trans fats, food additives and preservatives, all of which poison your brain and disrupt your biochemistry. If it's not real food, don't eat it.
7. Supplement. A high-quality multivitamin, as well as magnesium, vitamin D3, omega-3 fatty acids, probiotics, folic acid, B6 and B12 are all necessary for your brain to function optimally. You can find the cleanest and best versions of these essential nutrients along with other brain-boosting supplements here.
If you've tried all these things yet still struggle with a clunky brain, dig a little deeper. For me, mercury toxicity was the issue. Yours might be bad gut bugs or hidden food allergies. If you feel like you've tried everything, consider working with a Functional Medicine practitioner to further explore what could be at the root of your brain fog.
A great place to start is by trying the plan in Eat Fat, Get Thin, which includes the right foods for brain and overall health.
YOU MIGHT ALSO LIKE
8 High-Protein Vegan Snacks You Can Take With You Anywhere
19 Prebiotic Foods That Should Be a Part of a Healthy Diet
How Antioxidants Can Help Fight Depression
Calories In, Calories Out: How to Count Calories to Lose Weight
EcoWatch Daily Newsletter
Heat waves emanate from the exhaust pipe of a city transit bus as it passes an American flag hung on the Los Angeles County Hall of Justice on April 25, 2013. David McNew / Getty Images
Air pollution rules aren't doing enough to protect Americans, finds a major new study that examined the cause of death for 4.5 million veterans, as The Guardian reported.
Coldplay is releasing a new album on Friday, but the release will not be followed by a world tour.
Ash dieback is seen infecting a European ash (Fraxinus excelsior) in Bottomcraig, Scotland, UK on Aug. 10, 2016.
nz_willowherb / Flickr
Scientists have discovered a genetic basis to resistance against ash tree dieback, a devastating fungal infection that is predicted to kill over half of the ash trees in the region, and it could open up new possibilities to save the species.
Truth in Action is a day-long global conversation on the climate crisis and how we solve it. The Climate Reality Project
Former Vice President Al Gore kicked off 24 hours of climate talks in the U.S. and 77 other countries around the world Wednesday night.
Activists highlighted the climate emergency outside Scottish Government headquarters at St Andrew's House in Edinburgh on Oct. 13, 2017. Usage of the term "climate emergency" spiked in 2019, according to Oxford Dictionaries.
By Jessica Corbett
Climate advocates and experts celebrated Oxford Dictionaries' announcement Wednesday that "climate emergency" is the Oxford Word of the Year 2019.