This website uses cookies to ensure you get the best experience while browsing it. By clicking 'Got It' you're accepting these terms.
11 Reasons Why You Should Eat Pumpkin Seeds
Jun. 18, 2016 09:33AM EST
Food
Pumpkin seeds may be small, but they're packed full of valuable nutrients. Eating only a small amount of them can provide you with a substantial quantity of healthy fats, magnesium and zinc.
Because of this, pumpkin seeds have been associated with several health benefits. These include improved heart health, prostate health and protection against certain cancers.
What's more, these seeds can be easily incorporated into your diet.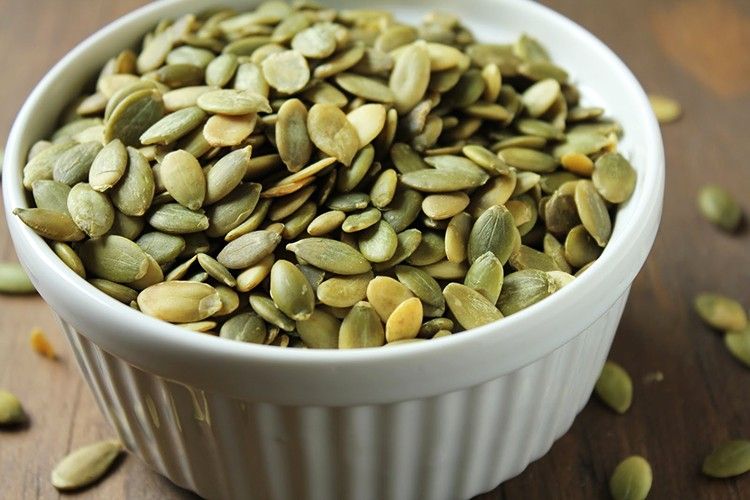 Here are the top 11 health benefits of pumpkin seeds that are supported by science:
1. Full of Valuable Nutrients
Pumpkin seeds are the edible seeds of a pumpkin. They are also known as "pepita"—a Mexican Spanish term.
Unlike the hard white seeds from a carving pumpkin, most pumpkin seeds bought from the supermarket do not have a shell.
These shell-free seeds are flat and oval in shape and have a green color.
This is what whole (white) and shell-free (green) pumpkin seeds look like: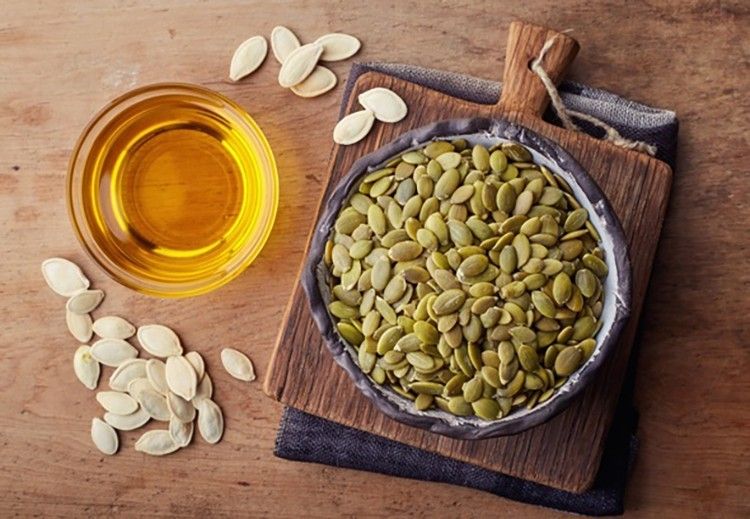 There are roughly 151 calories in an ounce (28 grams) of shell-free pumpkin seeds, mainly from fat and protein.
In addition, a 1-oz (28-gram) serving contains (1):
They also contain lots of antioxidants and a decent amount of polyunsaturated fatty acids, potassium, vitamin B2 (riboflavin) and folate.
Pumpkin seeds and seed oil also contain many other nutrients that have been shown to provide health benefits (2, 3).
Bottom Line: Pumpkin seeds are rich in antioxidants, iron, zinc, magnesium and many other nutrients. An ounce (28 grams) contains about 151 calories.
2. High in Antioxidants
Pumpkin seeds contain antioxidants like carotenoids and vitamin E (4, 5, 6).
Antioxidants can reduce inflammation and protect your cells from harmful free radicals. Because of this, consuming foods rich in antioxidants can help protect against many different diseases (7).
It is thought that the high levels of antioxidants in pumpkins seeds are partly responsible for their positive effects on health.
In one study, inflammation was reduced when rats with arthritis were given pumpkin seed oil. Rats given an anti-inflammatory drug experienced negative side effects, whereas rats given pumpkin seed oil had no side effects (8).
Bottom Line: Pumpkin seeds are full of antioxidants that may help protect against disease and reduce inflammation.
3. Linked to a Reduced Risk of Certain Cancers
Diets rich in pumpkin seeds have been associated with lower levels of stomach, breast, lung, prostate and colon cancers (5).
A large observational study found that eating them was associated with a reduced risk of breast cancer in postmenopausal women (9).
Others studies suggest that the lignans in pumpkin seeds may play a key role in the prevention and treatment of breast cancer (10).
Further test-tube studies found that a supplement containing pumpkin seeds had the potential to slow down the growth of prostate cancer cells (11, 12).
Bottom Line: Some evidence suggests that pumpkin seeds may help to prevent certain cancers.
4. Improve Prostate and Bladder Health
Pumpkin seeds may help relieve symptoms of benign prostatic hyperplasia (BPH), a condition where the prostate gland enlarges and can cause problems with urination.
Several studies in humans found that eating these seeds reduced symptoms that are associated with BPH (13).
A study of over 1,400 men looked at the effects of consuming pumpkin seeds on BPH. After one year, men receiving them reported reduced symptoms and a better quality of life (14).
There is also research to suggest that taking pumpkin seeds or their products as supplements can help treat symptoms of an overactive bladder.
One study found that taking a supplement of 10 grams of pumpkin seed extract daily improved urinary function in 45 men and women with overactive bladders (15).
Bottom Line: Pumpkin seeds may reduce symptoms of benign prostate enlargement and an overactive bladder.
5. Very High in Magnesium
Pumpkin seeds are one of the best natural sources of magnesium. This is important, since magnesium deficiency is common in many Western countries.
In the US, around 79 percent of adults had a magnesium intake below the recommended daily amount (16).
Magnesium is necessary for more than 600 chemical reactions in the body. Adequate levels of magnesium are important for:
Bottom Line: Pumpkin seeds are a rich source of magnesium. Healthy magnesium levels are important for your blood pressure, heart health, bone health and blood sugar levels.
6. May Improve Heart Health
Pumpkin seeds are a good source of antioxidants, magnesium, zinc and fatty acids, all of which may help keep your heart healthy (22).
Animal studies have also shown that pumpkin seed oil can help reduce high blood pressure and high cholesterol levels.
These are two important risk factors for heart disease (23, 24).
A study involving 35 postmenopausal women found that pumpkin seed oil supplements reduced diastolic blood pressure by 7 percent and increased the "good" HDL cholesterol by 16 percent over a 12-week period (25).
Other studies suggest that it may be the nitric oxide enzymes contained in pumpkin seed oil that are responsible for its positive effects on heart health (26).
Nitric oxide helps expand blood vessels, improving blood flow and reducing the risk of plaque growth in the arteries.
Bottom Line: Nutrients in pumpkin seeds may help keep your heart healthy by reducing blood pressure and increasing good cholesterol.
7. Can Lower Blood Sugar Levels
Animal studies have shown that pumpkin, pumpkin seeds, pumpkin seed powder and pumpkin juice can reduce blood sugar (27, 28).
This is especially important for people with diabetes, who may struggle to control their blood sugar levels.
Several studies have found that supplementing the diet with pumpkin juice or seed powder reduced blood sugar levels in people with type 2 diabetes (28).
The high magnesium content of pumpkin seeds may be responsible for its positive effect on diabetes.
An observational study involving over 127,000 men and women found that diets rich in magnesium were associated with a 33 percent lower risk of type 2 diabetes in men and a 34 percent lower risk in women (29).
More research is needed to confirm this beneficial effect on blood sugar levels.
Bottom Line: Pumpkin seeds may help reduce blood sugar levels for people with type 2 diabetes. However, more research is needed.
8. Very High in Fiber
Pumpkin seeds are a great source of dietary fiber. Whole seeds provide 5.2 grams of fiber in a single 1-oz (28-gram) serving.
However, pumpkin kernels with the shell removed contain 1.7 grams of fiber per ounce. These are the green pumpkin seeds available in most supermarkets.
A diet high in fiber can promote good digestive health.
In addition, high-fiber diets have been associated with a reduced risk of heart disease, type 2 diabetes and obesity (30).
Bottom Line: Whole pumpkin seeds are an excellent source of fiber. Diets high in fiber are associated with many health benefits, including a reduced risk of heart disease, diabetes and obesity.
9. May Improve Sperm Quality
Low zinc levels are associated with reduced sperm quality and an increased risk of infertility in men (31).
Since pumpkin seeds are a rich source of zinc, they may help improve sperm quality.
Evidence from one study in mice suggests they may also help protect human sperm from damage caused by chemotherapy and autoimmune diseases (32).
Pumpkin seeds are also high in antioxidants and other nutrients that can contribute to healthy testosterone levels and improve overall health.
Together, all these factors may benefit fertility levels and reproductive function, especially in men.
Bottom Line: The high zinc content of pumpkin seeds may help improve sperm quality and fertility in men.
10. May Help Improve Sleep
If you have trouble sleeping, you may want to eat some pumpkin seeds before bed. They're a natural source of tryptophan, an amino acid that can help promote sleep.
Consuming around 1 gram of tryptophan daily is thought to help improve sleep (33).
However, you would need to eat around 7 oz (200 grams) of pumpkin seeds to get the necessary 1 gram of tryptophan.
The zinc in these seeds can also help convert tryptophan to serotonin, which is then changed into melatonin, the hormone that regulates your sleep cycle.
In addition, pumpkin seeds are an excellent source of magnesium. Adequate magnesium levels have also been associated with better sleep (34).
Some small studies have found that taking a magnesium supplement improved sleep quality and total sleep time in people with low magnesium levels (35, 36).
Bottom Line: Pumpkin seeds are a good source of tryptophan, zinc and magnesium, all of which help promote good sleep.
11. Easy to Add to Your Diet
If you'd like to experience the benefits of pumpkin seeds, they're easy to incorporate into your diet.
In many countries, they're a popular snack that can be eaten either raw or roasted, salted or unsalted.
As well as eating them alone, you can add them to smoothies or to Greek yogurt and fruit.
You could incorporate them into meals by sprinkling them into salads, soups or cereals. Some people use pumpkin seeds in baking, as an ingredient for sweet or savory bread and cakes.
However, as with many seeds and nuts, they contain phytic acid, which can reduce the bioavailability of some nutrients you eat.
If you eat seeds and nuts regularly, you may want to soak or sprout them to reduce the phytic acid content. Roasting them may also help.
Bottom Line: Pumpkin seeds can be easily incorporated into the diet as a snack or as an additional ingredient in meals or baking.
Do Pumpkin Seeds Have Any Other Benefits?
The rich nutrient content of pumpkin seeds means they may provide many other health benefits, such as improved energy, mood and immune function.
Eating them can help solve dietary deficiencies and may protect against various health problems.
This article was reposted from our media associate Authority Nutrition.
YOU MIGHT ALSO LIKE
WHO: Coffee Does Not Cause Cancer
Your Guide to Optimal Nutrition During Preganancy
Dr. Mark Hyman: 7 Ways to Achieve Optimal Brain Health
EcoWatch Daily Newsletter
Kokia drynarioides, commonly known as Hawaiian tree cotton, is a critically endangered species of flowering plant that is endemic to the Big Island of Hawaii.
David Eickhoff
/
Wikipedia
By Lorraine Chow
Kokia drynarioides is a small but significant flowering tree endemic to Hawaii's dry forests. Native Hawaiians used its large, scarlet flowers to make lei. Its sap was used as dye for ropes and nets. Its bark was used medicinally to treat thrush.
Frederick Bass / Getty Images
States that invest heavily in renewable energy will generate billions of dollars in health benefits in the next decade instead of spending billions to take care of people getting sick from air pollution caused by burning fossil fuels, according to a new study from MIT and reported on by The Verge.
Aerial view of lava flows from the eruption of volcano Kilauea on Hawaii, May 2018. Frizi / iStock / Getty Images
Hawaii's Kilauea volcano could be gearing up for an eruption after a pond of water was discovered inside its summit crater for the first time in recorded history, according to the AP.
A couple works in their organic garden. kupicoo / E+ / Getty Images
By Kristin Ohlson
From where I stand inside the South Dakota cornfield I was visiting with entomologist and former USDA scientist Jonathan Lundgren, all the human-inflicted traumas to Earth seem far away. It isn't just that the corn is as high as an elephant's eye — are people singing that song again? — but that the field burgeons and buzzes and chirps with all sorts of other life, too.
A competitor in action during the Drambuie World Ice Golf Championships in Uummannaq, Greenland on April 9, 2001. Michael Steele / Allsport / Getty Images
AFP / Getty Images / S. Platt
Newly established oil palm plantation in Central Kalimantan, Indonesia. Rhett A. Butler / Mongabay
By Hans Nicholas Jong
Indonesia's president has made permanent a temporary moratorium on forest-clearing permits for plantations and logging.
It's a policy the government says has proven effective in curtailing deforestation, but whose apparent gains have been criticized by environmental activists as mere "propaganda."