This website uses cookies to ensure you get the best experience while browsing it. By clicking 'Got It' you're accepting these terms.
By Terita Heath-Wlaz
Time for a dash of salt on that sheet pan of roasted veggies. What do you reach for? Pink Himalayan crystal salt? Hawaiian red salt? Black lava salt? Or, good old Morton's table salt?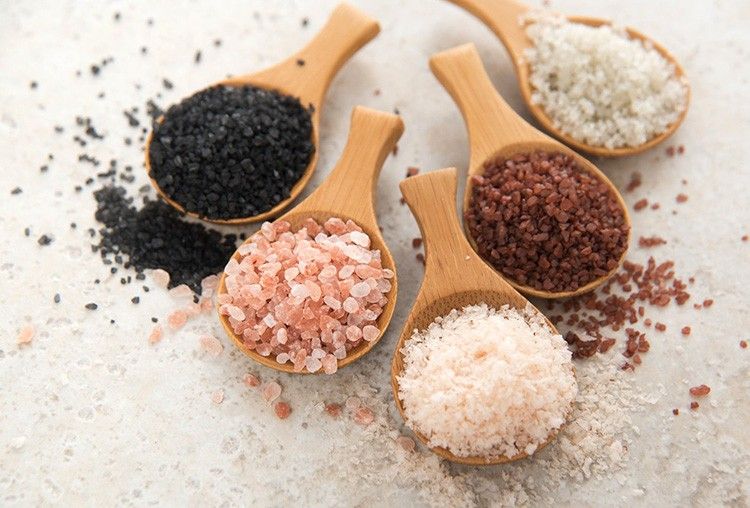 Colorful, exotic sea salts are marketed as minimally-processed, healthful alternatives to refined table salt. But since your individual diet and health influences what you need from salt, it's worth examining the claims and true differences among salts before you choose.
Processing in Sea Salt vs. Table Salt
It's true that sea salt undergoes less processing than table salt; it's produced simply by evaporating water from oceans or salinated lakes. Trace minerals like potassium, calcium and magnesium remain in sea salt, altering its texture, flavor and nutritional content in subtle ways.
Table salt, on the other hand, is mined from salt deposits underground. Manufacturers strip the salt of minerals to yield a uniformly white color, grind it to a fine consistency and add an anti-caking agent like calcium silicate. Finally, most table salts contain added iodine to combat iodine deficiency and goiter.
Many consumers gravitate toward sea salt because of its "close-to-nature" status–and its easy to understand why! We know minimal processing benefits our health when it comes to grains, meats and vegetables, so shouldn't the same be true for salt?
There's more to consider.
Trace Minerals
The promise of trace minerals in sea salt is alluring, but experts with the American Heart Association note that most minerals in sea salt occur plentifully in other foods. If you eat a varied diet rich in fruits, vegetables, whole grains and legumes, you likely already consume plenty of potassium, magnesium, calcium and other nutrients.
Sodium Content
By weight, the amount of sodium in sea salt and table salt is roughly equal. That means if you're trying to keep your sodium intake below the recommended limit of 2,300 milligrams per day, use either type of salt in moderation.
Worthy of note: most sodium we ingest doesn't come from the salt we add to food, but from packaged and processed food. The most effective change you can make to reduce sodium intake is to eat fewer processed foods and less restaurant fare.
Iodine
Dietary iodine added to table salt—but not sea salt—protects the health of your thyroid, which in turn helps regulate your metabolism, heart rate, nervous system and many more functions.
Certain foods supply iodine naturally, including seaweed, fish, yogurt and eggs. If you eat these foods regularly (especially seaweed!), you may be getting the recommended 150 micrograms of iodine your body needs in a day.
If your diet is low in iodine, however (which is common), choosing iodized table salt might act as a good insurance policy for thyroid health.
So, What Should I Choose?
The salt you choose depends on your tastes, nutritional status and diet. If you are neither pregnant nor breastfeeding and you regularly eat iodine-rich foods, you might choose sea salts for their beautiful array of colors, textures and flavors. A little jar of special salt makes a charming gift and if you enjoy eating foods close to their natural state, sea salt can complement your cooking.
But sea salt, unlike table salt, does not supply iodine and its trace minerals probably have little effect on your health. Most importantly, remember that sea salt contains as much sodium as table salt, so whatever you choose, use just a sprinkle!
YOU MIGHT ALSO LIKE
Is Drinking Carbonated Water Healthy?
Diet vs. Exercise: What's More Important?
5 Energizing Drinks Healthier Than Coffee
EcoWatch Daily Newsletter
Pick one of these nine activism styles, and you can start making change. YES! Illustrations by Delphine Lee
By Cathy Brown
Most of us have heard about UN researchers warning that we need to make dramatic changes in the next 12 years to limit our risk of extreme heat, drought, floods and poverty caused by climate change. Report after report about a bleak climate future can leave people in despair.
Jamie Grill Photography / Getty Images
Losing weight, improving heart health and decreasing your chances for metabolic diseases like diabetes may be as simple as cutting back on a handful of Oreos or saying no to a side of fries, according to a new study published in the journal The Lancet Diabetes & Endocrinology.
Golde Wallingford submitted this photo of "Pure Joy" to EcoWatch's first photo contest. Golde Wallingford
EcoWatch is pleased to announce our third photo contest!

A boy gives an impromptu speech about him not wanting to die in the next 10 years during the protest on July 15. The Scottish wing of the Extinction Rebellion environmental group of Scotland locked down Glasgow's Trongate for 12 hours in protest of climate change. Stewart Kirby / SOPA Images / LightRocket / Getty Images
It's important to remember that one person can make a difference. From teenagers to world-renowned scientists, individuals are inspiring positive shifts around the world. Maybe you won't become a hard-core activist, but this list of people below can inspire simple ways to kickstart better habits. Here are seven people advocating for a better planet.
A group of wind turbines in a field in Banffshire, Northeast Scotland. Universal Images Group / Getty Images
Scotland produced enough power from wind turbines in the first half of 2019, that it could power Scotland twice over. Put another way, it's enough energy to power all of Scotland and most of Northern England, according to the BBC — an impressive step for the United Kingdom, which pledged to be carbon neutral in 30 years.
Beekeeper Jeff Anderson works with members of his family in this photo from 2014. He once employed all of his adult children but can no longer afford to do so. CHRIS JORDAN-BLOCH / EARTHJUSTICE

tommaso79 / iStock / Getty Images Plus
By Rachel Licker
As a new mom, I've had to think about heat safety in many new ways since pregnant women and young children are among the most vulnerable to extreme heat.
Pexels
It's easy to get confused about which foods are healthy and which aren't.