This website uses cookies to ensure you get the best experience while browsing it. By clicking 'Got It' you're accepting these terms.
Sea Salt vs. Table Salt: Which Is Healthier?
Jun. 25, 2016 10:08AM EST
By Terita Heath-Wlaz
Time for a dash of salt on that sheet pan of roasted veggies. What do you reach for? Pink Himalayan crystal salt? Hawaiian red salt? Black lava salt? Or, good old Morton's table salt?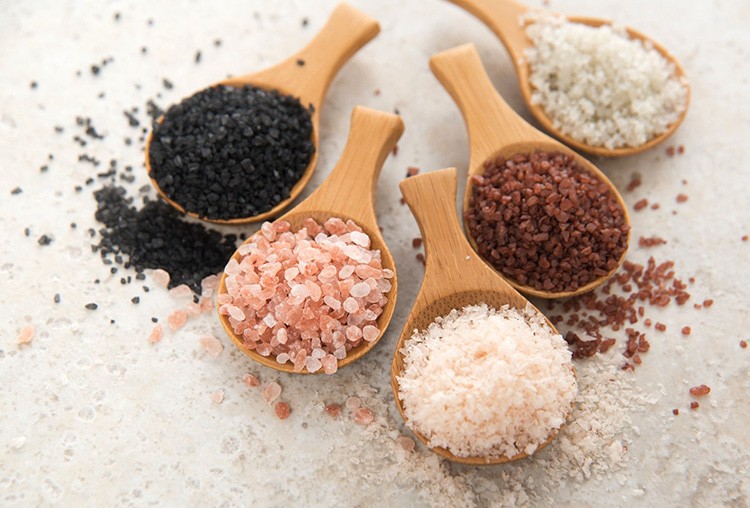 Colorful, exotic sea salts are marketed as minimally-processed, healthful alternatives to refined table salt. But since your individual diet and health influences what you need from salt, it's worth examining the claims and true differences among salts before you choose.
Processing in Sea Salt vs. Table Salt
It's true that sea salt undergoes less processing than table salt; it's produced simply by evaporating water from oceans or salinated lakes. Trace minerals like potassium, calcium and magnesium remain in sea salt, altering its texture, flavor and nutritional content in subtle ways.
Table salt, on the other hand, is mined from salt deposits underground. Manufacturers strip the salt of minerals to yield a uniformly white color, grind it to a fine consistency and add an anti-caking agent like calcium silicate. Finally, most table salts contain added iodine to combat iodine deficiency and goiter.
Many consumers gravitate toward sea salt because of its "close-to-nature" status–and its easy to understand why! We know minimal processing benefits our health when it comes to grains, meats and vegetables, so shouldn't the same be true for salt?
There's more to consider.
Trace Minerals
The promise of trace minerals in sea salt is alluring, but experts with the American Heart Association note that most minerals in sea salt occur plentifully in other foods. If you eat a varied diet rich in fruits, vegetables, whole grains and legumes, you likely already consume plenty of potassium, magnesium, calcium and other nutrients.
Sodium Content
By weight, the amount of sodium in sea salt and table salt is roughly equal. That means if you're trying to keep your sodium intake below the recommended limit of 2,300 milligrams per day, use either type of salt in moderation.
Worthy of note: most sodium we ingest doesn't come from the salt we add to food, but from packaged and processed food. The most effective change you can make to reduce sodium intake is to eat fewer processed foods and less restaurant fare.
Iodine
Dietary iodine added to table salt—but not sea salt—protects the health of your thyroid, which in turn helps regulate your metabolism, heart rate, nervous system and many more functions.
Certain foods supply iodine naturally, including seaweed, fish, yogurt and eggs. If you eat these foods regularly (especially seaweed!), you may be getting the recommended 150 micrograms of iodine your body needs in a day.
If your diet is low in iodine, however (which is common), choosing iodized table salt might act as a good insurance policy for thyroid health.
So, What Should I Choose?
The salt you choose depends on your tastes, nutritional status and diet. If you are neither pregnant nor breastfeeding and you regularly eat iodine-rich foods, you might choose sea salts for their beautiful array of colors, textures and flavors. A little jar of special salt makes a charming gift and if you enjoy eating foods close to their natural state, sea salt can complement your cooking.
But sea salt, unlike table salt, does not supply iodine and its trace minerals probably have little effect on your health. Most importantly, remember that sea salt contains as much sodium as table salt, so whatever you choose, use just a sprinkle!
YOU MIGHT ALSO LIKE
Is Drinking Carbonated Water Healthy?
Diet vs. Exercise: What's More Important?
5 Energizing Drinks Healthier Than Coffee
Southwest Greenland had the most consistent ice loss from 2003 to 2012. Eqalugaarsuit, Ostgronland, Greenland on Aug. 1, 2018.
Rob Oo / CC BY 2.0
Climate change has been called the biggest challenge of our time. Last year, scientists with the United Nations said we basically have 12 years to limit global warming to 1.5ºC to avoid planetary catastrophe.
Amid a backdrop of rising global carbon emissions, there's a real case for pessimism. However, many scientists are hopeful of a way out.
Martin Luther King Jr. at steps of the Lincoln Memorial where he delivered his famous, "I Have a Dream" speech in 1963.
"Injustice anywhere is a threat to justice everywhere." Dr. Martin Luther King Jr.'s words and actions continue to resonate on the 90th anniversary of his birth.
As the country honors the life and legacy of the iconic civil rights leader today, we are reminded that the social justice and the climate movements are deeply connected.
A Massachusetts road coated with snow and ice following the winter storm which prompted Trump to mock climate change. Scott Eisen / Getty Images
President Donald Trump has once again contradicted the findings of the U.S. government when it comes to the threat posed by climate change. Days after a Department of Defense report outlined how climate-related events like wildfires and flooding put U.S. military installations at risk, Trump took to Twitter to mock the idea that the world could be getting warmer, Time reported.
Trump's tweet came in response to a massive winter storm that blanketed the Midwest and Northeast this weekend.
The fire that erupted after a pipeline explosion in Mexico Friday. FRANCISCO VILLEDA / AFP / Getty Images
A dramatic pipeline explosion in central Mexico Friday has killed at least 85 people, Mexican Health Minister Jorge Alcocer Valera said Sunday night, The Associated Press reported.

The explosion occurred in a field in the municipality of Tlahuelilpan as people rushed to gather fuel from the pipeline, which had been ruptured by suspected thieves. Many were covered in oil before a fireball shot into the air.
Mead is a fermented beverage traditionally made from honey, water and a yeast or bacterial culture.
U.S. Army member helps clear debris from Tyndall Air Force Base following Hurricane Michael.
U.S. Army
The Pentagon released a Congressionally mandated report (pdf) that warns flooding, drought and wildfires and other effects of climate change puts U.S. military bases at risk.
The 22-page analysis states plainly: "The effects of a changing climate are a national security issue with potential impacts to Department of Defense (DoD or the Department) missions, operational plans, and installations."
Power plants across Texas are leaching toxins into groundwater, according to new research. A report released this week from the Environmental Integrity Project found that all of the state's 16 coal-fired power plants are leaching contaminants from coal ash into the ground, and almost none of the plants are properly lining their pits to prevent leakage.