8 Fast Food Chains That Serve Local, Organic, Vegan Food
Aug. 04, 2014 09:25AM EST
Food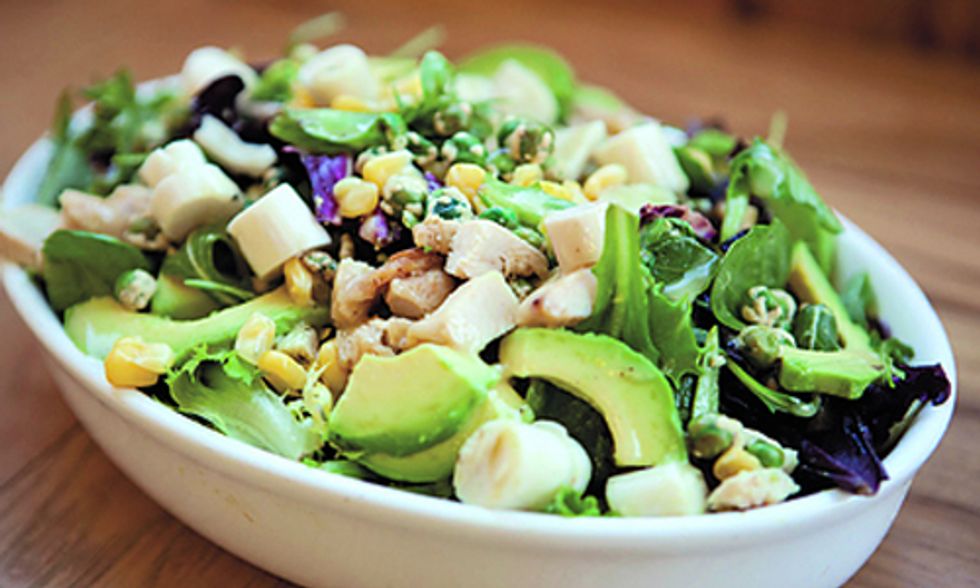 Fast food is going green! More and more in-and-out restaurant chains are replacing industrial-grade lettuce and factory-farmed meat with fresh fruits, vegetables, chicken and beef that are raised locally, humanely and organic wherever possible. Here are eight you might want to check out the next time you're famished and need something wholesome, quick and affordable, too.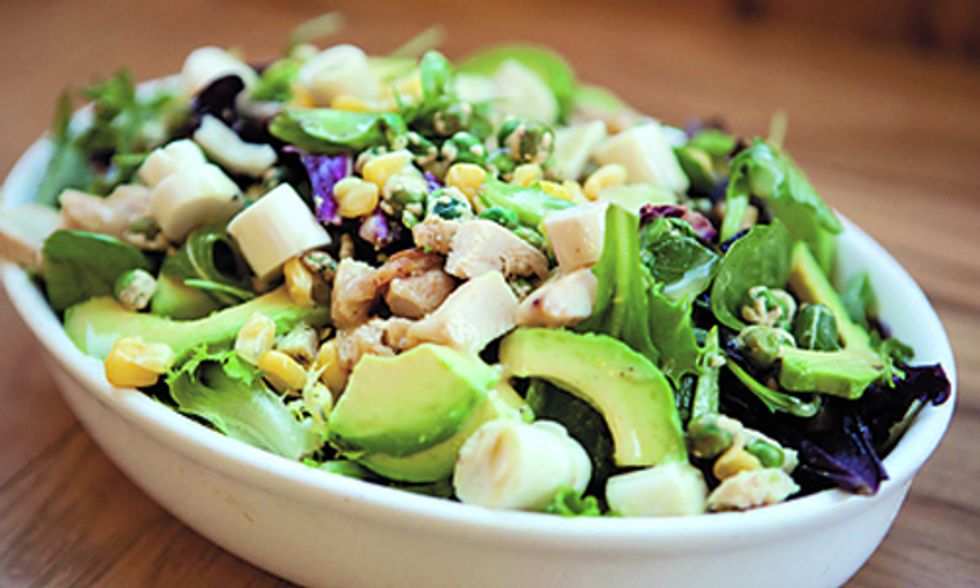 Sweetgreen: What's so sweet about Sweetgreen? For starters, pretty much all their salad ingredients are locally sourced, and often organic. Their meats are hormone- and antibiotic-free. And the restaurants themselves are green from top to bottom: They use 100 percent plant-based compostable packaging and re-usaable salad blaster bowls and bags. Reclaimed and Forest Stewardship Council-certified materials go into the construction of their facilities, along with low-VOC paint and energy efficient LED and fluorescent lighting. They compost food scraps in their kitchens and have composting and recycling stations so customers can compost their packaging and recycle their bottles. Plus, Sweet Green offsets 100 percent of their power with wind energy credits. The quickly expanding chain can be found in 27 locations in and around Boston, New York, Philadelphia and Washington, D.C. Go for the salads, but don't leave without a cup of their yummy frozen yogurt.
Veggie Grill: The gluten-free, soy-free items on the menu here are also free of meat, dairy, eggs, saturated animal fat, cholesterol, antibiotics and trans fat. Their "chickin'" and veggie-steak proteins are made from organic or non-GMO soybeans, wheat and peas. Plus, they serve super grains, a whole-grain blend of millet, buckwheat, quinoa and brown rice. Need something to drink? Try their homemade lemonade, organic teas, and locally produced craft beer and wine, all of which are free of high-fructose corn syrup. Find them in California, Oregon and Washington state.
Lyfe Kitchen: This chain strives to "be a place that reflects your values towards health, community and sustainability." It serves "organic whenever possible." There's a big emphasis on locally raised fruits and vegetables. If you're looking for breakfast, try a morning tofu wrap, or steel cut oats with dried cranberries and toasted almonds. For lunch, savor the vegan unfried buffalo "chick'n" (NOT!) strips and a vegan antipasto, or the quinoa crunch bowl, made from quinoa tabbouleh, fresh crunchy vegetables and fireman's hot sauce. For now, you can eat at Lyfe Kitchen in California, Nevada, Colorado, Texas and Chicago.
Dig Inn: A chain in New York City, Dig Inn sources local, seasonal ingredients for items like their "Natural Hero" sandwich, made from house-made spicy beef and chicken meatballs with grass-fed cheddar, fresh parsley and whole grain Dijon mustard. Cluk'N'Kale is naturally-raised roasted teriyaki chicken served with sweet potatoes and kale and apple salad with ginger dressing.
Chipotle: Probably the biggest fast-food chain with a commitment to sustainably raised food, Chipotle's website says that "whenever possible, we use meat from animals raised without the use of antibiotics or added hormones." The chain also sources organic and local produce "when practical." Wiggle room aside, Chipotle has shown that fast food chains can steer a greener course when they put their minds to it. The company has put solar panels on restaurants, uses low VOC paints and energy-efficient lights, and paper products made from unbleached paper. Chipotle is pretty much everywhere.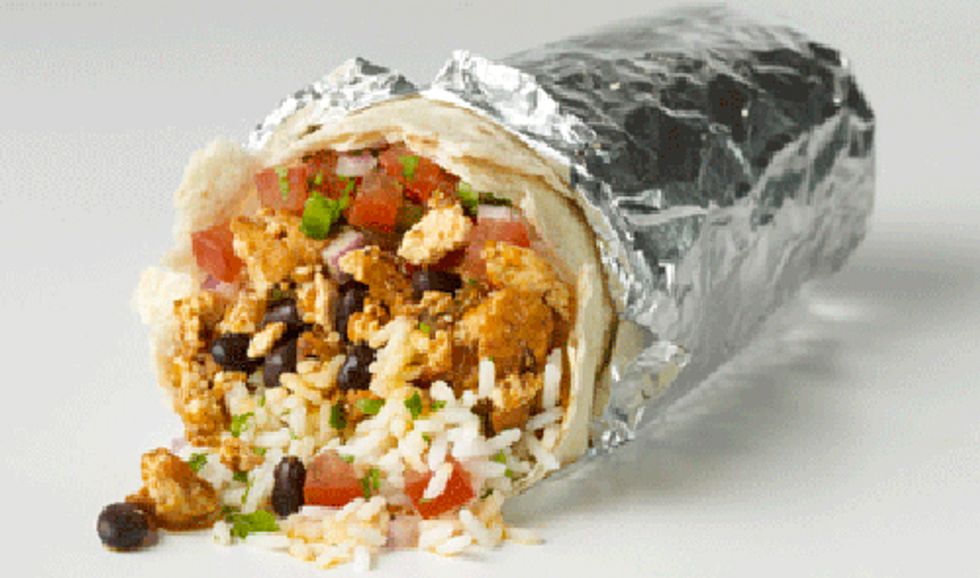 Elevation Burger: This growing chain, currently in Washington, D.C., Maryland, Maine, Texas, Pennsylvania, New York, New Jersey, Michigan, the Carolinas, Florida and Indiana, serves burgers made from 100 percent USDA-certified organic, grass-fed, free-range beef. The veggie burgers are made with organic whole grains, too. Try their "half-the-guilt" burger — one organic beef patty and one veggie patty of your choice. Want a smaller portion? Order the kid-sized burger, even if you're only a kid at heart.
Native Foods: The chefs at this chain have taken the word "native" to heart, making all their vegan cuisine from scratch – including cheese, tempeh, and of course, their nachos, chilis, soups and salads. Their menu, which is 100 percent plant-based, showcases seasonal dishes as well as fun stuff like the Rockin' Moroccan Bowl with tofu, grilled veggies and quinoa. Give them a try if you live in California, Colorado, Oregon, Chicago or Washington, D.C.
Tender Greens: The salads and entrees you'll find here are composed mostly of freshly picked, locally grown produce and beef from grain-fed, hormone/antibiotic-free beef and free-range chickens. They tap small local farmers, ranchers, artisans, boutique wineries, local breweries and coffee roasters. Says the company on its website, "there should be a conscious connection between the one who eats the food and the sources of that sustenance." Who can argue with that?
Do you have a favorite fast food restaurant that serves locally produced and organic food? If so, share below.
You Might Also Like
Powerful Antioxidant You Can Eat, Drink or Apply to Your Skin
10 Best Ingredients to Include in Your Superfood Smoothies
EcoWatch Daily Newsletter
Recent Stories from EcoWatch