This website uses cookies to ensure you get the best experience while browsing it. By clicking 'Got It' you're accepting these terms.
5 Years Since Massive Tar Sands Oil Spill, Kalamazoo River Still Not Clean
Jul. 25, 2015 08:23AM EST
Five years ago today, in the middle of the night, an oil pipeline operated by Enbridge ruptured outside of Marshall, Michigan. It took more than 17 hours before the Canadian company finally cut off the flow, but by then, more than a million gallons of tar sands crude had oozed into Talmadge Creek. The oil quickly flowed into the Kalamazoo River, forcing dozens of families to evacuate their homes. Oil spills of that magnitude are always disastrous, but the Kalamazoo event was historically damaging.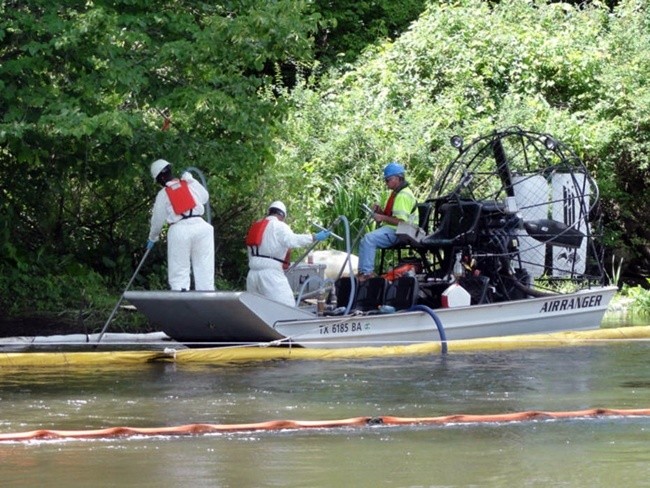 Submerged oil recovery on the Kalamazoo River. Photo credit: EPA
The first challenge was the composition of the oil. Fresh tar sands crude looks more like dirt than conventional crude—it's far too thick to travel through a pipeline.
To get this crumbly mess to flow, producers thin it out with the liquid constituents of natural gas. Diluted bitumen, or dilbit, as it's called in the tar sands industry, is approximately three parts tar sands crude, one part natural gas liquids.
When dilbit gushed into Talmadge Creek in 2010, the mixture broke apart. The volatile natural gas liquids vaporized and wafted into the surrounding neighborhoods. The airborne chemicals were so difficult to find and eliminate that Enbridge decided it would be better to simply buy some of the homes that were evacuated, preventing the residents from ever returning.
The tar sands oil, which stayed in the water, presented an even bigger chemistry problem. Most forms of oil, including conventional crude, are less dense than water. That's why oil makes such pretty colors when dropped into a rain puddle—it floats and plays tricks with the sunlight. Traditional oil spill cleanup technology relies heavily on this density relationship. Skimmers and vacuums remove it from the surface. Floating booms prevent surface-level oil from moving into environmentally sensitive areas.
Tar sands crude behaves differently. "Tar sands bitumen is a low-grade, heavy substance," says Anthony Swift, director of NRDC's Canada Project (disclosure). "Unlike conventional crude, when bitumen is released into a water body, it sinks." (See "Sink or Skim," onEarth's infographic on why tar sands oil is more difficult to clean up than conventional crude.)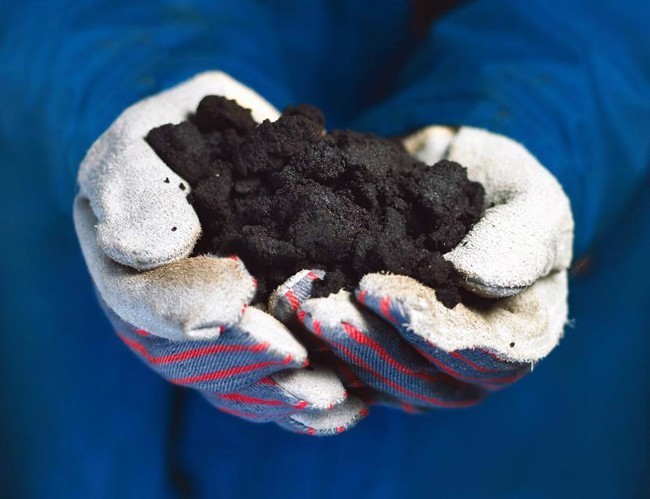 Try pumping this through a pipeline. Photo credit: SUNCOR
Put simply, the spilled dilbit traveled in every direction—into the air, with the current, to the bottom of the river—at the same time. The U.S. Environmental Protection Agency's (EPA) indisputably naïve response reveals how little anyone knew about tar sands crude. The EPA demanded that Enbridge remove the oil from wetlands surrounding the pipe by August 27, a little more than one month after the spill began. The agency wanted the stuff out of the creek, river and shorelines by Sept. 27. Those deadlines would have been practical for a typical spill—but not for a tar sands oil spill. A half-decade later, some of the oil still remains—though, much of that has to do with Enbridge botching the cleanup effort (see onEarth's three-part series, "The Whistleblower.")
Enbridge's bungling began even before the spill. First, the company knew the pipeline was vulnerable by 2005, if not earlier. When the rupture finally came in July 2010, operators dismissed the alarms as a malfunction of the system for 17 hours before finally accepting that the pipeline had failed. Making things worse, six hours after Calhoun County residents were complaining to 911 about the smell of oil, Enbridge employees were still trying to fix the problem by pumping additional oil into the pipeline. In its review of the accident, the National Transportation Safety Board faulted Enbridge's "culture of deviance" for what happened, pointing out that the response team in the first hours consisted of four local pipeline maintenance employees who were inadequately trained and made a series of bad decisions.
Not only did Enbridge fail to make the EPA's initial cleanup deadline, it also blew through a series of fallback deadlines across more than four years. Not until late 2014 did the agency finally sign off on the remediation effort, handing the remaining responsibilities to the Michigan Department of Environmental Quality.
As the cleanup winds down, though, there is little cause for celebration. "The Kalamazoo River still isn't clean," says Swift. "The EPA reached a point where additional cleanup might do more harm than good. Much of the river is still contaminated."
Some local residents accuse the company of overstating its progress. "In the process of beautifying everything and giving money to everybody and making everybody feel good about it, they're not really telling people about the dangers still there in that water," says Linda L. Cypret-Kilbourne of Michigan's Potawatomi tribe.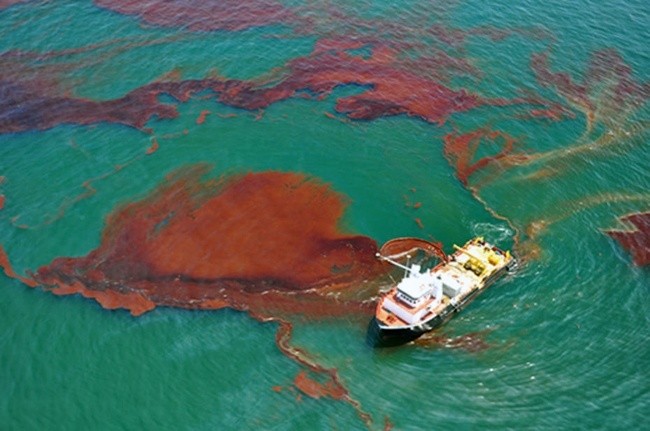 It's not clear when the river will go back to pre-spill quality. After conventional oil spills, crews eventually back off and allow microbes to break down the last bits of crude. That approach isn't a good option in Kalamazoo. First, the area doesn't have a large natural population of oil-eating microbes like the Gulf of Mexico has. In addition, tar sands crude contains very high levels of heavy metals, which don't break down easily.
Let's not forget how much it cost to (not completely) clean the Kalamazoo. The current price tag is $1.21 billion (and rising), making it the most expensive onshore oil spill in U.S. history.
It's tempting to dismiss the slow, botched, expensive and still-unfinished cleanup as growing pains. Tar sands imports have risen significantly since 2010, as has public awareness of the difference between the Canadian crude and the conventional product. In the five years since the incident, we should have improved tar sands oil spill response. But we didn't.
If another Enbridge spill were to happen tomorrow, the company might respond more quickly, but huge volumes of heavy tar sands crude would still pour out of the pipeline. David Holtz of the Michigan chapter of the Sierra Club told reporters that a rupture in Enbridge Line 5, another pipeline that runs through Michigan, would be disastrous.
"If they hit the shutoff valve immediately after a rupture, there would still be more than 650,000 gallons of oil spilled into the Great Lakes," he said.
Cleaning it up would be as challenging today as it was five years ago. There have been no technological breakthroughs since 2010. The tar sands industry should accept a large portion of the blame for this stasis.
"The efforts to improve spill response have been caught up in a public relations war," says Swift. "The tar sands industry wants you to believe that oil is oil and that its product involves no heightened concerns. As a result, spill responders are working with largely the same tools today as in 2010."
Tar sands pipelines—like the one operated by Enbridge, or TransCanada's proposed Keystone XL pipeline—run for thousands of miles, crisscrossing the U.S. and Canada in elaborate networks. They entail certain risks and those risks are not going away. We have to decide how to respond. If we accept them, we must work to minimize the consequences by developing the appropriate safety measures and technology. Or we can reject them by eliminating tar sands from our energy infrastructure. The one thing we must not do is to pretend they don't exist. The Kalamazoo spill is a reminder. It won't be the last.
YOU MIGHT ALSO LIKE
Michael Brune: A Bad Call on Shell
5,000+ Take to the Streets for Historic 'Tar Sands Resistance March'
Plus, learn if there's one that's best for your health.
Catherine Falls Commercial / Moment / Getty Images
An invasive Amynthas worm, also known as a crazy snake worm, Asian jumping worm and Alabama jumper Tom Potterfield / Flickr
By Jason Bittel
My wife and I built a house two years ago on a few acres of woodland outside of Pittsburgh. The backyard is full of maples, poplars, briars and common spicebush. Two-lined salamanders and grumpy-looking crayfish wade among the rocks in the small stream that runs down the edge of the property. Deer, raccoon and opossum tracks appear regularly in the snow and mud. Sometimes, my trail-cam even catches a pair of gray foxes as they slink through the night.
AleksandarNakic / Getty Images
By Kate Murphy
No matter the time of year, there's always a point in each season when my skin decides to cause me issues. While these skin issues can vary, I find the most common issues to be dryness, acne and redness.

David Woodfall / The Image Bank / Getty Images
By Sam Nickerson
The U.S. Environmental Protection Agency (EPA) in April 2018 proposed relaxing standards related to how it assesses the effects of exposure to low levels of toxic chemicals on public health.
Now, correspondence obtained by the LA Times revealed just how deeply involved industry lobbyists and a controversial, industry-funded toxicologist were in drafting the federal agency's proposal to scrap its current, protective approach to regulating toxin exposure.
Steve Irwin poses with a three foot long alligator at the San Francisco Zoo on June 26, 2002. Justin Sullivan / Getty Images
February 22 is the birthday of conservationist and beloved TV personality "Crocodile Hunter" Steve Irwin, who would have been 57 years old today.
Irwin's life was tragically cut short when the barb from a stingray went through his chest while he was filming in 2006, but his legacy of loving and protecting wildlife lives on, most recently in a Google Doodle today honoring his birthday.