This website uses cookies to ensure you get the best experience while browsing it. By clicking 'Got It' you're accepting these terms.
5,000+ Schools at Risk of Toxic Pesticide Exposure if EPA Approves New GMO Pesticide
Jul. 03, 2014 07:45AM EST
Health + Wellness
There are 5,609 American schools within 200 feet of farm fields that may soon be blanketed with massive amounts of a toxic defoliant linked to Parkinson's disease, non-Hodgkin's lymphoma and reproductive and immune system problems.
That's the finding of a new Environmental Working Group (EWG) analysis that shows that hundreds of thousands of children across the country will be at risk of increased exposure to the harmful chemical compound 2,4-D if the U.S. Environmental Protection Agency (EPA) approves a new weed killer mixture called "Enlist DuoTM" created by Dow AgroSciences (a wholly owned subsidiary of Dow Chemical Co.).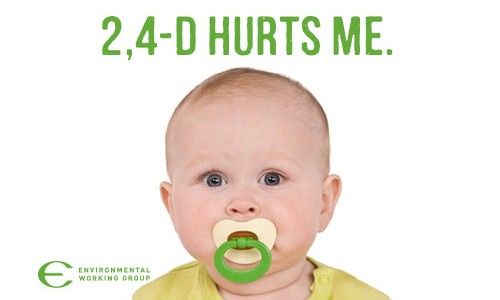 That apparently doesn't worry the EPA. But if these rural schools were full of plants rather than children, the agency would be concerned.
When it comes to dousing crops with noxious chemicals, the EPA focused on buffer zones for plants, not people—according to the agency's recent risk analysis of Enlist Duo, which is a combination of 2,4-D and glyphosate. In its assessment, the EPA called for a 200-foot buffer zone to protect non-weed plants from the product but glosses over the health risks to children. (Read more about EWG's analysis of how the EPA got it wrong.)
The agency is in the process of deciding whether to approve Enlist Duo for use on genetically engineered (GE) corn and soybeans designed to withstand blasts of 2,4-D and glyphosate. If the EPA gives the weed killer combo a thumbs-up, the amount of 2,4-D sprayed in the U.S. by 2020 would increase three-to-seven fold the amounts used today, according to U.S. Department of Agriculture estimates.
EWG's map (below) shows that more than 18,000 schools are situated within 1,000 feet of a corn or soybean field that could potentially be sprayed with 2.4-D. And nearly one-third of them (5,609 schools) are much closer—within 200 feet! Forty-seven states have at least one school within 1,000 feet of a field growing corn or soybeans—and 41 states have at least one school within 200 feet.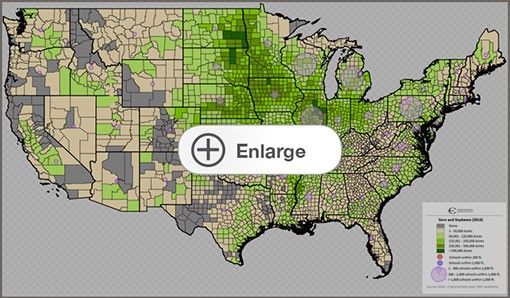 In its assessment, the EPA doesn't mention schools. But it does take care to assess the risk to plants other than the weeds Enlist Duo is designed to kill (so-called "non-target plants") if the mixture were to drift off the fields where it's sprayed. If you're a plant, the EPA thinks you might be in danger even at a distance of 1,000 feet. But Dow scientists promised the EPA that Enlist Duo won't drift that far. The EPA took them at their word and concluded that if you're a plant, you can be safe as close as 202 feet from a sprayed field—assuming the farmer sprays Dow's proprietary Enlist Duo formulation and not any other 2,4-D formulation (and follows all the instructions on the label.) 
Even if 2,4-D doesn't travel more than 200 feet from a field where it's used, Enlist Duo would put thousands of rural school children at risk. That's not a trivial matter. Human exposure to 2,4-D has been linked to a number of health risks, including thyroid, immune system and reproductive problems, non-Hodgkin's lymphoma and Parkinson's disease.
The EPA's assessment also doesn't focus on the possibility of people inhaling 2,4-D, even though that's one of the primary routes of exposure. Children in schools and daycare facilities closest to fields would be at increased risk whenever spraying takes place—both when school is in session and when children use the playgrounds or ball fields during summer break.
The 10 states with the most schools within 200 feet of cropland growing corn and soybeans are: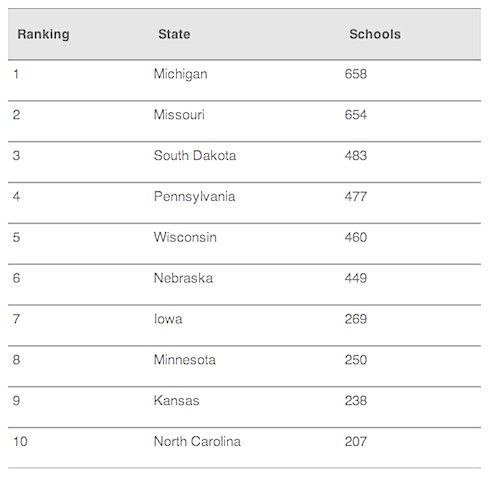 says it is working with the EPA
to expand the list of states.
EcoWatch Daily Newsletter
Sen. Michael Bennet (D-CO) speaks during the North American Building Trades Unions Conference at the Washington Hilton April 10, 2019 in Washington, DC. Zach Gibson / Getty Images
Colorado senator and 2020 hopeful Michael Bennet introduced his plan to combat climate change Monday, in the first major policy rollout of his campaign. Bennet's plan calls for the establishment of a "Climate Bank," using $1 trillion in federal spending to "catalyze" $10 trillion in private spending for the U.S. to transition entirely to net-zero emissions by 2050.
When Trump's Environmental Protection Agency (EPA) announced its replacement for the Obama-era Clean Power Plan in August 2018, its own estimates said the reduced regulations could lead to 1,400 early deaths a year from air pollution by 2030.
Now, the EPA wants to change the way it calculates the risks posed by particulate matter pollution, using a model that would lower the death toll from the new plan, The New York Times reported Monday. Five current or former EPA officials familiar with the plan told The Times that the new method would assume there is no significant health gain by lowering air pollution levels below the legal limit. However, many public health experts say that there is no safe level of particulate matter exposure, which has long been linked to heart and lung disease.
A crate carrying one of the 33 lions rescued from circuses in Peru and Columbia is lifted onto the back of a lorry before being transported to a private reserve on April 30, 2016 in Johannesburg, South Africa. Dan Kitwood / Getty Images
By Andrea Germanos
Animal welfare advocates are praising soon-to-be introduced legislation in the U.S. that would ban the use of wild animals in traveling circuses.
A tornado Monday in Union City, Oklahoma.
TicToc by Bloomberg / YouTube screenshot
A woman walks in front of her water-logged home in Sriwulan village, Sayung sub-district of Demak regency, Central Java, Indonesia on Feb. 2, 2018. Siswono Toyudho / Anadolu Agency /Getty Images
Matt Cardy / Stringer / Getty Images
The Guardian is changing the way it writes about environmental issues.
Blueberry yogurt bark. SEE D JAN / iStock / Getty Images Plus
Having nutritious snacks to eat during the workday can help you stay energized and productive.

A 2017 flood in Elk Grove, California. Florence Low / California Department of Water Resources
By Tara Lohan
It's been the wettest 12 months on record in the continental United States. Parts of the High Plains and Midwest are still reeling from deadly, destructive and expensive spring floods — some of which have lasted for three months.
Mounting bills from natural disasters like these have prompted renewed calls to reform the National Flood Insurance Program, which is managed by Federal Emergency Management Agency and is now $20 billion in debt.