Wolf Killing Contest Disguised as Holiday Family Fun in Idaho
By Alicia Graef
This year while most people will be enjoying a holiday break and winding down after Christmas, a hunters' rights group in Idaho has something special planned to bring people together: it will be hosting the first predator killing contest in decades to take out wolves and coyotes the weekend of Dec. 28-29.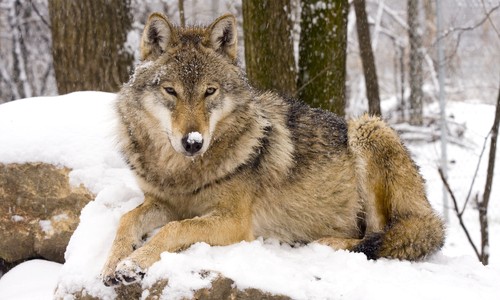 Photo courtesy of Shutterstock
The event is being sponsored by Idaho for Wildlife, which is calling the contest "an incredible opportunity to team up with your son or daughter during Christmas break and spend some quality time in the gorgeous Salmon, Idaho Country!"
The group will be awarding trophies and prize money for killing the largest wolf and most coyotes, among other things, and is offering special prizes for a youth category for children between the ages of 10 and 14.
The group states on its website that its mission is to protect the state's hunting heritage and "to fight against all legal and legislative attempts by the animal rights and anti-gun organizations" to take it away. It also claims the contest is to keep wolves in check and raise awareness about diseases.
Environmentalists and animal lovers, however, have a different take on things and are condemning the contest for what it really is: an offensive, indefensible and reckless waste of life. It isn't even about wildlife management, or hunting, but is about glorifying killing for fun and personal gain. Even many hunters agree that killing for prizes is unethical and violates fair chase.
According to Defenders of Wildlife:
Organizers of this so-called wolf derby admit that one purpose of the event is to show the world that no one can stop them from killing wolves—not you, not me, and especially not the federal government. It's a horrific demonstration of what happens when wolves are prematurely stripped of Endangered Species Act protection.
Ironically, the contest is set to start on the 40th anniversary of the Endangered Species Act. Idaho opened season on wolves two years ago after they lost federal protection. Since the season opened this year on Aug. 30, 154 wolves have already been killed.
Camilla Fox, executive director of Project Coyote, said about that contest that, "it is abundantly clear that the very practices that sent wolves to the brink of extinction still endanger their persistence."
Regardless of the species involved in these types of contests, these alleged hunters are overlooking the inherent value of the wild animals they're so determined to destroy. It's been well established that coyotes and wolves play an important role in maintaining healthy ecosystems as apex predators.  If this group were really interested in working towards balancing wildlife or protecting livestock, then this contest and the mass killing that will ensue would not be taking place.
Hopefully the people that support this type of massacre will one day realize that they are part of a world where all species, even dreaded predators, have a role to play so that all life can continue. Hopefully they will recognize the importance of fostering compassion toward all life around us.
On a brighter note, approximately one million Americans came forward to oppose stripping endangered species protections from wolves before the public comment period closed Tuesday, which is the largest number of comments ever submitted on a federal decision involving an endangered species.
Idaho's little contest just continues to prove that prematurely delisting wolves and turning management over to the states that are clearly hostile towards them will turn what could be a great conservation success story into a complete disaster.
Visit EcoWatch's BIODIVERSITY page for more related news on this topic.

Katahdin Woods and Waters. National Parks Conservation Association.
Looks like you'll have to trust your map if you want to find the newly designated Katahdin Woods and Waters National Monument in Maine.
Gov. Paul LePage has refused to put up any official signs along the four main roads to the 87,500-acre preserve, which is on the list of 27 national monuments under Interior Sec. Ryan Zinke's review.
Keep reading...
Show less
Keep reading...
Show less
More than 58 percent of Swiss voters supported a measure to phase out nuclear power in favor of renewable energy.
The plan provides billions in subsidies for renewable energy, bans the construction of new nuclear plants and decommissions Switzerland's five aging reactors. There is no clear date when the plants will close.

Keep reading...
Show less
iStock
By Alex Kirby
An ambitious scientific expedition is due to start work on May 22 on Bolivia's second-highest mountain, Illimani. The researchers plan to drill three ice cores from the Illimani glacier, and to store two of them in Antarctica as the start of the world's first ice archive.
Keep reading...
Show less
CC-BY-SA-2.5 and GNU FDL
Although not on most people's radar here, New York is one step closer to becoming the first state to have genetically modified, non-sterile insects released outside without cages.

Keep reading...
Show less
Photo credit: Michael Fujiwara/YouTube
The viral video of a young girl snatched off a Richmond, British Columbia dock by a sea lion is another reminder that people shouldn't get too close to wild animals.
Port officials in Canada have sharply criticized the family for putting themselves at risk for feeding the large animal, especially since there are several signs in the area warning people not to do so.
Keep reading...
Show less
Bears Ears National Monument. Tim Peterson
An anti-public lands official in Utah said Interior Sec. Ryan Zinke has already made up his mind to repeal Bears Ears National Monument, a move experts say could be against the law.
Keep reading...
Show less
The Crop Trust
Flooding breached a supposedly impregnable Arctic "doomsday" vault containing a collection of seeds stored for an apocalypse scenario last week, after warmer-than-average temperatures caused a layer of permafrost to thaw.
Keep reading...
Show less