Fukushima Fallout Continues to Wreak Havoc

Radiation leaks, steam releases, disease and death continue to spew from Fukushima in a disaster which is far from over. Its most profound threat to the global ecology—a spent fuel fire—is still very much with us.
The latest steam leak has raised fears around the planet. A worst-case scenario of an on-going, out-of-control fission reaction was dismissed by the owners, Tokyo Electric Power Company (Tepco), because they didn't find xenon in the plume. The company says the steam likely came from rain water being vaporized by residual heat in one of plant's stricken reactors.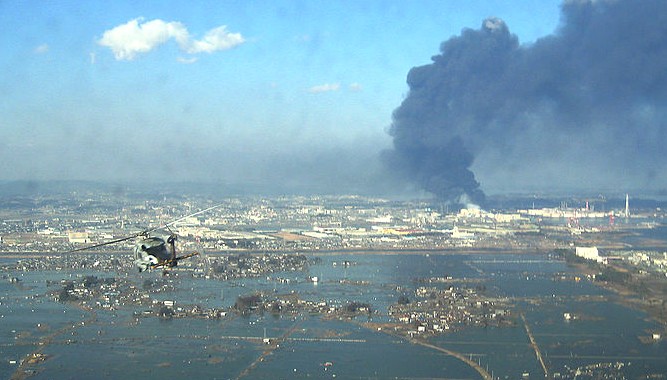 But independent experts tend to disbelieve anything Tepco says, for good reason. Reactor Units One, Two and Three have exploded at Fukushima despite decades of official assurances that commercial atomic power plants could not explode at all. The company has been unable to clear out enough radioactive debris to allow it to put a cover over the site that might contain further airborne emissions.
Tepco has also been forced to admit that it has been leaking radioactive water into the ocean ever since the disaster began on March 11, 2011. In one instance it admitted to a 90-fold increase of Cesium in a nearby test over a period of just three days.
Earlier this year a rat ate through critical electrical cables, shorting out a critical cooling system. When Tepco workers were dispatched to install metal guards to protect the cabling, they managed to short out the system yet again.
Early this month Fukushima's former chief operator, Masao Yoshida, died of esophogeal cancer at the age of 58. Masao became a hero during the worst of the nuclear disaster by standing firm at his on-site command post as multiple explosions rocked the reactor complex. Tepco claimed his ensuing cancer and death were "unlikely" to have been caused by Fukushima's radiation.
The impact of work in and near the reactors has become a rising concern. Critics have warned that there are not enough skilled technicians willing to sacrifice themselves at the plant. Tepco has worsened the situation by applying to open a number of its shut reactors elsewhere in Japan, straining its already depleted skilled workforce even further.
Meanwhile, a staggering 40 percent rise in thyroid irregularities among young children in the area has caused a deepening concern about widespread health impacts from Fukushima's fallout within the general public. Because these numbers have come in just two years after the disaster, the percentage of affected children is expected to continue to rise.
And the worst fear of all remains unabated. At Unit Four, which apparently did not actually explode, the building's structural integrity has been seriously undermined. Debate continues to rage over exactly how this happened.
But there's no doubt that a pool containing many tons of highly radioactive, used fuel, is suspended 100 feet in the air, with little left to support the structure. Should an earthquake or other trauma knock the pool to the ground, there's a high likelihood the fuel rods could catch fire.
In such an event, the radioactive emissions could be catastrophic. Intensely lethal emissions could spew for a very long time, eventually circling the globe many times, wrecking untold havoc.
The Japanese have removed two apparently unused rods from the fuel pool so far. But intense international pressure to clear out the rest of them has thus far been unsuccessful.
So while a depleted, discredited and disorganized nuclear utility moves to restart its other reactors, its stricken units at Fukushima continue to hold the rest of us at the brink of apocalyptic terror.
Visit EcoWatch's NUCLEAR page for more related news on this topic.
——–
Katahdin Woods and Waters. National Parks Conservation Association.
Looks like you'll have to trust your map if you want to find the newly designated Katahdin Woods and Waters National Monument in Maine.
Gov. Paul LePage has refused to put up any official signs along the four main roads to the 87,500-acre preserve, which is on the list of 27 national monuments under Interior Sec. Ryan Zinke's review.
Keep reading...
Show less
Keep reading...
Show less
More than 58 percent of Swiss voters supported a measure to phase out nuclear power in favor of renewable energy.
The plan provides billions in subsidies for renewable energy, bans the construction of new nuclear plants and decommissions Switzerland's five aging reactors. There is no clear date when the plants will close.

Keep reading...
Show less
iStock
By Alex Kirby
An ambitious scientific expedition is due to start work on May 22 on Bolivia's second-highest mountain, Illimani. The researchers plan to drill three ice cores from the Illimani glacier, and to store two of them in Antarctica as the start of the world's first ice archive.
Keep reading...
Show less
CC-BY-SA-2.5 and GNU FDL
Although not on most people's radar here, New York is one step closer to becoming the first state to have genetically modified, non-sterile insects released outside without cages.

Keep reading...
Show less
Photo credit: Michael Fujiwara/YouTube
The viral video of a young girl snatched off a Richmond, British Columbia dock by a sea lion is another reminder that people shouldn't get too close to wild animals.
Port officials in Canada have sharply criticized the family for putting themselves at risk for feeding the large animal, especially since there are several signs in the area warning people not to do so.
Keep reading...
Show less
Bears Ears National Monument. Tim Peterson
An anti-public lands official in Utah said Interior Sec. Ryan Zinke has already made up his mind to repeal Bears Ears National Monument, a move experts say could be against the law.
Keep reading...
Show less
The Crop Trust
Flooding breached a supposedly impregnable Arctic "doomsday" vault containing a collection of seeds stored for an apocalypse scenario last week, after warmer-than-average temperatures caused a layer of permafrost to thaw.
Keep reading...
Show less