Women Apply an Average of 168 Chemicals on Their Bodies Every Day
Is it any surprise that the lotions, soaps and other products we use to make ourselves look younger or "better" might contain a nasty slew of chemicals?
If you're unsure or want to understand what these chemicals can do to your health, a recent report in The Guardian would be a good place to start. The report says that although many of these chemicals might be harmless, others might be endocrine disruptors, carcinogens and neurotoxins. Women are particularly at risk since they use more personal products—such as makeup, anti-aging creams and hair products—compared to men.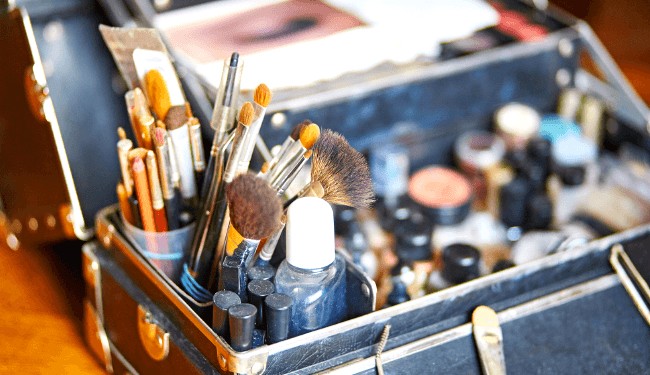 Photo Credit: Shutterstock 
The report was based off research from the Environmental Working Group (EWG). The nonprofit survived about 2,300 people in the U.S., and found that the average woman uses 12 products containing 168 unique ingredients every day. The average man uses six products daily with 85 unique ingredients. By using these products, we might negatively impact our health.
The organization also reported the following:
12.2 million adults—one of every 13 women and one of every 23 men—are exposed to ingredients that are known or probable human carcinogens every day through their use of personal care products.

One of every 24 women, 4.3 million women altogether, are exposed daily to personal care product ingredients that are known or probable reproductive and developmental toxins, linked to impaired fertility or developmental harm for a baby in the womb or a child.

These statistics do not account for exposures to phthalates that testing shows appear in an estimated three quarters of all personal care products but that, as components of fragrance, are not listed on product ingredient labels.

One of every five adults are potentially exposed every day to all of the top seven carcinogenic impurities common to personal care product ingredients—hydroquinone, ethylene dioxide, 1,4-dioxane, formaldehyde, nitrosamines, PAHs and acrylamide. The top most common impurity ranked by number of people exposed is hydroquinone, which is a potential contaminant in products used daily by 94 percent of all women and 69 percent of all men.
You'd think that these products would be thoroughly evaluated for safety before they hit the market. However, no premarket safety testing is required for the industrial chemicals that go into personal care products or the chemical industry as a whole, the EWG said.
"With the exception of color additives and a few prohibited ingredients, a cosmetic manufacturer may use almost any raw material as a cosmetic ingredient and market the product without an approval from FDA," according to the federal Food and Drug Administration.
So what's the safest skincare regime to follow? According to the EWG, here are some chemicals you want to pay attention to the next time you shop.
Soap: Avoid triclosan and triclocarban

Skin moisturizer and lip products: Avoid retinyl palmitate, retinyl acetate, retinoic acid and retinol in daytime products

Hand sanitizers: Pick ethanol or ethyl alcohol in at least 60 percent alcohol

Sunscreen: Just say no to SPF above 50, retinyl palmitate, aerosol spray and powder sunscreen, oxybenzone, added insect repellent. Say yes to hats and shade in mid-day sun, zinc oxide or titanium dioxide as active ingredients, otherwise Avobenzone (at 3 percent), SPF 15 to 50, depending on your own skin coloration, time outside, shade and cloud cover. Use a lot and reapply frequently.

Hair Care: Avoid or limit dark permanent hair dyes, chemical hair straighteners

Toothpaste: Avoid triclosan

Nails: Avoid formaldehyde or formalin in polish, hardeners or other nail products. Toluene and Dibutyl phthalate (DBP) in polish. Pregnant? Skip polish
Here are some tips the EWG esspecially came up for women: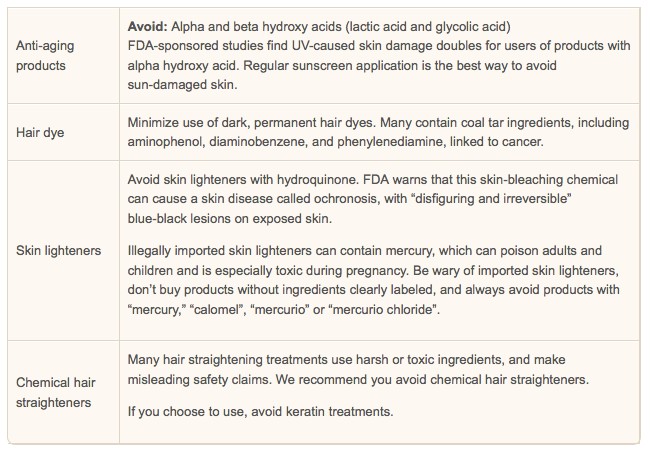 For men: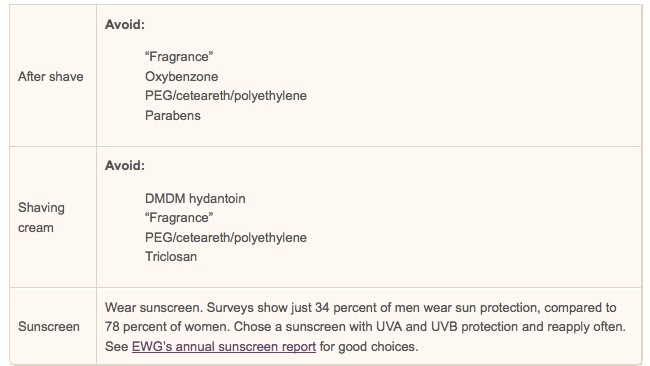 And for teens and tweens: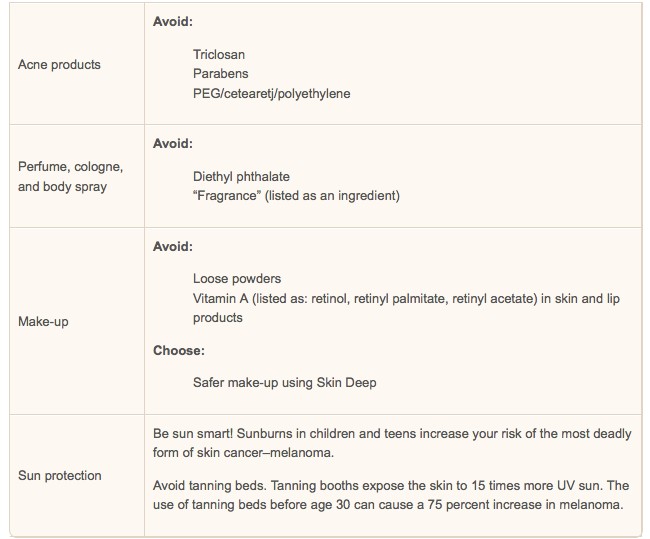 To see if your products are safe or not, visit the EWG's Skin Deep website or download their Skin Deep mobile app, a online database of more than 68,000 personal products.
For more recommendations on what not to buy and chemicals to look out for at the store, consult their "Top tips for safer products" webpage.
YOU MIGHT ALSO LIKE
12 Vegan Makeup Products You Can Buy at Target
The U.S. Fish and Wildlife Service removed grizzly bears in the Greater Yellowstone region on Thursday from the Endangered Species List. The decision comes despite serious concerns in the scientific community about a declining, isolated population with diminishing food resources and record-high mortalities, as well as strong opposition from an unprecedented number of Tribal Nations.
Keep reading...
Show less
ArborGen pine tree field test site in South Carolina. BJ McManama
By BJ McManama
ArborGen Corporation, a multinational conglomerate and leading supplier of seedlings for commercial forestry applications, has submitted an approval request to the U.S. Department of Agriculture, Animal and Plant Health Inspection Service to deregulate and widely distribute a eucalyptus tree genetically engineered (GE) to be freeze tolerant. This modification will allow this GE variety to be grown in the U.S. Southeast. The reason this non-native and highly invasive tree has been artificially created to grow outside of its tropical environment is to greatly expand production capacity for the highly controversial woody biomass industry.
Keep reading...
Show less
By Kari Hamerschlag
Many health conscious consumers are reducing their consumption of red meat in favor of chicken—especially products labeled and promoted as "100% natural"—believing they are a healthier option produced without routine antibiotics, artificial substances or other drugs.
Keep reading...
Show less
Stephen Hawking repeated his warning that humanity needs to leave Earth and colonize the moon, Mars or other planets in order for our species to survive the impending doom of climate change.
"We have given our planet the disastrous gift of climate change ... When we we have reached similar crises there has usually been somewhere else to colonize ... But there is no new world, no utopia around the corner," he said. "We are running out of space, and the only places to go to are other worlds."
Keep reading...
Show less
www.youtube.com
Keep reading...
Show less
It's so hot in the American Southwest that meteorologists are using unusual colors for their temperature maps.
As reported by MLive's Mark Torregrossa, with temperatures forecast to hit 120 degrees Fahrenheit in the Phoenix area, the folks at weatherbell.com had to use green for its Wednesday map because the other shades were already used.
Keep reading...
Show less
www.facebook.com
Former California Gov. Arnold Schwarzenegger has let the world know that Donald Trump does not represent America in his choice to drop out of the Paris climate agreement.
Despite the president's lack of support for the environment, the rest of America will continue to work towards a brighter and greener future, as Schwarzenegger makes clear in the video above.
An oil and gas drilling platform in Australian waters. CSIRO / Wikimedia Commons
By Paul Brown
Natural gas will have to be phased out along with coal if the world is to be kept safe from dangerous climate change. And that seems likely to have to happen far sooner than most official forecasts, according to a new report.
If countries want to reach their Paris climate agreement goals of limiting the long-term world temperature rise to 1.5°C, then many of the proposals to increase gas production and distribution will be unnecessary. New terminals and pipelines will never be fully used and will become stranded assets.
Keep reading...
Show less
The Dakota Access Pipeline being installed between farms in New Salem, North Dakota. Tony Webster /
Flickr
Keep reading...
Show less


Get EcoWatch in your inbox