This website uses cookies to ensure you get the best experience while browsing it. By clicking 'Got It' you're accepting these terms.
Women Apply an Average of 168 Chemicals on Their Bodies Every Day
May. 15, 2015 08:08AM EST
Health + Wellness
Is it any surprise that the lotions, soaps and other products we use to make ourselves look younger or "better" might contain a nasty slew of chemicals?
If you're unsure or want to understand what these chemicals can do to your health, a recent report in The Guardian would be a good place to start. The report says that although many of these chemicals might be harmless, others might be endocrine disruptors, carcinogens and neurotoxins. Women are particularly at risk since they use more personal products—such as makeup, anti-aging creams and hair products—compared to men.
---
Photo Credit: Shutterstock
The report was based off research from the Environmental Working Group (EWG). The nonprofit survived about 2,300 people in the U.S., and found that the average woman uses 12 products containing 168 unique ingredients every day. The average man uses six products daily with 85 unique ingredients. By using these products, we might negatively impact our health.
The organization also reported the following:
12.2 million adults—one of every 13 women and one of every 23 men—are exposed to ingredients that are known or probable human carcinogens every day through their use of personal care products.
One of every 24 women, 4.3 million women altogether, are exposed daily to personal care product ingredients that are known or probable reproductive and developmental toxins, linked to impaired fertility or developmental harm for a baby in the womb or a child.
These statistics do not account for exposures to phthalates that testing shows appear in an estimated three quarters of all personal care products but that, as components of fragrance, are not listed on product ingredient labels.
One of every five adults are potentially exposed every day to all of the top seven carcinogenic impurities common to personal care product ingredients—hydroquinone, ethylene dioxide, 1,4-dioxane, formaldehyde, nitrosamines, PAHs and acrylamide. The top most common impurity ranked by number of people exposed is hydroquinone, which is a potential contaminant in products used daily by 94 percent of all women and 69 percent of all men.
You'd think that these products would be thoroughly evaluated for safety before they hit the market. However, no premarket safety testing is required for the industrial chemicals that go into personal care products or the chemical industry as a whole, the EWG said.
"With the exception of color additives and a few prohibited ingredients, a cosmetic manufacturer may use almost any raw material as a cosmetic ingredient and market the product without an approval from FDA," according to the federal Food and Drug Administration.
So what's the safest skincare regime to follow? According to the EWG, here are some chemicals you want to pay attention to the next time you shop.
Soap: Avoid triclosan and triclocarban
Skin moisturizer and lip products: Avoid retinyl palmitate, retinyl acetate, retinoic acid and retinol in daytime products
Hand sanitizers: Pick ethanol or ethyl alcohol in at least 60 percent alcohol
Sunscreen: Just say no to SPF above 50, retinyl palmitate, aerosol spray and powder sunscreen, oxybenzone, added insect repellent. Say yes to hats and shade in mid-day sun, zinc oxide or titanium dioxide as active ingredients, otherwise Avobenzone (at 3 percent), SPF 15 to 50, depending on your own skin coloration, time outside, shade and cloud cover. Use a lot and reapply frequently.
Hair Care: Avoid or limit dark permanent hair dyes, chemical hair straighteners
Toothpaste: Avoid triclosan
Nails: Avoid formaldehyde or formalin in polish, hardeners or other nail products. Toluene and Dibutyl phthalate (DBP) in polish. Pregnant? Skip polish
Here are some tips the EWG esspecially came up for women:
For men: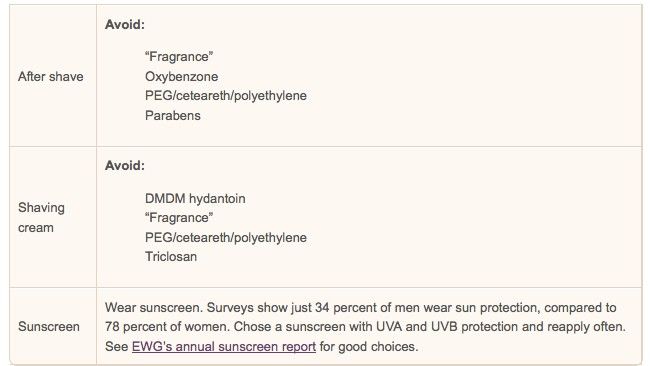 And for teens and tweens:
To see if your products are safe or not, visit the EWG's Skin Deep website or download their Skin Deep mobile app, a online database of more than 68,000 personal products.
For more recommendations on what not to buy and chemicals to look out for at the store, consult their "Top tips for safer products" webpage.
YOU MIGHT ALSO LIKE
12 Vegan Makeup Products You Can Buy at Target
EcoWatch Daily Newsletter
David Gilmour performs at Anfiteatro Scavi di Pomei on July 7, 2016 in Pompei, Italy. Francesco Prandoni / Redferns / Getty Images
David Gilmour, guitarist, singer and songwriter in the rock band Pink Floyd, set a record last week when he auctioned off 126 guitars and raised $21.5 million for ClientEarth, a non-profit environmental law group dedicated to fighting the global climate crisis, according to CNN.
U.S. Secretary of Agriculture Sonny Perdue speaks during a forum April 18, 2018 in Washington, DC. Alex Wong / Getty Images
The Trump administration ratcheted up its open hostility to climate science in a move that may hide essential information from the nation's farmers.
Simple swaps that cut down on kitchen trash.
Sponsored
By Kayla Robbins
Along with the bathroom, the kitchen is one of the most daunting areas to try and make zero waste.
Protestors and police stand on ether side of railway tracks. dpa / picture-alliance
Police have cleared 250 climate activists who stayed overnight at the Garzweiler brown coal mine in western Germany, officials said Sunday.
Cecilie_Arcurs / E+ / Getty Images
By Megan Jones and Jennifer Solomon
The #MeToo movement has caused profound shake-ups at organizations across the U.S. in the last two years. So far, however, it has left many unresolved questions about how workplaces can be more inclusive and equitable for women and other diverse groups.

Cigarette butts are the most-littered item found at beach clean ups. John R. Platt
By Tara Lohan
By now it's no secret that plastic waste in our oceans is a global epidemic. When some of it washes ashore — plastic bottles, plastic bags, food wrappers — we get a stark reminder. And lately one part of this problem has been most glaring to volunteers who comb beaches picking up trash: cigarette butts.

Andrea Rodgers, second from the right, takes notes during a hearing in the Juliana v. U.S. case before the 9th Circuit Court of Appeals in Portland, Oregon on June 4. Colleague Elizabeth Brown sits to her left, while colleague Julia Olson sits on her right, with co-council Philip Gregory on Julia's right. Robin Loznak / Our Children's Trust
By Fran Korten
On June 4, Andrea Rodgers was in the front row of attorneys sitting before a three-judge panel of the 9th Circuit Court. The court session, held in Portland, Oregon, was to determine whether the climate change lawsuit (Juliana v. United States) brought by 21 young plaintiffs should be dismissed, as requested by the U.S. government, or go on to trial.
Seventy Extinction Rebellion protesters were arrested outside The New York Times building Saturday.
SCOOTERCASTER / YouTube screenshot