This website uses cookies to ensure you get the best experience while browsing it. By clicking 'Got It' you're accepting these terms.
Ok, so you know about the potential health implications of BPA in plastic and you do your best to avoid it. But what about PVC in plastics and other products?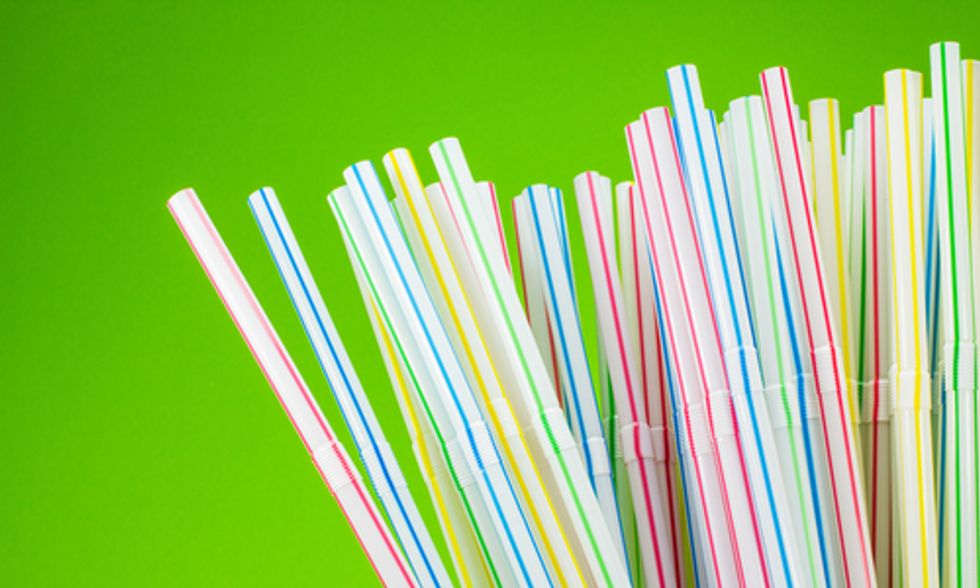 Plastic drinking straws. Photo courtesy of Shutterstock
PVC—polyvinyl chloride, or vinyl—is found in a range of products, from children's toys to building materials to food packaging. Healthy Child Healthy World describes PVC as the most toxic plastic, and vinyl chloride, the chemical used to make PVC, has been described as a known carcinogen by the World Health Organization's International Agency for Research on Cancer.
PVC, because of its high chlorine content, creates toxic pollution in the form of dioxins, which accumulate in animals' fat up through the food chain. Exposure to PVC often includes exposure to phthalates, which may have serious health effects. Besides health problems, there are a number of negative environmental impacts from the production and use of this material, such as problems in disposing of PVC, which is very difficult to recycle. There are other consequences you might not have even thought about.
Greenpeace lists the following 10 reasons to avoid PVC:
1. Hazardous production
2. Environmental racism
3. Toxic additives
4. Catastrophic accidents
5. Terrorist targets
6. Dangerous cargo
7. No safe use
8. Unsafe disposal
9. Problematic recycling
10. Safer cost-effective alternatives are widely available
This infographic created by Mary-Anne Phillips highlights the dangers of PVC:

How might you be exposed to PVC? The U.S. National Library of Medicine offers the following list of potential sources:
You can be exposed to PVC by eating food or drinking water contaminated with it. At home, you can be exposed to PVC if you have PVC pipes, vinyl flooring or other consumer products made with PVC. You can be exposed if your home has vinyl siding or if you are building or renovating your home. Exposure may occur through food packaging and containers or "shrink wrapped" packages.
You can be exposed to PVC outdoors if you have a plastic swimming pool or plastic furniture. You can be exposed if you live or work on a farm that has an irrigation system containing PVC.
You can be exposed to PVC if you are a patient in a hospital and use medical devices made with PVC.
At work, you can be exposed to PVC if you work in a facility that manufactures PVC pipes and pipe fittings, tubing and other building and construction products. You can be exposed if you work in a facility that manufactures vinyl chloride, BPA or phthalates. You can be exposed if you are a plumber, home builder, construction worker, health care professional, farmer or worker in an auto manufacturing facility or repair shop.
While that lists sounds daunting, there are ways to protect yourself from the dangers of PVC .
On packaging, look for the #3 or the letters PVC, often found near the recycling symbol—and avoid these products.
The Center for Health, Environment and Justice, which calls PVC the most environmentally harmful plastic, has created a list of common products—in categories such as apparel, kitchen items and office supplies—that are made from or packaged in PVC. The organization also created the following table of PVC-free alternatives to common materials.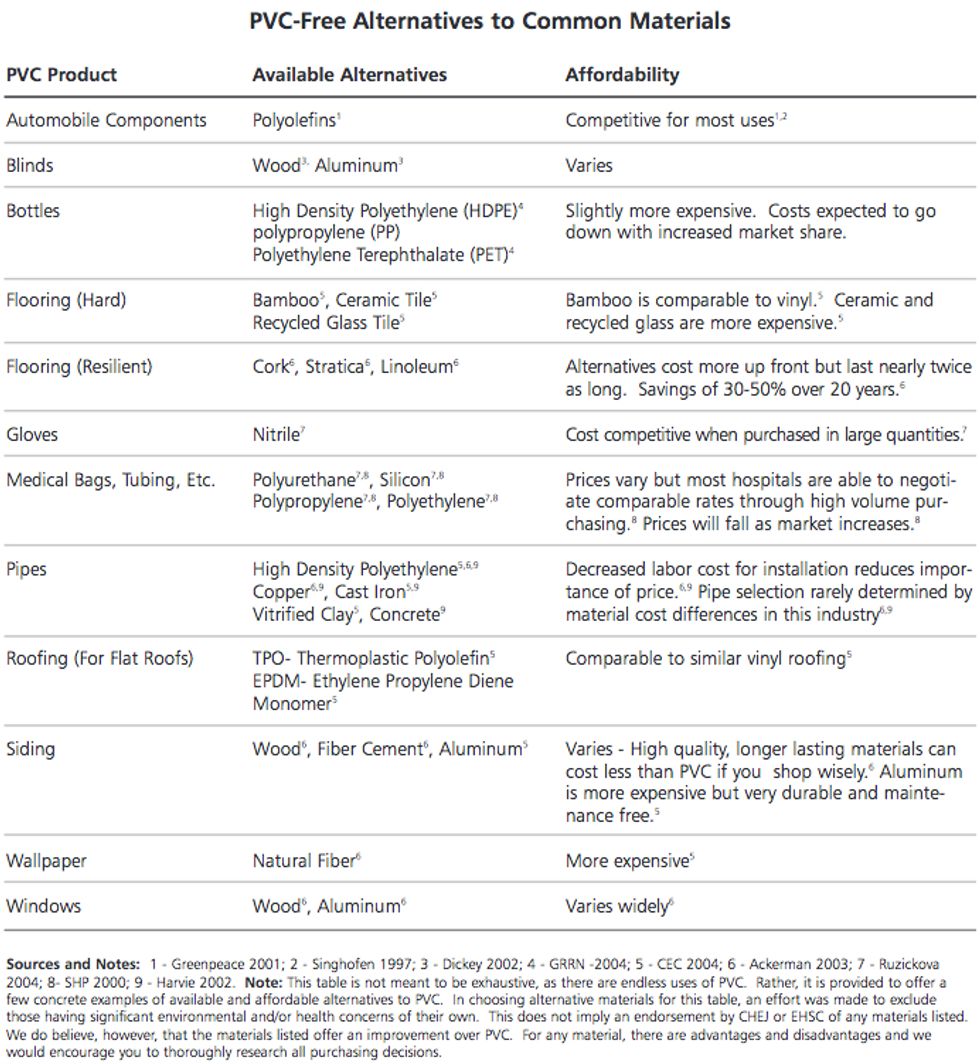 EcoWatch Daily Newsletter
Yulia Lisitsa / iStock / Getty Images Plus
Collagen is the most abundant protein in your body.
It is the major component of connective tissues that make up several body parts, including tendons, ligaments, skin, and muscles.
Greenpeace activists unfurl banners after building a wood and card 'oil pipeline' outside the Canadian High Commission, Canada House, to protest against the Trudeau government's plans to build an oil pipeline in British Colombia on April 18, 2018 in London. Chris J Ratcliffe / Getty Images
By Jessica Corbett
In an open letter to Canadian Prime Minister Justin Trudeau and Deputy Prime Minister Chrystia Freeland, 42 Nobel laureates implored the federal government to "act with the moral clarity required" to tackle the global climate crisis and stop Teck Resources' proposed Frontier tar sands mine.
Mapping Urban Heat through Portland State University /
video
Concrete and asphalt absorb the sun's energy. So when a heat wave strikes, city neighborhoods with few trees and lots of black pavement can get hotter than other areas — a lot hotter.
The Rio San Antonio, in the headwaters basin of the Rio Grande in New Mexico, will lose federal protections under a new rule. Bob Wick / BLM California
By Tara Lohan
The Santa Fe River starts high in the forests of New Mexico's Sangre de Cristo mountains and flows 46 miles to the Rio Grande. Along the way it plays important roles for wildlife, irrigation, recreation and other cultural uses, and provides 40 percent of the water supply for the city of Santa Fe's 85,000 residents.