This website uses cookies to ensure you get the best experience while browsing it. By clicking 'Got It' you're accepting these terms.
Why You Should Avoid PVC Products
Jun. 18, 2014 02:15PM EST
Ok, so you know about the potential health implications of BPA in plastic and you do your best to avoid it. But what about PVC in plastics and other products?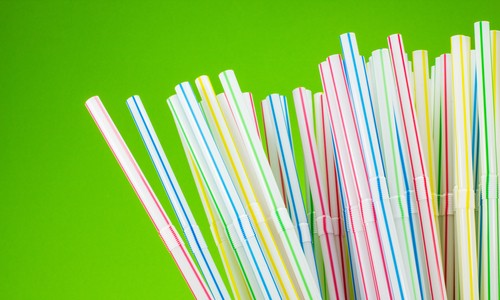 Plastic drinking straws. Photo courtesy of Shutterstock
PVC—polyvinyl chloride, or vinyl—is found in a range of products, from children's toys to building materials to food packaging. Healthy Child Healthy World describes PVC as the most toxic plastic, and vinyl chloride, the chemical used to make PVC, has been described as a known carcinogen by the World Health Organization's International Agency for Research on Cancer.
PVC, because of its high chlorine content, creates toxic pollution in the form of dioxins, which accumulate in animals' fat up through the food chain. Exposure to PVC often includes exposure to phthalates, which may have serious health effects. Besides health problems, there are a number of negative environmental impacts from the production and use of this material, such as problems in disposing of PVC, which is very difficult to recycle. There are other consequences you might not have even thought about.
Greenpeace lists the following 10 reasons to avoid PVC:
1. Hazardous production
2. Environmental racism
3. Toxic additives
4. Catastrophic accidents
5. Terrorist targets
6. Dangerous cargo
7. No safe use
8. Unsafe disposal
9. Problematic recycling
10. Safer cost-effective alternatives are widely available
This infographic created by Mary-Anne Phillips highlights the dangers of PVC:

How might you be exposed to PVC? The U.S. National Library of Medicine offers the following list of potential sources:
You can be exposed to PVC by eating food or drinking water contaminated with it. At home, you can be exposed to PVC if you have PVC pipes, vinyl flooring or other consumer products made with PVC. You can be exposed if your home has vinyl siding or if you are building or renovating your home. Exposure may occur through food packaging and containers or "shrink wrapped" packages.
You can be exposed to PVC outdoors if you have a plastic swimming pool or plastic furniture. You can be exposed if you live or work on a farm that has an irrigation system containing PVC.
You can be exposed to PVC if you are a patient in a hospital and use medical devices made with PVC.
At work, you can be exposed to PVC if you work in a facility that manufactures PVC pipes and pipe fittings, tubing and other building and construction products. You can be exposed if you work in a facility that manufactures vinyl chloride, BPA or phthalates. You can be exposed if you are a plumber, home builder, construction worker, health care professional, farmer or worker in an auto manufacturing facility or repair shop.
While that lists sounds daunting, there are ways to protect yourself from the dangers of PVC .
On packaging, look for the #3 or the letters PVC, often found near the recycling symbol—and avoid these products.
The Center for Health, Environment and Justice, which calls PVC the most environmentally harmful plastic, has created a list of common products—in categories such as apparel, kitchen items and office supplies—that are made from or packaged in PVC. The organization also created the following table of PVC-free alternatives to common materials.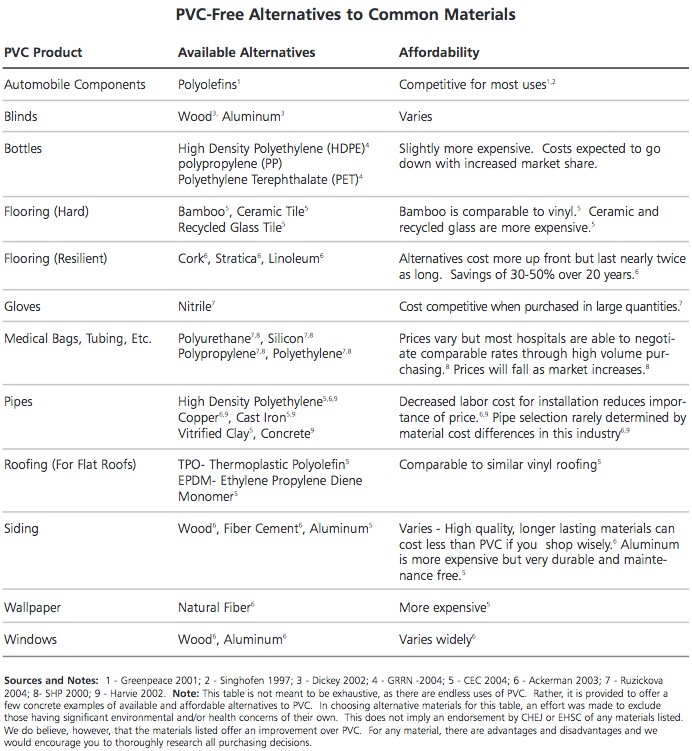 AleksandarNakic / Getty Images
By Kate Murphy
No matter the time of year, there's always a point in each season when my skin decides to cause me issues. While these skin issues can vary, I find the most common issues to be dryness, acne and redness.

David Woodfall / The Image Bank / Getty Images
By Sam Nickerson
The U.S. Environmental Protection Agency (EPA) in April 2018 proposed relaxing standards related to how it assesses the effects of exposure to low levels of toxic chemicals on public health.
Now, correspondence obtained by the LA Times revealed just how deeply involved industry lobbyists and a controversial, industry-funded toxicologist were in drafting the federal agency's proposal to scrap its current, protective approach to regulating toxin exposure.
Steve Irwin poses with a three foot long alligator at the San Francisco Zoo on June 26, 2002. Justin Sullivan / Getty Images
February 22 is the birthday of conservationist and beloved TV personality "Crocodile Hunter" Steve Irwin, who would have been 57 years old today.
Irwin's life was tragically cut short when the barb from a stingray went through his chest while he was filming in 2006, but his legacy of loving and protecting wildlife lives on, most recently in a Google Doodle today honoring his birthday.
Left: Youtube / Screenshot, Right: alle12 / Getty Images
By Dan Nosowitz
That video showed the extrusion of a bubblegum-pink substance oozing into a coiled pile, something between Play-Doh, sausage and soft-serve strawberry ice cream. Branded "pink slime"—the name came from an email sent by a USDA microbiologist in 2002—this stuff was actually beef, destined for supermarkets and fast-food burgers.
Climate activist Greta Thunberg addresses the European Commission on Feb. 21 in Brussels, Belgium. Sylvain Lefevre / Getty Images
By Julia Conley
Sixteen-year-old climate action leader Greta Thunberg stood alongside European Commission President Jean-Claude Juncker Thursday in Brussels as he indicated—after weeks of climate strikes around the world inspired by the Swedish teenager—that the European Union has heard the demands of young people and pledged a quarter of $1 trillion budget over the next seven years to address the crisis of a rapidly heating planet.

In the financial period beginning in 2021, Juncker said, the EU will devote a quarter of its budget to solving the crisis.