This website uses cookies to ensure you get the best experience while browsing it. By clicking 'Got It' you're accepting these terms.
Ok, so you know about the potential health implications of BPA in plastic and you do your best to avoid it. But what about PVC in plastics and other products?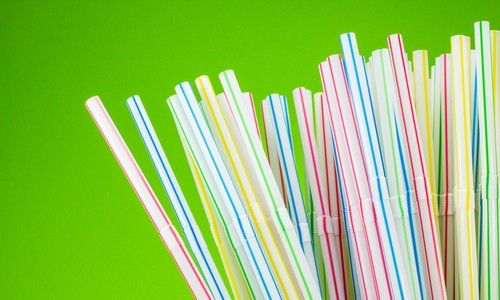 Plastic drinking straws. Photo courtesy of Shutterstock
PVC—polyvinyl chloride, or vinyl—is found in a range of products, from children's toys to building materials to food packaging. Healthy Child Healthy World describes PVC as the most toxic plastic, and vinyl chloride, the chemical used to make PVC, has been described as a known carcinogen by the World Health Organization's International Agency for Research on Cancer.
PVC, because of its high chlorine content, creates toxic pollution in the form of dioxins, which accumulate in animals' fat up through the food chain. Exposure to PVC often includes exposure to phthalates, which may have serious health effects. Besides health problems, there are a number of negative environmental impacts from the production and use of this material, such as problems in disposing of PVC, which is very difficult to recycle. There are other consequences you might not have even thought about.
Greenpeace lists the following 10 reasons to avoid PVC:
1. Hazardous production
2. Environmental racism
3. Toxic additives
4. Catastrophic accidents
5. Terrorist targets
6. Dangerous cargo
7. No safe use
8. Unsafe disposal
9. Problematic recycling
10. Safer cost-effective alternatives are widely available
This infographic created by Mary-Anne Phillips highlights the dangers of PVC:

How might you be exposed to PVC? The U.S. National Library of Medicine offers the following list of potential sources:
You can be exposed to PVC by eating food or drinking water contaminated with it. At home, you can be exposed to PVC if you have PVC pipes, vinyl flooring or other consumer products made with PVC. You can be exposed if your home has vinyl siding or if you are building or renovating your home. Exposure may occur through food packaging and containers or "shrink wrapped" packages.
You can be exposed to PVC outdoors if you have a plastic swimming pool or plastic furniture. You can be exposed if you live or work on a farm that has an irrigation system containing PVC.
You can be exposed to PVC if you are a patient in a hospital and use medical devices made with PVC.
At work, you can be exposed to PVC if you work in a facility that manufactures PVC pipes and pipe fittings, tubing and other building and construction products. You can be exposed if you work in a facility that manufactures vinyl chloride, BPA or phthalates. You can be exposed if you are a plumber, home builder, construction worker, health care professional, farmer or worker in an auto manufacturing facility or repair shop.
While that lists sounds daunting, there are ways to protect yourself from the dangers of PVC .
On packaging, look for the #3 or the letters PVC, often found near the recycling symbol—and avoid these products.
The Center for Health, Environment and Justice, which calls PVC the most environmentally harmful plastic, has created a list of common products—in categories such as apparel, kitchen items and office supplies—that are made from or packaged in PVC. The organization also created the following table of PVC-free alternatives to common materials.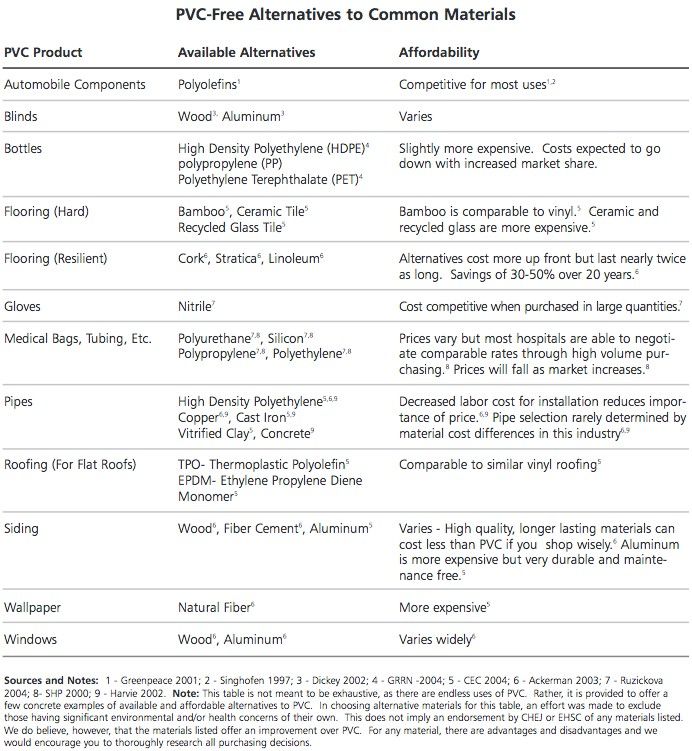 EcoWatch Daily Newsletter
A. Battenburg / Technical University of Munich
By Sarah Kennedy
Algae in a pond may look flimsy. But scientists are using algae to develop industrial-strength material that's as hard as steel but only a fraction of the weight.
Variety of fermented food korean traditional kimchi cabbage and radish salad. white and red sauerkraut in ceramic plates over grey spotted background. Natasha Breen / REDA&CO / Universal Images Group / Getty Image
Even if you've never taken probiotics, you've probably heard of them.
These supplements provide numerous benefits because they contain live microorganisms, such as bacteria or yeast, which support the healthy bacteria in your gut (1, 2, 3, 4).
Pexels
Singapore will become the first country in the world to place a ban on advertisements for carbonated drinks and juices with high sugar contents, its health ministry announced last week. The law is intended to curb sugar consumption since the country has some of the world's highest diabetes rates per capita, as Reuters reported.
A typical adult takes around 20,000 breaths per day. If you live in a megacity like Beijing, with many of those lungfuls you're likely to inhale a noxious mixture of chemicals and pollutants.
Fred Stone holds his brown swiss cow Lida Rose at his Arundel dairy farm on March 18 after a press conference where he spoke about PFAS chemical contamination in his fields. Gregory Rec / Portland Portland Press Herald via Getty Images
By Susan Cosier
First there was Fred Stone, the third-generation dairy farmer in Maine who discovered that the milk from his cows contained harmful chemicals. Then came Art Schaap, a second-generation dairy farmer in New Mexico, who had to dump 15,000 gallons of contaminated milk a day.
Protesters attend the 32nd annual Fur-Free Friday demonstration on Nov. 23, 2018 in Beverly Hills, California. Ella DeGea / Getty Images
California Governor Gavin Newsom signed into law a bill that that bans the sale and manufacture of fur products in the state. The fur ban, which he signed into law on Saturday, prohibits Californians from selling or making clothing, shoes or handbags with fur starting in 2023, according to the AP.
By Simon Evans
During the three months of July, August and September, renewables generated an estimated total of 29.5 terawatt hours (TWh), compared with just 29.1TWh from fossil fuels, the analysis shows.
A demonstrator waves an Ecuadorian flag during protests against the end of subsidies to gasoline and diesel on Oct. 9 in Quito, Ecuador. Jorge Ivan Castaneira Jaramillo / Getty Images