This website uses cookies to ensure you get the best experience while browsing it. By clicking 'Got It' you're accepting these terms.
Ok, so you know about the potential health implications of BPA in plastic and you do your best to avoid it. But what about PVC in plastics and other products?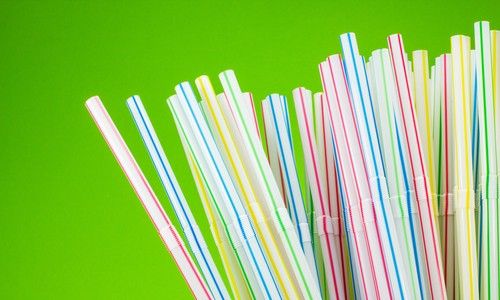 Plastic drinking straws. Photo courtesy of Shutterstock
PVC—polyvinyl chloride, or vinyl—is found in a range of products, from children's toys to building materials to food packaging. Healthy Child Healthy World describes PVC as the most toxic plastic, and vinyl chloride, the chemical used to make PVC, has been described as a known carcinogen by the World Health Organization's International Agency for Research on Cancer.
PVC, because of its high chlorine content, creates toxic pollution in the form of dioxins, which accumulate in animals' fat up through the food chain. Exposure to PVC often includes exposure to phthalates, which may have serious health effects. Besides health problems, there are a number of negative environmental impacts from the production and use of this material, such as problems in disposing of PVC, which is very difficult to recycle. There are other consequences you might not have even thought about.
Greenpeace lists the following 10 reasons to avoid PVC:
1. Hazardous production
2. Environmental racism
3. Toxic additives
4. Catastrophic accidents
5. Terrorist targets
6. Dangerous cargo
7. No safe use
8. Unsafe disposal
9. Problematic recycling
10. Safer cost-effective alternatives are widely available
This infographic created by Mary-Anne Phillips highlights the dangers of PVC:

How might you be exposed to PVC? The U.S. National Library of Medicine offers the following list of potential sources:
You can be exposed to PVC by eating food or drinking water contaminated with it. At home, you can be exposed to PVC if you have PVC pipes, vinyl flooring or other consumer products made with PVC. You can be exposed if your home has vinyl siding or if you are building or renovating your home. Exposure may occur through food packaging and containers or "shrink wrapped" packages.
You can be exposed to PVC outdoors if you have a plastic swimming pool or plastic furniture. You can be exposed if you live or work on a farm that has an irrigation system containing PVC.
You can be exposed to PVC if you are a patient in a hospital and use medical devices made with PVC.
At work, you can be exposed to PVC if you work in a facility that manufactures PVC pipes and pipe fittings, tubing and other building and construction products. You can be exposed if you work in a facility that manufactures vinyl chloride, BPA or phthalates. You can be exposed if you are a plumber, home builder, construction worker, health care professional, farmer or worker in an auto manufacturing facility or repair shop.
While that lists sounds daunting, there are ways to protect yourself from the dangers of PVC .
On packaging, look for the #3 or the letters PVC, often found near the recycling symbol—and avoid these products.
The Center for Health, Environment and Justice, which calls PVC the most environmentally harmful plastic, has created a list of common products—in categories such as apparel, kitchen items and office supplies—that are made from or packaged in PVC. The organization also created the following table of PVC-free alternatives to common materials.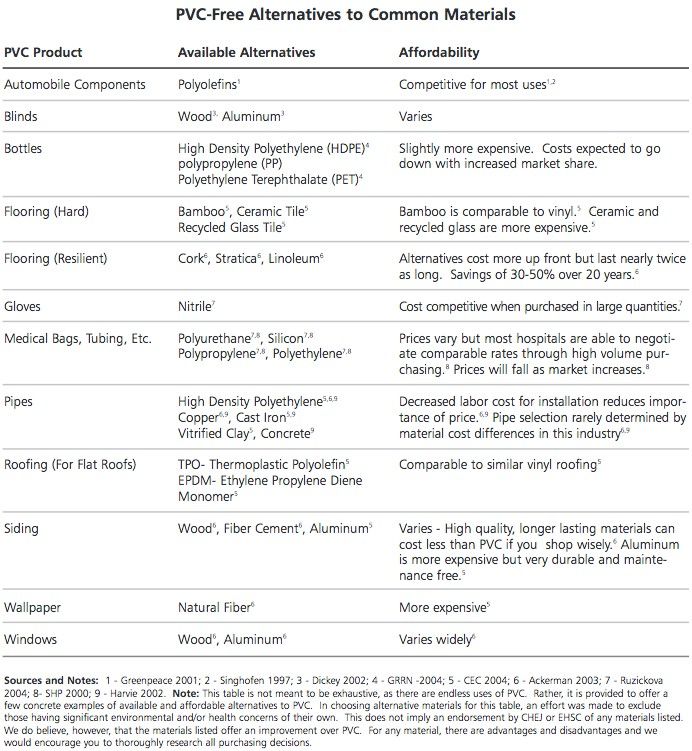 EcoWatch Daily Newsletter
Flames and smoke are seen billowing from the roof at Notre-Dame Cathedral on April 15 in Paris, France. Veronique de Viguerie / Getty Images
When Paris's Notre Dame caught fire on April 15, the flames threatened more than eight centuries of culture and history. The fire evoked shock, horror and grief worldwide. While the cathedral burned, French President Emmanuel Macron expressed determination to rebuild what the French regard as a sacred site.
An artist's impression of NASA's InSight lander on Mars. NASA / JPL-CALTECH
Scientists have likely detected a so-called marsquake — an earthquake on Mars — for the first time, The National Aeronautics and Space Administration (NASA) announced on Tuesday.
Hero Images / Getty Images
Across the political aisle, a majority of American parents support teaching climate change in schools even though most teachers currently do not.
By Andrea Germanos
Lawyer and visionary thinker Polly Higgins, who campaigned for ecocide to be internationally recognized as a crime on par with genocide and war crimes, died Sunday at the age of 50.
She had been diagnosed with an aggressive cancer last month and given just weeks to live.
The Anopheles stephensi mosquito, which carries malaria. CDC / Jim Gathany
The world's first malaria vaccine was launched in Malawi on Tuesday, NPR reported. It's an important day in health history. Not only is it the first malaria vaccine, it's the first vaccine to target any human parasite.
Ice-rich permafrost has been exposed due to coastal erosion, National Petroleum Reserve, Alaska. Brandt Meixell / USGS
By Jake Johnson
An alarming study released Tuesday found that melting Arctic permafrost could add nearly $70 trillion to the global cost of climate change unless immediate action is taken to slash carbon emissions.
According to the new research, published in the journal Nature Communications, melting permafrost caused by accelerating Arctic warming would add close to $70 trillion to the overall economic impact of climate change if the planet warms by 3°C by 2100.
Jeff Reed / NYC Council
The New York City Council last week overwhelmingly passed one of the most ambitious and innovative legislative packages ever considered by any major city to combat the existential threat of climate change.