Vermont Passes First No-Strings-Attached GE Food Labeling Bill
Today, Center for Food Safety (CFS) celebrated an historic achievement in Vermont—passage of the first no strings attached bill requiring the labeling of genetically engineered (GE) foods. The occasion marks an important day both for the food movement, with its many activists and partners, and for Center for Food Safety, which has been involved in the push for GE labeling for over a decade.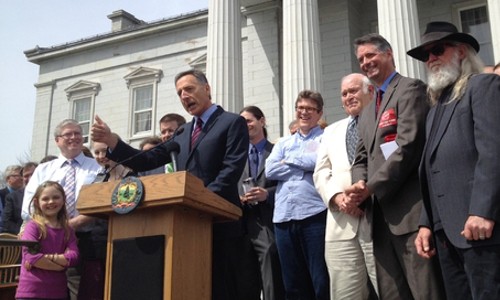 Center for Food Safety celebrates years of work as Vermont Gov. Peter Shumlin (D) signs landmark GE labeling bill into law. Photo credit: Center for Food Safety
"To the people, legislators, and activists of Vermont, thank you for your tireless efforts in advancing the people's right to know. Center for Food Safety is extremely proud to have worked alongside so many fearless advocates over the past ten years," said Andrew Kimbrell, executive director for CFS.
The fight for legislation to require the labeling of genetically engineered foods has been fought on multiple fronts. CFS has led the federal rulemaking process since 2011, when it submitted a legal petition to the U.S. Food and Drug Administration (FDA) providing a blueprint for the agency to enact a federal rule under authority granted by the Food, Drug and Cosmetic Act. That petition is supported by more than 650 organizations and business, and more than 1.4 million people have since submitted comments in support.
While no action has been taken at the federal level, numerous states, bolstered by the legal and scientific expertise of CFS, have introduced legislation or ballot initiatives of their own. Connecticut and Maine each successfully passed GE labeling laws, though they are contingent on other regional states to also pass laws before they would go into effect. The Vermont bill is the first GE labeling law to pass without such a trigger.
"Center for Food Safety is committed to pursuing mandatory GE labeling across the country until every American is assured the right to know what is in their food," said Kimbrell. "Transparency in a sector that is integral to our lives every single day is absolutely essential."
CFS has provided legal expertise to numerous states pursuing mandatory GE labeling, and continues to offer expert testimony at legislative hearings across the country, including New York, Massachusetts, California and Oregon. CFS closely monitors both the state level and global landscape on GE labeling. There are currently 64 countries with labeling laws and more than 60 state bills were introduced over the past year.
Just today, it was announced by the Oregon Supreme Court that it has certified a proposed 2014 ballot initiative on GE labeling, allowing the signature gathering process to begin in advance of November elections.
With the success of Vermont, eyes now turn back to Washington, DC, where Center for Food Safety has been a vocal proponent of the Genetically Engineered Food Right-to-Know Act (H.R. 1699/S. 809) introduced last year by Rep. Peter DeFazio (D-OR) and Sen. Barbara Boxer (D-CA). This common sense bill directs FDA to use its authority to enact a federal, mandatory GE labeling policy that would guarantee all Americans the right to know.
Standing in the way of that right is a bill introduced by Rep. Mike Pompeo (R-KS), with the backing of the Grocery Manufacturers Association, which has been dubbed "Denying Americans the Right-to-Know" (DARK) Act and would block any federal or state action to require the labeling of GE foods. Center for Food Safety is working with allies in Washington to ensure this bill does not allow the interests of Big Food and the chemical industry to trump the rights of Vermonters or Americans nationwide.
——–
YOU MIGHT ALSO LIKE
Maine Governor Signs GMO Food Labeling Bill
'Big Food' Ready for Costly Battle as States Consider GMO Labeling Bills
Colorado Supreme Court Overturns 'Big Food' Challenge, Keeps GMO Labeling Bill Alive
——–
Monsanto, the maker of the glyphosate-based herbicide Roundup, filed a motion June 16 in U.S. District Court, Northern District of California to reconsider the chemical's addition to California's Proposition 65 list of agents known to cause cancer.
The agrochemical giant made this move based on a June 14 Reuters investigation of Dr. Aaron Blair, a lead researcher on the World Health Organization's International Agency for Research on Cancer (IARC) committee, that classified glyphosate as a "2A probable human carcinogen" in March 2015.
Keep reading...
Show less
By Avery Friedman
Algae is often considered a nuisance, but for Sweden, the rapidly growing sea plant is now an asset.
As the Scandinavian country works to cut all of its greenhouse gas emissions by 2045, it's using algae to sop up the carbon emissions from cement.
Keep reading...
Show less
Jun. 24, 2017 01:35PM EST
By Itai Vardi
A recent intensification in protests against Williams Partners' planned Atlantic Sunrise pipeline in Pennsylvania prompted a state senator to propose legislation aimed at limiting demonstrations.
Last month, Pennsylvania Sen. Scott Martin (R-Norman) announced his intention to introduce legislation that would pass the costs of law enforcement responding to protests onto the demonstrators. Martin also helped introduce a different bill that would criminalize protests at natural gas facilities.
Keep reading...
Show less
Jun. 24, 2017 01:29PM EST
Black Shogun / iStock
The Federal Energy Regulatory Commission (FERC) released its Final Environmental Impact Statement Friday for the Mountain Valley Pipeline, a controversial 303-mile pipeline that would carry two billion cubic feet of fracked gas per day from West Virginia through Virginia.
Keep reading...
Show less
Jun. 24, 2017 01:46PM EST
Falcon PEV
The so-called "first and last mile" problem is one of the biggest hurdles with public transportation. How do you encourage more people to take Earth-friendlier commutes when their homes are miles away from the train or bus station?
One solution, as this Estonian electric scooter company proposes, is to simply take your commute with you—literally. Tallinn-based Stigo has developed a compact e-scooter that folds to the size of a rolling suitcase in about two seconds.
Keep reading...
Show less
Jun. 24, 2017 05:12PM EST
Connect4Climate
[Editor's note: I'm still in shock after hearing the news that Lucia Grenna passed away in her sleep last week. When we first met in April of 2014 at a Copenhagen hotel, I was immediately taken by here powerful presence. We spent the next couple days participating in a Sustainia climate change event where Lucia presented her audacious plans to connect people to the climate issue. I had the chance to partner with Lucia on several other projects throughout the years and work with her incredible Connect4Climate team. I was always in awe of her ability to "make the impossible possible." Her spirit will live on forever. — Stefanie Spear]
It is with a heavy heart that Connect4Climate announces the passing of its founder and leading light, Lucia Grenna. Lucia passed peacefully in her sleep on June 15, well before her time. We remember her for her leadership and extraordinary ability to motivate people to take on some of the greatest challenges of our time, not least climate change.
Keep reading...
Show less
Jun. 23, 2017 07:29PM EST
Wikimedia Commons
By Stacy Malkan
Neil deGrasse Tyson has inspired millions of people to care about science and imagine themselves as participants in the scientific process. What a hopeful sign it is to see young girls wearing t-shirts emblazoned with the words, "Forget princess, I want to be an astrophysicist."
Keep reading...
Show less
Jun. 23, 2017 01:57PM EST
www.youtube.com
By Andy Rowell
Any day now we will truly witness climate change in action. Within days at worst, maybe weeks at best, scientists predict that a huge section of the Larsen C ice shelf in Antarctica will break off into the ocean, in what is called a major "carving" event.
Keep reading...
Show less
Jun. 23, 2017 02:27PM EST
www.youtube.com
President Trump visited Cedar Rapids, Iowa on June 21 to speak to a large crowd in the U.S. Cellular Center at a political rally organized by his campaign.
As Trevor Noah noted during The Daily Show episode last night (starts at 2:25), the real reason Trump has these rallies is to "get back in front of his loyal crowds and feed of their energy." Noah believes that "Trump supporters are so on board with their dude he can say anything and they'll come along for the ride."
Keep reading...
Show less