Photobos / iStock / Getty Images
Governors in Vermont and Maine signed bills on Monday that will ban plastic bags in their states next year, The Hill reported.
The Maine ban will go into effect next Earth Day, April 22, 2020. The Vermont ban, which extends beyond plastic bags and is the most comprehensive plastics ban so far, will go into effect in July 2020. The wait time is designed to give businesses time to adjust to the ban.
Gov. Janet Mills signed the Maine bill early Monday morning, making Maine the fourth state to ban single-use plastic bags after California, Hawaii and New York.
Maine will allow stores to charge at least 5 cents for paper bags or reusable plastic bags that are able to withstand 75 repeated uses. Those bags are made from heavier plastic than single-use bags, the AP reported.
The measure does provide exceptions for certain types of bags, including bags for produce, prescription drugs, newspapers, laundry and live animals, according to the Portland Press Herald.
"Today, we took an important step towards protecting the wildlife and landscapes that support Maine's economy," said Rep. Holly Stover, one of the bill's chief sponsors, in a statement, as the Portland Press Herald reported. "With the governor's signature on this bill, we will be limiting the plastic bags that enter our coastal waters and protecting the health of our marine life."
Plastic bag manufacturers argue that this ban will only lead to thicker bags in landfills, according to the AP.
Vermont's bill took that plastic bag manufacturers argument into account in creating its bill that Gov. Phil Scott signed into law on Monday. The Vermont law stops manufacturers from a workaround by banning plastic bags that do not have stitched handles. The stitched handle requirement makes it cost prohibitive for manufacturers, effectively ensuring that carryout bags will be made from cloth or reusable polypropylene, according to National Geographic.
While the Vermont bill has similar exemptions to the Maine bill, it goes further in several ways, making it the nation's most comprehensive ban on disposable plastics and food packaging. The Vermont law not only prohibits retailers and restaurants from providing customers with single-use carryout bags, but also from providing customers with plastic stirrers and straws, though straws may be provided on request and for people with medical conditions. The law also bans cups, takeout, or other foam food containers made from expanded polystyrene, according to National Geographic.
"Vermont has now established a national precedent of tackling three of the worst examples of plastic packaging in one sweeping state law," said Judith Enck, a former EPA regional administrator who heads a plastics pollution initiative at Bennington College, in a statement, as National Geographic reported.
From Your Site Articles
Related Articles Around the Web
EcoWatch Daily Newsletter
Vermont has had food labels that indicate food has been "partially produced with genetic engineering."
Sally McCay / UVM Photo /
CC BY-NC-ND
By Jane Kolodinsky
There has been substantial debate over whether mandated labels for genetically engineered foods might increase or decrease consumer aversion toward genetic engineering.
This question is particularly relevant now since comments on proposed rules for implementing a national labeling law are being accepted until July 3. Two years ago, a mandatory Vermont law went in effect.
Mandatory labeling of GE food has been opposed by many scientific organizations, including the American Association for the Advancement of Science. But, a majority of consumers have consistently expressed desires for labeling GE foods.
A primary concern expressed with mandatory labels is that they will signal that GE food is unsafe or harmful to the environment. The opposing view is that labels give consumers a sense of control or improve trust, lowering perceived risk of GE food. Empirical support for these arguments, both for and against labeling, has been mixed. Importantly, they are based on hypothetical studies. That is, people are asked what they think or how they will behave, or they react to mock labels. Until the Vermont law, there were no actual GE labels to use in research on the topic.
Our study, published in Science Advances, aimed to help resolve the debate about the impact of simple disclosure GE labels on consumer support of and opposition to GE food.
The dataset we used measured levels of opposition to GE foods in a national control group compared to levels in Vermont, the only U.S. state to have implemented mandatory labeling of GE foods. Jayson Lusk from Purdue University provided the national data and I provided the Vermont data. In total, 7,800 consumers from 2014 to 2017 were asked to rank their opposition to GE food.
By comparing the responses of Vermonters to what other states' residents reported, we could estimate the impact of the labeling policy on consumer attitudes after Vermont consumers experienced labels in the marketplace.
Our analysis of opposition to GE food before and after mandatory labeling shows that the policy of providing simple disclosure labels led to a 19 percent reduction in opposition to GE food. Our estimates were obtained from a multiple regression framework—a statistic method for comparing different variables, which in our model included location (Vermont versus the rest of the U.S.) and presence of mandatory labels (time periods before versus after mandatory labels appeared in Vermont).
Regardless of how we controlled for different variables, such as demographics, the impact of the mandatory labeling policy on consumer opposition to GE technologies in Vermont relative to the rest of the U.S. is significant and negative. That is, opposition to the use of GM technology in food production fell in Vermont, post labeling.
We know of no other U.S. study that determined the impact on consumer attitudes toward the use of GE technologies in food production using U.S. national data from states not requiring GE labels and data from a state where consumers were exposed to mandatory GE labels.
Our study provides evidence that a simple disclosure, one of the suggestions for the standards being developed at the federal level, is not likely to signal to consumers that GE foods are more risky, unsafe or otherwise harmful. In fact, it does the opposite. This national study cannot identify why this change occurred. But, the findings are consistent with some prior research that suggests labels give consumers a sense of control or autonomy.
Previous research in food risk communication lays out seven "practical" principles. These seem applicable to GE labeling for policymakers and food producers:
1. Be honest and open
2. Disclose incentives and conflicts of interest
3. Take all available relevant knowledge into consideration
4. When possible, quantify risk
5. Describe and explain uncertainties
6. Take all the public's concerns into account, and
7. Take the rights of individuals and groups seriously.
Whether simple disclosures on GE labels improve a sense of control, improve trust or operate by some other psychological mechanism is a question we leave to future research.
The proposed national labeling rules put forward simple disclosures as just one of several ways to communicate that foods are produced using GE. The proposed rules also change the wording from genetically engineered (GM, GE, GMO) to bio-engineered (BE).
Our results are based on actual labels seen in the marketplace, which stated "produced or partially produced using genetic engineering." More research is needed to assess how a change in the vocabulary—from GE or GMO to BE, for instance—to describe genetic engineering, or how alternative ways for communicating GE information on labels will affect consumer attitudes and purchase decisions.
Reposted with permission from our media associate The Conversation.
waterlust.com / @tulasendlesssummer_sierra .
Each product featured here has been independently selected by the writer. If you make a purchase using the links included, we may earn commission.
The bright patterns and recognizable designs of Waterlust's activewear aren't just for show. In fact, they're meant to promote the conversation around sustainability and give back to the ocean science and conservation community.
Each design is paired with a research lab, nonprofit, or education organization that has high intellectual merit and the potential to move the needle in its respective field. For each product sold, Waterlust donates 10% of profits to these conservation partners.
Eye-Catching Designs Made from Recycled Plastic Bottles
waterlust.com / @abamabam
The company sells a range of eco-friendly items like leggings, rash guards, and board shorts that are made using recycled post-consumer plastic bottles. There are currently 16 causes represented by distinct marine-life patterns, from whale shark research and invasive lionfish removal to sockeye salmon monitoring and abalone restoration.

One such organization is Get Inspired, a nonprofit that specializes in ocean restoration and environmental education. Get Inspired founder, marine biologist Nancy Caruso, says supporting on-the-ground efforts is one thing that sets Waterlust apart, like their apparel line that supports Get Inspired abalone restoration programs.
"All of us [conservation partners] are doing something," Caruso said. "We're not putting up exhibits and talking about it — although that is important — we're in the field."
Waterlust not only helps its conservation partners financially so they can continue their important work. It also helps them get the word out about what they're doing, whether that's through social media spotlights, photo and video projects, or the informative note card that comes with each piece of apparel.
"They're doing their part for sure, pushing the information out across all of their channels, and I think that's what makes them so interesting," Caruso said.
And then there are the clothes, which speak for themselves.
Advocate Apparel to Start Conversations About Conservation
waterlust.com / @oceanraysphotography
Waterlust's concept of "advocate apparel" encourages people to see getting dressed every day as an opportunity to not only express their individuality and style, but also to advance the conversation around marine science. By infusing science into clothing, people can visually represent species and ecosystems in need of advocacy — something that, more often than not, leads to a teaching moment.

"When people wear Waterlust gear, it's just a matter of time before somebody asks them about the bright, funky designs," said Waterlust's CEO, Patrick Rynne. "That moment is incredibly special, because it creates an intimate opportunity for the wearer to share what they've learned with another."
The idea for the company came to Rynne when he was a Ph.D. student in marine science.
"I was surrounded by incredible people that were discovering fascinating things but noticed that often their work wasn't reaching the general public in creative and engaging ways," he said. "That seemed like a missed opportunity with big implications."
Waterlust initially focused on conventional media, like film and photography, to promote ocean science, but the team quickly realized engagement on social media didn't translate to action or even knowledge sharing offscreen.
Rynne also saw the "in one ear, out the other" issue in the classroom — if students didn't repeatedly engage with the topics they learned, they'd quickly forget them.
"We decided that if we truly wanted to achieve our goal of bringing science into people's lives and have it stick, it would need to be through a process that is frequently repeated, fun, and functional," Rynne said. "That's when we thought about clothing."
Support Marine Research and Sustainability in Style
To date, Waterlust has sold tens of thousands of pieces of apparel in over 100 countries, and the interactions its products have sparked have had clear implications for furthering science communication.
For Caruso alone, it's led to opportunities to share her abalone restoration methods with communities far and wide.
"It moves my small little world of what I'm doing here in Orange County, California, across the entire globe," she said. "That's one of the beautiful things about our partnership."
Check out all of the different eco-conscious apparel options available from Waterlust to help promote ocean conservation.
Melissa Smith is an avid writer, scuba diver, backpacker, and all-around outdoor enthusiast. She graduated from the University of Florida with degrees in journalism and sustainable studies. Before joining EcoWatch, Melissa worked as the managing editor of Scuba Diving magazine and the communications manager of The Ocean Agency, a non-profit that's featured in the Emmy award-winning documentary Chasing Coral.
Sen. Bernie Sanders "expertly trolled" the Senators who support the so-called DARK Act
Popular
Yesterday—five days after Vermont enacted its landmark GMO labeling mandate—the Senate voted 65-32 in a cloture vote to move a controversial GMO labeling bill forward.
This bipartisan "compromise" bill, introduced after years of negotiations by Democrat Sen. Debbie Stabenow and Republican Sen. Pat Roberts, would require businesses to label genetically modified foods. That is, if you consider a QR code, 1-800 number or a website URL a label instead of clear, concise language that 9 out of 10 American consumers want and a number of major food companies have started doing anyway. The bill would also nullify state-by-state mandates such as Vermont's and halt efforts by 30-odd states considering similar legislation.
The Senators's bill is unsurprisingly backed by the very industry that produces and profits from such products, including the Grocery Manufactures Association, Monsanto, etc. Deep-pocketed food and beverage corporations have spent millions to lobby politicians and even sued Vermont to stop GMO labeling with the belief that GMO labels would scare consumers away and that a 50-state patchwork of rules would be confusing and costly.
The Senate is voting on a very bad piece of Monsanto-backed legislation today. Text GMO to 82623 to oppose it. https://t.co/21yiDd5zpc

— Bernie Sanders (@Bernie Sanders)1467827882.0
Incidentally, as Common Dreams reported, in data revealed by OpenSecrets.org and the Organic Consumers Association, the senators who voted "yea" on last week's 68-29 preliminary vote received more than twice as much in contributions from the agriculture lobby than those who voted "No" ($867,518 for the supporters vs. $350,877 for opponents).
Opponents of the bill have dubbed it another version of the "Deny Americans the Right to Know," or DARK Act. The earlier DARK Act, which would block state labeling laws, failed in March. The New York Times editorial board also called the latest bill "flawed," stating:
While most scientists say that genetically modified foods do not pose a risk to human health, consumers should have a right to more information about what they are eating. Polls have found that a vast majority of Americans favor mandatory labels. Dozens of countries, including all 28 members of the European Union and Australia, already require similar disclosures.
Researchers have found that labels do not dissuade people from consuming genetically engineered food, which has been a big worry of farm groups and businesses. It is no surprise then that some companies, like Campbell Soup, have voluntarily agreed to label their products.
The biggest problem with the Senate bill is that—instead of requiring a simple label, as the Vermont law does—it would allow food companies to put the information in electronic codes that consumers would have to scan with smartphones or at scanners installed by grocery stores. The only reason to do this would be to make the information less accessible to the public.
So where does that leave us? Well, the decision means that debate is now limited to 30 hours and can withstand filibuster. The final vote could happen sometime tonight or tomorrow and would only require a simple majority, or 51 votes. Efforts by Sen. Bernie Sanders to put a hold on the bill have been quashed since the cloture vote mustered more than 60 yeas.
If the legislation clears the Senate, it would go to the Republican-controlled House of Representatives, which has historically voted against transparency after passing Rep. Mike Pompeo's bill (H.R. 1599) last year. It would then goes to President Obama's desk, who could sign the bill into law.
If it seems that the bill probably stands a chance, there are still a number of obstacles. As Politco's Morning Agriculture blog reported, Roberts did not exactly celebrate the cloture vote, adding, "Strange things can happen." For instance, on Wednesday during the cloture vote, GMO labeling advocates from the Organic Consumers Association threw $2,000 in cash from the Senate balcony to the floor. They yelled "Monsanto Money" and "Sen. Stabenow, listen to the people, not Monsanto" as the bills fell, according to The Hill.
Yesterday's vote also revealed that the bill has lost some steam since last week's 68-29 procedural vote. According to Politico, "Maine Sens. Susan Collins (R) and Angus King (I) voted yes last week but opposed cloture, as did Sens. Bill Nelson (D-Fla.) and Ben Sasse (R-Neb.). Meanwhile, Democratic Sens. Tim Kaine (Va.) and Bob Menendez (N.J.) voted for cloture after opposing the vote last week. The nays added Sen. Dick Durbin (D-Ill.), who did not vote last week."
Additionally, the Right-wing Heritage Foundation is also against the bill (basically, the foundation says even QR codes are too transparent) and have urged lawmakers to oppose the bill and warned it would key the vote as part of its legislative scorecard.
As for the House vote, even though the lower chamber already passed their own GMO bill, the Senate version is different enough that the House would have to vote on it again, as Grist noted.
The House has been urged by the Grocery Manufacturers Association and the National Council of Farmer Cooperatives to take up and pass the bill before summer recess, which starts next Friday.
A spokeswoman for House Agriculture Committee Chairman Mike Conaway told Politico that Conaway "will await the outcome in the Senate before making any public statements regarding his position on what action he believes the House should or should not take. He's still engaged in discussions with industry and other stakeholders on the matter."
Detractors of the bill are speaking out against further advancement of the bill. Sanders tweeted Wednesday: "The Stabenow-Roberts GMO bill is confusing, misleading and unenforceable. It does nothing to make sure consumers know what they're eating."
The Stabenow-Roberts GMO bill is confusing, misleading and unenforceable. It does nothing to make sure consumers know what they're eating.

— Bernie Sanders (@Bernie Sanders)1467818743.0
Also, as Quartz puts it, the presidential candidate also "expertly trolled" the Senators who support the bill.
The QR Code is real by the way. If you don't have a QR scanner, the code links to a statement on Sanders's website defending his home state's GMO labeling law.
A number of environmental and consumer advocate groups have spoken out against the bill and the Senate vote.
"Friends of the Earth denounces the Senate's passage of the DARK Act, S. 764, a bill which was passed under the guise of GMO labeling," food and technology campaigner Dana Perls said. "This bill is a travesty, an undemocratic and discriminatory bill which preempts state laws, while offering no meaningful labeling for GMOs. If accepted, Americans will remain in the dark about what we feed our families. We are deeply disappointed in the members of Congress who supported this bill and who did not stand with the vast majority of Americans who want mandatory on-package GMO labeling.
"Friends of the Earth urges consumers to call on the House and President Obama to oppose any bills that would undermine state GMO labeling laws, and to only support meaningful, mandatory on-package labeling for GMO foods, including those made with new gene editing techniques."
Food & Water Watch California Director Adam Scow criticized Sen. Dianne Feinstein's "vote against consumers and for Big Food."
"[The legislation] rolls back the progress that people around the country have made to get clear, on package labeling for GMOs," Scow said. "The bill she voted for will leave way too many Californians in the dark when it comes to knowing what's in the food we eat and how it was produced."
Wenonah Hauter, executive director of Food & Water Watch, said, "If this bill becomes law, the industry wins what are essentially voluntary requirements under this GMO labeling 'compromise,' which does not mandate recalls, penalties or fines for noncompliance with the incredibly weak requirements of the bill that will likely leave many GMO ingredients exempt from any labeling requirements."
[Editor's note: Read the latest here.]
Today, in a cloture vote, the Senate voted to do away with our right to know what's in our food, revoking a popular and clear state labeling law in effect inVermont and nullifying all future state labeling initiatives.
This is a slap in the face for all of the advocates that have worked hard to pass state-level measures because they believe strongly that labels should be transparent, and people should have the choice to decide whether or not they purchase and consume foods with genetically engineered ingredients. The majority of Americans support labeling for GMOs and will hold their elected officials accountable for stripping away this transparency.
If this bill becomes law, the industry wins what are essentially voluntary requirements under this GMO labeling "compromise," which does not mandate recalls, penalties or fines for noncompliance with the incredibly weak requirements of the bill that will likely leave many GMO ingredients exempt from any labeling requirements. And the bill gives companies the option to use discriminatory QR codes that require a smartphone to access basic information about the food on store shelves.
Now, we call on the House not to pass the bill. We also call on President Obama to veto the bill if it comes to his desk. On the campaign trail many years ago, he promised reform on many food issues—from giving family farmers a fair shot in the marketplace to food labeling, saying we had the right to know whether or not food is genetically engineered. Before he leaves office, he has one more chance to get it right when it comes to food policy that protects people over corporations. He must veto this bill.
Watch as Senators John Tester (D-MT) and Barbara Boxer (D-CA) speak out today against the Senate GMO food labeling bill, with Senator Tester arguing that including the label as a QR code protects corporate food producers over consumers:
YOU MIGHT ALSO LIKE
IARC Scientist Reaffirms Glyphosate's Link to Cancer as Monsanto's Requests to Dismiss Cancer Lawsuits Denied
Glyphosate Sprayed on GMO Crops Linked to Lake Erie's Toxic Algae Bloom
Neil Young: Say No to GMOs on 'Behalf of All Living Things'
Despite Vermont's historic GMO labeling bill coming into effect June 1, Senate Agriculture Committee chairman Pat Roberts (R-Kan.) and ranking member Debbie Stabenow (D-Mich.) are vigorously lobbying to get their industry-approved GMO labeling deal passed before Congress's summer break.
Senate Ag leaders Pat Roberts and Debbie Stabenow hope to pass legislation allowing food companies to label their products containing GMOs with a QR code instead of on-package labels.
According to POLITICO's Morning Agriculture blog, the Senate Ag leaders are using "every part of the lobbying playbook," with "letters being sent, staffs briefed, reports and FDA assessments flaunted, and farmers and consumers are being encouraged to inundate lawmakers with phone calls."

Roberts has been reportedly distributing a flier touting that the bill will nullify the "dangerous"Vermont law and stop other states from passing similar legislation.
Why Big Ag loves (and consumers despise) the Senate bill to kill #GMO labeling. See flier from @SenPatRoberts. https://t.co/4juPSWGmZQ

— Gary Ruskin (@Gary Ruskin)1467122861.0
Even though Vermont's mandate comes into effect Friday, the Senators's bill still has a small window of passage as Vermont's attorney general will not start forcing producers to label their food products containing genetically engineered ingredients until the start of 2017.

A confident Stabenow told POLITICO that enough votes will be secured for the deal to move forward, while Roberts said, "We had 46 [Republicans] last time, and we're hoping to get a few more." Last March, the Senate voted down Roberts's previous bill that would have prohibited states from requiring genetically modified food labels. The bill required 60 votes for passage but failed 48-49.
Roberts said his latest GMO bill will be the first order of business next week and Senate Majority Leader Mitch McConnell will set up a cloture vote, according to this tweet from Agripulse senior editor Philip Brasher.
[email protected]

says #GMO labeling first order of business next week, McConnell to set up cloture vote @agripulse

— Philip Brasher (@Philip Brasher)1467211721.0
While Democrat Senators Claire McCaskill of Missouri and Sherrod Brown of Ohio announced support for the bill, it is not clear if it will gather enough votes to pass. And not to mention, the bill has to pass the House and be signed by President Obama before it becomes law.

Vermont's own Sen. Bernie Sanders has announced he will try to block Senate consideration of the bill. In a statement on Tuesday, the Democratic presidential candidate said:
I am very proud that Vermont has led the country in GMO labeling. This bill would preempt what Vermont and other states have done. GMO labeling exists in dozens of countries around the world. It is not controversial. Already major food companies in our country have begun labeling their products. People have a right to know what is in the food they eat. I am going to do everything I can to defeat this legislation.
By putting a hold on the bill, Sanders can block it from coming up for debate unless the proponents can muster up 60 votes.
I will do everything I can to defeat this weak GMO labeling bill in the Senate, beginning by putting a hold on it.

— Bernie Sanders (@Bernie Sanders)1467136719.0
The Roberts-Stabenow bill has been described by opponents as another version of the Denying Americans the Right to Know (DARK) Act as it includes provisions that would establish a federal program based on QR codes, a symbol, 1-800 numbers or a statement on packages referring people to websites.

While many major food companies have already started labeling their products to comply with Vermont's labeling mandate, under the new federal scheme proposed by the Senators, food makers can change their labels to a QR code.
In fact, both Campbell's and General Mills have already said they support the new proposal.
"We need consistency across the country. And without this national solution, we risked having a system of 50 different regulations impacting our packages," General Mills' Mike Siemienas told The Olympian.
"We will continue to comply with Vermont's law until Congress and the president enact legislation that pre-empts and replaces it," Tom Hushen of Campbell's said. "With or without new federal legislation, the Vermont label will continue to appear on shelves across most of the country and well into the future."
YOU MIGHT ALSO LIKE
Glyphosate Given Last-Minute Approval Despite Failure to Secure Majority Support
Monsanto vs. People Power: EU Glyphosate License Set to Expire June 30
DARK Act Compromise Could Preempt Vermont's GMO Label Law
Monsanto Issued Two GMO Permits Despite Objection From 5 Million Nigerians
Tomorrow, Vermont's historic GMO labeling law goes into effect. This is the first law enacted in the U.S. that would provide clear labels identifying food made with genetically engineered ingredients. Indeed, stores across the country are already stocking food with clear on-package labels thanks to the Vermont law, because it's much easier for a company to provide GMO labels on all of the products in its supply chain than just the ones going to one state.
Alexis Baden Mayer
But this victory may be fleeting. The Senate will vote next week on a federal bill that would nullify Vermont's law and other state labeling efforts percolating, thanks to the heavy hand the ag-biotech industry wields over our congressional representatives.

With a vote for this so-called "compromise" bill, Congress would effectively be pulling transparent GMO labels from grocery stores. This legislation is in effect a voluntary disclosure bill since there are no penalties for companies that decide not to comply with the mandate to provide even the most meager disclosure mechanisms, like QR codes or 1-800 numbers. And the definition of GMO in the bill is so flawed that many products containing GMOs would not be covered.
The Senate should not vote to roll back the popularly enacted Vermont law and replace it with a giveaway to the agriculture industry. The majority of Americans support labeling for GMOs and will hold their elected officials accountable if they vote to strip away transparency about how their food is produced. We urge the Senate to reject this bill.
YOU MIGHT ALSO LIKE
Glyphosate Given Last-Minute Approval Despite Failure to Secure Majority Support
Perdue Unveils Ambitious Animal Welfare Plan … But Is It Enough?
Appeals Court Urged to Strike Down Idaho's Ag-Gag Law
With This App You Can Buy High-Quality Food at Massively Discounted Prices
Burlington, Vermont is that state's largest city, with a population of 42,000 people. It describes itself as "forward-thinking" which is what you'd expect from a city that once elected Senator Bernie Sanders as its mayor. So it's no surprise that it recently became the first U.S. city of any decent size to run entirely on renewable electricity.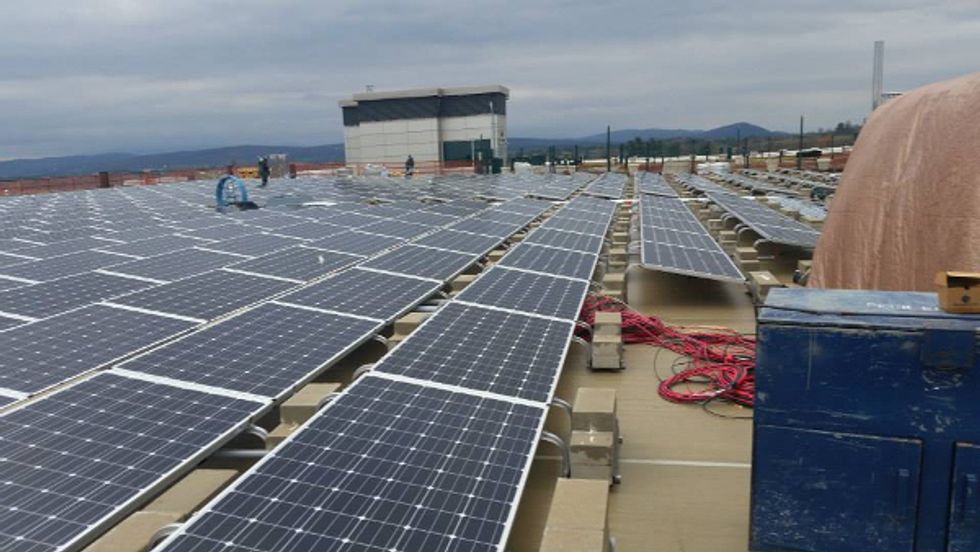 "Climate change is the biggest problem we face, maybe the biggest problem we've ever faced," University of Vermont environmental science professor Taylor Ricketts told NPR. "But there's no silver bullet to fix it. It's gonna be a million individual solutions from all over the place. And this is one of Burlington's, right?"
The city's publicly owned utility, the Burlington Electric Department (BED), says in its mission statement, "BED will continue to be a leader in sustainability by producing power that is as clean and as locally produced as possible. BED will continue to treat the environment with the utmost respect and will continue to influence decisions and public policy that enhance environmental quality, the use of renewable resources, and the sustainability of Burlington."
The city lives up to that mission by acquiring its energy in diverse ways, including biomass, hydroelectric, solar and wind. Its biggest power generator is hydro, which the city acquires from dams both locally and elsewhere in the region. Its biomass facility, the McNeil generating station, provides another 30 percent of its power. It runs on burning wood chips, although it can run on natural gas or oil on an interruptible basis. The wood chips are the residue of the region's logging industry and come primarily from within 60 miles of the city, reducing transportation costs. Wind turbines and solar panels provide another 20 percent of its electricity.
In addition, BED says, "McNeil is equipped with a series of air quality control devices that limit the particulate stack emissions to one-tenth the level allowed by Vermont state regulation. McNeil's emissions are one one-hundredth of the allowable federal level. The only visible emission from the plant is water vapor during the cooler months of the year."
Renewable electricity generation isn't the only way this forward-thinking city is addressing climate change, the environment and sustainability. BED has aggressive energy efficiency programs and boasts that it uses less electricity now than it did in 1989. And despite its small size, Burlington already has nine charging stations for electric vehicles.
And contrary to those who insist that renewably generated electricity is an expensive luxury that only a bunch of Phish-loving Vermont hippies will pay for, Ken Nolan of BED told NPR that the switch to renewables was initially driven by economic concerns and will likely save the city $20 million over the next decade.
"Greenhouse gas reduction is a major thing that we're concerned about and we are always trying to improve on," he said. "But in looking at whether to buy renewable power, we really were focused on an economic decision at the time. Our financial analysis at that time indicated to our—actually, to our surprise–that the cheapest long term financial investment for us with the least amount of risk was to move in this direction."
YOU MIGHT ALSO LIKE
Sustainable Energy Revolution Grows, Says Bloomberg Report
Robert Redford: Fossil Fuels Need to Stay in the Ground, Renewable Energy Is the Future
Solar Is Cheaper Than Electricity From the Grid in 42 of 50 Largest U.S. Cities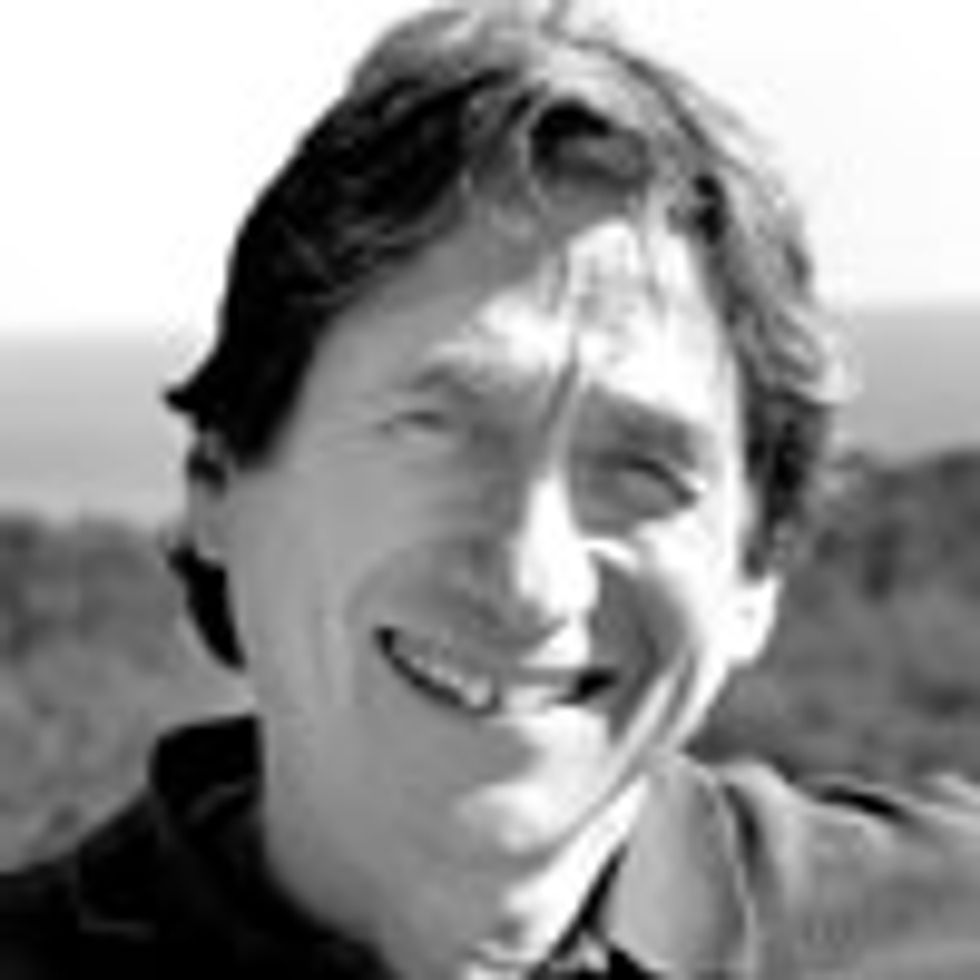 The Vermont Yankee atomic reactor goes permanently off-line today, Dec. 29, 2014. Citizen activists have made it happen. The number of licensed U.S. commercial reactors is now under 100 where once it was to be 1,000.
Decades of hard grassroots campaigning by dedicated, non-violent nuclear opponents, working for a Solartopian green-powered economy, forced this reactor's corporate owner to bring it down.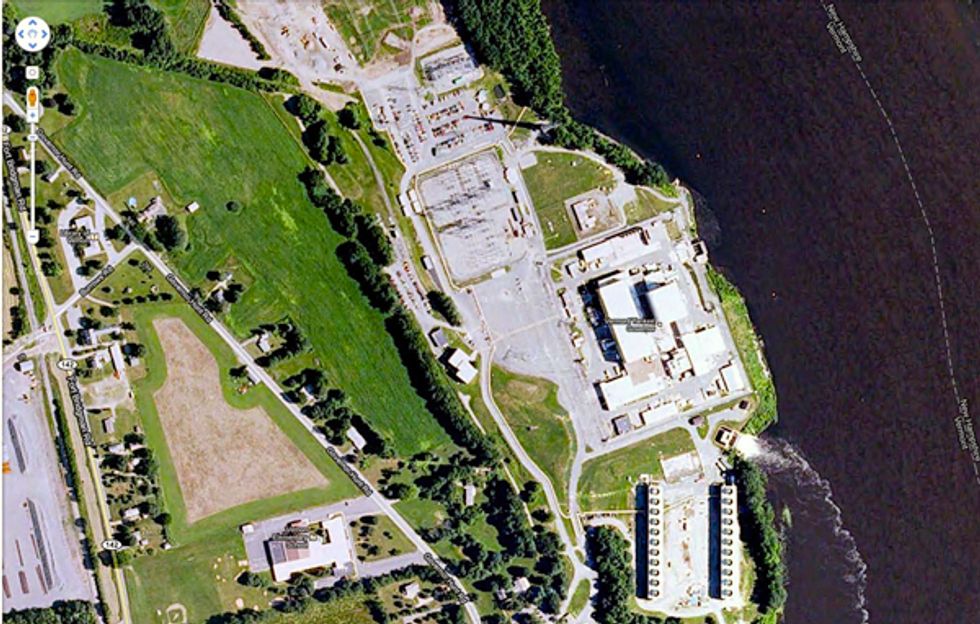 Vermont Yankee is the fifth American reactor forced shut in the last two years.
Entergy says it shut Vermont Yankee because it was losing money. Though fully amortized, it could not compete with the onslaught of renewable energy and fracked-gas. Throughout the world, nukes once sold as generating juice "too cheap to meter" comprise a global financial disaster. Even with their capital costs long-ago stuck to the public, these radioactive junk heaps have no place in today's economy—except as illegitimate magnets for massive handouts.
So in Illinois and elsewhere around the U.S., their owners demand that their bought and rented state legislators and regulators force the public to eat their losses. Arguing for "base load power" or other nonsensical corporate constructs, atomic corporations are gouging the public to keep these radioactive jalopies sputtering along.
Such might have been the fate of Vermont Yankee had it not been for citizen opposition. Opened in the early 1970s, Vermont Yankee was the northern tip of clean energy's first "golden triangle." Down the Connecticut River, grassroots opposition successfully prevented two reactors from being built at Montague, Massachusetts, where the term "No Nukes" was coined. A weather tower was toppled, films were made, books were written, demonstrations staged and an upwelling of well-organized grassroots activism helped nurture a rising global movement.
A bit to the southwest, in the early 1990s, it shut the infamous Yankee Rowe reactor, which had been hit by lightening and could not pass a verifiable test of its dangerously embrittled core.
But Vermont Yankee persisted. Entergy, a "McNuke" operator based in New Orleans, bought Yankee from its original owners about a dozen years ago. It signed a complex series of agreements with the state. Then it trashed them to keep Vermont Yankee spiraling ever-downward.
But hard-core organizers like Deb Katz's Citizen Awareness Network never let up. Working through a network of natonal, state and local campaigns, the safe energy movement has finally forced Entergy to flip the off switch.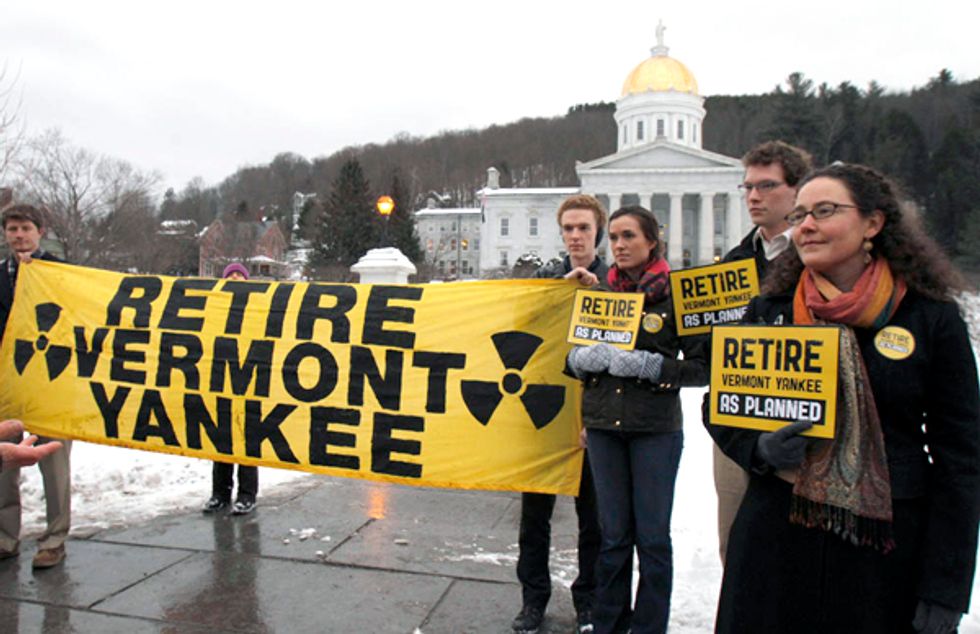 Protestors support the closing of the Vermont Yankee nuclear power plant at the Statehouse in January 2012 in Montpelier, Vermont.
Vermont Yankee is the fifth American reactor forced shut in the last two years. Two at San Onofre, California, were defeated by citizen activism. Wisconsin's Kewaunee went down for economic reasons. Crystal River in Florida was driven to utter chaos by incompetent ownership.
Five reactors are officially under construction in the U.S. But their fate is also subject to citizen action. Two others targeted for Levy County, Florida, have recently been stopped by ratepayer resistance.
Throughout the U.S. and the world, the demise of atomic energy is accelerating. Some 435 reactors are listed worldwide as allegedly operable. But 48 in Japan remain shut in the wake of Fukushima despite the fierce efforts of a corrupt, dictatorial regime to force them back on line. Germany's transition to a totally nuke-free green energy economy is exceeding expectations. The fate of dozens proposed and operating in China and India remains unclear.
But the clock on the inevitable next disaster is ticking. Cancer rates and thyroid problems around Fukushima continue to accelerate. Massive reactors like California's Diablo Canyon and Indian Point, New York, are surrounded by volatile earthquake faults that could reduce them to seething piles of apocalyptic rubble, killing countless thousands downwind, gutting the global economy.
Every reactor shutdown represents an avoided catastrophe of the greatest magnitude.  As the takeoff of cheap, clean, safe and reliable Solartopian technology accelerates, greedy reactor owners struggle to squeeze the last few dimes out of increasingly dangerous old nukes for which they ultimately will take no responsibility. Vermont Yankee alone could require 60 years for basic clean-up. Fierce debate rages over what to do with thousands of tons of intensely radioactive spent fuel rods.
It remains unclear where the money will ultimately come from to try to decontaminate these sites, but clearly they are all destined to be dead zones.
As will the planet as a whole were it not for victories like this one in Vermont. This weekend the No Nukes community will celebrate this accursed reactor's final demise.
Many hundreds more such celebrations must follow—soon!
Harvey Wasserman edits NukeFree.org and works to shut all Vermont Yankee's mutant siblings so Solartopia can take root.
YOU MIGHT ALSO LIKE
7 Must-See Climate Action Videos of 2014
10 Most Important Environmental Stories of 2014
Much fanfare met the May 8 historic achievement in Vermont, in which the state passed the first no-strings-attached bill requiring labeling of genetically engineered (GE) foods. Fanfare from individuals and organizations who care to know what's in the food they eat each day, that is.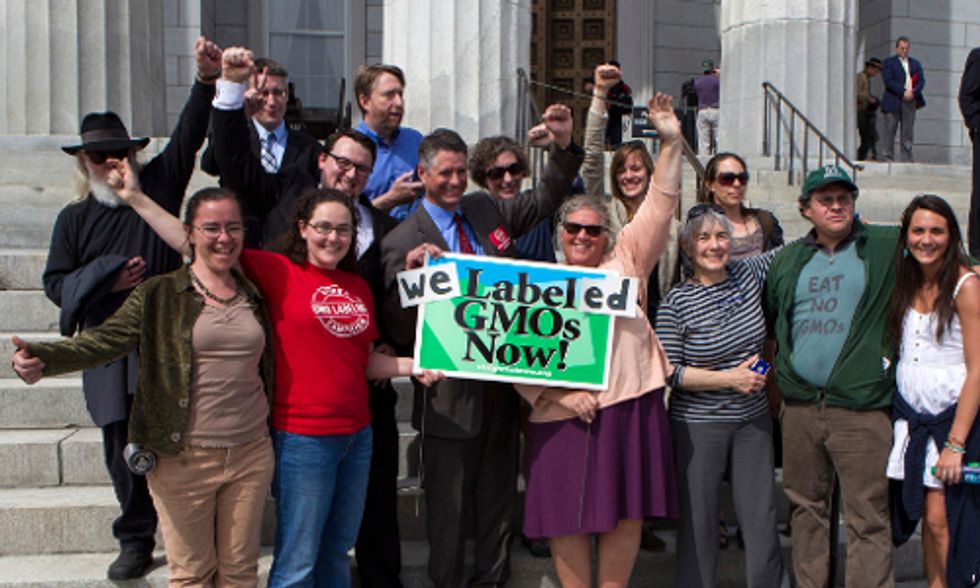 Photo credit: Vermont Right to Know GMOs
The Grocery Manufacturers Association (GMA) and other trade associations? Now that's a different story. The GMA, the International Dairy Foods Association, the National Association of Manufacturers and the Snack Food Association filed a lawsuit yesterday in federal court challenging the constitutionality of the law.
The same day that Gov. Peter Shumlin (D) signed the bill into law, the GMA issued a statement vouching for the safety of GMO (genetically modified organisms) crops and promising a lawsuit, stating, "The government ... has no compelling interest in warning consumers about foods containing GM ingredients, making this law's legality suspect at best."
Many groups pushing for GMO labeling beg to differ, and, meanwhile, 64 countries have passed labeling laws and more than 60 state bills were introduced over the past year. Connecticut and Maine both successfully passed GE labeling laws, though they are contingent on other states in the region passing laws before they would go into effect. The Vermont GE labeling law is the first to pass without such a trigger.
"After years of good old-fashioned work, and playing by the rules, the grassroots labeling movement achieved its first real victory this year," said Organic Consumers Association Founder and Director Ronnie Cummins of the Vermont labeling law.
Why is the battle to label GMO foods so important to so many people?
As explained by the plaintiffs in the GMA lawsuit factual background:
If a person lives in the Unites States for any period of time and does not restrict all of her food purchases to organic food, she is almost certainly consuming ingredients from GE plants on a daily basis … The vast majority of foods sold in grocery stores in the United States today contain some amount of at least one ingredient that is connected to a GE plant.
That's right, on a daily basis. Andrew Kimbrell, executive director for Center for Food Safety, which has been active in the push for GE labeling, succinctly sums it up: "Transparency in a sector that is integral to our lives every single day is absolutely essential."
Many are confident that Vermont will prevail in a legal battle with the trade groups—and promise to continue the fight. "This battle is about your health, and the health of your environment," said Cummins. "This battle is about the rights of states to pass laws to protect their citizens."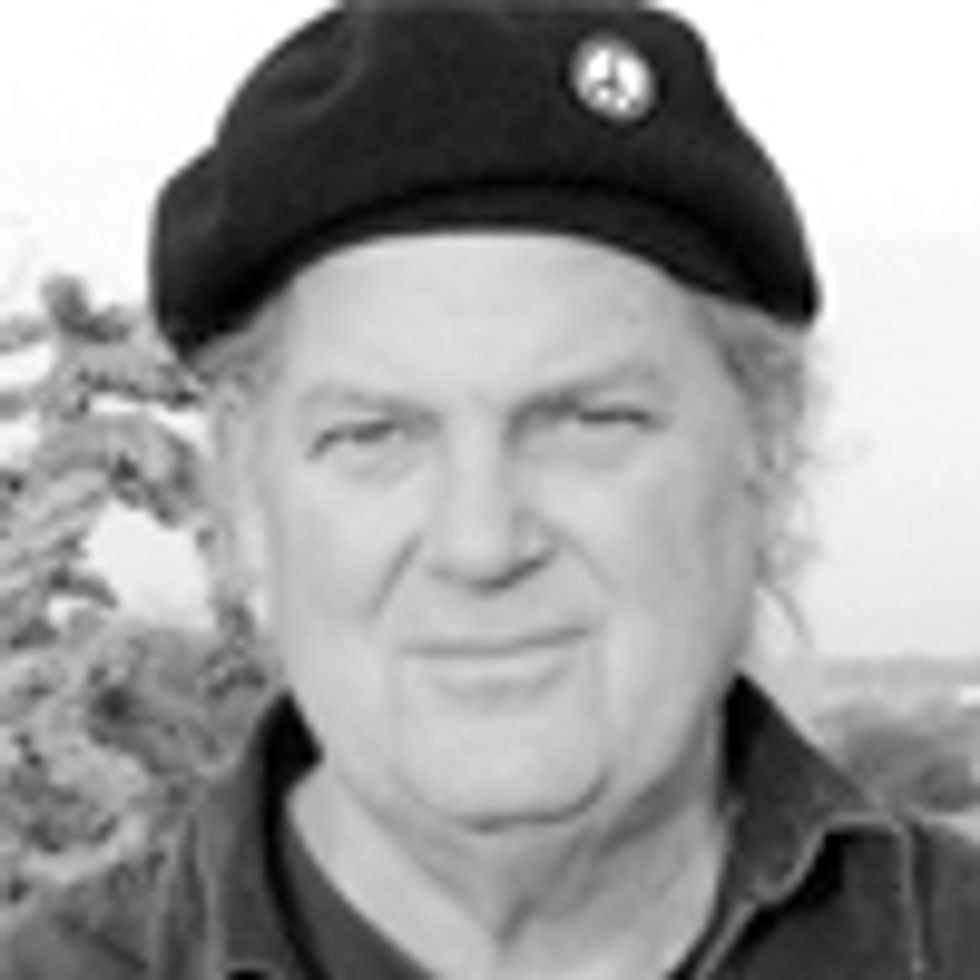 Defying repeated threats of a lawsuit from Monsanto and the Grocery Manufacturers Association (GMA), on May 8, Peter Shumlin, Governor of Vermont, signed a historic bill requiring food manufacturers to label genetically engineered (GE) foods, and to drop the practice of labeling GE foods as "natural" or "all natural."
On May 9, true to its word, the GMA confirmed that it will sue Vermont in federal court to overturn H. 112.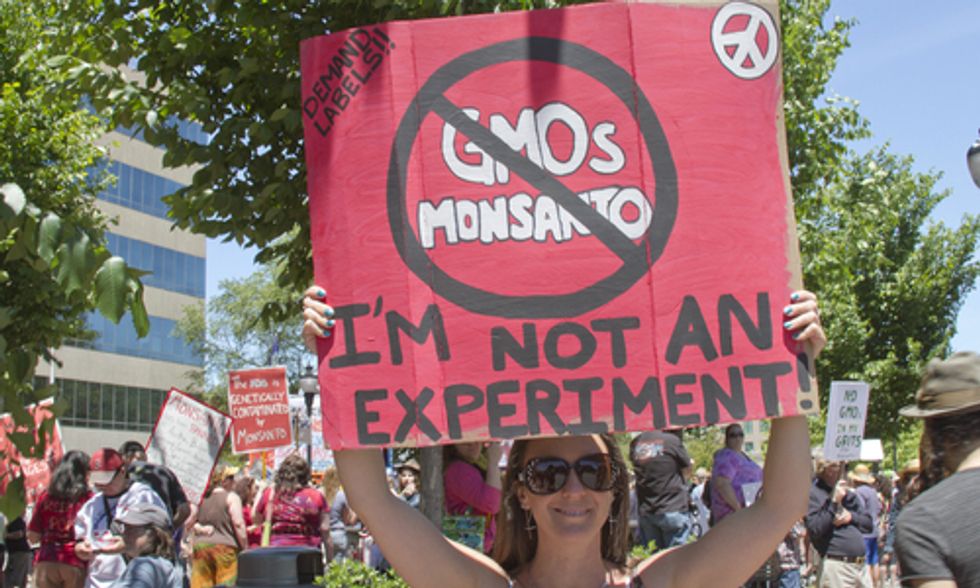 Anti-GMO rally. Photo courtesy of Shutterstock / J. Bicking
Vermont is prepared to fight back. The state has already established a "food fight" legal defense fund. Legal analysts say Vermont will likely win.
Vermont isn't the only state up against the multi-billion dollar lobbying group. The GMA, whose 300-plus members include Monsanto and Dow, Coca-Cola and General Mills, is pushing a bill in Congress that would preempt all states from passing (genetically modified organism) GMO labeling laws.
It's time for consumers in every state to band together to defeat the GMA's full-on assault, not only on Vermont, not only on consumers' right to know what's in our food, but on states' rights and on our basic freedoms to protect our health and our communities.
Here's how we do it. We boycott every product, including the natural and organic brands, owned by members of the GMA. We flood their Facebook pages, tarnish their brand names. We pressure financial institutions, pension funds and mutual funds to divest from Monsanto and the other GMA companies.
Our motto for Monsanto and GMA products must become: Don't buy them. Don't sell them. Don't grow them. And don't let your financial institution, university, church, labor union or pension fund invest in them.
As soon as the GMA files a lawsuit against Vermont, the Organic Consumers Association, joined by a growing coalition of public interest groups, will launch a boycott and divestment campaign directed against all of the 300 GMA companies and their thousands of brand name products—including foods, beverages, seeds, home and garden supplies, pet food, herbicides and pesticides.
A new balance of power
Monsanto and the GMA have, until now, successfully blocked popular GMO labeling legislation in more than 30 states. They've defeated, by a razor-thin margin, two high-profile ballot initiatives, in California (2012) and Washington (2013). And they've intimidated Connecticut and Maine into including trigger clauses in those states' GMO labeling laws, successfully delaying their implementation.
Funding for this anti-consumer, anti-right-to-know lobbying and advertising effort topped $100 million in 2012-2014, including $12 million in illegally laundered donations to I-522, the Washington State GMO labeling ballot initiative of 2013. All of that money has come from the 300 chemical, seed, supermarket, grain, pharmaceutical and food corporations, including Monsanto and the other Gene Giants, who make up the GMA.
Until now the GMA colossus has ruled, not only in Washington D.C., but in all 50 states. But now that Vermont has passed a trigger-free GMO labeling law, and Oregon is poised to do the same in November, the balance of power has shifted.
Monsanto, the GMA and their allies are in panic mode. Because they know that when companies are forced to label or remove GMOs, and also are forced to drop the fraudulent practice of labeling GE-tainted foods as "natural" or "all natural," in one state, they will have to do it in every state. Just as they've been forced to do in Europe, where mandatory GMO labeling has been in effect since 1997.
GMA members and corporate agribusiness hate labeling, because it forces them to reveal all of the hazardous GMOs, chemicals and drug residues lurking in the billions of dollars of foods, beverages, seeds, grains and pesticides they sell. It's no wonder that Monsanto and GMA's bill in Congress—a bill they've named the "Safe and Accurate Food Labeling Act of 2014"—has been renamed the "DARK" (Denying Americans the right to know) Act.
Let the boycott begin
We absolutely must defeat the impending GMA lawsuit against Vermont. This will require us to raise money and provide legal help to the state.
Equally important, we need to intensify our mass education, grassroots lobbying and marketplace pressure so we can defeat Monsanto and the GMA Big Food/Chemical lobby in the court of public opinion, too. If you would like to donate to this effort click here.
But there are other ways we can use our dollars to defeat the GMA. We can refuse to invest, even indirectly through retirement and mutual funds, in those companies. We can pressure institutional investors like Fidelity, Vanguard and State Street to dump their stock in these companies.
And we can boycott all of the 300 GMA companies and their more than 6,000 brand name products—including foods, beverages, seeds, home and garden supplies, pet food, herbicides and pesticides. 
Where to start? As part of this Great Boycott, pro-organic consumer groups will put a special emphasis on boycotting the "Traitor Brands," those organic and so-called "natural" brands owned and marketed by GMA members.
Health-conscious and green-minded consumers often inadvertently support the GMA when they buy brands like Honest Tea, Kashi, Odwalla and others whose parent companies, all members of the GMA, have donated millions to defeat GMO labeling initiatives in California (Prop 37) and Washington State (I-522). (Take the boycott pledge here.)
These Traitor Brands include, among others:
PepsiCo ($4.8M) - IZZE, Naked Juice, Simply Frito-Lay, Starbucks Frappucino
Coca-Cola ($3.2M) - Honest Tea, Odwalla
Nestle ($3M) - Gerber Organic, Sweet Leaf tea
Kraft/Mondelez ($2.4M) - Boca Burgers, Green and Black's
General Mills ($2.1M) - Cascadian Farm, Larabar, Muir Glen
ConAgra Foods ($2M) - Alexia, Pam organic cooking sprays
Kelloggs ($1.1M) - Bear Naked, Gardenburger, Kashi, Morningstar Farms
Campbells ($980k) - Plum Organics, Wolfgang Puck organic soups
Smuckers ($900k) - R.W. Knudsen, Santa Cruz organic, Smuckers Organic
Hershey's ($880k) - Dagoba
Bimbo Bakeries ($560k) - Earthgrains bread
McCormick ($400k) - Simply Asia, Thai Kitchen
Why not just boycott the conventional GMA parent company brands?
Because those of us who support organics rarely buy products like Coca-Cola, Diet Pepsi or Kellogg's Genetically-Modified-Sugar-Coated Frosted Flakes, or a packet of Monsanto seeds or a spray bottle of Roundup or 2, 4-D. The only way to pressure Big Food and the Gene Giants is to get millions of conscious consumers to boycott the brands we actually buy.
Let's be clear. Junk food and beverage companies who are members of the GMA are gobbling up organic and "natural" brands because they recognize the huge profit potential in the fast-growing organic and natural markets. They want our business. If we stop buying their brands, they know there's a good chance we'll find alternative brands. And we might never look back.
Seven ways to fight back
There are about 50 popular organic and natural "Traitor Brands" (owned by GMA members). It's easy for most of us to boycott those brands. But how do we boycott the entire 6,000-product inventory of GMA member-owned brands, especially those of us who don't shop for those brands in supermarkets?
Here are seven ways to fight back against Monsanto and all the Corporate Bullies of the Grocery Manufacturers Association.
1. Stop buying all non-organic processed foods.
Even if they are certified organic, don't buy any Traitor Brand processed foods or beverages. Ninety percent of the foods Americans buy or consume are heavily processed, deliberately laced with sugar, salt and unhealthy fats, contaminated with dyes, preservatives, pesticides, GMOs and drug residues. If you want to be healthy, if you want to avoid cancer, heart attacks or obesity, build your diet around whole foods, especially raw fruits and vegetables, healthy fats (coconut oil, avocadoes, pastured meat, dairy and eggs, nuts and whole grains) and nuts.
2. Patronize grocers, co-ops and community restaurants that serve organic, cooked-from-scratch, local food.
Many restaurants, especially chain restaurants (Chipotlé is a rare exception), sell many of the brands owned by GMA members.
3. Cook at home with healthy organic ingredients.
4. Buy only heirloom, open-pollinated, and/or organic seeds.
5. Boycott all lawn and garden inputs (chemicals, fertilizers, etc.) unless they are "OMRI Approved," which means they are allowed in organic production.
6. Read the labels on everything you buy. If a GMA member company owns the product, don't buy it.
Given the greed and reckless disregard for public health and the environment typical of GMA corporations, chances are these products aren't good for you and the environment anyway.
7. Download the Buycott app for your smartphone and join OCA's new campaign, "Buy Organic Brands that Support Your Right to Know" so you can scan products before you buy them.
In this age of the Internet and social media, consumer boycotts, divestment campaigns and other forms of marketplace pressure are more powerful than ever. Please join and support the Organic Consumers Association's "Great Boycott" of Monsanto and the Grocery Manufacturer's Association today. Let's show Monsanto and the GMA we mean business.
——–
YOU MIGHT ALSO LIKE
Vermont Passes First No-Strings-Attached GE Food Labeling Bill
'Big Food' Ready for Costly Battle as States Consider GMO Labeling Bills
Millions to 'March Against Monsanto' on May 24
——–
Today, Center for Food Safety (CFS) celebrated an historic achievement in Vermont—passage of the first no strings attached bill requiring the labeling of genetically engineered (GE) foods. The occasion marks an important day both for the food movement, with its many activists and partners, and for Center for Food Safety, which has been involved in the push for GE labeling for over a decade.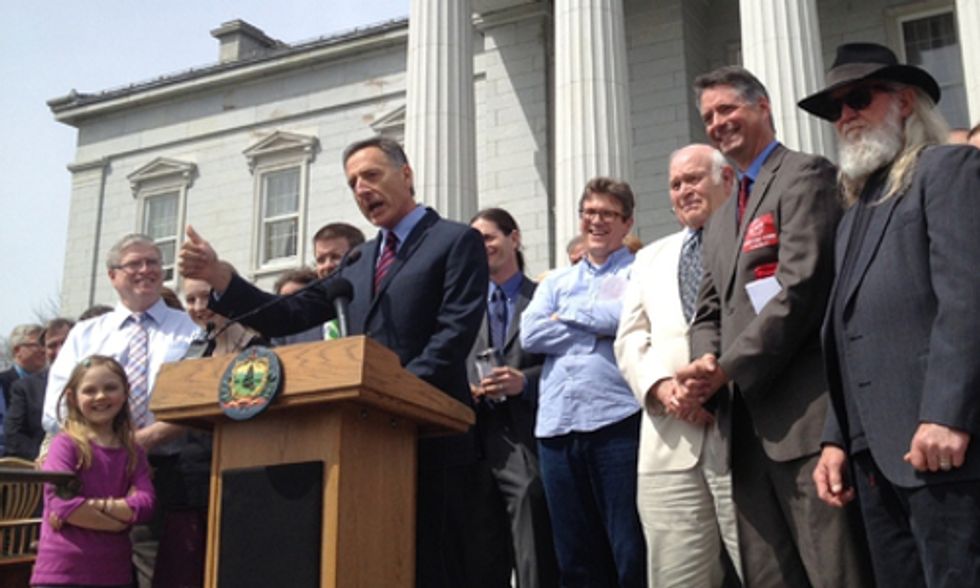 Center for Food Safety celebrates years of work as Vermont Gov. Peter Shumlin (D) signs landmark GE labeling bill into law. Photo credit: Center for Food Safety
"To the people, legislators, and activists of Vermont, thank you for your tireless efforts in advancing the people's right to know. Center for Food Safety is extremely proud to have worked alongside so many fearless advocates over the past ten years," said Andrew Kimbrell, executive director for CFS.
The fight for legislation to require the labeling of genetically engineered foods has been fought on multiple fronts. CFS has led the federal rulemaking process since 2011, when it submitted a legal petition to the U.S. Food and Drug Administration (FDA) providing a blueprint for the agency to enact a federal rule under authority granted by the Food, Drug and Cosmetic Act. That petition is supported by more than 650 organizations and business, and more than 1.4 million people have since submitted comments in support.
While no action has been taken at the federal level, numerous states, bolstered by the legal and scientific expertise of CFS, have introduced legislation or ballot initiatives of their own. Connecticut and Maine each successfully passed GE labeling laws, though they are contingent on other regional states to also pass laws before they would go into effect. The Vermont bill is the first GE labeling law to pass without such a trigger.
"Center for Food Safety is committed to pursuing mandatory GE labeling across the country until every American is assured the right to know what is in their food," said Kimbrell. "Transparency in a sector that is integral to our lives every single day is absolutely essential."
CFS has provided legal expertise to numerous states pursuing mandatory GE labeling, and continues to offer expert testimony at legislative hearings across the country, including New York, Massachusetts, California and Oregon. CFS closely monitors both the state level and global landscape on GE labeling. There are currently 64 countries with labeling laws and more than 60 state bills were introduced over the past year.
Just today, it was announced by the Oregon Supreme Court that it has certified a proposed 2014 ballot initiative on GE labeling, allowing the signature gathering process to begin in advance of November elections.
With the success of Vermont, eyes now turn back to Washington, DC, where Center for Food Safety has been a vocal proponent of the Genetically Engineered Food Right-to-Know Act (H.R. 1699/S. 809) introduced last year by Rep. Peter DeFazio (D-OR) and Sen. Barbara Boxer (D-CA). This common sense bill directs FDA to use its authority to enact a federal, mandatory GE labeling policy that would guarantee all Americans the right to know.
Standing in the way of that right is a bill introduced by Rep. Mike Pompeo (R-KS), with the backing of the Grocery Manufacturers Association, which has been dubbed "Denying Americans the Right-to-Know" (DARK) Act and would block any federal or state action to require the labeling of GE foods. Center for Food Safety is working with allies in Washington to ensure this bill does not allow the interests of Big Food and the chemical industry to trump the rights of Vermonters or Americans nationwide.
——–
YOU MIGHT ALSO LIKE
Maine Governor Signs GMO Food Labeling Bill
'Big Food' Ready for Costly Battle as States Consider GMO Labeling Bills
Colorado Supreme Court Overturns 'Big Food' Challenge, Keeps GMO Labeling Bill Alive
——–
On May 2, U.S. Department of Agriculture (USDA) released data from the 2012 Census of Agriculture. The Census of Agriculture has been conducted since 1840 and currently is collected once every five years. This post looks at the themes of conservation and energy in the Census. You can also view an introductory post on the Census.
Solar panels on a barn on a Vermont farm. Photo courtesy of Shutterstock
Grass vs. Cropland
As part of the Census, USDA reports on the extent of pasture and grazing land across the country. The Census breaks this data down into two categories—(1) pasture and grazing land that could have been used for crops without additional improvements; and (2) permanent pasture and rangeland, other than pastured cropland and pastured woodland.
Category one includes high quality land that could easily be used for crop production, but is instead retained as pasture. It also includes acres of crops hogged or grazed but not harvested prior to grazing. Category two includes both high quality and low quality pasture, but it must be unusable for crop production without additional improvements.
In 2007, the amount of land devoted to pasture and grazing land that could have been used for crop production was 35.8 million acres. By 2012, this number had dropped to 12.8 million acres, a reduction of nearly 65 percent. Going back even further, this number was 60.6 million acres in 2002. While the Census does not speak to the drivers of grassland loss, most of these acres were likely lost to crop production as commodity prices peaked and ethanol demand increased. The amount of pastured woodland also declined by roughly 600,000 acres. In contrast, "permanent" grassland increased between 2007 and 2012 by 1.6 percent, from 408.8 million acres to 415.3 million.
Rotational Grazing
In 2007, farmers practiced rotational or management-intensive grazing on nearly 389,000 farms. By 2012, this number had declined 26 percent to less than 289,000. Three New England states—Connecticut, Rhode Island and Vermont—plus Nevada saw increases in the number of farms using this type of grazing system. Every other state experienced significant declines.
National Sustainable Agriculture Coalition has long been a champion of rotational and management-intensive grazing, which USDA promotes through federal conservation programs like the Conservation Stewardship Program. Unfortunately, the Census does not explore the drivers behind the trends that can be pulled from its numbers. However, the decline does parallel a steep decrease in the number of acres devoted to pasture and grazing land, as detailed above.
Fertilizers and Chemicals
The use of manure and the use of commercial fertilizer, lime and soil conditioners both declined between 2007 and 2012. The number of farms using manure declined from 307,073 to 275,420, while the number of farms using commercial fertilizer declined from 1,022,036 to 877,907. In contrast, the number of farms using chemicals such as pesticides, herbicides and defoliants increased by 154,149.
Cover Crops, Tillage, Easements
The 2012 Census contains brand new information on cover cropping, conservation tillage and easements. Unfortunately, USDA did not report this data in the 2007 Census, so we cannot make a comparison. That said, a recent survey conducted by USDA's Sustainable Agriculture Research and Education (SARE) program with the Conservation Technology Information Center (CTIC) found that the total acreage of cover crops among farmers surveyed increased 350 percent from 2008 to 2012.
In 2012, farmers grew cover crops on 133,124 farms, covering 10,280,793 acres, not including land enrolled in the Conservation Reserve Program (CRP). The average number of acres of cover crops per farm was 77, with a plurality of farmers planting between 10 and 50 acres.
The Census found that 76,441 farms were operating under a conservation easement, including federal and non-federal easements. The average easement size was 173 acres, with the majority of easements ranging from 1 to 50 acres.
For the first time, the Census includes data on the extent to which farmers are using reduced- and no-till practices. More than 278,000 farms reported using no-till practices on a total of nearly 96.5 million acres. The average number of no-till acres per farm was 347. Farmers used other types of conservation tillage, such as mulch till and ridge till, on nearly 200,000 farms, covering more than 76.6 million acres. The average number of acres per farm was 392. In total, conservation tillage, including no-till, was more widespread than conventional tillage practices.
In 2007, farmers generated energy or electricity on 23,451 farms. The practice was most popular in Hawaii (11 percent of farms in the state). Unfortunately, the 2012 Census used different metrics to measure on-farm energy production, so we cannot compare data across the years. In 2012, farmers used solar panels on 36,331 farms, geoexchange systems on 9,403 farms, wind turbines on 9,054 farms and small hydro systems on 1,323 farms.
The bulk of solar energy production occurred in orchards, on sugarcane and hay farms, and on ranches; only 6 percent of grain and oilseed farms used solar power. Conversely, most wind turbines were located on grain and oilseed farms. The majority of geoexchange systems were located on oilseed, grain, sugarcane and hay farms; and most small hydropower generation occurred on ranches and sugarcane and hay farms.
——–
YOU MIGHT ALSO LIKE
USDA Invests $7 Million to Research Small Farm Challenges
Saving the World One Farm at a Time
Why the BLM Battle at Bundy Ranch Matters
——–