This website uses cookies to ensure you get the best experience while browsing it. By clicking 'Got It' you're accepting these terms.
Activists Permanently Shut Down Vermont Yankee Nuke Plant
Dec. 29, 2014 07:55AM EST
Energy

The Vermont Yankee atomic reactor goes permanently off-line today, Dec. 29, 2014. Citizen activists have made it happen. The number of licensed U.S. commercial reactors is now under 100 where once it was to be 1,000.
Decades of hard grassroots campaigning by dedicated, non-violent nuclear opponents, working for a Solartopian green-powered economy, forced this reactor's corporate owner to bring it down.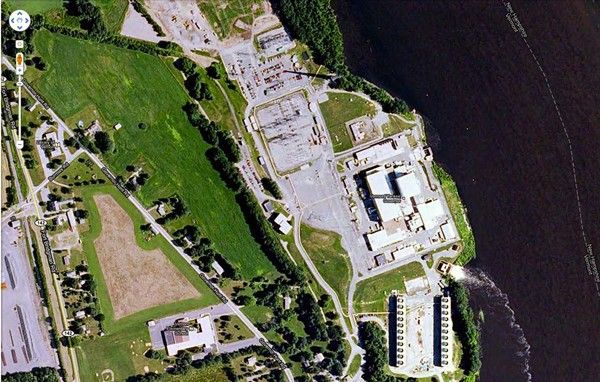 Vermont Yankee is the fifth American reactor forced shut in the last two years.
Entergy says it shut Vermont Yankee because it was losing money. Though fully amortized, it could not compete with the onslaught of renewable energy and fracked-gas. Throughout the world, nukes once sold as generating juice "too cheap to meter" comprise a global financial disaster. Even with their capital costs long-ago stuck to the public, these radioactive junk heaps have no place in today's economy—except as illegitimate magnets for massive handouts.
So in Illinois and elsewhere around the U.S., their owners demand that their bought and rented state legislators and regulators force the public to eat their losses. Arguing for "base load power" or other nonsensical corporate constructs, atomic corporations are gouging the public to keep these radioactive jalopies sputtering along.
Such might have been the fate of Vermont Yankee had it not been for citizen opposition. Opened in the early 1970s, Vermont Yankee was the northern tip of clean energy's first "golden triangle." Down the Connecticut River, grassroots opposition successfully prevented two reactors from being built at Montague, Massachusetts, where the term "No Nukes" was coined. A weather tower was toppled, films were made, books were written, demonstrations staged and an upwelling of well-organized grassroots activism helped nurture a rising global movement.
A bit to the southwest, in the early 1990s, it shut the infamous Yankee Rowe reactor, which had been hit by lightening and could not pass a verifiable test of its dangerously embrittled core.
But Vermont Yankee persisted. Entergy, a "McNuke" operator based in New Orleans, bought Yankee from its original owners about a dozen years ago. It signed a complex series of agreements with the state. Then it trashed them to keep Vermont Yankee spiraling ever-downward.
But hard-core organizers like Deb Katz's Citizen Awareness Network never let up. Working through a network of natonal, state and local campaigns, the safe energy movement has finally forced Entergy to flip the off switch.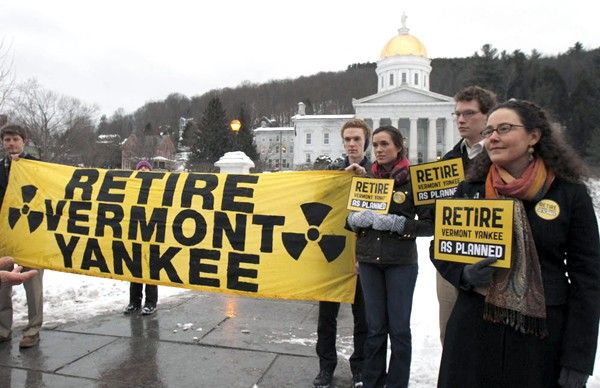 Protestors support the closing of the Vermont Yankee nuclear power plant at the Statehouse in January 2012 in Montpelier, Vermont.
Vermont Yankee is the fifth American reactor forced shut in the last two years. Two at San Onofre, California, were defeated by citizen activism. Wisconsin's Kewaunee went down for economic reasons. Crystal River in Florida was driven to utter chaos by incompetent ownership.
Five reactors are officially under construction in the U.S. But their fate is also subject to citizen action. Two others targeted for Levy County, Florida, have recently been stopped by ratepayer resistance.
Throughout the U.S. and the world, the demise of atomic energy is accelerating. Some 435 reactors are listed worldwide as allegedly operable. But 48 in Japan remain shut in the wake of Fukushima despite the fierce efforts of a corrupt, dictatorial regime to force them back on line. Germany's transition to a totally nuke-free green energy economy is exceeding expectations. The fate of dozens proposed and operating in China and India remains unclear.
But the clock on the inevitable next disaster is ticking. Cancer rates and thyroid problems around Fukushima continue to accelerate. Massive reactors like California's Diablo Canyon and Indian Point, New York, are surrounded by volatile earthquake faults that could reduce them to seething piles of apocalyptic rubble, killing countless thousands downwind, gutting the global economy.
Every reactor shutdown represents an avoided catastrophe of the greatest magnitude.  As the takeoff of cheap, clean, safe and reliable Solartopian technology accelerates, greedy reactor owners struggle to squeeze the last few dimes out of increasingly dangerous old nukes for which they ultimately will take no responsibility. Vermont Yankee alone could require 60 years for basic clean-up. Fierce debate rages over what to do with thousands of tons of intensely radioactive spent fuel rods.
It remains unclear where the money will ultimately come from to try to decontaminate these sites, but clearly they are all destined to be dead zones.
As will the planet as a whole were it not for victories like this one in Vermont. This weekend the No Nukes community will celebrate this accursed reactor's final demise.
Many hundreds more such celebrations must follow—soon!
Harvey Wasserman edits NukeFree.org and works to shut all Vermont Yankee's mutant siblings so Solartopia can take root.
YOU MIGHT ALSO LIKE
7 Must-See Climate Action Videos of 2014
10 Most Important Environmental Stories of 2014
EcoWatch Daily Newsletter
Wesley Martinez Da Costa / EyeEm / Getty Images
By David R. Montgomery
Would it sound too good to be true if I was to say that there was a simple, profitable and underused agricultural method to help feed everybody, cool the planet, and revitalize rural America? I used to think so, until I started visiting farmers who are restoring fertility to their land, stashing a lot of carbon in their soil, and returning healthy profitability to family farms. Now I've come to see how restoring soil health would prove as good for farmers and rural economies as it would for the environment.
skaman306 / Moment / Getty Images
Radish (Raphanus sativus) is a cruciferous vegetable that originated in Asia and Europe (1Trusted Source).
The Centers for Disease Control (CDC) released new numbers that show vaping-related lung illnesses are continuing to grow across the country, as the number of fatalities has climbed to 33 and hospitalizations have reached 1,479 cases, according to a CDC update.
During the summer, the Arctic tundra is usually a thriving habitat for mammals such as the Arctic fox. Education Images / Universal Images Group via Getty Images
Reports of extreme snowfall in the Arctic might seem encouraging, given that the region is rapidly warming due to human-driven climate change. According to a new study, however, the snow could actually pose a major threat to the normal reproductive cycles of Arctic wildlife.
Vegan rice and garbanzo beans meals.
Ella Olsson /
Pexels
One common concern about vegan diets is whether they provide your body with all the vitamins and minerals it needs.
Many claim that a whole-food, plant-based diet easily meets all the daily nutrient requirements.
A fracking well looms over a residential area of Liberty, Colorado on Aug. 19.
WildEarth Guardians / Flickr