Activists Permanently Shut Down Vermont Yankee Nuke Plant

The Vermont Yankee atomic reactor goes permanently off-line today, Dec. 29, 2014. Citizen activists have made it happen. The number of licensed U.S. commercial reactors is now under 100 where once it was to be 1,000.
Decades of hard grassroots campaigning by dedicated, non-violent nuclear opponents, working for a Solartopian green-powered economy, forced this reactor's corporate owner to bring it down.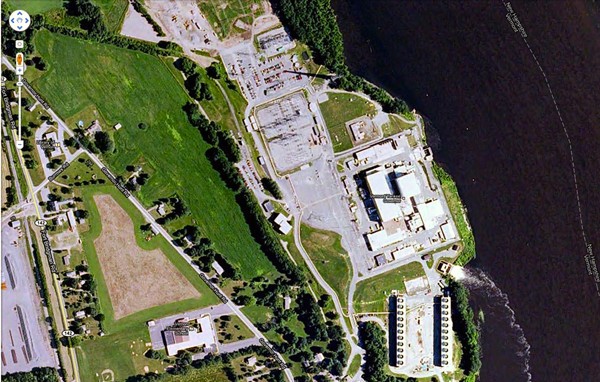 Vermont Yankee is the fifth American reactor forced shut in the last two years.
Entergy says it shut Vermont Yankee because it was losing money. Though fully amortized, it could not compete with the onslaught of renewable energy and fracked-gas. Throughout the world, nukes once sold as generating juice "too cheap to meter" comprise a global financial disaster. Even with their capital costs long-ago stuck to the public, these radioactive junk heaps have no place in today's economy—except as illegitimate magnets for massive handouts.
So in Illinois and elsewhere around the U.S., their owners demand that their bought and rented state legislators and regulators force the public to eat their losses. Arguing for "base load power" or other nonsensical corporate constructs, atomic corporations are gouging the public to keep these radioactive jalopies sputtering along.
Such might have been the fate of Vermont Yankee had it not been for citizen opposition. Opened in the early 1970s, Vermont Yankee was the northern tip of clean energy's first "golden triangle." Down the Connecticut River, grassroots opposition successfully prevented two reactors from being built at Montague, Massachusetts, where the term "No Nukes" was coined. A weather tower was toppled, films were made, books were written, demonstrations staged and an upwelling of well-organized grassroots activism helped nurture a rising global movement.
A bit to the southwest, in the early 1990s, it shut the infamous Yankee Rowe reactor, which had been hit by lightening and could not pass a verifiable test of its dangerously embrittled core.
But Vermont Yankee persisted. Entergy, a "McNuke" operator based in New Orleans, bought Yankee from its original owners about a dozen years ago. It signed a complex series of agreements with the state. Then it trashed them to keep Vermont Yankee spiraling ever-downward.
But hard-core organizers like Deb Katz's Citizen Awareness Network never let up. Working through a network of natonal, state and local campaigns, the safe energy movement has finally forced Entergy to flip the off switch.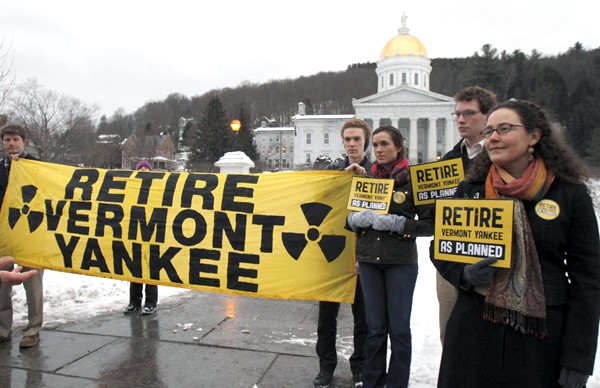 Protestors support the closing of the Vermont Yankee nuclear power plant at the Statehouse in January 2012 in Montpelier, Vermont.
Vermont Yankee is the fifth American reactor forced shut in the last two years. Two at San Onofre, California, were defeated by citizen activism. Wisconsin's Kewaunee went down for economic reasons. Crystal River in Florida was driven to utter chaos by incompetent ownership.
Five reactors are officially under construction in the U.S. But their fate is also subject to citizen action. Two others targeted for Levy County, Florida, have recently been stopped by ratepayer resistance.
Throughout the U.S. and the world, the demise of atomic energy is accelerating. Some 435 reactors are listed worldwide as allegedly operable. But 48 in Japan remain shut in the wake of Fukushima despite the fierce efforts of a corrupt, dictatorial regime to force them back on line. Germany's transition to a totally nuke-free green energy economy is exceeding expectations. The fate of dozens proposed and operating in China and India remains unclear.
But the clock on the inevitable next disaster is ticking. Cancer rates and thyroid problems around Fukushima continue to accelerate. Massive reactors like California's Diablo Canyon and Indian Point, New York, are surrounded by volatile earthquake faults that could reduce them to seething piles of apocalyptic rubble, killing countless thousands downwind, gutting the global economy.
Every reactor shutdown represents an avoided catastrophe of the greatest magnitude.  As the takeoff of cheap, clean, safe and reliable Solartopian technology accelerates, greedy reactor owners struggle to squeeze the last few dimes out of increasingly dangerous old nukes for which they ultimately will take no responsibility. Vermont Yankee alone could require 60 years for basic clean-up. Fierce debate rages over what to do with thousands of tons of intensely radioactive spent fuel rods.
It remains unclear where the money will ultimately come from to try to decontaminate these sites, but clearly they are all destined to be dead zones.
As will the planet as a whole were it not for victories like this one in Vermont. This weekend the No Nukes community will celebrate this accursed reactor's final demise.
Many hundreds more such celebrations must follow—soon!
Harvey Wasserman edits NukeFree.org and works to shut all Vermont Yankee's mutant siblings so Solartopia can take root.
YOU MIGHT ALSO LIKE
7 Must-See Climate Action Videos of 2014
10 Most Important Environmental Stories of 2014
Wikimedia Commons
By Stacy Malkan
Neil deGrasse Tyson has inspired millions of people to care about science and imagine themselves as participants in the scientific process. What a hopeful sign it is to see young girls wearing t-shirts emblazoned with the words, "Forget princess, I want to be an astrophysicist."
Keep reading...
Show less
www.youtube.com
By Andy Rowell
Any day now we will truly witness climate change in action. Within days at worst, maybe weeks at best, scientists predict that a huge section of the Larsen C ice shelf in Antarctica will break off into the ocean, in what is called a major "carving" event.
Keep reading...
Show less
www.youtube.com
President Trump visited Cedar Rapids, Iowa on June 21 to speak to a large crowd in the U.S. Cellular Center at a political rally organized by his campaign.
As Trevor Noah noted during The Daily Show episode last night (starts at 2:25), the real reason Trump has these rallies is to "get back in front of his loyal crowds and feed of their energy." Noah believes that "Trump supporters are so on board with their dude he can say anything and they'll come along for the ride."
Keep reading...
Show less
The Kamuthi solar plant in the southern Indian state of Tamil Nadu.
The rapid growth in renewable energy continues to put a dent in the demand for coal.
Coal India, the world's biggest coal mining company and producer of 82 percent of the country's coal, announced the closure of 37 mines that are financially "unviable."
Keep reading...
Show less
www.youtube.com
By Katie O'Reilly
Two years ago—long before coal became one of the most dominant and controversial symbols of the 2016 presidential election—Bloomberg Philanthropies approached production company RadicalMedia with the idea of creating a documentary exploring the U.S. coal mining industry. Last spring, they brought on Emmy-nominated director Michael Bonfiglio, tasked with forging a compelling story out of the multitudes of facts, statistics and narratives underlying the declining industry.
Keep reading...
Show less
Mayors for 100% Clean Energy
Keep reading...
Show less
www.youtube.com
Thanks to Newsy for their coverage on Thursday's news that the U.S. Fish and Wildlife Service removed grizzly bears in the Greater Yellowstone region from the Endangered Species List.
Watch above as Newsy explains that the decision comes despite serious concerns from the environmental and scientific community, and Tribal Nations about a declining, isolated grizzly bear population with diminishing food resources and record-high mortalities.
Keep reading...
Show less
www.facebook.com
By Francine Kershaw
Seismic airguns exploding in the ocean in search for oil and gas have devastating impacts on zooplankton, which are critical food sources for marine mammals, according to a new study in Nature. The blasting decimates one of the ocean's most vital groups of organisms over huge areas and may disrupt entire ecosystems.
And this devastating news comes on the heels of the National Marine Fisheries Service's proposal to authorize more than 90,000 miles of active seismic blasting. Based on the results of this study, the affected area would be approximately 135,000 square miles.
Keep reading...
Show less
By Jill Richardson
Is coconut oil:
good for you
bad for you
neither good nor bad
scientists don't know
The subject of this question is the source of a disagreement. Initially, the question was thought to be settled decades ago, when scientist Ancel Keys declared all saturated fats unhealthy. Coconut oil, which is solid at room temperature, is a saturated fat.
Keep reading...
Show less


Get EcoWatch in your inbox