Popular
Oct. 21, 2014 02:50PM EST
Top 10 Greenest Countries in the World
How green is your native land? The 4th edition of the Global Green Economy Index, produced by private U.S.-based consultancy Dual Citizen LLC, has just been released, and you can look it up. The index provides an in-depth look at how 60 countries and 70 cities are doing in developing more environmentally friendly economies, in actual performance and in how experts perceive their performance.
"We first published the Global Green Economy Index in 2010 guided by a belief that the environment, climate change and green, low-carbon growth would rapidly become defining issues for national policy makers and the global reputation of countries," says the report's introduction. "As we went to press, 2,646 events in nearly 162 countries mobilized pressure on over 100 world leaders gathered in New York at the United Nations to take substantive and binding action on climate change. The link between these issues and the reputation of leaders and nation states is more vivid today than ever before."
The 60 countries covered are a dramatic increase from the 27 included in the last report in 2012. It assessed nations on every continent and found that the Scandinavian countries, along with Germany, were clear leaders. Sweden and Norway headed up the list of actual performance, with Costa Rica ranking third, inside the top 15 for the first time, and Germany and Denmark rounding out the top five. Poland, Senegal, Qatar, Vietnam and Mongolia bring up the rear in slots 56-60, with China just above them at 55. The U.S. came in close to the middle, ranked at 28.
Perception was very different. The study found that some countries got less credit than their green economies merited, while other countries got too much credit for making environmentally friendly moves. Austria, Iceland, Ireland, Portugal and Spain were among the European countries that the index found needed "improved green country branding," along with the African nations of Ethiopia, Mauritius, Rwanda and Zambia, the latter four all covered in the index for the first time.
Other countries, some of the world's most developed nations, including the U.S., Japan, the Netherlands and Australia, get more credit than their lagging performance deserves. The U.S. came in sixth in perception, while Japan, ranked 44th in performance, came in seventh in perception.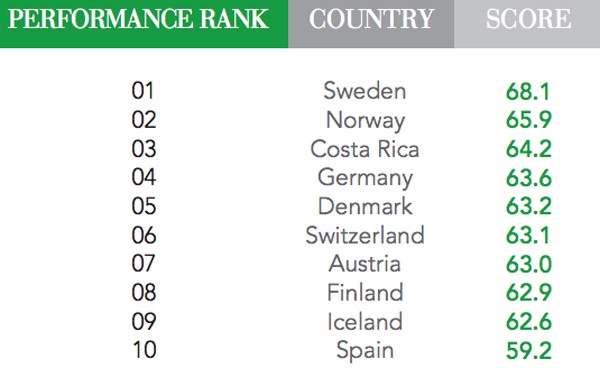 On the liability side, the index revealed that some of the world's fastest growing economies aren't growing green economies. In addition to China, rapidly growing countries like Ghana, United Arab Emirates, Qatar, Cambodia, Thailand and Vietnam are also doing poorly.
Four of the ten greenest cities were, unsurprisingly, in Scandinavia, with Copenhagen in first place, Stockholm in third, Helsinki ninth and Oslo tenth. The top ten was rounded out by Amsterdam (2), Vancouver (4), London (5), Berlin (6), New York (7) and Singapore (8).
Stomach contents of an albatross chick photographed in the Pacific in 2009. Chris Jordan / U.S. Fish & Wildlife Service HQ
By Tim Radford
Scientists have calculated yet another item on the human shopping list that makes up the modern world: plastics. They have estimated the mass of all the plastic bottles, bags, cups, toys, instruments and fabrics ever produced and tracked its whereabouts, as yet another index of the phenomenal change to the face of the planet made by recent human advance.
Altogether, since about 1950, with the birth of a new industry, more than 8.3 billion tonnes (or 9.1 tons) of synthetic organic polymers have been generated, distributed and discarded. Of that total, 6.3 billion tonnes are classified as waste.
Keep reading...
Show less
By Jessica Corbett
As Senate Democrats stay silent on an energy bill that environmental groups call "a pro-fracking giveaway to oil and gas interests that would commit America to decades more of dangerous fossil fuel dependence," Sen. Bernie Sanders (I-Vt.) is receiving applause for speaking out against it.
"As a nation, our job is to move away from fossil fuels toward sustainable energy and energy efficiency. This bill does the opposite," Sanders said in a statement.
Keep reading...
Show less
ExxonMobil filed suit against the federal government last week, claiming that a $2 million fine levied against the company by the Treasury Department is "unlawful" and "capricious."
The Treasury Department fined Exxon Thursday morning, alleging that the oil giant displayed "reckless disregard" of U.S.-Russian sanctions in its dealings with Russian company Rosneft in 2014 under CEO Rex Tillerson.
Keep reading...
Show less
By Andy Rowell
For years, environmentalists have warned that due to climate change, there will be billions of barrels of oil that we will never be able to burn. These reserves will become what has increasingly been called "stranded assets."
To give you one example: In a new report, Friends of the Earth argued that "The coal, oil and gas in reserves already in production and development globally is more than we can afford to burn. There is no room for any new coal, oil or gas exploration and production.
Keep reading...
Show less
Craftsman tiny house by Zyl Vardos. Abel Zyl / Shuttertstock
Late last year, the tiny house community celebrated a watershed moment—an official appendix in the 2018 version of the International Residential Code, the model building code used by most jurisdictions in the U.S.
"There are many things that are monumental in the adoption of tiny house construction codes by the IRC," cheered Thom Stanton, the CEO of small space developer, Timber Trails. "Among them, that architects, designers, builders, community developers and (maybe most importantly) zoning officials have a means of recognizing tiny houses as an official form of permissible dwelling."
Keep reading...
Show less
www.youtube.com
The colossal mass of throwaway plastic—from straws to bags to bottles—has grown much faster than recycling and disposal efforts can contain it. You might even say this is obvious, no matter where you look.
As a result, places that were once considered pristine—such as Antarctica and the ocean floors of Australia—have become inundated with plastic waste.
Check out this video from National Geographic to watch underwater photographer Huai Su film a diver collecting an endless amount of plastic bottles that litter the seafloor off Xiaoliuqiu Island, Taiwan.
A reef off the coast of Cancún will become the first in the world with its own insurance policy, testing a new strategy meant to encourage local investment in the wellbeing of the reef.
Under the policy, created by insurance company Swiss Re and the Nature Conservancy, local hotels and other organizations dependent on tourism will pay into the policy, receiving reimbursements to repair the reef and local beaches after natural disasters.
Keep reading...
Show less
www.youtube.com
The Northeast Organic Farming Association of New York (NOFA-NY) denounced the USDA's permit for the world's first open-air trials of the Genetically Engineered (GE) Diamondback moth to be released in Geneva, New York.

This announcement came concurrently with the availability of a final environmental assessment and finding of no significant impact for the field release of the GE Diamondback moths. NOFA-NY considers the Environmental Assessment lacking comprehensive health and environmental details.
Keep reading...
Show less