Tips for a Healthy (Even Vegan) Cookout
Jul. 03, 2014 12:03PM EST
Food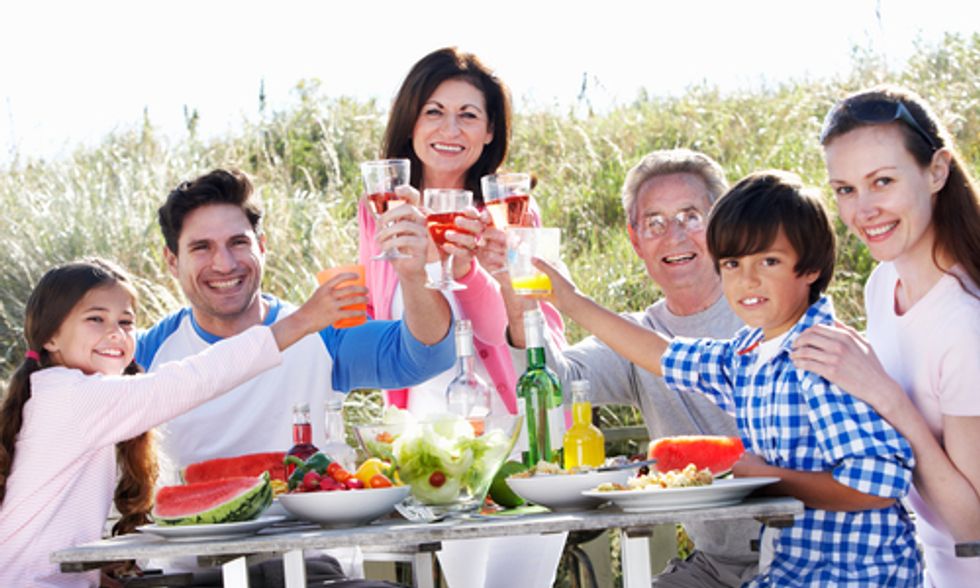 Will you be marking the Fourth of July holiday with a classic summertime cookout?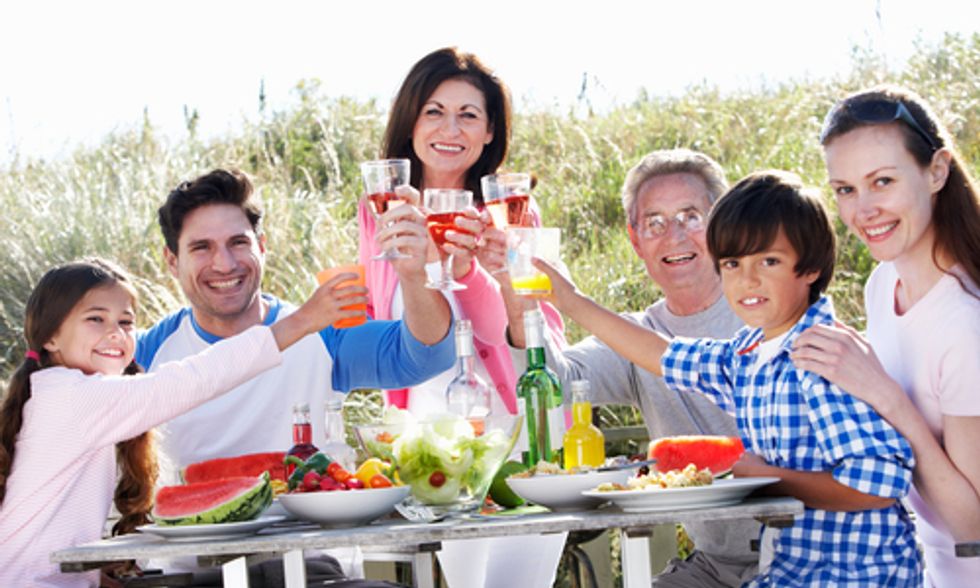 Planning a holiday cookout? Photo courtesy of Shutterstock
Or will you be going vegetarian, vegan or even gluten-free at your BBQ? If that's the case, here are some pointers for July 4 and throughout the summer.
If you feel the holiday just won't be complete without firing up the grill, but you don't want to down burgers and dogs, then check out One Green Planet's 30 epic vegan-friendly grilling ideas, from grilled artichoke and quinoa lettuce wraps to red lentil burgers with kale pesto (which you can follow up with 30 vegan desserts, from grilled fruit kebabs to cardamom rose cupcakes (who doesn't love cardamom?)).
Not sure that anything coming off the grill could taste as good as a cheeseburger? Read this recipe for grilled avocado with salsa and see if your mouth doesn't water.
Ok, say you want a more traditional cookout, but you want to skip a lot of the fat, cholesterol and salt that accompanies burgers, chips, potato salad and other BBQ offerings. Take traditional picnic foods and put a healthy twist on it, such as swapping out a mayo-based macaroni salad with a Greek pasta salad with red wine vinaigrette, and deviled eggs with avocado stuffed eggs.
Here are some tips for a healthier traditional cookout from the Cleveland Clinic:
 Choose a Lean Entrée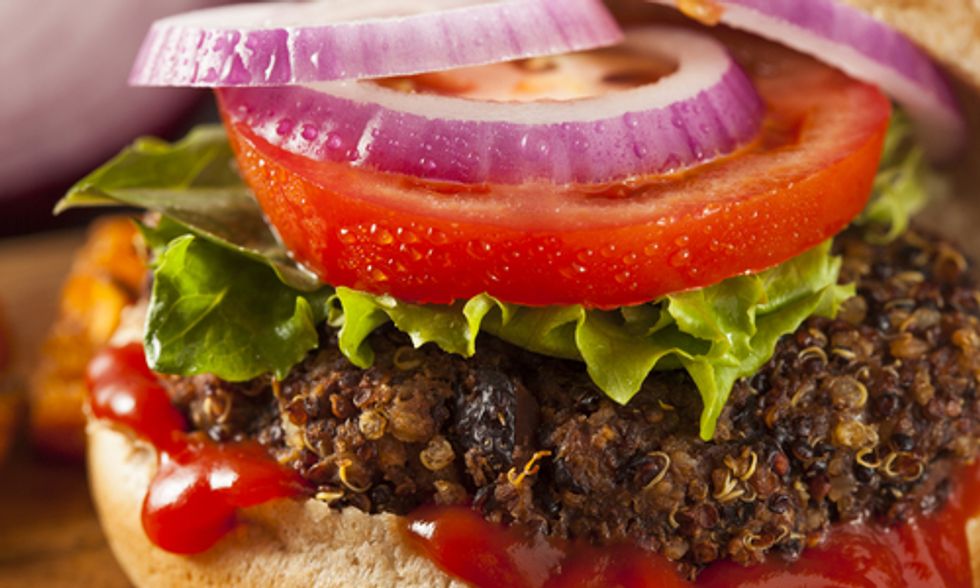 Try a healthy veggie burger. Photo courtesy of Shutterstock
Instead of high-fat hamburgers and hot dogs, choose lower-fat proteins. It'll be a great change-up from traditional cookout foods, and your guests will be delighted. Here are some tasty entrée ideas:
Fresh fish can be grilled whole, in steaks or filets, or on a kebob. Salmon, grouper, shrimp and tuna are great grilling options.

Whole chicken or chicken breasts can be made in a variety of ways, like marinating with chipotle seasoning, vinaigrettes, barbecue sauce, jerk sauce or Cajun seasoning. If using chicken with skin, remove the skin before eating.

Lean pork or beef tenderloin, trimmed of fat.

Vegetable-based burgers. Portobello, black bean, roasted vegetable or burgers made with textured vegetable protein are flavorful options.

Grilled vegetables make for a great entrée themselves, especially veggies with hearty flavors like portobello mushrooms, squash, onions and peppers.

Turkey or chicken burgers made with all-white-meat ground turkey or chicken.
Lighten up the Salad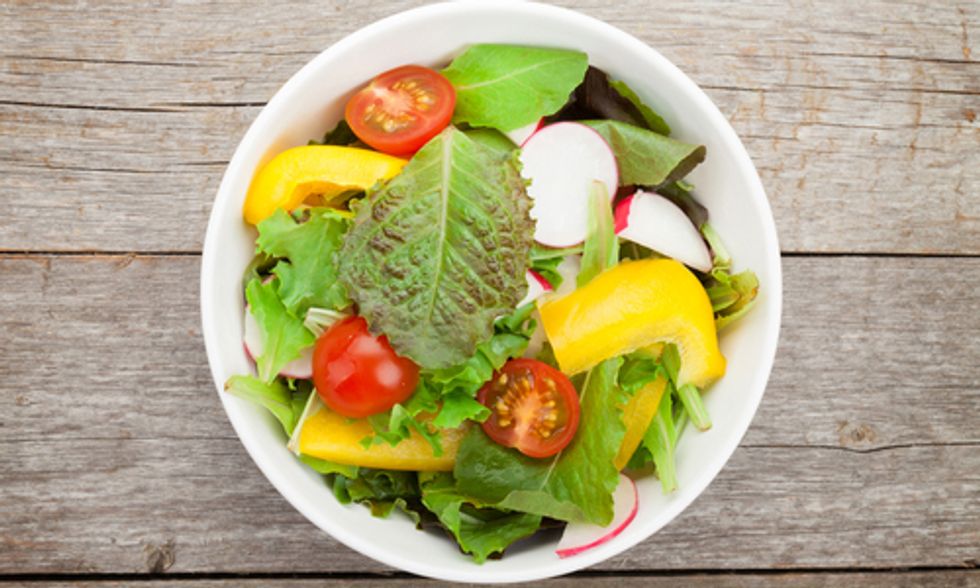 How about a flavorful vinaigrette instead of a creamy dressing on your salad? Photo courtesy of Shutterstock
Liven up pasta and potato salad with these ideas to limit saturated fat:
Add grilled, raw or roasted vegetables. They'll help bulk up the salad while lowering the calorie count.

Use a flavorful vinaigrette dressing instead of a creamy dressing. Try a mixture of extra virgin olive oil, an acid (such as lemon juice, red wine vinegar or balsamic vinegar) and fresh herbs and spices.

If you just can't do without the creamy potato salad, substitute full-fat mayonnaise with light mayo or light sour cream. Use small amounts of creamy toppings and add flavor with pickle juice, lemon juice or fresh herbs.

Try using spicy arugula pesto or traditional basil pesto sauce in your pasta salad for a refreshing, healthy change.

Choose whole wheat farfalle (bowtie), penne (tubular) or fusilli (spiral) pasta instead of enriched pasta. Or, make the salad using half enriched pasta and half whole wheat pasta.

Dijon mustard is a great addition to vinaigrettes, as are rice wine, balsamic and champagne vinegars. To give a southwestern pasta salad some kick, add some adobo sauce or chopped chipotle peppers.
Add a Healthy Side Dish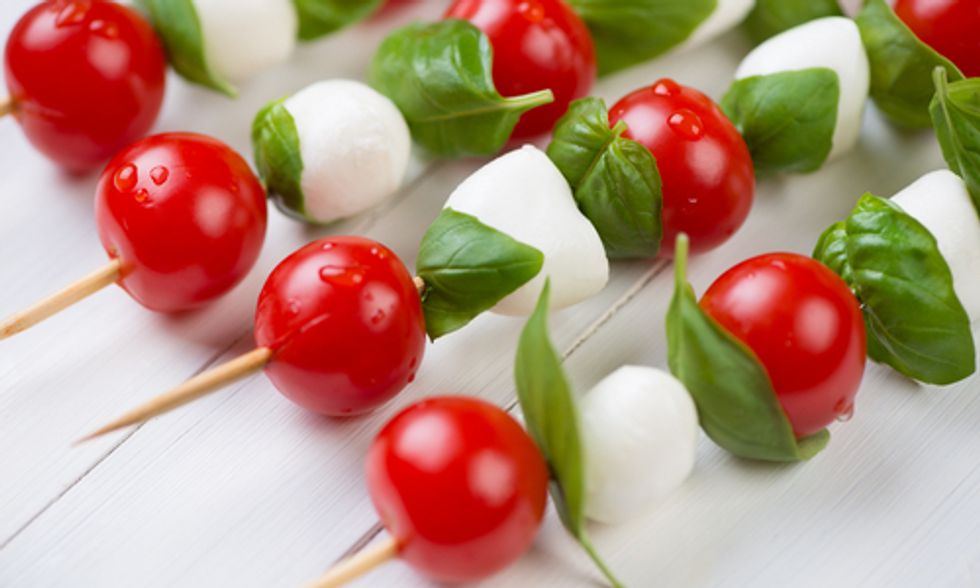 Cherry tomato, mozzarella and basil kebabs. Photo courtesy of Shutterstock
Instead of high-fat potato chips and other unhealthy snacks, try some of these ideas:
Fresh fruit kebobs. Put fresh strawberries, melon, grapes and pineapple on skewers, or toss it all into a big bowl and enjoy!

Mozzarella, cherry tomato and basil kebobs are delicious! You can also layer the ingredients on a tray and sprinkle with olive oil and balsamic vinegar for a refreshing side dish.

Instead of fried chips, try serving veggie chips, but not the bagged kinds! Thinly slice jicama, carrot coins, zucchini and cucumber and serve with hummus.

Zesty corn and black bean salad.

Serve baked tortilla chips with fresh salsa or guacamole.

Make a beautiful array of grilled vegetables and serve warm or at room temperature.

Serve corn on the cob with a variety of toppings like lime juice and grated parmesan cheese.

Prepare a tricolor salad made with radicchio, endive and arugula. Toss with a red wine vinaigrette dressing.

Offer fresh whole wheat pita with olives, tabbouleh salad and hummus.
Go Light on the Drinks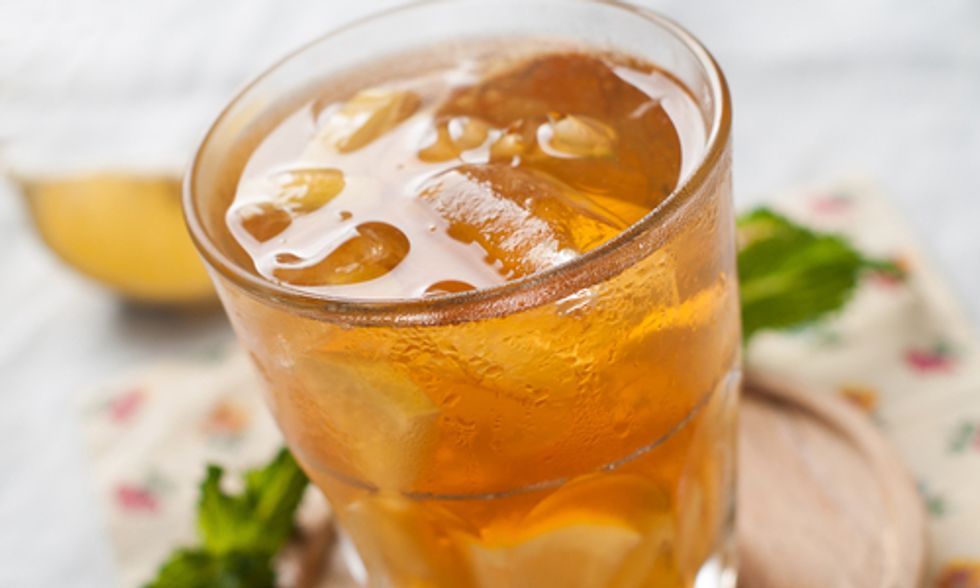 Try some unsweetened iced tea with mint or lemon. Photo courtesy of Shutterstock
Instead of high-calorie, sugary drinks, try offering these refreshing choices:
Ice water with cucumber and lemon slices.

Sparkling water "spiked" with a dash of 100 percent fruit juice.

Fresh squeezed lemonade with a small amount of sugar.

Black or green unsweetened tea.
What are some of your favorite healthy cookout dishes?
EcoWatch Daily Newsletter