This $16 Water Filter Could Save 100,000 Lives a Year
By Alex Janin
Sixteen dollars. That's the price of a movie ticket plus tax in Los Angeles—or of a week's worth of coffee at a trendy java shop. Thanks to an Indian chemist, that amount of cash could also provide clean water for a year to an impoverished family in the developing world.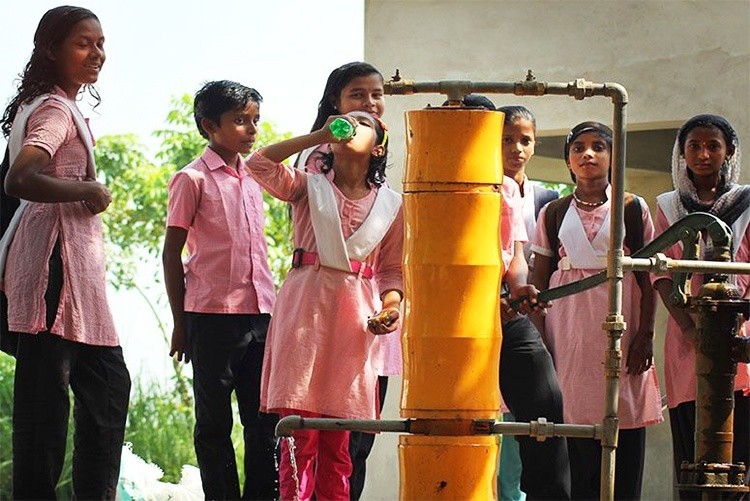 "If this will be useful for water, it has to be very cheap, have a low carbon footprint, require no electricity and should not contaminate water sources in the process," Thalappil Pradeep, a chemistry professor at the Indian Institute of Technology, told TakePart.
Pradeep spent 14 years developing a nanoparticle water filter system that can remove contaminants from India's groundwater as it is being pumped. The AMRIT water purifier, which Pradeep debuted in 2012, is the first filter of its kind in India. The country's federal government recently decided to implement the pumps across the nation, an expansion that is under way, Pradeep said. He and a team of students formed a company, InnoNano Research Private Ltd., to keep up with the installation, he added.
The device comes in two sizes and at three price points, which include installation costs: The $16 version is for homes. A larger one that can be hooked up to schools or office buildings is about $500 (connecting a whole village costs $1,200). The largest purifier, which stands at nine feet tall and resembles a giant green coconut, produces about 80 gallons of clean water per hour.
Globally, 663 million people do not have access to clean and safe water, according to the United Nations. In a country such as India, with its high poverty rates and underdeveloped rural infrastructure, access to clean water is particularly poor. About 21 percent of illnesses in India are the result of consumption of dirty H2O, according to The Water Project and there are more than 100,000 deaths related to water-borne illnesses each year.
Pradeep estimates that 5 percent of old-school hand pumps, of which there are 2.4 billion in India, spew arsenic-contaminated water. Arsenic is carcinogenic to humans and can have drastic long-term health effects, such as skin lesions, diabetes and cardiovascular disease.
The first of his pumps was installed in West Bengal, a state in eastern India, in 2012. The state government took notice and installed pumps at 330 schools across the region. As a result, about 500,000 people have access to clean water from these pumps, said Pradeep.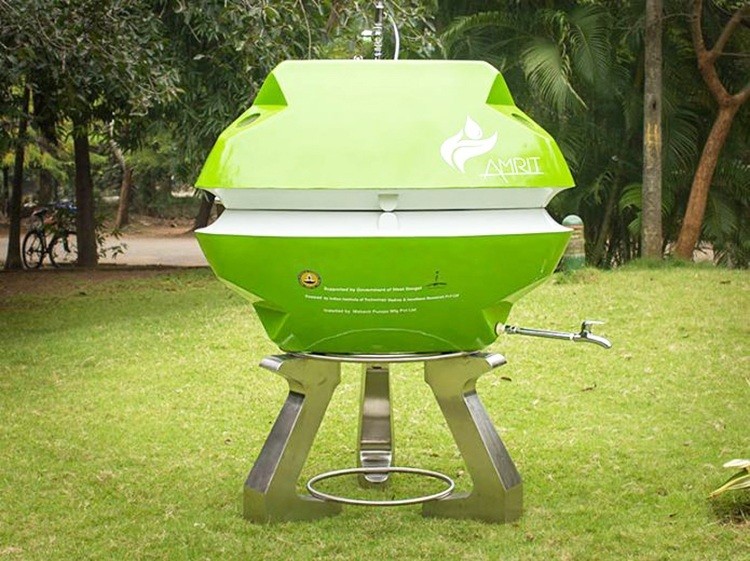 When researching the best way to build the pump, energy efficiency and the use of natural materials were a priority, said Pradeep. As a result, the device uses materials with a low carbon footprint, such as silver ions and requires no heating and no electricity.
As the water flows through, the pump allows the silver ions into a "protected cage" to pick up contaminants. Dirty water goes in, the ions grab arsenic, mercury and other contaminants and clean water goes out, explained Pradeep.
Pradeep said he had long contemplated how to make clean H2O widely accessible. Clean water is a human right, he said, but in developing countries, access to safe, hygienic water sources is far from equal.
"The problem with water is [the] poor suffer; the rich find solutions. In many places in India, people suffer for no fault of their own. They are destined to suffer because arsenic is such a geological problem. People have to be given solutions by the state," Pradeep said.
Pradeep said this kind of pump could be useful in developed countries with water crises, such as that caused by lead-leaching pipes in Flint, Michigan.
"We don't want to celebrate another century of arsenic [in India] ... Same is the case with Flint. When we implement wrong industrial technologies, new kinds of technologies have to come," Pradeep said.
This article was reposted with permission from our media associate TakePart.
YOU MIGHT ALSO LIKE
Ever Wonder What's Happened to the More Than 570 Million iPhones Sold Since 2007?
11 Ways You Could Be Exposed to Lead in Your Everyday Life
Apple Issues Largest Ever Green Bond by U.S. Company
Solar-Powered Vacuum Could Suck Up 24,000 Tons of Ocean Plastic Every Year
Monsanto, the maker of the glyphosate-based herbicide Roundup, filed a motion June 16 in U.S. District Court, Northern District of California to reconsider the chemical's addition to California's Proposition 65 list of agents known to cause cancer.
The agrochemical giant made this move based on a June 14 Reuters investigation of Dr. Aaron Blair, a lead researcher on the World Health Organization's International Agency for Research on Cancer (IARC) committee, that classified glyphosate as a "2A probable human carcinogen" in March 2015.
Keep reading...
Show less
By Avery Friedman
Algae is often considered a nuisance, but for Sweden, the rapidly growing sea plant is now an asset.
As the Scandinavian country works to cut all of its greenhouse gas emissions by 2045, it's using algae to sop up the carbon emissions from cement.
Keep reading...
Show less
Jun. 24, 2017 01:35PM EST
By Itai Vardi
A recent intensification in protests against Williams Partners' planned Atlantic Sunrise pipeline in Pennsylvania prompted a state senator to propose legislation aimed at limiting demonstrations.
Last month, Pennsylvania Sen. Scott Martin (R-Norman) announced his intention to introduce legislation that would pass the costs of law enforcement responding to protests onto the demonstrators. Martin also helped introduce a different bill that would criminalize protests at natural gas facilities.
Keep reading...
Show less
Jun. 24, 2017 01:29PM EST
Black Shogun / iStock
The Federal Energy Regulatory Commission (FERC) released its Final Environmental Impact Statement Friday for the Mountain Valley Pipeline, a controversial 303-mile pipeline that would carry two billion cubic feet of fracked gas per day from West Virginia through Virginia.
Keep reading...
Show less
Jun. 24, 2017 01:46PM EST
Falcon PEV
The so-called "first and last mile" problem is one of the biggest hurdles with public transportation. How do you encourage more people to take Earth-friendlier commutes when their homes are miles away from the train or bus station?
One solution, as this Estonian electric scooter company proposes, is to simply take your commute with you—literally. Tallinn-based Stigo has developed a compact e-scooter that folds to the size of a rolling suitcase in about two seconds.
Keep reading...
Show less
Jun. 24, 2017 05:12PM EST
Connect4Climate
[Editor's note: I'm still in shock after hearing the news that Lucia Grenna passed away in her sleep last week. When we first met in April of 2014 at a Copenhagen hotel, I was immediately taken by here powerful presence. We spent the next couple days participating in a Sustainia climate change event where Lucia presented her audacious plans to connect people to the climate issue. I had the chance to partner with Lucia on several other projects throughout the years and work with her incredible Connect4Climate team. I was always in awe of her ability to "make the impossible possible." Her spirit will live on forever. — Stefanie Spear]
It is with a heavy heart that Connect4Climate announces the passing of its founder and leading light, Lucia Grenna. Lucia passed peacefully in her sleep on June 15, well before her time. We remember her for her leadership and extraordinary ability to motivate people to take on some of the greatest challenges of our time, not least climate change.
Keep reading...
Show less
Jun. 23, 2017 07:29PM EST
Wikimedia Commons
By Stacy Malkan
Neil deGrasse Tyson has inspired millions of people to care about science and imagine themselves as participants in the scientific process. What a hopeful sign it is to see young girls wearing t-shirts emblazoned with the words, "Forget princess, I want to be an astrophysicist."
Keep reading...
Show less
Jun. 23, 2017 01:57PM EST
www.youtube.com
By Andy Rowell
Any day now we will truly witness climate change in action. Within days at worst, maybe weeks at best, scientists predict that a huge section of the Larsen C ice shelf in Antarctica will break off into the ocean, in what is called a major "carving" event.
Keep reading...
Show less
Jun. 23, 2017 02:27PM EST
www.youtube.com
President Trump visited Cedar Rapids, Iowa on June 21 to speak to a large crowd in the U.S. Cellular Center at a political rally organized by his campaign.
As Trevor Noah noted during The Daily Show episode last night (starts at 2:25), the real reason Trump has these rallies is to "get back in front of his loyal crowds and feed of their energy." Noah believes that "Trump supporters are so on board with their dude he can say anything and they'll come along for the ride."
Keep reading...
Show less