This $16 Water Filter Could Save 100,000 Lives a Year
By Alex Janin
Sixteen dollars. That's the price of a movie ticket plus tax in Los Angeles—or of a week's worth of coffee at a trendy java shop. Thanks to an Indian chemist, that amount of cash could also provide clean water for a year to an impoverished family in the developing world.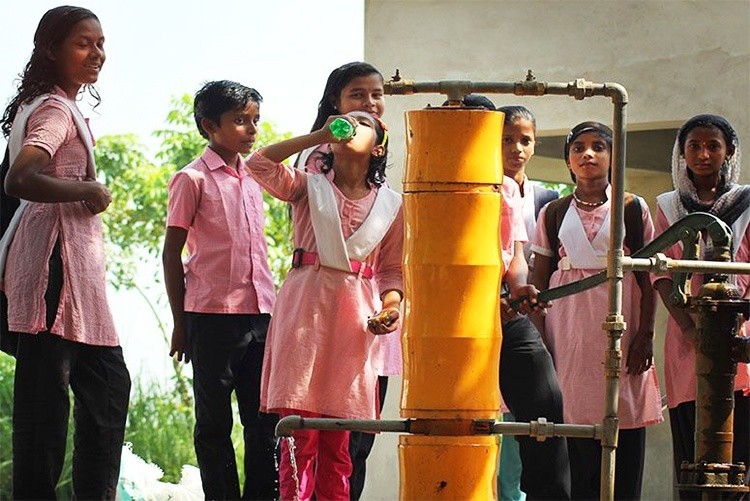 "If this will be useful for water, it has to be very cheap, have a low carbon footprint, require no electricity and should not contaminate water sources in the process," Thalappil Pradeep, a chemistry professor at the Indian Institute of Technology, told TakePart.
Pradeep spent 14 years developing a nanoparticle water filter system that can remove contaminants from India's groundwater as it is being pumped. The AMRIT water purifier, which Pradeep debuted in 2012, is the first filter of its kind in India. The country's federal government recently decided to implement the pumps across the nation, an expansion that is under way, Pradeep said. He and a team of students formed a company, InnoNano Research Private Ltd., to keep up with the installation, he added.
The device comes in two sizes and at three price points, which include installation costs: The $16 version is for homes. A larger one that can be hooked up to schools or office buildings is about $500 (connecting a whole village costs $1,200). The largest purifier, which stands at nine feet tall and resembles a giant green coconut, produces about 80 gallons of clean water per hour.
Globally, 663 million people do not have access to clean and safe water, according to the United Nations. In a country such as India, with its high poverty rates and underdeveloped rural infrastructure, access to clean water is particularly poor. About 21 percent of illnesses in India are the result of consumption of dirty H2O, according to The Water Project and there are more than 100,000 deaths related to water-borne illnesses each year.
Pradeep estimates that 5 percent of old-school hand pumps, of which there are 2.4 billion in India, spew arsenic-contaminated water. Arsenic is carcinogenic to humans and can have drastic long-term health effects, such as skin lesions, diabetes and cardiovascular disease.
The first of his pumps was installed in West Bengal, a state in eastern India, in 2012. The state government took notice and installed pumps at 330 schools across the region. As a result, about 500,000 people have access to clean water from these pumps, said Pradeep.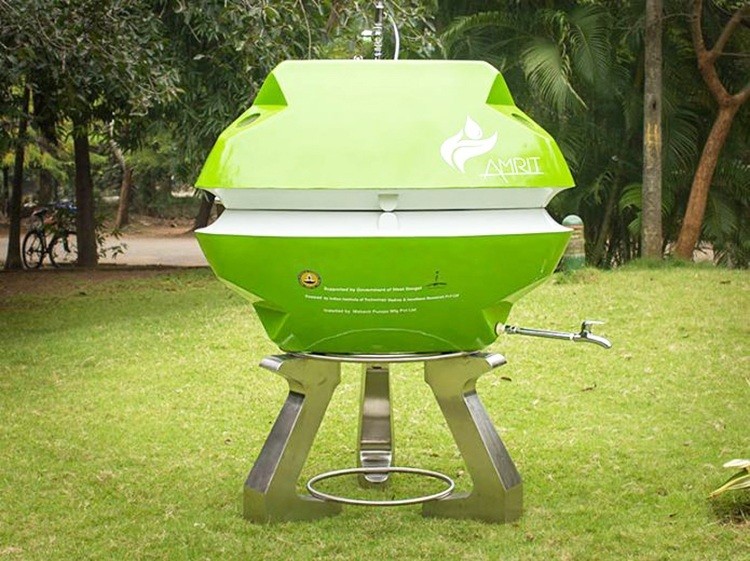 When researching the best way to build the pump, energy efficiency and the use of natural materials were a priority, said Pradeep. As a result, the device uses materials with a low carbon footprint, such as silver ions and requires no heating and no electricity.
As the water flows through, the pump allows the silver ions into a "protected cage" to pick up contaminants. Dirty water goes in, the ions grab arsenic, mercury and other contaminants and clean water goes out, explained Pradeep.
Pradeep said he had long contemplated how to make clean H2O widely accessible. Clean water is a human right, he said, but in developing countries, access to safe, hygienic water sources is far from equal.
"The problem with water is [the] poor suffer; the rich find solutions. In many places in India, people suffer for no fault of their own. They are destined to suffer because arsenic is such a geological problem. People have to be given solutions by the state," Pradeep said.
Pradeep said this kind of pump could be useful in developed countries with water crises, such as that caused by lead-leaching pipes in Flint, Michigan.
"We don't want to celebrate another century of arsenic [in India] ... Same is the case with Flint. When we implement wrong industrial technologies, new kinds of technologies have to come," Pradeep said.
This article was reposted with permission from our media associate TakePart.
YOU MIGHT ALSO LIKE
Ever Wonder What's Happened to the More Than 570 Million iPhones Sold Since 2007?
11 Ways You Could Be Exposed to Lead in Your Everyday Life
Apple Issues Largest Ever Green Bond by U.S. Company
Solar-Powered Vacuum Could Suck Up 24,000 Tons of Ocean Plastic Every Year
Wikimedia Commons
By Stacy Malkan
Neil deGrasse Tyson has inspired millions of people to care about science and imagine themselves as participants in the scientific process. What a hopeful sign it is to see young girls wearing t-shirts emblazoned with the words, "Forget princess, I want to be an astrophysicist."
Keep reading...
Show less
www.youtube.com
By Andy Rowell
Any day now we will truly witness climate change in action. Within days at worst, maybe weeks at best, scientists predict that a huge section of the Larsen C ice shelf in Antarctica will break off into the ocean, in what is called a major "carving" event.
Keep reading...
Show less
www.youtube.com
President Trump visited Cedar Rapids, Iowa on June 21 to speak to a large crowd in the U.S. Cellular Center at a political rally organized by his campaign.
As Trevor Noah noted during The Daily Show episode last night (starts at 2:25), the real reason Trump has these rallies is to "get back in front of his loyal crowds and feed of their energy." Noah believes that "Trump supporters are so on board with their dude he can say anything and they'll come along for the ride."
Keep reading...
Show less
The Kamuthi solar plant in the southern Indian state of Tamil Nadu.
The rapid growth in renewable energy continues to put a dent in the demand for coal.
Coal India, the world's biggest coal mining company and producer of 82 percent of the country's coal, announced the closure of 37 mines that are financially "unviable."
Keep reading...
Show less
www.youtube.com
By Katie O'Reilly
Two years ago—long before coal became one of the most dominant and controversial symbols of the 2016 presidential election—Bloomberg Philanthropies approached production company RadicalMedia with the idea of creating a documentary exploring the U.S. coal mining industry. Last spring, they brought on Emmy-nominated director Michael Bonfiglio, tasked with forging a compelling story out of the multitudes of facts, statistics and narratives underlying the declining industry.
Keep reading...
Show less
Mayors for 100% Clean Energy
Keep reading...
Show less
www.youtube.com
Thanks to Newsy for their coverage on Thursday's news that the U.S. Fish and Wildlife Service removed grizzly bears in the Greater Yellowstone region from the Endangered Species List.
Watch above as Newsy explains that the decision comes despite serious concerns from the environmental and scientific community, and Tribal Nations about a declining, isolated grizzly bear population with diminishing food resources and record-high mortalities.
Keep reading...
Show less
www.facebook.com
By Francine Kershaw
Seismic airguns exploding in the ocean in search for oil and gas have devastating impacts on zooplankton, which are critical food sources for marine mammals, according to a new study in Nature. The blasting decimates one of the ocean's most vital groups of organisms over huge areas and may disrupt entire ecosystems.
And this devastating news comes on the heels of the National Marine Fisheries Service's proposal to authorize more than 90,000 miles of active seismic blasting. Based on the results of this study, the affected area would be approximately 135,000 square miles.
Keep reading...
Show less
By Jill Richardson
Is coconut oil:
good for you
bad for you
neither good nor bad
scientists don't know
The subject of this question is the source of a disagreement. Initially, the question was thought to be settled decades ago, when scientist Ancel Keys declared all saturated fats unhealthy. Coconut oil, which is solid at room temperature, is a saturated fat.
Keep reading...
Show less


Get EcoWatch in your inbox