This website uses cookies to ensure you get the best experience while browsing it. By clicking 'Got It' you're accepting these terms.
By Alex Janin
Sixteen dollars. That's the price of a movie ticket plus tax in Los Angeles—or of a week's worth of coffee at a trendy java shop. Thanks to an Indian chemist, that amount of cash could also provide clean water for a year to an impoverished family in the developing world.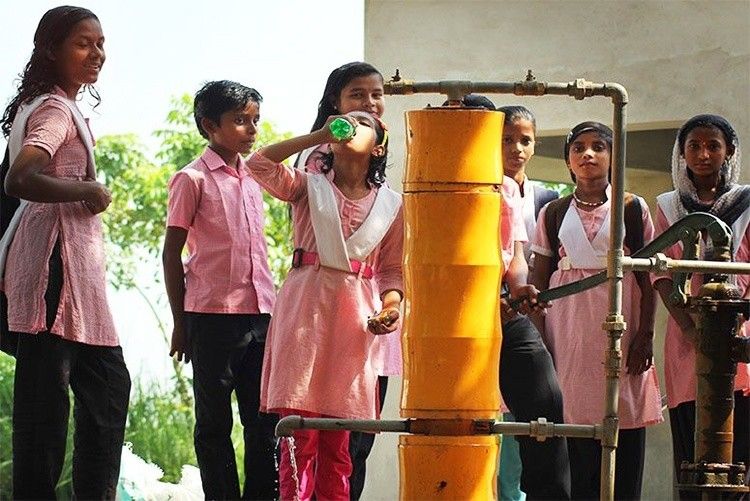 "If this will be useful for water, it has to be very cheap, have a low carbon footprint, require no electricity and should not contaminate water sources in the process," Thalappil Pradeep, a chemistry professor at the Indian Institute of Technology, told TakePart.
Pradeep spent 14 years developing a nanoparticle water filter system that can remove contaminants from India's groundwater as it is being pumped. The AMRIT water purifier, which Pradeep debuted in 2012, is the first filter of its kind in India. The country's federal government recently decided to implement the pumps across the nation, an expansion that is under way, Pradeep said. He and a team of students formed a company, InnoNano Research Private Ltd., to keep up with the installation, he added.
The device comes in two sizes and at three price points, which include installation costs: The $16 version is for homes. A larger one that can be hooked up to schools or office buildings is about $500 (connecting a whole village costs $1,200). The largest purifier, which stands at nine feet tall and resembles a giant green coconut, produces about 80 gallons of clean water per hour.
Globally, 663 million people do not have access to clean and safe water, according to the United Nations. In a country such as India, with its high poverty rates and underdeveloped rural infrastructure, access to clean water is particularly poor. About 21 percent of illnesses in India are the result of consumption of dirty H2O, according to The Water Project and there are more than 100,000 deaths related to water-borne illnesses each year.
Pradeep estimates that 5 percent of old-school hand pumps, of which there are 2.4 billion in India, spew arsenic-contaminated water. Arsenic is carcinogenic to humans and can have drastic long-term health effects, such as skin lesions, diabetes and cardiovascular disease.
The first of his pumps was installed in West Bengal, a state in eastern India, in 2012. The state government took notice and installed pumps at 330 schools across the region. As a result, about 500,000 people have access to clean water from these pumps, said Pradeep.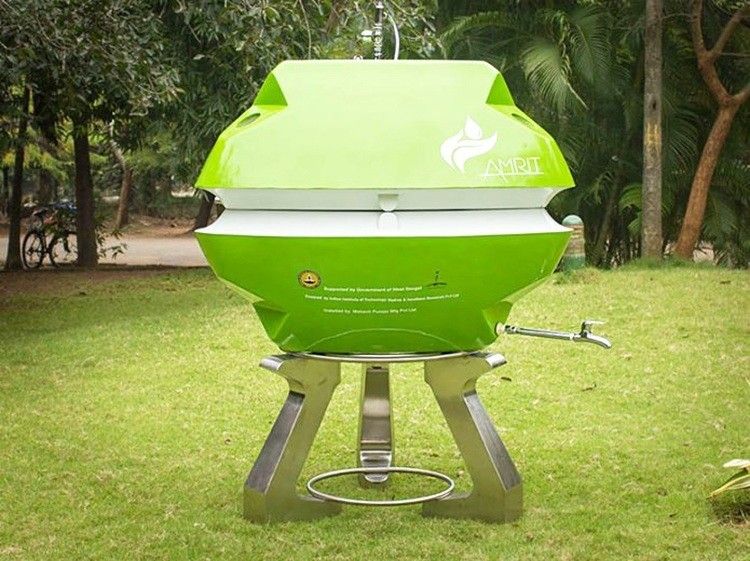 When researching the best way to build the pump, energy efficiency and the use of natural materials were a priority, said Pradeep. As a result, the device uses materials with a low carbon footprint, such as silver ions and requires no heating and no electricity.
As the water flows through, the pump allows the silver ions into a "protected cage" to pick up contaminants. Dirty water goes in, the ions grab arsenic, mercury and other contaminants and clean water goes out, explained Pradeep.
Pradeep said he had long contemplated how to make clean H2O widely accessible. Clean water is a human right, he said, but in developing countries, access to safe, hygienic water sources is far from equal.
"The problem with water is [the] poor suffer; the rich find solutions. In many places in India, people suffer for no fault of their own. They are destined to suffer because arsenic is such a geological problem. People have to be given solutions by the state," Pradeep said.
Pradeep said this kind of pump could be useful in developed countries with water crises, such as that caused by lead-leaching pipes in Flint, Michigan.
"We don't want to celebrate another century of arsenic [in India] ... Same is the case with Flint. When we implement wrong industrial technologies, new kinds of technologies have to come," Pradeep said.
This article was reposted with permission from our media associate TakePart.
YOU MIGHT ALSO LIKE
Ever Wonder What's Happened to the More Than 570 Million iPhones Sold Since 2007?
11 Ways You Could Be Exposed to Lead in Your Everyday Life
Apple Issues Largest Ever Green Bond by U.S. Company
Solar-Powered Vacuum Could Suck Up 24,000 Tons of Ocean Plastic Every Year
EcoWatch Daily Newsletter
Sen. Michael Bennet (D-CO) speaks during the North American Building Trades Unions Conference at the Washington Hilton April 10, 2019 in Washington, DC. Zach Gibson / Getty Images
Colorado senator and 2020 hopeful Michael Bennet introduced his plan to combat climate change Monday, in the first major policy rollout of his campaign. Bennet's plan calls for the establishment of a "Climate Bank," using $1 trillion in federal spending to "catalyze" $10 trillion in private spending for the U.S. to transition entirely to net-zero emissions by 2050.
When Trump's Environmental Protection Agency (EPA) announced its replacement for the Obama-era Clean Power Plan in August 2018, its own estimates said the reduced regulations could lead to 1,400 early deaths a year from air pollution by 2030.
Now, the EPA wants to change the way it calculates the risks posed by particulate matter pollution, using a model that would lower the death toll from the new plan, The New York Times reported Monday. Five current or former EPA officials familiar with the plan told The Times that the new method would assume there is no significant health gain by lowering air pollution levels below the legal limit. However, many public health experts say that there is no safe level of particulate matter exposure, which has long been linked to heart and lung disease.
A crate carrying one of the 33 lions rescued from circuses in Peru and Columbia is lifted onto the back of a lorry before being transported to a private reserve on April 30, 2016 in Johannesburg, South Africa. Dan Kitwood / Getty Images
By Andrea Germanos
Animal welfare advocates are praising soon-to-be introduced legislation in the U.S. that would ban the use of wild animals in traveling circuses.
A tornado Monday in Union City, Oklahoma.
TicToc by Bloomberg / YouTube screenshot
A woman walks in front of her water-logged home in Sriwulan village, Sayung sub-district of Demak regency, Central Java, Indonesia on Feb. 2, 2018. Siswono Toyudho / Anadolu Agency /Getty Images
Matt Cardy / Stringer / Getty Images
The Guardian is changing the way it writes about environmental issues.
Blueberry yogurt bark. SEE D JAN / iStock / Getty Images Plus
Having nutritious snacks to eat during the workday can help you stay energized and productive.

A 2017 flood in Elk Grove, California. Florence Low / California Department of Water Resources
By Tara Lohan
It's been the wettest 12 months on record in the continental United States. Parts of the High Plains and Midwest are still reeling from deadly, destructive and expensive spring floods — some of which have lasted for three months.
Mounting bills from natural disasters like these have prompted renewed calls to reform the National Flood Insurance Program, which is managed by Federal Emergency Management Agency and is now $20 billion in debt.