The Blue Dot Tour: The Right to Breathe Fresh Air, Drink Clean Water and Eat Healthy Food

A now-famous 1972 photo of Earth taken by Apollo 17 astronauts from 45,000 kilometres away became known as "the blue marble." The late scientist Carl Sagan described a 1990 picture taken from six billion kilometers away by the unmanned Voyager 1 as a "pale blue dot."
The vision of Earth from a distance has profoundly moved pretty much anyone who has ever seen it. "When we look down at the earth from space, we see this amazing, indescribably beautiful planet," International Space Station astronaut Ron Garan said. "It looks like a living, breathing organism. But it also, at the same time, looks extremely fragile." Referring to the atmosphere, Garan added "it's really sobering … to realize that that little paper-thin layer is all that protects every living thing on Earth."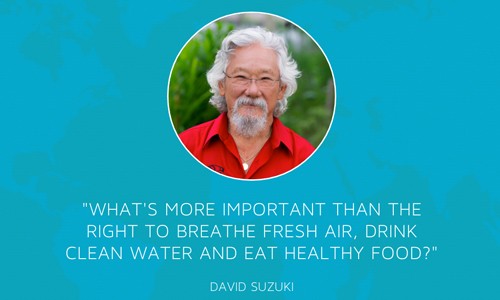 Many astronauts report a deep feeling of connection that transcends borders and worldly conflict—referred to by some as the "overview effect." Apollo 14's Edgar Mitchell said, "You develop an instant global consciousness, a people orientation, an intense dissatisfaction with the state of the world, and a compulsion to do something about it. From out there on the moon, international politics look so petty.
How can anyone who has even seen a photo of the Earth treat our small blue home with disdain and carelessness? How can anyone fail to recognize how precious and finite the resources, especially water, are—and that we must share and care for what we have?
The "blue marble" photo from Apollo 17, the last manned lunar mission, catalyzed the global environmental movement. Now, as people around the world compete for air, water and land—not just with each other, but with corporations bent on profit at any cost—we need a resurgence in action to care for our small blue planet.
That's why I'm about to embark on what will likely be my last national tour. From Sept. 24 to Nov. 9, I'm crossing the country, from St. John's, Newfoundland, to Victoria, B.C., with 20 stops along the way. The plan is to work with Canadians from all walks of life to protect the people and places we love. It's the most important thing I've ever done.
And it's going to be fun! Because they care deeply about our country and the planet, many friends are joining me along the way, including Feist, Neil Young, Barenaked Ladies, Margaret Atwood, Kinnie Starr, Raine Maida, Grimes, Danny Michel, Stephen Lewis, Bruce Cockburn, Robert Bateman, Shane Koyczan and many more.
The goal of the Blue Dot Tour is to work with community leaders and groups, local governments, First Nations, musicians, writers, legal experts and—we hope—you on local, regional and national initiatives to ensure all Canadians have access to clean water, fresh air and healthy food. Ultimately, we'd like to see the right to a healthy environment enshrined in the Canadian Constitution's Charter of Rights and Freedoms. 
That may seem like a challenge, but it's not unusual. More than half the world's nations—at least 110—have environmental rights in their constitutions. Not having them is a strange oversight in a country like Canada, where our clean air and water, spectacular nature and abundant wildlife and resources instill a sense of pride and make us the envy of people around the world.
Maybe we take our good fortune for granted. But we shouldn't. Already, environmental hazards contribute to about 36,000 premature deaths in Canada a year, and half of us live in areas where we're exposed to unsafe air pollution levels. Pollution costs Canada about $100 billion a year, and many people suffer from illnesses like asthma and heart disease because of environmental contamination.
As the rush to extract, transport and sell fossil fuels while there's still a market heats up, it will only get worse—unless we all pitch in. It's not about getting in the way of industry or progress; it's about building a conversation about the kind of country we want. And it's about ensuring that our economic activity creates more benefits than harm to people and the natural systems that keep us healthy and alive.
We hope you'll join us. Visit BlueDot.ca for more information and tour dates in your area.
Written with Contributions from David Suzuki Foundation Senior Editor Ian Hanington.
You Might Also Like
Fracking Waste Puts Americans' Drinking Water at Risk
10 Biggest Threats to Human Existence
Disturbing footage of a snake in Goa, India vomiting an empty soft drink bottle highlights the world's mounting plastic pollution crisis.
Keep reading...
Show less
By Melissa Hellmann
When her eldest son was in elementary school in the Oakland Unified School District, Ruth Woodruff became alarmed by the meals he was being served at school. A lot of it was frozen, processed foods, packed with preservatives. At home, she was feeding her children locally sourced, organic foods.
Keep reading...
Show less
May. 28, 2017 01:33PM EST
Laurie Woolever
By James O'Hare
There are 20 million people in the world facing famine in South Sudan, Somalia, Nigeria and Yemen. In developed nations, too, people go hungry. Venezuela, for instance, is enduring food insecurity on a national level as a result of economic crisis and political corruption. In the U.S., the land of supposed excess, 12.7 percent of households were food insecure in 2015, meaning they didn't know where their next meal would come from.
Keep reading...
Show less
May. 28, 2017 01:22PM EST
Melwater, Greenland ice sheet. Diane Tuft
Artists are taking the climate crisis into frame and the results are emotional, beautiful and stirring.
So you've seen the best climate change cartoons and shared them with your friends. You've showed your family the infographics on climate change and health, infographics on how the grid works and infographics about clean, renewable energy. You've even forwarded these official National Oceanic and Atmospheric Administration graphs that explain the 10 clear indicators of climate change to your colleagues at the office.
Keep reading...
Show less
May. 27, 2017 01:11PM EST
As the Trump administration moves full speed ahead on boosting the oil and fossil fuel industry, opposition to increased pipeline construction is cropping up in different communities around the country.
Keep reading...
Show less
May. 27, 2017 01:02PM EST
Minke whale stranding near Havergate Island in Suffolk. MCGA.
By Simon Evans
Last Saturday, two dead whales washed up on the coast of Suffolk, in eastern England, and a third was spotted floating at sea.
What happened next illustrates how news can spread and evolve into misinformation, when reported by journalists rushing to publish before confirming basic facts or sourcing their own quotes.
Keep reading...
Show less
May. 27, 2017 01:22PM EST
By Monica Amarelo and Paul Pestano
Sun safety is a crucial part of any outdoor activity for kids, and sunscreen can help protect children's skin from harmful ultraviolet rays. Kids often get sunburned when they're outside unprotected for longer than expected. Parents need to plan ahead and keep sun protection handy in their cars or bags.
Keep reading...
Show less
May. 27, 2017 01:02PM EST
By Joe McCarthy
A lot of people take part in community clean-up efforts—spending a Saturday morning picking up litter in a park, mowing an overgrown field or painting a fence.
Keep reading...
Show less