This website uses cookies to ensure you get the best experience while browsing it. By clicking 'Got It' you're accepting these terms.
Tesla Announces Huge Renewable Energy-Fueled Battery Factory Near Reno
Sep. 05, 2014 01:20PM EST
Business
Undeterred by naysayers and attempts to discourage adoption of electric cars, Tesla Motors has announced its plans to build a giant "gigafactory" to manufacture the batteries that power the cars.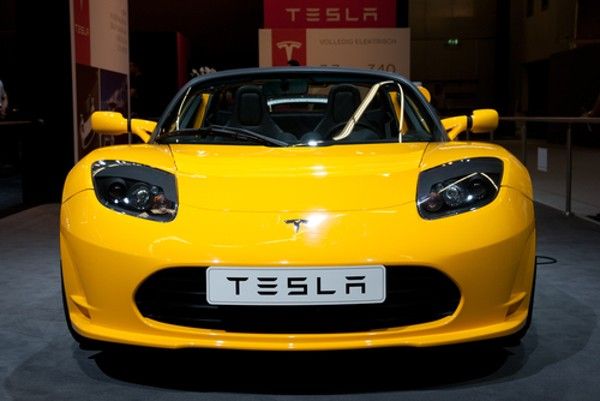 Photo credit: Shutterstock
The plant, scheduled to open in 2017,  is expected to create 6,500 jobs with an average wage of $25 an hour, the company said. The company will also make a major contribution to the state's public schools and help fund advanced battery research at the University of Nevada, Las Vegas, reported the San Jose Mercury News.
The cost of the cars—currently around $70,000 for the Model S— as proved a big deterrent to widespread adoption of the environmentally friendly vehicles.
That's one of the issues the new gigafactory will address, reports Think Progress.
"Tesla is also planning to roll out its third vehicle, an electric car called the Model III, in 2017 to coincide with the launch of the plant," Ari Phillips at Think Progress writes. "The Model III would offer a more affordable $35,000 price tag compared to current Tesla models that retail for more than double that price. Tesla needs to gigafactory to produce enough batteries to power enough cars to meet anticipated demand. Elon Musk, Tesla's CEO, has estimated the gigafactory could slash the cost of lithium-ion batteries, which are the most expensive component of electric vehicles, by more than 30 percent."
Numerous factors played into the site selection, including government subsidies, of course. Nevada offered more than $1 billion in incentives over the next two decades. But another key factor was access to renewable energy sources.
Musk said during the announcement event at the state capital in Carson City, Nevada, "It's a heck of a big factory. It will be shaped like a diamond, with solar panels on the roof. The factory will produce all of the energy that it needs through wind, solar and geothermal."
YOU MIGHT ALSO LIKE
How Much Money Can You Save By Switching to an Electric Car?
Study Wrongly Predicts Electric Cars Won't Reduce Pollution
Tesla Releases Patents in Unprecedented Move to Advance Electric Vehicles
EcoWatch Daily Newsletter
Assorted plastic bottles. mali maeder / Pexels
People carry children on a flooded street in Almoradi, Spain on Sept. 13. JOSE JORDAN / AFP / Getty Images
Large food companies are following in the footsteps of fast-food restaurants such as Burger King and KFC by offering meat alternatives. Getty Images
By Elizabeth Pratt
Hormel, Kellogg's, and Kroger are among the large companies now planning to offer "fake meat" products at grocery stores.
Experts say the trend toward plant-based meats coincides with consumers' desires to eat less meat.
However, experts urge consumers to closely check package labels as a product isn't necessarily healthy just because it's described as plant-based.
In grocery stores and fast-food outlets around the U.S., a revolution is taking place.
Colombia rainforest. Marcel Oosterwijk / CC BY-SA 2.0
Many of us think of the Amazon as an untouched wilderness, but people have been thriving in these diverse environments for millennia. Due to this long history, the knowledge that Indigenous and forest communities pass between generations about plants, animals and forest ecology is incredibly rich and detailed and easily dwarfs that of any expert.
picture-alliance / Newscom / R. Ben Ari
By Wesley Rahn
Plastic byproducts were found in 97 percent of blood and urine samples from 2,500 children tested between 2014 and 2017, according to a study by the German Environment Ministry and the Robert Koch Institute.

Pexels
Medically reviewed by Daniel Bubnis, MS, NASM-CPT, NASE Level II-CSS
Hot yoga has become a popular exercise in recent years. It offers many of the same benefits as traditional yoga, such as stress reduction, improved strength, and flexibility.
Lara Hata / iStock / Getty Images
By SaVanna Shoemaker, MS, RDN, LD
Rice is a staple in many people's diets. It's filling, inexpensive, and a great mild-tasting addition to flavorful dishes.