This website uses cookies to ensure you get the best experience while browsing it. By clicking 'Got It' you're accepting these terms.
Tea Party Bill Would Gut Endangered Species Act
Nov. 25, 2013 12:53PM EST
Tea Party senators introduced a bill last week that would effectively end the protection of most endangered species in the U.S. by gutting some of the most important provisions of the Endangered Species Act. Senate Bill 1731, introduced by Tea Party members Sen. Paul (R-KY), Sen. Lee (R-UT) and Sen. Heller (R-NV) would end protections for most of the species that are currently protected by the act and make it virtually impossible to protect new species under the law. It would also eliminate protection for habitat that's critical to the survival of rare and struggling animals and plants around the country.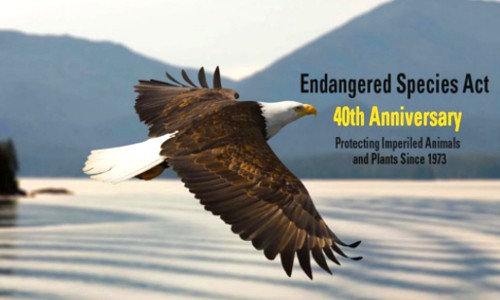 "Here we are celebrating the fortieth anniversary of the Endangered Species Act this year, and the Tea Party wants to tear it limb from limb," said Brett Hartl, endangered species policy director at the Center for Biological Diversity. "It's really a sad testament to how out of touch the Tea Party has become with the American people, and how beholden they are to industry special interests that are more interested in profits than saving wildlife, wild places and a livable future for the next generation."
In its 40-year history, the Endangered Species Act has been more than 99 percent successful at preventing extinction for wildlife under its protection and has put hundreds of plants and animals on the path to recovery, including bald eagles, grizzly bears, whales and sea turtles.
Despite this successful track record, the bill's most extreme provision would require that every five years all protected species be removed from the list of threatened and endangered species, eliminating all legal protections. No matter how close to extinction they might be, every listed species would then have to wait until Congress passed a joint resolution renewing their protections under the act for another five years. Five years later, this process would start over again, eliminating all protections until Congress passed another joint resolution.
"The strength of the Endangered Species Act—in fact all of our nation's environmental laws—comes from the requirement that science, not politics, guide the protection of our wildlife, air and water," said Hartl. "This bill would allow extreme ideologues in Congress to veto environmental protections for any protected species they wanted, just so they could appease their special-interest benefactors."
The bill would eliminate all protections for the critical habitat of endangered species and allow state governments to effectively veto any conservation measures designed to protect an imperiled species within their respective state. Meanwhile federal wildlife agencies would need to complete onerous accounting reports to estimate the costs of protecting endangered species rather than completing tangible, on-the-ground conservation activities to protect species and the places they live.
"This bill would devastate species protections and open the door to log, mine and pave some of the last places on Earth where these animals survive," Hartl said. "It's a boon for profiteers like the Koch Brothers but will rob every American who values wildlife and wild places."
Visit EcoWatch's BIODIVERSITY page for more related news on this topic.

KarinaKnyspel / iStock / Getty Images
2018 saw a number of studies pointing to the outsized climate impact of meat consumption. Beef has long been singled out as particularly unsustainable: Cows both release the greenhouse gas methane into the atmosphere because of their digestive processes and require a lot of land area to raise. But for those unwilling to give up the taste and texture of a steak or burger, could lab-grown meat be a climate-friendly alternative? In a first-of-its-kind study, researchers from the Oxford Martin School set out to answer that question.
Three scissor-tailed flycatcher fledglings in a mesquite tree in Texas. Texas Eagle / CC BY-NC 2.0
By Gary Paul Nabhan
President Trump has declared a national emergency to fund a wall along our nation's southern border. The border wall issue has bitterly divided people across the U.S., becoming a vivid symbol of political deadlock.
PeopleImages / E+ / Getty Images
By Daniel Ross
Hurricane Florence, which battered the U.S. East Coast last September, left a trail of ruin and destruction estimated to cost between $17 billion and $22 billion. Some of the damage was all too visible—smashed homes and livelihoods. But other damage was less so, like the long-term environmental impacts in North Carolina from hog waste that spilled out over large open-air lagoons saturated in the rains.
Hog waste can contain potentially dangerous pathogens, pharmaceuticals and chemicals. According to the state's Department of Environmental Quality, as of early October nearly 100 such lagoons were damaged, breached or were very close to being so, the effluent from which can seep into waterways and drinking water supplies.
This picture taken on May 21, 2018 shows discarded climbing equipment and rubbish scattered around Camp 4 of Mount Everest. Decades of commercial mountaineering have turned Mount Everest into the world's highest rubbish dump as an increasing number of big-spending climbers pay little attention to the ugly footprint they leave behind. DOMA SHERPA / AFP / Getty Images
China has closed its Everest base camp to tourists because of a buildup of trash on the world's tallest mountain.