This website uses cookies to ensure you get the best experience while browsing it. By clicking 'Got It' you're accepting these terms.
A deadly fungal disease responsible for the deaths of millions of bats across the U.S. has been confirmed in Texas for the first time.
Vicki Smith / Moment / Getty Images
By Alexa Peters
October is a time for bats. As the crisp fall air descends, plastic bats swing from trees and confectioners make treats in their little winged shapes. The little spooky creatures even have an entire week leading up to Halloween dedicated to them: International Bat Week. Yet they remain largely misunderstood.
EcoWatch Daily Newsletter
What has leathery wings and needle-sharp teeth, feeds at night, and drinks blood?
Stacey McKenna
By Stacey McKenna
I'm sitting on a ridge at 9,000 feet, overlooking the world's largest alpine valley. The mid-June sun drops behind a nearby cliff band and the clouds shift, leaving errant rays of light shimmering in the passing agricultural vehicles' dust trails. Behind me, a fence blocks access to a yawning hole—the entrance to the decades-defunct Orient iron mine—from which tens of thousands of bats should start emerging any minute now.
Lesser is greater. The lesser long-nosed bat pollinates agave flowers. Larry Petterborg / Flickr
The lesser long-nosed bat made bat history Tuesday when it became the first U.S. bat species to be removed from the endangered species list because of recovery, the U.S. Fish and Wildlife Service (FWS) announced.
The pallid bat is native to the western U.S., where the spread of white-nose syndrome is a threat. Ivan Kuzmin / Shutterstock
By John R. Platt
It's Friday evening in Pittsburgh, and the mosquitoes are out in force. One bites at my arm and I try to slap it away. Another takes the opportunity to land on my neck. I manage to shoo this one off before it tastes blood.
I'm at Carrie Furnaces, a massive historic ironworks on the banks of Pennsylvania's Monongahela River. Stories-tall rusting structures loom all around me, as do the occasional trees poking their way out of the ground. A tour guide, leading a group from the Society of Environmental Journalists conference, tells me the soil here is full of heavy metals and other pollutants from the factory, which operated for nearly a century before closing in 1982.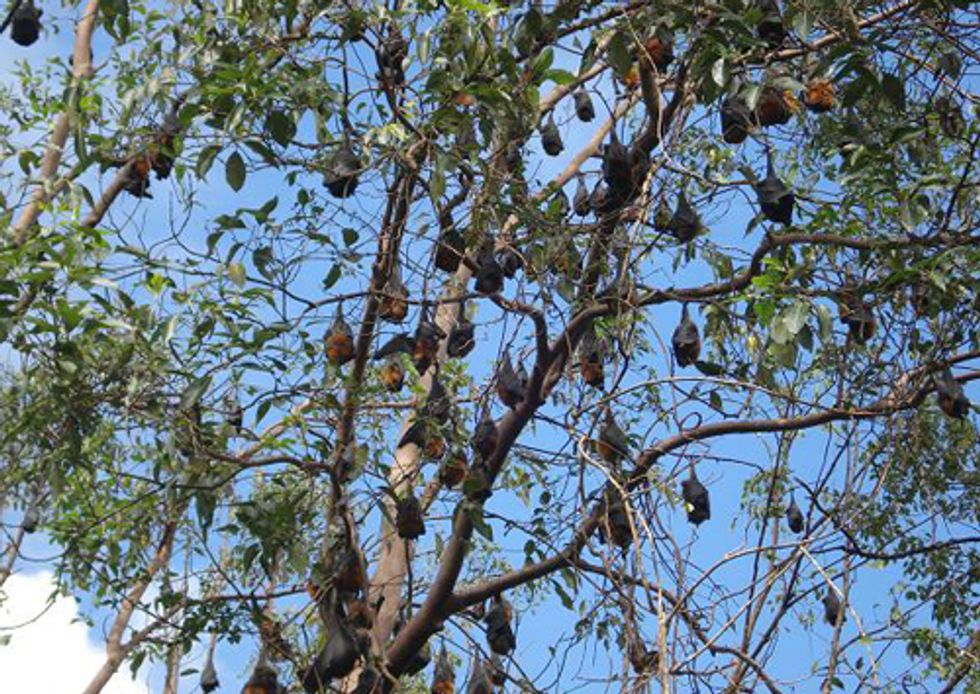 Mercury accumulation, previously considered a risk for aquatic ecosystems, is also found in many wildlife species living on the land, according to a new report published by the Biodiversity Research Institute (BRI) in partnership with The Nature Conservancy. Hidden Risk: Mercury in Terrestrial Systems of the Northeast highlights the BRI's scientific findings on high levels of mercury contamination in songbirds and bats throughout 11 northeastern states.
"While the risk of mercury to people is well known—there are more than 3,700 fish consumption advisories issued in the U.S.—we are still learning about mercury's effects on wildlife," says David C. Evers, Ph.D., BRI's executive director and chief scientist. "Mercury accumulation has many implications for the health and survival of wildlife species across habitats, not just those that live and feed in aquatic habitats. Our research has found that mercury concentrations in animals that live in terrestrial environments are significant enough to cause physiological and reproductive harm. This knowledge is creating a major paradigm shift in ecotoxicological research, assessment, monitoring, management, and policy."
Hidden Risk is the most complete synthesis of songbird and bat mercury data in the Northeast published to date. This report documents, for the first time, elevated levels of mercury in a wide range of songbirds and bats living in a variety of terrestrial ecosystems in northeastern states from Maine to Virginia. Among the findings:
Current environmental mercury loads have the ability to significantly reduce reproductive success in several songbird species of conservation concern in the northeastern U.S., including the saltmarsh sparrow and rusty blackbird
Bats also build up significant body burdens of mercury. Individuals from multiple species from all 10 areas sampled in the northeastern U.S. exceeded the subclinical threshold for changes to neurochemistry
Mercury loading in songbirds is not only restricted during the breeding season. For some species, such as the northern waterthrush, high levels of mercury accumulate during migration and in tropical wintering grounds.
Songbirds and bats, often referred to as insect eaters, are more accurately called invertivores because they eat a wide variety of invertebrate species such as spiders, snails, and worms, in addition to insects. "The role of invertivores in the ecosystem has until now been largely ignored in mercury investigations," says Evers. "However, these species are more common, widespread, and sensitive to mercury contamination than previously known; studying the terrestrial food web can serve as an effective biological network of important indicators for people and wildlife."
Hidden Risk presents findings from at-risk habitats, and associated indicator species are identified based on the species' level of conservation concern, relative abundance, and ability to build up mercury in the body. The report demonstrates the significant costs of mercury to wildlife that were not factored into previous cost/benefit analyses.
In the U.S., mercury becomes an air pollutant largely through emissions from coal-fired power plants. In some areas, cement plants and mining related industries also add to mercury pollution. Airborne mercury eventually returns to the earth in rain, snow, and fog droplets, as well as in dry form. Under the right conditions, mercury is transformed into methylmercury, an organic toxin that becomes magnified as it is ingested up the food chain. The toxic effects of methylmercury may include both neurological and reproductive harm to wildlife, and to people who consume contaminated wildlife.
"While air pollution impacts people and nature on public and private lands, the good news is that when action has been taken to reduce mercury emissions, the results are very promising," says Dr. Timothy Tear, New York director of science for the Nature Conservancy. "Research has shown that reduction in mercury levels do make a difference to dramatically and quickly reverse mercury contamination trends in fish and wildlife. Reducing this neurotoxin from the environment will benefit wildlife and people."
Hidden Risk outlines a number of management actions that can be taken to reduce the mercury risk in various terrestrial ecosystems, ranging from cleaning up legacy dump sites to reducing atmospheric deposition. The U.S. Environmental Protection Agency (EPA) has recently finalized the Mercury and Air Toxics Standards (MATS) Rule that requires coal-fired power plants to update their mercury pollution control technologies, and this report highlights the importance of tracking the biological implications of this rule through better national and international monitoring programs. The report also calls for the establishment of critical loads for air-borne contaminants that are based upon preserving healthy ecosystems. Critical loads identify the maximum level of pollutant deposition that ecosystems can handle before harmful effects occur.
Air pollution continues to be an important area of environmental concern. The recent U.S. EPA MATS ruling and release of the National Acid Precipitation Assessment Program Report to Congress: An Integrated Assessment underscore the fact that although efforts to reduce air pollution in the U.S. are working, there is still much more work to be done.
More than 50 researchers contributed to the information in this report, which illustrates the continued interest in advancing our understanding of the impacts of air pollution—in particular mercury—on nature and people. Hidden Risk: Mercury in Terrestrial Systems of the Northeast and related materials are available online at by clicking here.
The mission of the Biodiversity Research Institute is to assess emerging threats to wildlife and ecosystems through collaborative research, and to use scientific findings to advance environmental awareness and inform decision makers. BRI's science programs include wetlands, mammal, raptor, waterfowl, migratory bird, marine bird, coastal bird, wildlife and renewable energy, and tropical programs. BRI's research efforts stretch throughout most of North and Central America, as well as across sites in South America, Russia, South Africa and Europe. For more information about BRI's work, click here.
For more information, click here.
—————
The Nature Conservancy is a leading conservation organization working around the world to protect ecologically important lands and waters for nature and people. The Conservancy and its more than 1 million members have protected nearly 120 million acres worldwide.