This website uses cookies to ensure you get the best experience while browsing it. By clicking 'Got It' you're accepting these terms.
The extent of the 35th Avenue Superfund Site in Birmingham, Alabama; current EPA Southeastern Regional Administrator. Trey Glenn was indicted for ethics violations related to his attempt to impede cleanup efforts at the site.
When it comes to the people he chooses to protect the nation's environment, President Donald Trump sure knows how to pick'em. In his brief stint at the U.S. Environmental Protection Agency (EPA), Scott Pruitt wracked up an impressive amount of truly bizarre scandals, including blowing thousands of taxpayer dollars on "tactical pants." Ryan Zinke, the man he put in charge of public lands,, might also be on his way out over shady dealings. Now, it emerges that the man he put in charge of the EPA's Southeastern regional office has been indicted on ethics charges in Alabama.

Irma Omerhodzic
A federal judge ordered the U.S. Environmental Protection Agency (EPA) to take action to fight air pollution entering New York and Connecticut from five other states, Reuters reported.
EcoWatch Daily Newsletter
The American Lung Association's 2016 State of the Air report found continued improvement in air quality, but more than half (52.1 percent) of the people in the U.S. live in counties that have unhealthful levels of either ozone or particle pollution. The annual, national air quality "report card" found that 166 million Americans live with unhealthful levels of air pollution, putting them at risk for premature death and other serious health effects like lung cancer, asthma attacks, cardiovascular damage, and developmental and reproductive harm.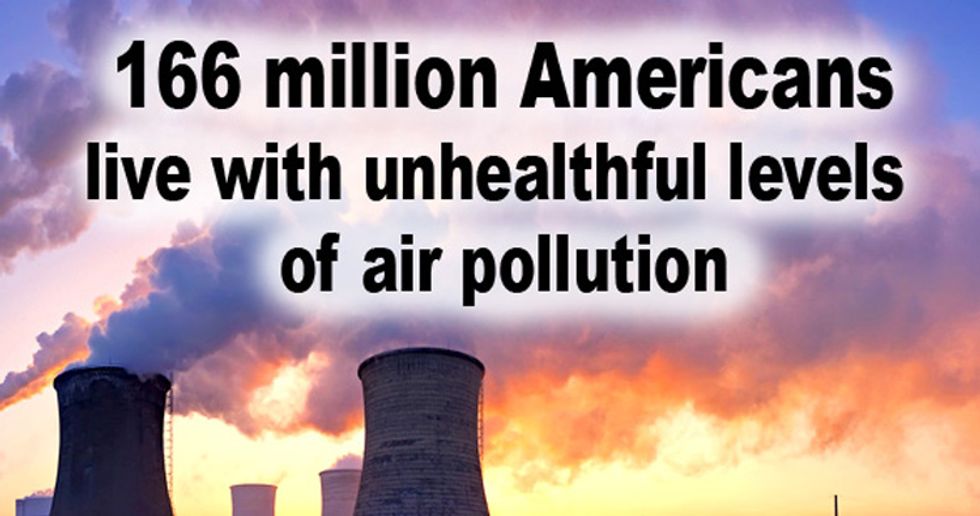 "Thanks to cleaner power plants and cleaner vehicles, we see a continued reduction of ozone and year-round particle pollution in the 2016 State of the Air report. However, climate change has increased the challenges to protecting public health," Harold P. Wimmer, national president and CEO of the American Lung Association, said. "There are still nearly 20 million people in the United States that live with unhealthful levels of all three measures of air pollution the report tracks: ozone, short-term and year-round particle pollution."
"Everyone has the right to breathe healthy air, yet only four cities—Burlington-South Burlington, Vermont.; Elmira-Corning, New York.; Honolulu, Hawaii; and Salinas, Calif0rnia—qualified for the 'cleanest cities' list in the State of the Air report," Wimmer said. "We simply must do more to protect the health of Americans."
Each year the State of the Air reports on the two most widespread outdoor air pollutants, ozone pollution and particle pollution. The report analyzes particle pollution in two ways: through average annual particle pollution levels and short-term spikes in particle pollution. Both ozone and particle pollution are dangerous to public health and can be lethal. But the trends reported in this year's report, which covers data collected in 2012-2014, are strikingly different for these pollutants.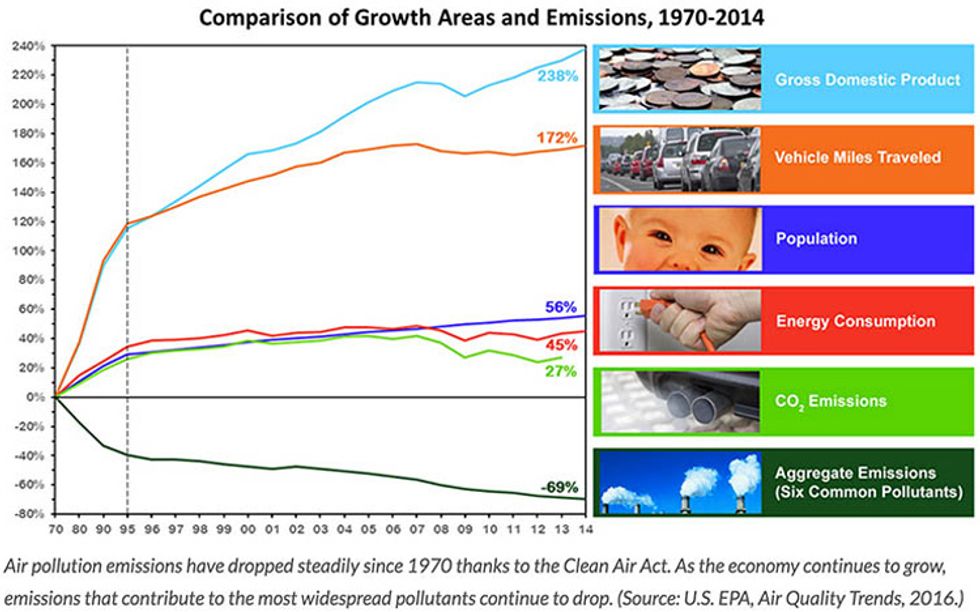 According to this year's 17th annual report, short-term spikes in particle pollution have gotten worse since the 2015 report, including in the city with the worst particle pollution problem, Bakersfield, California. For multiple cities that suffered spikes in particle pollution during this period, many of these spikes were directly linked to weather patterns like drought or to events like wildfires, which are likely to increase because of climate change.
Top 10 U.S. Cities Most Polluted by Short-Term Particle Pollution (24-hour PM2.5):
1. Bakersfield, California
2. Fresno-Madera, California
3. Visalia-Porterville-Hanford, California
4. Modesto-Merced, California
5. Fairbanks, Alaska
6. Salt lake City-Provo-Orem, Utah
7. Logan, Utah-Idaho
8. San Jose-San Francisco-Oakland, California
9. Los Angeles-Long Beach, California
10. Missoula, Montana
The rise in short-term particle pollution provides current examples of how major changes in drought and rainfall are already affecting public health. According to the 2016 report, seven of the 25 most polluted cities had their highest number of unhealthy short-term particle pollution days on average ever reported.
Increased heat, changes in climate patterns, drought and wildfires are all related to climate change, which has contributed to the extraordinarily high numbers of days with unhealthy particulate matter. The particles—emanating from wildfires, wood-burning devices, coal-fired power plants and diesel emissions—are so small that they can lodge deep in the lungs and trigger asthma attacks, heart attacks and strokes and can even be lethal.
By contrast, the best progress came in reducing year-round levels of particle pollution, with 16 cities reaching their lowest levels ever and one other improving over the period covered by the 2015 report (2011-2013). Year-round particle pollution levels have dropped thanks to the cleanup of coal-fired power plants and the retirement of old, dirty diesel engines.
Top 10 U.S. Cities Most Polluted by Year-Round Particle Pollution (Annual PM2.5):
1. Bakersfield, California
2. Visalia-Porterville-Hanford, California
3. Fresno-Madera, California
4. Los Angeles-Long Beach, California
5. El Centro, California
6. (tied) Modesto-Merced, California
7. (tied) San Jose-San Francisco-Oakland, California
8. Pittsburgh-New Castle-Weirton, Pennsylvania-Ohio-West Virginia
9. Harrisburg-York-Lebanon, Pennsylvania
10. Louisville-Jefferson, Kentucky
11. County-Elizabethtown-Madison, Kentucky-Indiana
According to the 2016 report, six cities reported their fewest unhealthy ozone days ever, including #1 Los Angeles and 15 others improved over the previous report's data. Ozone pollution has decreased because the nation has cleaned up major sources of the emissions that create ozone, especially coal-fired power plants and vehicles. However, climate change causes greater heat, which makes ozone form. When a person inhales ozone pollution, it can cause coughing, trigger asthma attacks and even shorten life.
Top 10 Most Ozone-Polluted Cities:
1. Los Angeles-Long Beach, California
2. Bakersfield, California
3. Visalia-Porterville-Hanford, California
4. Fresno-Madera, California
5. Phoenix-Mesa-Scottsdale, Arizona
6. Sacramento-Roseville, California
7. Modesto-Merced, California
8. Denver-Aurora, Colorado
9. Las Vegas-Henderson, Nevada-Arizona
10. Fort Collins, Colorado
"We can and must do more to save lives and fight climate change," Wimmer said. "The lung association calls on every state to adopt strong Clean Power Plans to reduce emissions from power plants that worsen climate change and immediately harm health. The Supreme Court has put a temporary hold on EPA's [Environmental Protection Agency] enforcement of the federal Clean Power Plan, but states should not wait to clean up carbon pollution from their power plants."
"In addition, we call on EPA to adopt strong, health protective standards to limit emissions of methane and toxic pollutants that contribute to ozone pollution and climate change from oil and gas production," he said.
YOU MIGHT ALSO LIKE
On Earth Day 150 World Leaders to Sign Paris Climate Agreement
Bill Nye vs. Sarah Palin on Climate Change: Who Do You Believe?
Glyphosate Found in Popular Breakfast Foods
They might seem different, but the ongoing disasters in Michigan and California are two sides of the same tragic coin: as Flint drinks toxic water, Porter Ranch breathes toxic air.
These two areas highlight the abysmal failure of utilities and lawmakers as thousands of local residents continue to suffer. What's important to remember, however, is that these travesties aren't just isolated incidents—they might be much closer to home than you think.
1. Both areas were in dire emergency long before official declarations
Flint: Local and state-level declarations of emergency were made by Flint Mayor Karen Weaver and Michigan Gov. Rick Snyder in December 2015 and January, respectively. However, the problem started way back in April 2014, when an unelected state official switched the city's main water supply from Lake Huron to the Flint River to save money. On Jan. 16, President Barack Obama declared a state of emergency in Flint. Such a declaration allocates up to $5 million in federal funds to the city. It also authorizes the Federal Emergency Management Agency to galvanize supplies and distribute water bottles, filters and other supplies.
Porter Ranch: Compared to poverty-stricken Flint, government action has been noticeably faster for the affluent Los Angeles neighborhood. Following months of pressure from activists and residents, California Gov. Jerry Brown issued a state of emergency on Jan. 6 over the gas leak—the biggest in U.S. history—that has spewed 86,000 metric tons of methane and counting into the atmosphere since Oct. 23, when the leak was first reported. The order means "all necessary and viable actions" will be taken to stop the leak and ensure that the Southern California Gas Company (SoCal Gas), which owns the leaking natural gas injection well, is held accountable for the damage. A federal state of emergency has yet to be declared.
2. Environmental contamination and noxious greenhouse gases spell trouble for the planet
Flint: Research has found that the water in the Flint River is 19 times more corrosive than Lake Huron's water, causing the city's aging pipes to degrade and leach lead into the water. Water samples indicated an average lead concentration level of 2,000 ppb (parts per billion) with the the highest level recorded at 13,200 ppb, The Guardian reported, putting lead levels 200-1,300 times higher than the World Health Organization standards of 10ppb. When used for irrigation, lead-contaminated water can cause toxicity levels in garden and urban soil and cause poisoning if it enters the food chain through fruits and vegetables.
Porter Ranch: The leak, deemed the worst environmental disaster since the BP oil spill, has since spread across the Los Angeles San Fernando Valley, according to new research from Cambridge-based nonprofit, Home Energy Efficiency Team. The Los Angeles Times reported that "the leak is so large it will measurably set back not just the city's but the entire state's greenhouse gas emission targets, effectively erasing nearly a decade's worth of statewide emission reductions." Methane is a dangerous greenhouse gas that accelerates climate change.
3. Many people, especially children, have suffered from health problems
Flint: Lead, which has no safe blood level, has been entering the city's drinking water through corroded pipes and plumbing materials. Exposure to this toxic metal is considered most harmful to children and fetuses because they absorb lead more easily than adults. Lead can damage people's kidneys, blood, and nervous system and progress to coma, convulsions or death, according to the Centers for Disease Control and Prevention. Nearly 27,000 Flint children have been exposed to lead in the city's water, according to The Detroit News. Additionally, 87 people have been diagnosed with Legionnaires' disease. Ten of those who were sickened have died.
Porter Ranch: More than 2,500 families have fled their homes and more than 1,000 children have been relocated to other schools. Residents reported symptoms related to the exposure of natural gas such as nausea, vomiting, headaches and respiratory problems. Not only that, a Los Angeles city councilman called on SoCal Gas last week to extend residential relocation assistance to residents in Granada Hills, Chatsworth and Northridge who live near the Aliso Canyon gas leak above Porter Ranch. Even pets are suffering from ailments similar to their owners, such as nose bleeds, nausea and rashes, ABC 7 reported. As residents flee, businesses in the neighborhood are also struggling to stay open.
4. A disaster in the making. Lawmakers and utilities, now facing mounting lawsuits, ignored aging infrastructure
Flint: "The fact is," as LA Progressive wrote, "that the pipes conducting water from the Flint River are and have long been highly corrosive and have been leaching lead into the city's potable water system. Pipes to each home and business, including sink and shower faucets, have been directly affected through both negligence and lack of regular maintenance by the city authorities." On Tuesday, amid calls for resignation and a growing number of lawsuits, Michigan Gov. Rick Snyder apologized and admitted that he failed Flint residents. According to emails released to the public on Wednesday, Snyder was informed of Flint's water quality issues in as early as February 2015 but his administration said the problems would eventually "fade in the rearview." The U.S. Environmental Protection Agency also acknowledged on Tuesday it did not respond fast enough to the water crisis.
Porter Ranch: Similarly, California's aging pipeline infrastructure and poorly managed storage facilities have been put under the microscope. "The gas leak comes from a broken well that was last inspected in 1976," as Earthworks observed. "The LA Weekly reports that the well's safety valve was inexplicably removed in 1979." SoCal Gas now faces a class-action lawsuit alleging that the gas company removed safety valves on Aliso Canyon gas storage wells that lead to the massive methane leak.
5. The disasters in Flint and Porter Ranch could easily happen to your city
Beyond Flint: Think your water is safe to drink? A Vox report stated that "children in essentially every city in America are being exposed to hazardous levels of toxic lead, and very little is being done about it." And if lead contamination isn't bad enough, "a 2009 New York Times investigation found that more than 62 million Americans had been exposed to drinking water that did not meet some government health guidelines," as PRI observed. "A 2011 analysis by Environmental Working Group found that more than 100 million people in 43 states were drinking water contaminated with trihalomethanes—a dangerous chemical that's the byproduct of a chlorine reaction."
Beyond Porter Ranch: While Porter Ranch has everyone's attention, natural gas leaks are persistent and widespread across the country. A team from Environmental Defense Fund found an average of about one natural gas leak for every mile driven in New York City's Staten Island, one leak for every 200 miles in Indianapolis and one leak for every three miles in Chicago. "Events of this size are rare, but major leakage across the oil and gas supply chain is not," Director of Environmental Defense Fund's California Oil & Gas program Tim O'Connor said in a statement. "There are plenty of mini-Aliso Canyons that add up to a big climate problem—not just in California, but across the country."
YOU MIGHT ALSO LIKE 
Michael Moore: 10 People in Flint Have Now Been Killed by These Premeditated Actions of the Governor of Michigan
Hillary Clinton's Complicated Ties to Big Oil
Obama Declares Flint Water Crisis a State of Emergency
Following months of pressure from activists and residents, California Gov. Jerry Brown on Wednesday issued a state of emergency over the Porter Ranch gas leak that has been pouring tens of thousands of kilograms of methane into the air surrounding the community since October 2015.
The order means "all necessary and viable actions" will be taken to stop the leak and ensure that the Southern California Gas Company (SoCal Gas), which owns the leaking natural gas injection well, is held accountable for the damage.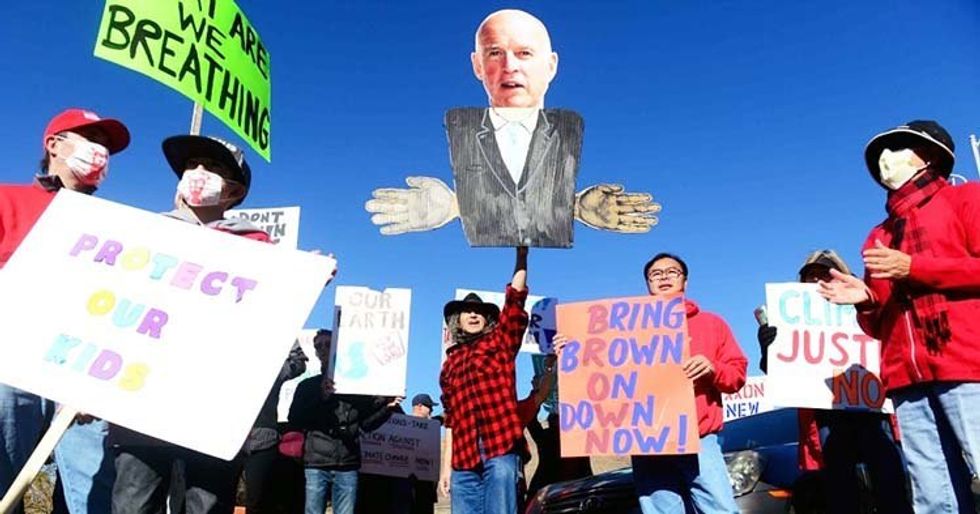 "It's about time," Alexandra Nagy, Southern California organizer at Food & Water Watch, told Common Dreams. "It's incredible. Now residents can actually get the assistance that they need."
Brown issued the state of emergency after making a quiet visit to the area earlier this week to tour the facility and meet with the Porter Ranch neighborhood council. Wednesday's order also directs action to protect public health, according to a press release issued from the governor's office.
"It is really going to ... amplify the urgency of this issue and really expose how bad the problem is," Nagy said.
The leak, which has been ongoing since October 2015, gained limited media attention after environmental and public health advocate Erin Brockovich declared it "a catastrophe the scale of which has not been seen since the 2010 BP oil spill." Residents living in proximity to the well, which is situated in Aliso Canyon, roughly 30 miles northwest of Los Angeles, reported having symptoms of methane exposure, including headaches, nausea and in some cases, bleeding eyes and gums.
Brown's hesitance to issue an emergency order in the face of a growing public health crisis raised questions over a possible conflict of interest between the governor and SoCal Gas. Brown's sister, Kathleen Brown, is a paid member of the company's board.
On Monday, a constituent affairs representative with Brown's office told Common Dreams that he was unaware of any plans to declare a state of emergency, stating, "I think maybe he wants to wait until the situation develops a little bit more ... state of emergencies are a pretty big deal."
Nagy credited the swift turnaround to pressure from the community. She stated Wednesday, "We've just been mounting pressure from all sides ... This is a hard fought win for the residents of Porter Ranch and beyond affected by this noxious blowout."
"It was interesting that he wanted to do it in the quiet and in the dark, because he doesn't want to be held accountable publicly and this is his opportunity to look like a hero and a leader on this," Nagy continued. "He's moving with it because that's where it's going."
While the order was welcome, activists have a broader objective—to shut down the Aliso Canyon facility and, ultimately, end the state's reliance on fossil fuels, Nagy said, declaring, "Addiction to natural gas is a problem."
To that end, activists in the area are organizing a hearing with city officials on Saturday to discuss an order for abatement, which requires companies acting out of compliance to shut down their operations. The order, issued by the South Coast Air Quality Management District, "has the potential to shut down the Aliso Canyon Storage Facility temporarily or permanently," organizers explained in a Facebook post. "We need to rally and testify at the hearing this Saturday to demand AQMD uses their authority to #ShutItALLDown."
Activists plan to gather at Granada Hills Charter High School on Saturday for an 8 a.m. rally ahead of the 9 a.m. hearing.
"We are on a path to transitioning to clean energy," Nagy said. "[The leak has] been a wake-up call for this community ... We're all on the front lines of climate change."
YOU MIGHT ALSO LIKE 
Porter Ranch Residents Flee, Schools Close as Natural Gas Storage Facility Continues to Spew Toxic Chemicals
Mercury-Laden Fog Swirls Over California Coastal Cities
12 Earthquakes Hit Frack-Happy Oklahoma in Less Than a Week
Teflon's Toxic Legacy: DuPont Knew for Decades It Was Contaminating Water Supplies
In the nation's biggest environmental disaster since the BP oil spill, a runaway natural gas leak above Los Angeles has emitted more than 150 million pounds of methane. Thousands of residents in the community of Porter Ranch, California, have been evacuated and put in temporary housing. The fumes have caused headaches and nosebleeds. The company responsible, Southern California Gas Company, says it could take 3 to 4 months to stop the breach.
Since October, residents of Porter Ranch, California, have been exposed to dangerous contaminants from a massive natural gas leak that continues to seep into the air, causing a catastrophe the scale of which has not been seen since the 2010 BP oil spill.
After only a week of visiting families in Porter Ranch, I am already experiencing the headaches, nausea and congestion that have plagued this community living at the center of one of the most significant environmental disasters in recent history.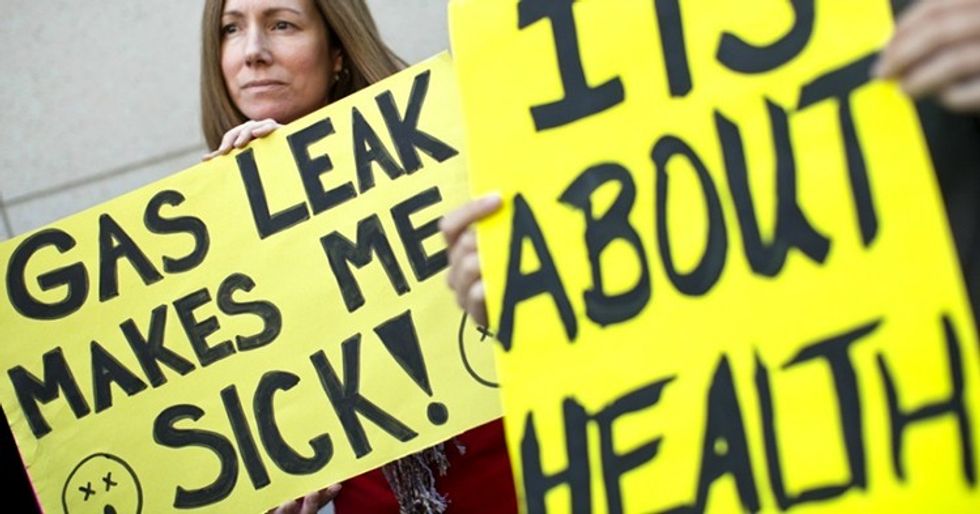 Southern California Gas Co. or SoCalGas, has essentially ignored the impact to victims and its actions have instead added to their suffering. The company has refused to release air quality data that could be used to protect its residents, it has made relocation very difficult and it has forged ahead with plans to expand its facility before the leak has even been contained.
The enormity of the Aliso Canyon gas leak cannot be overstated. Gas is escaping through a ruptured pipe more than 8,000 feet underground and it shows no sign of stopping. As the pressure from weight on top of the pipe causes the gas to diffuse, it only continues to dissipate across a wider and wider area. According to tests conducted in November by the California Air Resources Board, the leak is spewing 50,000 kilograms of gas per hour—the equivalent to the strength of a volcanic eruption.
At this rate, in just one month, the leak will have accounted for one-quarter of the total estimated methane emissions in the state of California.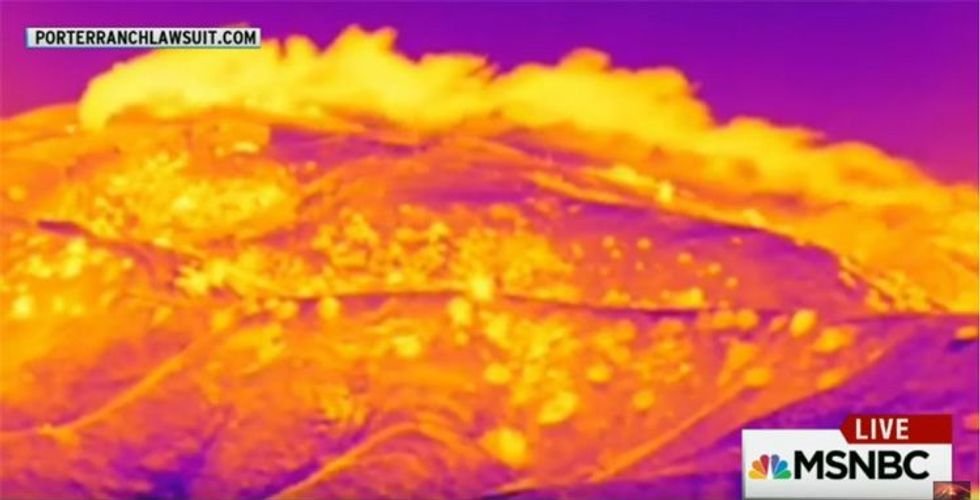 So it is no surprise that residents here feel sick. While I can escape to my home to recover from my symptoms, this community wakes up to conditions that cause vomiting, nosebleeds and serious respiratory issues daily. And no one really knows the potential long-term side effects of benzene and radon, the carcinogens that are commonly found in natural gas.
This dangerous environment is why the Los Angeles Unified School District unanimously voted last week to close two Porter Ranch schools and relocate their nearly 1,900 students and staff to protect their safety.
SoCalGas' response to this disaster is almost as alarming as the impact on the community.
The company has offered some assistance in relocating residents in the affected area, but those efforts are woefully inadequate. People have been told they have to wait, they are 300th in line and that they will not be able to relocate before Christmas. Many residents simply cannot afford pay for a hotel or apartment while continuing to cover home costs. SoCalGas does not even know exactly how long it will take to fix the leak, but the company's CEO has said it will be at least another three to four months. Curiously, despite this admission, SoCalGas is only offering three months of relocation to those fortunate enough to receive a return call.
The company has also refused to release the data from air quality monitoring it has conducted in the community, despite numerous requests from the public. The company is withholding vital information about the exact composition of the air—information that is critical for the thousands of residents who want to understand why they are so sick. That is why I have been out in the community distributing canisters that we hope will provide an independent verification of the toxicity in the air.
And while Porter Ranch continues to suffer, SoCalGas is moving ahead with a project to expand the Aliso Canyon facility, even though the company still has no idea how the gas leak there started and is unsure of how to fix it. The company hasn't even established any risk management or emergency response plans in the event of another leak.
That is why I am working with the law firm Weitz and Luxenberg to seek justice for Porter Ranch and hold SoCalGas accountable for the physical and emotional damage they have caused and to ensure that something like this never happens again. This community should not have to wait any longer to receive the justice and fair treatment it deserves.
The situation Porter Ranch residents are facing today is unacceptable. It is time for SoCalGas to acknowledge this fact, gather whatever resources are necessary to help every resident now and provide answers about the health impacts to residents who have suffered for too long.
YOU MIGHT ALSO LIKE
3 Communities Transition Away From Fossil Fuels to Run on 100% Renewables
4,000 Bottles of Fresh Air Shipped to China, Company Struggling to Keep Up With Demand
Moving Beyond Coal: Major Global Grassroots Fights of 2015
Wife Dies of Cancer, Widowed Father Wages War on Chemical Industry
Reminiscent of a scene out of Space Balls (Perri-Air anyone?), a Canadian startup, Vitality Air, is selling bottled air from the Rocky Mountains. It may have started out as a joke, but citizens of smog-choked cities in eastern China are buying it up.
"A gag gift, that's how it started off, but you know what? There's actually a lot of demand for this in … highly polluted countries," co-founder Moses Lam told the Canadian National Post. The company was founded by Lam and Troy Paquette more than a year ago, but only began selling in China less than two months ago.
The idea came when Lam sold a bag of fresh Canadian air on eBay for 99 cents. That's steep enough for something that most people have always considered free. But when a second bag bidded up to $168 "we thought 'hey, we might have a market for this,'" Lam said.
And people can't get enough of it. "Our first shipment of 500 bottles of fresh air were sold in four days," Lam told The Telegraph. Flash forward to earlier this week: the company shipped 4,000 more bottles to China, most of which has been bought.
The company claims that its products can help with "hangovers, alertness and working out" while also being "your solution to pollution." The startup is struggling to keep up with demand. Each bottle is filled by hand in the Rockies. They "fill massive cans through clean compression," the company explains on its website, then they bottle it individually at their facility in Edmonton. And they even perform a "comprehensive check" after each can is filled for safety before shipping it out.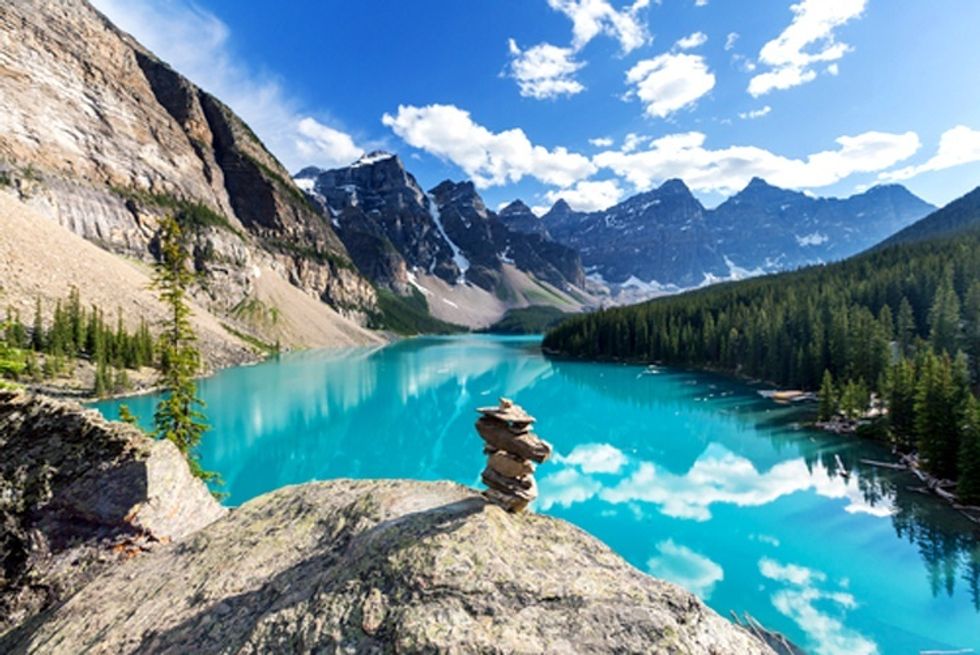 Photo credit: Shutterstock
Just how much does a bottle of Rocky Mountain air cost you? A 7.7 liter bottle of Lake Louise or Banff air will run you about $32 Canadian dollars ($23 U.S. dollars). The bottle contains "fresh clean air," which contains 78 percent nitrogen, 21 percent oxygen and a small amount of other gases. If you're in search of "pure premium oxygen," Vitality Air has you covered, as well. Their "pure oxygen" bottle contains 97 percent oxygen and a small amount of other gases. The startup claims it "provides upwards of 200 inhalations" for $28.99 Canadian dollars ($21 U.S. dollars).
For China's "upper middle class who crave a better quality of life," Vitality Air gives them the opportunity to "inject a bit of fresh air into their lives," Harrison Wang with TAK International, Vitality's Edmonton-based Chinese distributor, told the National Post.
This is not the first time a company has tried selling bottled air, believe it or not, nor is it the first time that Chinese citizens were eager to buy bottled air. In 2013, one Chinese businessman, Chen Guangbiao, sold cans of air reportedly taken from less industrialized regions of China for five yuan ($0.77 U.S. dollars).
China's air pollution problem is nothing new. The country has been grappling with how to clean up its air for years. A documentary highlighting China's deadly air pollution went viral earlier this year with more than 200 million views in the first five days. And a study published in August found that the air in Beijing is so polluted that breathing it does as much damage to the lungs as smoking 40 cigarettes a day, and 4,000 people are dying every day from smog in China citing coal-burning as the likely principal cause.
The issue has received widespread attention again as Beijing issued its first "red alert" for smog last week amid criticism that the government is not doing enough to address the problem. Pollution levels topped off at 634 micrograms per cubic meter in some areas. That's more than 25 times the level recommended by the World Health Organization, which is 25 micrograms per cubic meter. Beijing just issued its second warning Friday as the pollution index is forecasted to exceed 500 micrograms in Beijing and parts of Hebei province over the weekend.
Anyone need a last minute Christmas gift?
To see the devastating effect pollution has on our bodies, check out this startling video from DNews:
YOU MIGHT ALSO LIKE
Elon Musk: We Can Power America by Covering Small Corner of Utah With Solar
Obama Runs Wild With Bear Grylls to Call for Climate Action
$300 Underground Greenhouse Grows Your Food Year-Round
Couple Builds Greenhouse Around Home to Grow Food and Keep Warm
The Sierra Club and RYOT launched their second joint virtual reality video experience yesterday, viewable on the RYOT-VR mobile app, Facebook 360 and YouTube 360. The immersive experience, narrated by legendary singer/actress Cher, highlights the dirty, dangerous effects of coal pollution from power plants and the industries that buy their power China.
The video focuses particular attention on a small group of 21 individuals who are responsible for more than 10 percent of China's CO2 emissions. Just one day before the start of the Paris conference, Beijing was shrouded by smog again forcing the authorities to issue their highest smog warning so far this year, underscoring the need for China to act immediately.
"Spending one day in Beijing is now the equivalent of smoking 40 cigarettes," Cher says during the video. "Poisonous air causes the premature deaths of more than 4,000 people each day and two birth defects a minute. The Chinese people suffer in heartbreaking ways at the hands of these 21 polluters. The Chinese people are bound to lives in masks, beneath apocalyptic, smog-filled skies."
The video aims to not only highlight the devastating effects of coal use on the climate and air of China and the world, but also to urge Chinese leaders to take meaningful action. As part of the launch, the video will be launched by RYOT in Paris during the ongoing COP21 negotiations.
"China now produces more CO2 emissions than the U.S. and Europe combined, which is why it is more important than ever that we turn our shared commitments into action in Paris," said Michael Brune, Sierra Club executive director. "Together, the U.S. and China must leave coal and other dirty fuels behind and turn our commitments into even further climate and clean energy action, because no country is immune from climate change and no country can meet the challenge alone."
"Virtual reality is the perfect way to tell this important story," said Molly Swenson, COO of RYOT and an executive producer of the film. "It's one thing to hear about the dramatic levels of air pollution, but being transported into a place where people live with it every day makes you understand the headlines. Virtual reality can help make sure everyone is aware of how critical action on climate change is. If you woke up every day and had to breathe this air wouldn't you want leaders in Paris this week to step-up and help you?"
A recent AP investigation revealed that Rio de Janeiro's waterways in which Olympic athletes will compete next summer are so contaminated with human feces that they risk becoming violently ill and unable to compete in the games. Many athletes have already fallen ill who are training on or in the water, and many more are sure to become sick as athletes take part in qualifying events in the water beginning this weekend.
BREAKING Beijing will host the 2022 Winter Olympics. http://t.co/OiaABPT2F5 pic.twitter.com/guHfZfyGB9

— CNN International (@cnni) July 31, 2015
The city's atrocious water quality persists despite the fact that Brazilian officials vowed to clean up the city's waterways ahead of the games. International Olympic Committee President Thomas Bach told reporters this week that "some cleaning measures have begun already and others will be applied just before and during the Games," according to Voice of America. So, there is still hope for water quality to improve for athletes. But addressing the waste management system of a city whose population has hit a staggering 12 million is no small feat and sanitation projects are behind schedule.
So, now that Beijing was chosen Friday as the host city for the 2022 Winter Olympics, it begs the question, will Beijing succeed where Rio has failed? The Chinese capital city has been down this road before. It vowed to clean its dangerously polluted air ahead of the 2008 Summer Olympics, which it did manage to accomplish while the games were going on, but only through temporary measures such as closing factories and banning cars from the roads. But a wildly viral film on China's massive air pollution problem, which aired earlier this year, shows that Beijing's toxic smog has not gone away. In fact, cancer has become one of  the leading causes of death in the city and throughout the country due to its abysmal air quality, according to Dr. David Suzuki.
Of course, in vying to secure its bid to host the 2022 Olympics, Beijing officials again made promises to clean the air. Last month, Beijing mayor Wang Anshun said the city will take "effective measures" to tackle air pollution and vowed to be up to the World Health Organization's air quality standards by 2020. Wang said that clean air is not only important for the games, but also for public health.
But maybe things will be different this time around. "Beijing has invested $130 billion in more than 80 measures to reduce pollution from primary sources, including fuel oil, coal, industrial emissions and construction dust," reports China Daily. And the measures seem to be working. The Beijing Municipal Bureau of Environmental Protection reported that air pollutants declined 17 percent in May from the same period last year. The city still has a long way to go, but city officials say they plan to do even more in the seven years leading up to the games, including further investment and more than 500 measures.
There's one other small issue with Beijing hosting the Olympics: not much snow. The areas outside of Beijing which will host alpine skiing, freestyle skiing, snowboarding and Nordic skiing "have minimal annual snowfall and for the Games would rely completely on artificial snow," reports Business Insider. "There would be no opportunity to haul snow from higher elevations for contingency maintenance to the racecourses so a contingency plan would rely on stockpiled man-made snow."  
When the Winter Olympics will be held in a city with no snow: #Beijing2022 pic.twitter.com/xYSMfD00sT

— TrivWorks (@TrivWorks) July 31, 2015
Snow? Mountains? Human Rights? Doesn't matter! #Beijing2022 CNN: http://t.co/8vmjW5YGRk pic.twitter.com/epYH43LQe8

— Manuel Veth (@homosovieticus) July 31, 2015
YOU MIGHT ALSO LIKE
AP Investigation Reveals Olympic Athletes Will Swim in 'Raw Sewage' in Rio Waterways
Hillary's Horror Video Bashes GOP Climate Deniers
Halfway to Hell: Global Temperatures Hit Critical Point, Warn Scientists