China Smog Documentary Goes Viral With 200 Million Views in 5 Days
Under the Dome, a documentary about China's massive air pollution problem, has been viewed more than 200 million times since it was released last Saturday. It's being hailed as China's "An Inconvenient Truth" and an eye opener for the Chinese public by Ma Jun, the director of the Beijing-based Institute of Public and Environmental Affairs.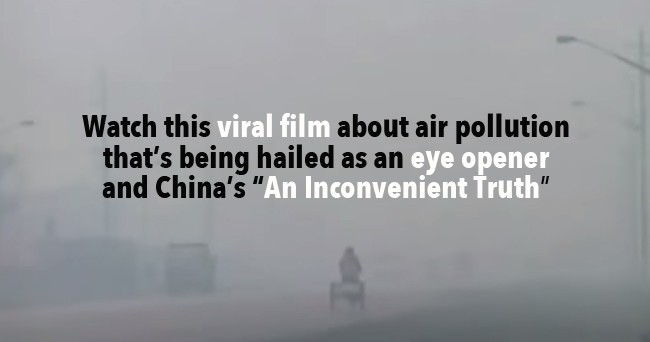 The documentary, which has a similar presentation style to An Inconvenient Truth, was made by Chai Jing, an investigative reporter and anchor at state broadcaster China Central Television. Last year, she left her job to take care of her daughter, who was successfully treated for a benign tumor.
In the 104-minute film, Chai describes how difficult it has been to tell her daughter she can't play outside. "In Beijing in 2014, I could only take her out when the air was good," she says during a presentation to a studio audience, which appears in the documentary. "There were 175 polluted days last year. That means that for half of the year, I had no choice but to keep her at home, shut in like a prisoner."
Chai used $160,000 of her own money and one year to make the documentary, according to NPR. She investigates the science, economics and politics behind the smog, meeting with local officials and visiting London and Los Angeles to see how those cities have dealt with pollution. Chai admits that until recently, she didn't know the difference between fog and smog.
Ma Jun of the Institute of Public and Environmental Affairs explains to NPR why China's government has not silenced Chai, and China's new environment minister even called to thank her: "One reason such a hard-hitting film, that touched on deeply rooted problems, was allowed to be widely disseminated is its positive direction, which gives people hope and confidence."
Still, much needs to be done. Last year only eight of 74 Chinese cities met the air quality targets—only five more than in 2013, according to NPR.
Watch this documentary that has captivated China:
YOU MIGHT ALSO LIKE
Top 10 Countries With the Worst Air Quality
4 Million People Demand Obama Administration to Protect Bees from Toxic Insecticides
Robert Swan Leads Antarctic Expedition to Show Firsthand Effects of Climate Change
A coalition of conservation groups and others announced Thursday that a historic number of comments and petitions of support have been submitted to the U.S. Department of the Interior in support of Bears Ears National Monument. Despite the entirely inadequate 15-day comment period ending on May 26, more than 685,000 comments in support of Bears Ears National Monument have been collected.
Keep reading...
Show less
Rink Glacier in western Greenland, with a meltwater lake visible center. NASA/OIB
Scientists have had their eyes on Greenland as its iconic glaciers have begun disappearing due to a warming climate. But, what they didn't expect to see was a whole new type of melting.
Keep reading...
Show less
Mountain View Fire
By Lena Moffitt
An oil tanker in Mead, Colorado exploded, killing one and injuring three on Thursday. Authorities are continuing to investigate the cause of the explosion.
Keep reading...
Show less
Banner created by Alliance for Climate Education
Keep reading...
Show less
Twenty-two GOP senators sent a letter Thursday urging Donald Trump to pull out of the Paris agreement. They argued remaining in the deal could "upend" the administration's ability "to fulfill its goal of rescinding the Clean Power Plan."
Keep reading...
Show less
By Cheryl Johncox
The Federal Energy Regulatory Commission (FERC) rejected on Thursday Energy Transfer Partners' request to resume horizontal directional drilling at two sites for its Rover fracked gas pipeline. This rejection comes after numerous leaks into Ohio's wetlands, and Clean Air and Clean Water act violations. FERC has halted the process at only eight locations of the 32 where drilling is taking place under Ohio's wetlands and streams.
Keep reading...
Show less
By Nadia Prupis
A majority of people in eight countries say they are ready to change their lifestyles if it would prevent climate catastrophe, a survey on global threats released Wednesday found.
Keep reading...
Show less
May. 25, 2017 01:55PM EST
Bill Maher is sick of billionaires' obsession with Mars, more like "Mars-a-Lago," he said.
In a new animation produced by ATTN:, the popular talk show host of Real Time, discusses the perils of our planet, including how "climate change is killing us."
Keep reading...
Show less