'It's About Time': California Governor Declares Porter Ranch a State of Emergency
Following months of pressure from activists and residents, California Gov. Jerry Brown on Wednesday issued a state of emergency over the Porter Ranch gas leak that has been pouring tens of thousands of kilograms of methane into the air surrounding the community since October 2015.
The order means "all necessary and viable actions" will be taken to stop the leak and ensure that the Southern California Gas Company (SoCal Gas), which owns the leaking natural gas injection well, is held accountable for the damage.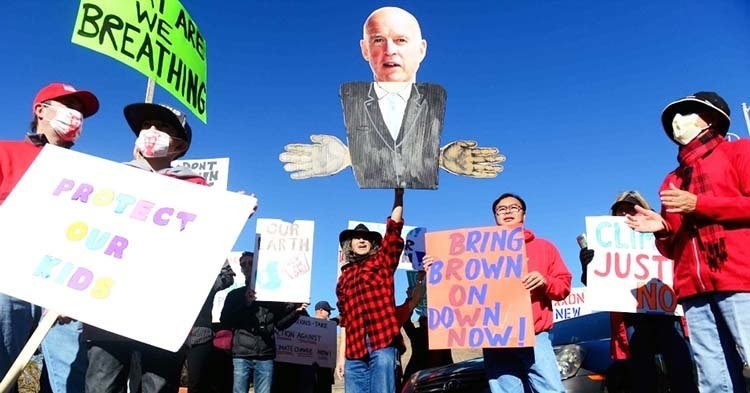 "It's about time," Alexandra Nagy, Southern California organizer at Food & Water Watch, told Common Dreams. "It's incredible. Now residents can actually get the assistance that they need."
Brown issued the state of emergency after making a quiet visit to the area earlier this week to tour the facility and meet with the Porter Ranch neighborhood council. Wednesday's order also directs action to protect public health, according to a press release issued from the governor's office.
"It is really going to ... amplify the urgency of this issue and really expose how bad the problem is," Nagy said.
The leak, which has been ongoing since October 2015, gained limited media attention after environmental and public health advocate Erin Brockovich declared it "a catastrophe the scale of which has not been seen since the 2010 BP oil spill." Residents living in proximity to the well, which is situated in Aliso Canyon, roughly 30 miles northwest of Los Angeles, reported having symptoms of methane exposure, including headaches, nausea and in some cases, bleeding eyes and gums.
Brown's hesitance to issue an emergency order in the face of a growing public health crisis raised questions over a possible conflict of interest between the governor and SoCal Gas. Brown's sister, Kathleen Brown, is a paid member of the company's board.
On Monday, a constituent affairs representative with Brown's office told Common Dreams that he was unaware of any plans to declare a state of emergency, stating, "I think maybe he wants to wait until the situation develops a little bit more ... state of emergencies are a pretty big deal."
Nagy credited the swift turnaround to pressure from the community. She stated Wednesday, "We've just been mounting pressure from all sides ... This is a hard fought win for the residents of Porter Ranch and beyond affected by this noxious blowout."
"It was interesting that he wanted to do it in the quiet and in the dark, because he doesn't want to be held accountable publicly and this is his opportunity to look like a hero and a leader on this," Nagy continued. "He's moving with it because that's where it's going."
While the order was welcome, activists have a broader objective—to shut down the Aliso Canyon facility and, ultimately, end the state's reliance on fossil fuels, Nagy said, declaring, "Addiction to natural gas is a problem."
To that end, activists in the area are organizing a hearing with city officials on Saturday to discuss an order for abatement, which requires companies acting out of compliance to shut down their operations. The order, issued by the South Coast Air Quality Management District, "has the potential to shut down the Aliso Canyon Storage Facility temporarily or permanently," organizers explained in a Facebook post. "We need to rally and testify at the hearing this Saturday to demand AQMD uses their authority to #ShutItALLDown."
Activists plan to gather at Granada Hills Charter High School on Saturday for an 8 a.m. rally ahead of the 9 a.m. hearing.
"We are on a path to transitioning to clean energy," Nagy said. "[The leak has] been a wake-up call for this community ... We're all on the front lines of climate change."
YOU MIGHT ALSO LIKE 
Porter Ranch Residents Flee, Schools Close as Natural Gas Storage Facility Continues to Spew Toxic Chemicals
Mercury-Laden Fog Swirls Over California Coastal Cities
12 Earthquakes Hit Frack-Happy Oklahoma in Less Than a Week
Teflon's Toxic Legacy: DuPont Knew for Decades It Was Contaminating Water Supplies
A coalition of conservation groups and others announced Thursday that a historic number of comments and petitions of support have been submitted to the U.S. Department of the Interior in support of Bears Ears National Monument. Despite the entirely inadequate 15-day comment period ending on May 26, more than 685,000 comments in support of Bears Ears National Monument have been collected.
Keep reading...
Show less
Rink Glacier in western Greenland, with a meltwater lake visible center. NASA/OIB
Scientists have had their eyes on Greenland as its iconic glaciers have begun disappearing due to a warming climate. But, what they didn't expect to see was a whole new type of melting.
Keep reading...
Show less
Mountain View Fire
By Lena Moffitt
An oil tanker in Mead, Colorado exploded, killing one and injuring three on Thursday. Authorities are continuing to investigate the cause of the explosion.
Keep reading...
Show less
Banner created by Alliance for Climate Education
Keep reading...
Show less
Twenty-two GOP senators sent a letter Thursday urging Donald Trump to pull out of the Paris agreement. They argued remaining in the deal could "upend" the administration's ability "to fulfill its goal of rescinding the Clean Power Plan."
Keep reading...
Show less
By Cheryl Johncox
The Federal Energy Regulatory Commission (FERC) rejected on Thursday Energy Transfer Partners' request to resume horizontal directional drilling at two sites for its Rover fracked gas pipeline. This rejection comes after numerous leaks into Ohio's wetlands, and Clean Air and Clean Water act violations. FERC has halted the process at only eight locations of the 32 where drilling is taking place under Ohio's wetlands and streams.
Keep reading...
Show less
By Nadia Prupis
A majority of people in eight countries say they are ready to change their lifestyles if it would prevent climate catastrophe, a survey on global threats released Wednesday found.
Keep reading...
Show less
May. 25, 2017 01:55PM EST
Bill Maher is sick of billionaires' obsession with Mars, more like "Mars-a-Lago," he said.
In a new animation produced by ATTN:, the popular talk show host of Real Time, discusses the perils of our planet, including how "climate change is killing us."
Keep reading...
Show less