This website uses cookies to ensure you get the best experience while browsing it. By clicking 'Got It' you're accepting these terms.


The best of EcoWatch, right in your inbox. Sign up for our email newsletter!
166 Million Americans Live With Unhealthful Levels of Air Pollution
Apr. 20, 2016 08:42AM EST
Climate
The American Lung Association's 2016 State of the Air report found continued improvement in air quality, but more than half (52.1 percent) of the people in the U.S. live in counties that have unhealthful levels of either ozone or particle pollution. The annual, national air quality "report card" found that 166 million Americans live with unhealthful levels of air pollution, putting them at risk for premature death and other serious health effects like lung cancer, asthma attacks, cardiovascular damage, and developmental and reproductive harm.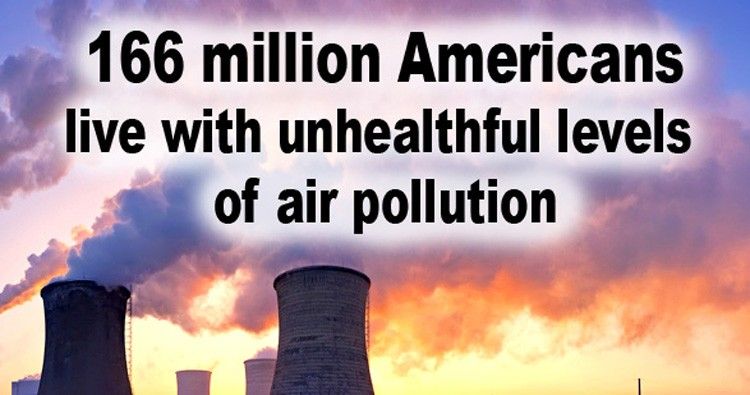 "Thanks to cleaner power plants and cleaner vehicles, we see a continued reduction of ozone and year-round particle pollution in the 2016 State of the Air report. However, climate change has increased the challenges to protecting public health," Harold P. Wimmer, national president and CEO of the American Lung Association, said. "There are still nearly 20 million people in the United States that live with unhealthful levels of all three measures of air pollution the report tracks: ozone, short-term and year-round particle pollution."
"Everyone has the right to breathe healthy air, yet only four cities—Burlington-South Burlington, Vermont.; Elmira-Corning, New York.; Honolulu, Hawaii; and Salinas, Calif0rnia—qualified for the 'cleanest cities' list in the State of the Air report," Wimmer said. "We simply must do more to protect the health of Americans."
Each year the State of the Air reports on the two most widespread outdoor air pollutants, ozone pollution and particle pollution. The report analyzes particle pollution in two ways: through average annual particle pollution levels and short-term spikes in particle pollution. Both ozone and particle pollution are dangerous to public health and can be lethal. But the trends reported in this year's report, which covers data collected in 2012-2014, are strikingly different for these pollutants.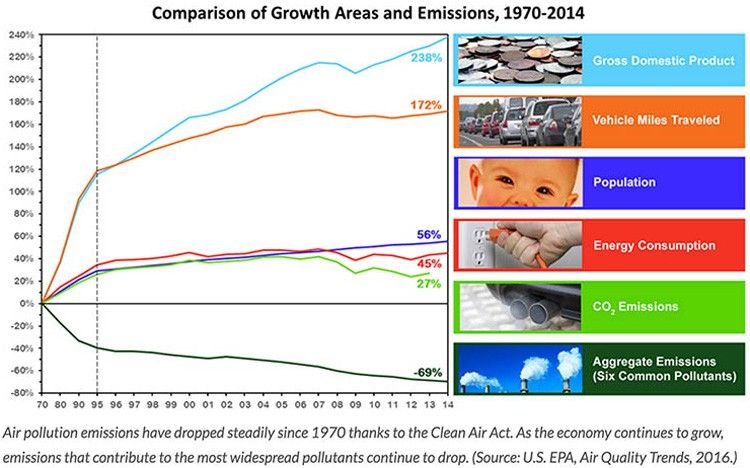 According to this year's 17th annual report, short-term spikes in particle pollution have gotten worse since the 2015 report, including in the city with the worst particle pollution problem, Bakersfield, California. For multiple cities that suffered spikes in particle pollution during this period, many of these spikes were directly linked to weather patterns like drought or to events like wildfires, which are likely to increase because of climate change.
Top 10 U.S. Cities Most Polluted by Short-Term Particle Pollution (24-hour PM2.5):
1. Bakersfield, California
2. Fresno-Madera, California
3. Visalia-Porterville-Hanford, California
4. Modesto-Merced, California
5. Fairbanks, Alaska
6. Salt lake City-Provo-Orem, Utah
7. Logan, Utah-Idaho
8. San Jose-San Francisco-Oakland, California
9. Los Angeles-Long Beach, California
10. Missoula, Montana
The rise in short-term particle pollution provides current examples of how major changes in drought and rainfall are already affecting public health. According to the 2016 report, seven of the 25 most polluted cities had their highest number of unhealthy short-term particle pollution days on average ever reported.
Increased heat, changes in climate patterns, drought and wildfires are all related to climate change, which has contributed to the extraordinarily high numbers of days with unhealthy particulate matter. The particles—emanating from wildfires, wood-burning devices, coal-fired power plants and diesel emissions—are so small that they can lodge deep in the lungs and trigger asthma attacks, heart attacks and strokes and can even be lethal.
By contrast, the best progress came in reducing year-round levels of particle pollution, with 16 cities reaching their lowest levels ever and one other improving over the period covered by the 2015 report (2011-2013). Year-round particle pollution levels have dropped thanks to the cleanup of coal-fired power plants and the retirement of old, dirty diesel engines.
Top 10 U.S. Cities Most Polluted by Year-Round Particle Pollution (Annual PM2.5):
1. Bakersfield, California
2. Visalia-Porterville-Hanford, California
3. Fresno-Madera, California
4. Los Angeles-Long Beach, California
5. El Centro, California
6. (tied) Modesto-Merced, California
7. (tied) San Jose-San Francisco-Oakland, California
8. Pittsburgh-New Castle-Weirton, Pennsylvania-Ohio-West Virginia
9. Harrisburg-York-Lebanon, Pennsylvania
10. Louisville-Jefferson, Kentucky
11. County-Elizabethtown-Madison, Kentucky-Indiana
According to the 2016 report, six cities reported their fewest unhealthy ozone days ever, including #1 Los Angeles and 15 others improved over the previous report's data. Ozone pollution has decreased because the nation has cleaned up major sources of the emissions that create ozone, especially coal-fired power plants and vehicles. However, climate change causes greater heat, which makes ozone form. When a person inhales ozone pollution, it can cause coughing, trigger asthma attacks and even shorten life.
Top 10 Most Ozone-Polluted Cities:
1. Los Angeles-Long Beach, California
2. Bakersfield, California
3. Visalia-Porterville-Hanford, California
4. Fresno-Madera, California
5. Phoenix-Mesa-Scottsdale, Arizona
6. Sacramento-Roseville, California
7. Modesto-Merced, California
8. Denver-Aurora, Colorado
9. Las Vegas-Henderson, Nevada-Arizona
10. Fort Collins, Colorado
"We can and must do more to save lives and fight climate change," Wimmer said. "The lung association calls on every state to adopt strong Clean Power Plans to reduce emissions from power plants that worsen climate change and immediately harm health. The Supreme Court has put a temporary hold on EPA's [Environmental Protection Agency] enforcement of the federal Clean Power Plan, but states should not wait to clean up carbon pollution from their power plants."
"In addition, we call on EPA to adopt strong, health protective standards to limit emissions of methane and toxic pollutants that contribute to ozone pollution and climate change from oil and gas production," he said.
YOU MIGHT ALSO LIKE
On Earth Day 150 World Leaders to Sign Paris Climate Agreement
Bill Nye vs. Sarah Palin on Climate Change: Who Do You Believe?
Glyphosate Found in Popular Breakfast Foods
EcoWatch Daily Newsletter
A child playing with a ball from planet earth during Extinction Rebellion rally on April 18 in London, England. Brais G. Rouco / Barcroft Media / Getty Images
Earth Day 2019 just passed, but planning has already begun for Earth Day 2020, and it's going to be a big deal.
Geneva Vanderzeil, A Pair & A Spare / Flickr / CC BY 2.0
Is your closet filled with clothes you don't wear (and probably don't like anymore)? Are you buying cheap and trendy clothing you only wear once or twice? What's up with all the excess? Shifting to a more Earth-conscious wardrobe can help simplify your life, as well as curb fast fashion's toll on people and the planet.
Christine Zenino / Wikimedia Commons / CC BY 2.0

The 18th century St. Catherine of Alexandria church is seen after its bell tower was destroyed following a 6.3 magnitude earthquake that struck the town of Porac, pampanga province on April 23. TED ALJIBE / AFP / Getty Images
At least 16 people have died, 81 are injured and 14 are still missing after an earthquake struck Luzon island in the Philippines Monday, according to the latest figures from the National Disaster Risk Reduction and Management Council, as the Philippine Star tweeted Tuesday.
Climate change activists gather in front of the stage at the Extinction Rebellion group's environmental protest camp at Marble Arch in London on April 22, on the eighth day of the group's protest calling for political change to combat climate change. TOLGA AKMEN / AFP / Getty Images
Pexels
By Alina Petre, MS, RD (CA)
Veganism refers to a way of living that attempts to minimize animal exploitation and cruelty. For this reason, vegans aim to exclude all foods containing meat, poultry, fish, eggs, dairy and honey from their diet (1).
American farmers use chlorpyrifos, a pesticide tied to brain and nervous system issues, on crops such as apples, broccoli, corn and strawberries. Stephanie Chapman / Flickr / CC BY 2.0
By Jessica Corbett
In a ruling welcomed by public health advocates, a federal court on Friday ordered the Trump administration to stop stalling a potential ban on a pesticide linked to brain damage in children, giving regulators until mid-July to make a final decision.
fstop123 / iStock / Getty Images Plus
At EcoWatch, our team knows that changing personal habits and taking actions that contribute to a better planet is an ongoing journey. Earth Day, happening on April 22, is a great reminder for all of us to learn more about the environmental costs of our behaviors like food waste or fast fashion.
To offer readers some inspiration this Earth Day, our team rounded up their top picks for films to watch. So, sit back and take in one of these documentary films this Earth Day. Maybe it will spark a small change you can make in your own life.