This website uses cookies to ensure you get the best experience while browsing it. By clicking 'Got It' you're accepting these terms.
166 Million Americans Live With Unhealthful Levels of Air Pollution
Apr. 20, 2016 08:42AM EST
Climate
The American Lung Association's 2016 State of the Air report found continued improvement in air quality, but more than half (52.1 percent) of the people in the U.S. live in counties that have unhealthful levels of either ozone or particle pollution. The annual, national air quality "report card" found that 166 million Americans live with unhealthful levels of air pollution, putting them at risk for premature death and other serious health effects like lung cancer, asthma attacks, cardiovascular damage, and developmental and reproductive harm.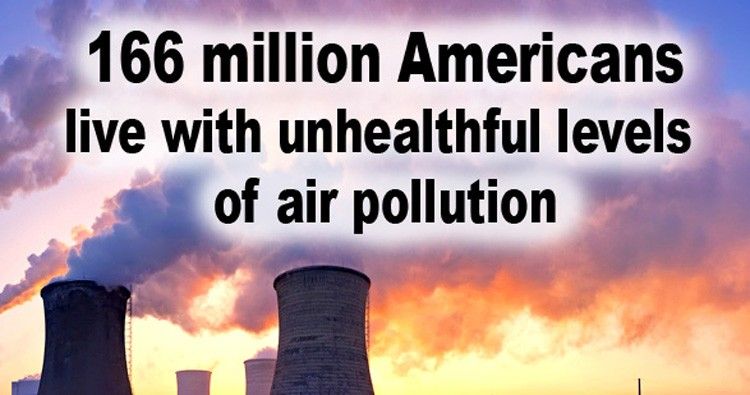 "Thanks to cleaner power plants and cleaner vehicles, we see a continued reduction of ozone and year-round particle pollution in the 2016 State of the Air report. However, climate change has increased the challenges to protecting public health," Harold P. Wimmer, national president and CEO of the American Lung Association, said. "There are still nearly 20 million people in the United States that live with unhealthful levels of all three measures of air pollution the report tracks: ozone, short-term and year-round particle pollution."
"Everyone has the right to breathe healthy air, yet only four cities—Burlington-South Burlington, Vermont.; Elmira-Corning, New York.; Honolulu, Hawaii; and Salinas, Calif0rnia—qualified for the 'cleanest cities' list in the State of the Air report," Wimmer said. "We simply must do more to protect the health of Americans."
Each year the State of the Air reports on the two most widespread outdoor air pollutants, ozone pollution and particle pollution. The report analyzes particle pollution in two ways: through average annual particle pollution levels and short-term spikes in particle pollution. Both ozone and particle pollution are dangerous to public health and can be lethal. But the trends reported in this year's report, which covers data collected in 2012-2014, are strikingly different for these pollutants.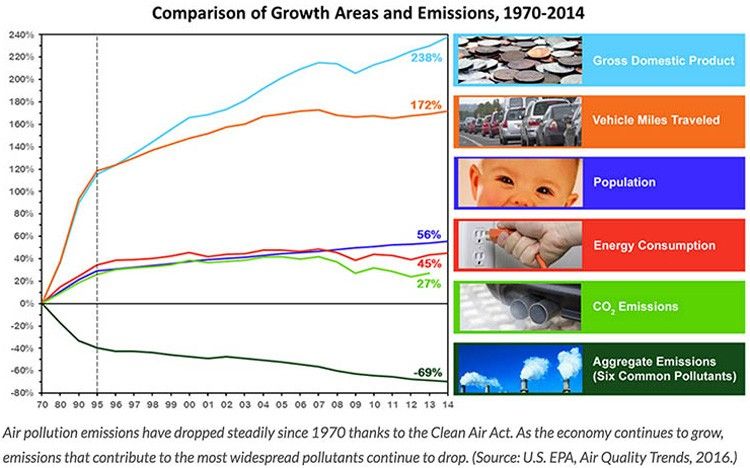 According to this year's 17th annual report, short-term spikes in particle pollution have gotten worse since the 2015 report, including in the city with the worst particle pollution problem, Bakersfield, California. For multiple cities that suffered spikes in particle pollution during this period, many of these spikes were directly linked to weather patterns like drought or to events like wildfires, which are likely to increase because of climate change.
Top 10 U.S. Cities Most Polluted by Short-Term Particle Pollution (24-hour PM2.5):
1. Bakersfield, California
2. Fresno-Madera, California
3. Visalia-Porterville-Hanford, California
4. Modesto-Merced, California
5. Fairbanks, Alaska
6. Salt lake City-Provo-Orem, Utah
7. Logan, Utah-Idaho
8. San Jose-San Francisco-Oakland, California
9. Los Angeles-Long Beach, California
10. Missoula, Montana
The rise in short-term particle pollution provides current examples of how major changes in drought and rainfall are already affecting public health. According to the 2016 report, seven of the 25 most polluted cities had their highest number of unhealthy short-term particle pollution days on average ever reported.
Increased heat, changes in climate patterns, drought and wildfires are all related to climate change, which has contributed to the extraordinarily high numbers of days with unhealthy particulate matter. The particles—emanating from wildfires, wood-burning devices, coal-fired power plants and diesel emissions—are so small that they can lodge deep in the lungs and trigger asthma attacks, heart attacks and strokes and can even be lethal.
By contrast, the best progress came in reducing year-round levels of particle pollution, with 16 cities reaching their lowest levels ever and one other improving over the period covered by the 2015 report (2011-2013). Year-round particle pollution levels have dropped thanks to the cleanup of coal-fired power plants and the retirement of old, dirty diesel engines.
Top 10 U.S. Cities Most Polluted by Year-Round Particle Pollution (Annual PM2.5):
1. Bakersfield, California
2. Visalia-Porterville-Hanford, California
3. Fresno-Madera, California
4. Los Angeles-Long Beach, California
5. El Centro, California
6. (tied) Modesto-Merced, California
7. (tied) San Jose-San Francisco-Oakland, California
8. Pittsburgh-New Castle-Weirton, Pennsylvania-Ohio-West Virginia
9. Harrisburg-York-Lebanon, Pennsylvania
10. Louisville-Jefferson, Kentucky
11. County-Elizabethtown-Madison, Kentucky-Indiana
According to the 2016 report, six cities reported their fewest unhealthy ozone days ever, including #1 Los Angeles and 15 others improved over the previous report's data. Ozone pollution has decreased because the nation has cleaned up major sources of the emissions that create ozone, especially coal-fired power plants and vehicles. However, climate change causes greater heat, which makes ozone form. When a person inhales ozone pollution, it can cause coughing, trigger asthma attacks and even shorten life.
Top 10 Most Ozone-Polluted Cities:
1. Los Angeles-Long Beach, California
2. Bakersfield, California
3. Visalia-Porterville-Hanford, California
4. Fresno-Madera, California
5. Phoenix-Mesa-Scottsdale, Arizona
6. Sacramento-Roseville, California
7. Modesto-Merced, California
8. Denver-Aurora, Colorado
9. Las Vegas-Henderson, Nevada-Arizona
10. Fort Collins, Colorado
"We can and must do more to save lives and fight climate change," Wimmer said. "The lung association calls on every state to adopt strong Clean Power Plans to reduce emissions from power plants that worsen climate change and immediately harm health. The Supreme Court has put a temporary hold on EPA's [Environmental Protection Agency] enforcement of the federal Clean Power Plan, but states should not wait to clean up carbon pollution from their power plants."
"In addition, we call on EPA to adopt strong, health protective standards to limit emissions of methane and toxic pollutants that contribute to ozone pollution and climate change from oil and gas production," he said.
YOU MIGHT ALSO LIKE
On Earth Day 150 World Leaders to Sign Paris Climate Agreement
Bill Nye vs. Sarah Palin on Climate Change: Who Do You Believe?
Glyphosate Found in Popular Breakfast Foods
EcoWatch Daily Newsletter
David Gilmour performs at Anfiteatro Scavi di Pomei on July 7, 2016 in Pompei, Italy. Francesco Prandoni / Redferns / Getty Images
David Gilmour, guitarist, singer and songwriter in the rock band Pink Floyd, set a record last week when he auctioned off 126 guitars and raised $21.5 million for ClientEarth, a non-profit environmental law group dedicated to fighting the global climate crisis, according to CNN.
U.S. Secretary of Agriculture Sonny Perdue speaks during a forum April 18, 2018 in Washington, DC. Alex Wong / Getty Images
The Trump administration ratcheted up its open hostility to climate science in a move that may hide essential information from the nation's farmers.
Simple swaps that cut down on kitchen trash.
Sponsored
By Kayla Robbins
Along with the bathroom, the kitchen is one of the most daunting areas to try and make zero waste.
Protestors and police stand on ether side of railway tracks. dpa / picture-alliance
Police have cleared 250 climate activists who stayed overnight at the Garzweiler brown coal mine in western Germany, officials said Sunday.
Cecilie_Arcurs / E+ / Getty Images
By Megan Jones and Jennifer Solomon
The #MeToo movement has caused profound shake-ups at organizations across the U.S. in the last two years. So far, however, it has left many unresolved questions about how workplaces can be more inclusive and equitable for women and other diverse groups.

Cigarette butts are the most-littered item found at beach clean ups. John R. Platt
By Tara Lohan
By now it's no secret that plastic waste in our oceans is a global epidemic. When some of it washes ashore — plastic bottles, plastic bags, food wrappers — we get a stark reminder. And lately one part of this problem has been most glaring to volunteers who comb beaches picking up trash: cigarette butts.

Andrea Rodgers, second from the right, takes notes during a hearing in the Juliana v. U.S. case before the 9th Circuit Court of Appeals in Portland, Oregon on June 4. Colleague Elizabeth Brown sits to her left, while colleague Julia Olson sits on her right, with co-council Philip Gregory on Julia's right. Robin Loznak / Our Children's Trust
By Fran Korten
On June 4, Andrea Rodgers was in the front row of attorneys sitting before a three-judge panel of the 9th Circuit Court. The court session, held in Portland, Oregon, was to determine whether the climate change lawsuit (Juliana v. United States) brought by 21 young plaintiffs should be dismissed, as requested by the U.S. government, or go on to trial.
Seventy Extinction Rebellion protesters were arrested outside The New York Times building Saturday.
SCOOTERCASTER / YouTube screenshot