This website uses cookies to ensure you get the best experience while browsing it. By clicking 'Got It' you're accepting these terms.
4,000 Bottles of Fresh Air Shipped to China, Company Struggling to Keep Up With Demand
Dec. 19, 2015 10:00AM EST
Climate
Reminiscent of a scene out of Space Balls (Perri-Air anyone?), a Canadian startup, Vitality Air, is selling bottled air from the Rocky Mountains. It may have started out as a joke, but citizens of smog-choked cities in eastern China are buying it up.
"A gag gift, that's how it started off, but you know what? There's actually a lot of demand for this in … highly polluted countries," co-founder Moses Lam told the Canadian National Post. The company was founded by Lam and Troy Paquette more than a year ago, but only began selling in China less than two months ago.
The idea came when Lam sold a bag of fresh Canadian air on eBay for 99 cents. That's steep enough for something that most people have always considered free. But when a second bag bidded up to $168 "we thought 'hey, we might have a market for this,'" Lam said.
And people can't get enough of it. "Our first shipment of 500 bottles of fresh air were sold in four days," Lam told The Telegraph. Flash forward to earlier this week: the company shipped 4,000 more bottles to China, most of which has been bought.
The company claims that its products can help with "hangovers, alertness and working out" while also being "your solution to pollution." The startup is struggling to keep up with demand. Each bottle is filled by hand in the Rockies. They "fill massive cans through clean compression," the company explains on its website, then they bottle it individually at their facility in Edmonton. And they even perform a "comprehensive check" after each can is filled for safety before shipping it out.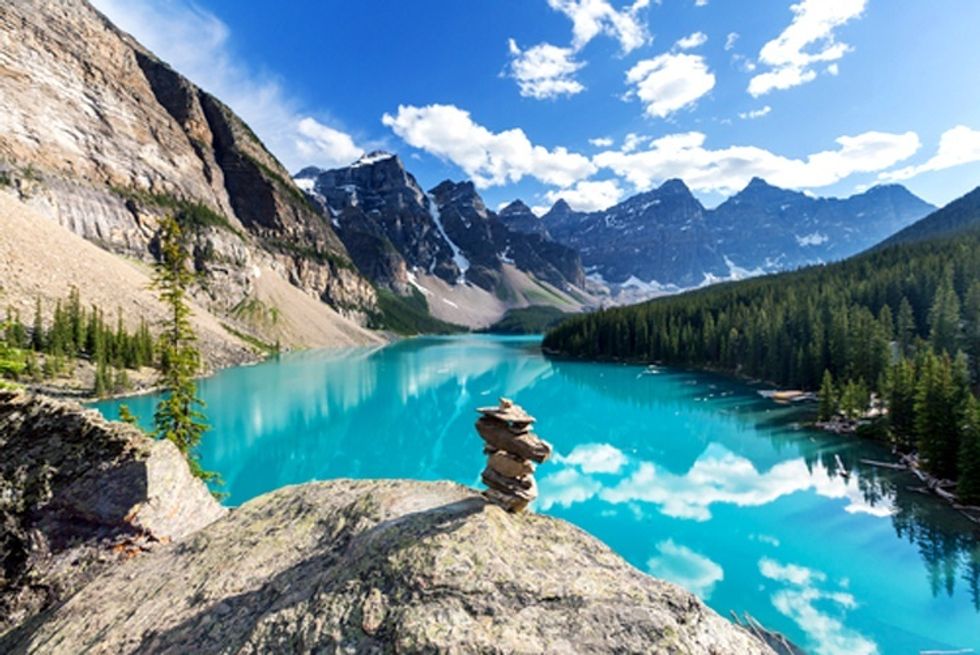 Photo credit: Shutterstock
Just how much does a bottle of Rocky Mountain air cost you? A 7.7 liter bottle of Lake Louise or Banff air will run you about $32 Canadian dollars ($23 U.S. dollars). The bottle contains "fresh clean air," which contains 78 percent nitrogen, 21 percent oxygen and a small amount of other gases. If you're in search of "pure premium oxygen," Vitality Air has you covered, as well. Their "pure oxygen" bottle contains 97 percent oxygen and a small amount of other gases. The startup claims it "provides upwards of 200 inhalations" for $28.99 Canadian dollars ($21 U.S. dollars).
For China's "upper middle class who crave a better quality of life," Vitality Air gives them the opportunity to "inject a bit of fresh air into their lives," Harrison Wang with TAK International, Vitality's Edmonton-based Chinese distributor, told the National Post.
This is not the first time a company has tried selling bottled air, believe it or not, nor is it the first time that Chinese citizens were eager to buy bottled air. In 2013, one Chinese businessman, Chen Guangbiao, sold cans of air reportedly taken from less industrialized regions of China for five yuan ($0.77 U.S. dollars).
China's air pollution problem is nothing new. The country has been grappling with how to clean up its air for years. A documentary highlighting China's deadly air pollution went viral earlier this year with more than 200 million views in the first five days. And a study published in August found that the air in Beijing is so polluted that breathing it does as much damage to the lungs as smoking 40 cigarettes a day, and 4,000 people are dying every day from smog in China citing coal-burning as the likely principal cause.
The issue has received widespread attention again as Beijing issued its first "red alert" for smog last week amid criticism that the government is not doing enough to address the problem. Pollution levels topped off at 634 micrograms per cubic meter in some areas. That's more than 25 times the level recommended by the World Health Organization, which is 25 micrograms per cubic meter. Beijing just issued its second warning Friday as the pollution index is forecasted to exceed 500 micrograms in Beijing and parts of Hebei province over the weekend.
Anyone need a last minute Christmas gift?
To see the devastating effect pollution has on our bodies, check out this startling video from DNews:
YOU MIGHT ALSO LIKE
Elon Musk: We Can Power America by Covering Small Corner of Utah With Solar
Obama Runs Wild With Bear Grylls to Call for Climate Action
$300 Underground Greenhouse Grows Your Food Year-Round
Couple Builds Greenhouse Around Home to Grow Food and Keep Warm
EcoWatch Daily Newsletter
Pro-environment demonstrators on the streets of Washington, DC during the Jan. 20, 2017 Trump inauguration.
Mobilus In Mobili
/ Flickr /
CC BY-SA 2.0
By Dr. Brian R. Shmaefsky
One year after the Flint Water Crisis I was invited to participate in a water rights session at a conference hosted by the US Human Rights Network in Austin, Texas in 2015. The reason I was at the conference was to promote efforts by the American Association for the Advancement of Science (AAAS) to encourage scientists to shine a light on how science intersects with human rights, in the U.S. as well as in the context of international development. My plan was to sit at an information booth and share my stories about water quality projects I spearheaded in communities in Bangladesh, Colombia, and the Philippines. I did not expect to be thrown into conversations that made me reexamine how scientists use their knowledge as a public good.
Mt. Rainier and Reflection Lake on Sept. 10, 2015. Crystal Geyser planned to open a bottling plant near Mt. Rainier, emails show.
louelke - on and off / Flickr
Bottled water manufacturers looking to capture cool, mountain water from Washington's Cascade Mountains may have to look elsewhere after the state senate passed a bill banning new water permits, as The Guardian reported.
Large storage tank of Ammonia at a fertilizer plant in Cubatão, Sao Paulo State, Brazil. Luis Veiga / The Image Bank / Getty Images
The shipping industry is coming to grips with its egregious carbon footprint, as it has an outsized contribution to greenhouse gas emissions and to the dumping of chemicals into open seas. Already, the global shipping industry contributes about 2 percent of global carbon emissions, about the same as Germany, as the BBC reported.
At high tide, people are forced off parts of the pathway surrounding DC's Tidal Basin. Andrew Bossi /
Wikimedia
The Jefferson Memorial in Washington, DC overlooks the Tidal Basin, a man-made body of water surrounded by cherry trees. Visitors can stroll along the water's edge, gazing up at the stately monument.
But at high tide, people are forced off parts of the path. Twice a day, the Tidal Basin floods and water spills onto the walkway.
Lioness displays teeth during light rainstorm in Kruger National Park, South Africa. johan63 / iStock / Getty Images
Ahead of government negotiations scheduled for next week on a global plan to address the biodiversity crisis, 23 former foreign ministers from various countries released a statement on Tuesday urging world leaders to act "boldly" to protect nature.