Stop Giving Cancer Patients Toxic Cosmetics to 'Look Good, Feel Better'
It's outrageous that the products that each of us use every day as part of our hygiene, self-care and beauty regimens are full of harmful chemicals, linked to a range of health problems including breast cancer. You would hope that when the country's largest cancer charity gives products to cancer patients as part of a psychosocial support program, it would uphold the highest safety standards.
Unfortunately, that's not the case. At least that's not the way the Look Good, Feel Better program works.
Look Good, Feel Better is a nationwide program for cancer patients administered by the American Cancer Society. The free workshops offer tips for cancer patients who are looking for advice on how to handle some of the physical changes that come with treatment. In addition to these tips, the program provides free cosmetic kits, donated by corporations that are members of the largest national trade group for the cosmetics industry, the Personal Care Products Council.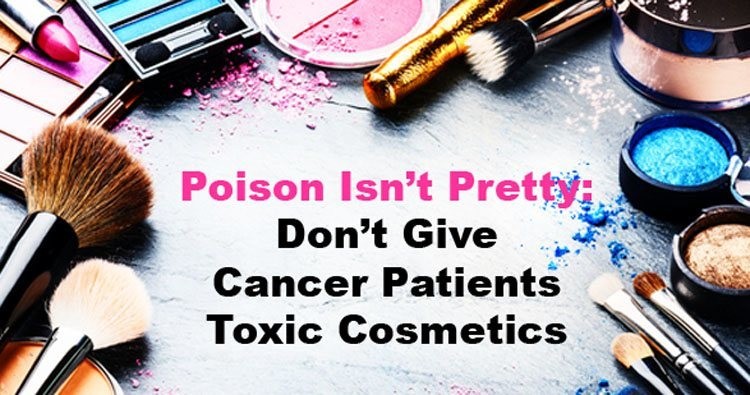 Photo credit: Shutterstock
Both the American Cancer Society and the Personal Care Products Council claim to care about women living with breast cancer, but when our members in active treatment for cancer sent us their kits to evaluate, we found out that the program is giving toxic products to women in cancer treatment.
Numerous products in the Look Good, Feel Better kits contain chemicals that are linked to increasing cancer risk and may even interfere with cancer treatment:
Parabens: Parabens are chemicals often used as preservatives in personal care products and can be absorbed through the skin. These chemicals may increase breast cancer risk by mimicking the hormone estrogen. Because breast cancer is a hormone-driven disease, common treatments target our hormones—and hormone disruptors like parabens may also interfere with the effectiveness of breast cancer treatment in addition to increasing our risk of disease. Scientists have found that breast cells that have been exposed to methylparaben in the lab are less responsive to the common breast cancer hormone therapy, Tamoxifen.
Formaldehyde releasers: Formaldehyde releasers are also used to preserve personal care products and can be absorbed through the skin. In order to prevent microbial growth, these chemicals slowly and continuously release small amounts of formaldehyde, a known human carcinogen.
Fragrance: "Fragrance" is a term used by companies to hide ingredients under the assertion that they are "trade secrets." The International Fragrance Association, an industry trade group, published a "transparency list" of more than 3,000 chemicals commonly used in fragrance. From this list, we know that "fragrance" conceals hormone disruptors and carcinogens. Fragrance also conceals sensitizers, allergenic fragrance ingredients that can, trigger asthma, sneezing, headaches and contact dermatitis. This is particularly concerning for women in cancer treatment.
Polytetrafluoroethylene (PTFE): Commonly known by the trade name Teflon, this chemical is used in cosmetics for smoother application of the product and to fill in fine lines and wrinkles on skin. PTFE can be contaminated with the possible carcinogen and hormone disruptor perfluorooctonoic acid (PFOA), which is linked to altering mammary gland development.
That's just a sample of the chemicals of concern we uncovered. Because not all Look Good, Feel Better kits are the same, there's no telling what's in the kits given to cancer patients.
The chemicals in these products are a serious concern for the program's volunteer cosmetologists, who donate their time to run the workshops, as well as for cancer patients. A recent report found that the breast cancer risk for cosmetologists is five times higher than the general population. Volunteers wanting to help women in cancer treatment should not have to put their own health at risk to do so.
The health risks of these cosmetics and personal care products extend to the general public as well. Anyone can purchase these products at local stores. Toxic cosmetics end up on store shelves and in make-up bags because regulation of cosmetic products is a sham. The personal care products industry is one of the least regulated industries in the U.S. Companies are not required to demonstrate a product is safe before it lands on store shelves—or in makeup kits. And the Personal Care Products Council spends millions of dollars lobbying against cosmetic safety regulations to make sure it stays that way.
The cosmetics and personal care industry claim that exposure to chemicals linked to increased cancer risk at low doses is harmless. But a clear and growing body of scientific evidence points to the role of environmental exposures, specifically human carcinogens and endocrine disrupting chemicals—even in low doses—in increasing women's risk of breast cancer. Cosmetics and personal care products are not one-time exposures; many of these products are used daily (or even more often) and multiple chemicals in multiple products add up.
The Campaign for Safe Cosmetics (CSC) and Environmental Working Group (EWG) provide useful resources for anyone interested in researching some of the chemicals to avoid. But the truth is that too little is known about the safety of many commonly-used chemicals. And there are examples where the replacements for certain chemicals have turned out to as bad or worse than the chemical they were replacing. None of us should feel like we need an advanced degree in science to go shopping. And so-called safer products should not be out of reach of low-income people who may not be able to afford premium prices. We should all be able to trust that the products on our shelves have been safety tested and we are all protected, no matter our educational background or income.
It's time the American Cancer Society and Personal Care Products Council stand together to protect cancer patients and prevent cancer in the first place. They need to ban companies from participating in the Look Good, Feel Better program if the chemicals used in their products are linked to increased breast cancer risk or interfere with breast cancer treatments.
Now that would really make us feel better.
Take action now to tell these pinkwashers that Poison Isn't Pretty by sending your letter to the Personal Care Products Council and the American Cancer Society to demand that no corporation that uses harmful chemicals in their personal care products is allowed to participate in the Look Good, Feel Better program!
YOU MIGHT ALSO LIKE
Lawsuits Mount Against Monsanto's 'Cancer-Causing' Weedkiller
86 Food Products Contain Possible Cancer-Causing Additive
Just Released: 100+ New Studies Demonstrating the Risks of Fracking
2.6 Billion Pounds of Monsanto's Glyphosate Sprayed on U.S. Farmland in Past Two Decades
By Itai Vardi
A recent intensification in protests against Williams Partners' planned Atlantic Sunrise pipeline in Pennsylvania prompted a state senator to propose legislation aimed at limiting demonstrations.
Last month, Pennsylvania Sen. Scott Martin (R-Norman) announced his intention to introduce legislation that would pass the costs of law enforcement responding to protests onto the demonstrators. Martin also helped introduce a different bill that would criminalize protests at natural gas facilities.
Keep reading...
Show less
Black Shogun / iStock
The Federal Energy Regulatory Commission (FERC) released its Final Environmental Impact Statement Friday for the Mountain Valley Pipeline, a controversial 303-mile pipeline that would carry two billion cubic feet of fracked gas per day from West Virginia through Virginia.
Keep reading...
Show less
Falcon PEV
The so-called "first and last mile" problem is one of the biggest hurdles with public transportation. How do you encourage more people to take Earth-friendlier commutes when their homes are miles away from the train or bus station?
One solution, as this Estonian electric scooter company proposes, is to simply take your commute with you—literally. Tallinn-based Stigo has developed a compact e-scooter that folds to the size of a rolling suitcase in about two seconds.
Keep reading...
Show less
Connect4Climate
[Editor's note: I'm still in shock after hearing the news that Lucia Grenna passed away in her sleep last week. When we first met in April of 2014 at a Copenhagen hotel, I was immediately taken by here powerful presence. We spent the next couple days participating in a Sustainia climate change event where Lucia presented her audacious plans to connect people to the climate issue. I had the chance to partner with Lucia on several other projects throughout the years and work with her incredible Connect4Climate team. I was always in awe of her ability to "make the impossible possible." Her spirit will live on forever. — Stefanie Spear]
It is with a heavy heart that Connect4Climate announces the passing of its founder and leading light, Lucia Grenna. Lucia passed peacefully in her sleep on June 15, well before her time. We remember her for her leadership and extraordinary ability to motivate people to take on some of the greatest challenges of our time, not least climate change.
Keep reading...
Show less
Jun. 23, 2017 07:29PM EST
Wikimedia Commons
By Stacy Malkan
Neil deGrasse Tyson has inspired millions of people to care about science and imagine themselves as participants in the scientific process. What a hopeful sign it is to see young girls wearing t-shirts emblazoned with the words, "Forget princess, I want to be an astrophysicist."
Keep reading...
Show less
Jun. 23, 2017 01:57PM EST
www.youtube.com
By Andy Rowell
Any day now we will truly witness climate change in action. Within days at worst, maybe weeks at best, scientists predict that a huge section of the Larsen C ice shelf in Antarctica will break off into the ocean, in what is called a major "carving" event.
Keep reading...
Show less
Jun. 23, 2017 02:27PM EST
www.youtube.com
President Trump visited Cedar Rapids, Iowa on June 21 to speak to a large crowd in the U.S. Cellular Center at a political rally organized by his campaign.
As Trevor Noah noted during The Daily Show episode last night (starts at 2:25), the real reason Trump has these rallies is to "get back in front of his loyal crowds and feed of their energy." Noah believes that "Trump supporters are so on board with their dude he can say anything and they'll come along for the ride."
Keep reading...
Show less
Jun. 23, 2017 07:50PM EST
The Kamuthi solar plant in the southern Indian state of Tamil Nadu.
The rapid growth in renewable energy continues to put a dent in the demand for coal.
Coal India, the world's biggest coal mining company and producer of 82 percent of the country's coal, announced the closure of 37 mines that are financially "unviable."
Keep reading...
Show less
Jun. 23, 2017 06:42PM EST
www.youtube.com
By Katie O'Reilly
Two years ago—long before coal became one of the most dominant and controversial symbols of the 2016 presidential election—Bloomberg Philanthropies approached production company RadicalMedia with the idea of creating a documentary exploring the U.S. coal mining industry. Last spring, they brought on Emmy-nominated director Michael Bonfiglio, tasked with forging a compelling story out of the multitudes of facts, statistics and narratives underlying the declining industry.
Keep reading...
Show less


Get EcoWatch in your inbox