Scientists Confirm: 93% of Great Barrier Reef Now Bleached
By Tierney Smith
The Great Barrier Reef is under siege from climate change and coal, with scientists confirming that 93 percent of the world heritage area is now suffering from severe coral bleaching.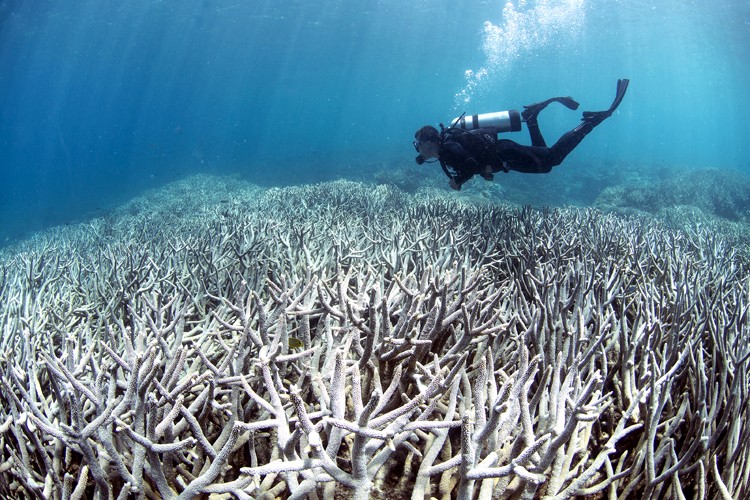 Photo credit: XL Catlin Seaview Survey
The unprecedented event, caused by climate change warming the ocean, is being called "an environmental assault on the largest coral ecosystem on Earth." Only around 50 percent of the impacted corals are expected to survive, and in some areas, only a mere 10 percent may recover.
So heavy is the toll, 56 scientists have once again called on the Australian government to phase out coal, and are taking ever greater message to their warnings are heard. The expansion of Australian coal is already having dire impacts on the Reef, and will continue to drive the climate impacts that are killing Australia's famous heritage site.
Yet despite the government's willingness to pick up the phone about the parlous state of the reef, they seem unwilling to acknowledge that it's way past time Australia ditched coal.
Key Points:
This vital ecosystem can be saved, but it will take extraordinary effort. The Great Barrier Reef is one of the world's most diverse ocean habitats, it generates more than $5 billion in tourism revenues and employs nearly 70,000 people. Despite this, the Australian government has recently approved a massive new coal mine in Queensland that will threaten the reef and see the country's emissions skyrocket. Only an end to coal expansion and exports will allow Australia to adequately protect the Reef.
Governments must favor coral over fossil fuels. The world is in the midst of a global coral bleaching event on scale with the worst ever bleaching on record and scientists warn dire predictions made on coral decline could now be realized. As leaders look to re-affirm their commitment to tackling climate change, they can show they are serious about protecting this vital marine ecosystem by urgently moving towards a fossil free and 100 percent renewable future.
YOU MIGHT ALSO LIKE
Largest Coral Atoll in the World Lost 80 Percent of Its Coral to Bleaching
Sardine Fishing Banned in Pacific Northwest as Stocks Hit Historic Low
Bill Nye vs. Sarah Palin on Climate Change: Who Do You Believe?
Scientists Start to Look at Ground Beneath Their Feet for Solution to Climate Change
www.youtube.com
Volkswagen is bringing back its hippie-approved minivan but with a 21st century upgrade—the new I.D. Buzz is all-electric.
The concept car was first revealed at the Detroit Auto Show in January and now the German automaker is officially putting its reinvigorated Microbus into production.
Keep reading...
Show less
I have asked repeatedly to have my short interview clip removed from this film. The director refuses. He believes his film is fair and balanced. I do not.

I am often interviewed (see media) and hardly ever quoted incorrectly or out of context. This film is one of those rare exceptions.
Keep reading...
Show less
Top of JPMorgan Chase Tower, Dallas, Texas. Joe Mabel / Wikimedia
Keep reading...
Show less
Cupping symptoms associated with dicamba damage on a cucumber plant. University of Arkansas.
Arkansas farmers filed a class-action lawsuit last week against Monsanto and German chemical company BASF, alleging that the companies' dicamba-based herbicides caused damage to their properties.
The plaintiffs claim that Monsanto and BASF implemented and controlled the dicamba crop system, releasing seed technology without a corresponding, safe and approved herbicide.
Keep reading...
Show less
Cup and bubblegum corals found in Northeast U.S. Canyons, the Atlantic's first marine monument. NOAA
Interior Sec. Ryan Zinke, who recently recommended a reduction in the size of the 1.35 million acre Bears Ears National Monument to President Trump, is advocating for more drilling and mining on public lands and waters.
The former Montana Rep. told Reuters that the development of America's protected federal lands could help the country become a "dominant" global energy force.
Keep reading...
Show less
Gage Skidmore / Flickr (CC BY-SA 2.0)
Dozens of scientists on the U.S. Environmental Protection Agency's (EPA) Board of Scientific Counselors and board subcommittees have been informed that they will not be renewed for their roles advising the agency, the Washington Post reported.
Keep reading...
Show less
www.youtube.com
Worried about the future of the Great Barrier Reef? If so, you're not alone.
Many publications have already written obituaries for the reef, despite the fact that it is not completely dead. Thanks to this video via Vox for sounding the alarm on this critical issue, before it's too late.
Keep reading...
Show less
Mike Mozart
By Olga V. Naidenko, Ph.D.
In a landmark rule with global repercussions, California state scientists are preparing to issue the world's first health guideline for Monsanto's glyphosate herbicide based on its cancer risk. The state's proposed safe level is more than 100 times lower than the U.S. Environmental Protection Agency's (EPA) legal allowance for the average-sized American.
Keep reading...
Show less
www.youtube.com
By Bob Henson
A high risk of life-threatening flooding continues on Wednesday over parts of the central Gulf Coast as Tropical Storm Cindy lumbers toward shore. The greatest flood threat will be across low-lying areas of far southern Mississippi and Alabama, according to the NWS/NOAA Weather Prediction Center. A second area with a moderate flood risk lies across far southeast Texas and southwest Louisiana.
Keep reading...
Show less