This website uses cookies to ensure you get the best experience while browsing it. By clicking 'Got It' you're accepting these terms.
Pomegranates: The Exotic Antioxidant Superfood
Jan. 20, 2015 08:49AM EST
Food
There's something faintly exotic about the pomegranate. At this time of year, there's usually an overflowing bin of them in the grocery produce department. Yet many people pass right by legendary fruit, unfamiliar with how to eat it or all the great health benefits it provides.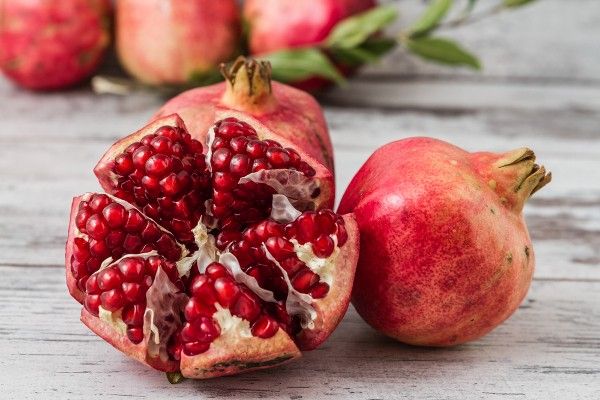 Photo credit: Shutterstock
A native of the Middle East, the pomegranate is mentioned in the Bible and the Koran. Some scholars believe that Eve's forbidden apple was really a pomegranate. It figures in Greek mythology in the story of Persephone and how her banishment to the underworld for six months of the year created the winter season. And they're a recurrent symbol in the art of many cultures from ancient Egypt through the present day.
But pomegranates are not a staple in most American diet, which is too bad. Widely available during the winter months in the U.S.—most coming from California—its hard, mottled, dark red shell makes it less appealing on display than an apple. If you have ever cut one open, you may have been put off by the mass of slippery wet seeds which need to be dug out from their surrounding membranes. They're not anything like most of the common fruits we eat—the apples and orange and pears and berries we all grew up with.
But give them a try—the work is worth it, and soaking the fruit will loosen the seeds to make them easier to eat. Those seeds have nice little crunch that explodes into a burst of moisture in your mouth. Their taste is smooth and mild with a little bit of a tart edge. And once you start to look at some of the health benefits they've been said in incur, you could become a really big fan.
For a start, pomegranates have been called the fruit of love, widely credited with being an aphrodisiac. There's some pretty good evidence that there's something to this. Pomegranate boosts testosterone levels and has been called "the natural Viagra." Women, don't worry: the effect isn't so strong that you'll start growing hair on your face.
In traditional medicine, pomegranate seeds were used as a digestive aid to cure diarrhea and other disruptions of the digestive system. Given that the seeds are an excellent source of fiber, that wasn't just folklore.
Nutrient-packed pomegranates are an excellent source of antioxidants, among the most of anything you can ingest included much-touted sources like blueberries and green tea. Their flavonoids and polyphenols have been credited with giving protection against an array of chronic aging diseases, including heart disease and cancer, and strengthening the immune system to fight off the bugs that are going around when pomegranates are in season.
There's another compound found only in pomegranates called punicalagin, which has a positive effect on heart health as well. It lowers cholesterol and blood pressure and some research has suggested that pomegranates keep blood vessels cleared of blockages from atherosclerotic plaque, a key factor in heart attacks.
There's a whole list of other health benefits that have been credited to pomegranates, and you may want to take some with a grain of salt. They include staving off a variety of cancers, including breast, prostate and colon cancer and leukemia, strengthening bones and preventing osteoporosis, and helping to overcome depression.
Whether or not pomegranates have all these miracle-working properties, they're still a healthy and tasty addition to any diet, an intriguing little treat to help lift the winter doldrums and take you away to exotic lands and ancient times through your taste buds.
YOU MIGHT ALSO LIKE
Why Antioxidants in Superfoods Are Essential to Your Diet
Cranberries: One of the World's Most Powerful Antioxidants
EcoWatch Daily Newsletter

georgeclerk / E+ / Getty Images
By Jennifer Molidor
One million species are at risk of extinction from human activity, warns a recent study by scientists with the United Nations. We need to cut greenhouse gas pollution across all sectors to avoid catastrophic climate change — and we need to do it fast, said the Intergovernmental Panel on Climate Change.
This research should serve as a rallying cry for polluting industries to make major changes now. Yet the agriculture industry continues to lag behind.
Edwin Remsburg / VW Pics / Getty Images
Botswana, home to one third of Africa's elephants, announced Wednesday that it was lifting its ban on the hunting of the large mammals.
"The Ministry of Environment, Natural Resources Conservation and Tourism wishes to inform the public that following extensive consultations with all stakeholders, the Government of Botswana has taken a decision to lift the hunting suspension," the government announced in a press release shared on social media.
Pxhere
By Richard Denison
Readers of this blog know how concerned EDF is over the Trump EPA's approval of many dozens of new chemicals based on its mere "expectation" that workers across supply chains will always employ personal protective equipment (PPE) just because it is recommended in the manufacturer's non-binding safety data sheet (SDS).
By Grant Smith
From 2009 to 2012, Gregory Jaczko was chairman of the Nuclear Regulatory Commission, which approves nuclear power plant designs and sets safety standards for plants. But he now says that nuclear power is too dangerous and expensive — and not part of the answer to the climate crisis.
A lake in Rocky Mountain National Park. Brett Walton / Circle of Blue
By Brett Walton
When Greg Wetherbee sat in front of the microscope recently, he was looking for fragments of metals or coal, particles that might indicate the source of airborne nitrogen pollution in Rocky Mountain National Park. What caught his eye, though, were the plastics.
Gabriele Holtermann Gorden / Pacific Press / LightRocket / Getty Images
In a big victory for animals, Prada has announced that it's ending its use of fur! It joins Coach, Jean Paul Gaultier, Giorgio Armani, Versace, Ralph Lauren, Vivienne Westwood, Michael Kors, Donna Karan and many others PETA has pushed toward a ban.
This is a victory more than a decade in the making. PETA and our international affiliates have crashed Prada's catwalks with anti-fur signs, held eye-catching demonstrations all around the world, and sent the company loads of information about the fur industry. In 2018, actor and animal rights advocate Pamela Anderson sent a letter on PETA's behalf urging Miuccia Prada to commit to leaving fur out of all future collections, and the iconic designer has finally listened.
Amer Ghazzal / Barcroft Media / Getty Images
If people in three European countries want to fight the climate crisis, they need to chill out more.
That's the conclusion of a new study from think tank Autonomy, which found that Germany, the UK and Sweden all needed to drastically reduce their workweeks to fight climate change.
Amazon Employees for Climate Justice held a press conference after the annual shareholder meeting on May 22. Amazon Employees for Climate Justice