This website uses cookies to ensure you get the best experience while browsing it. By clicking 'Got It' you're accepting these terms.
Pomegranates: The Exotic Antioxidant Superfood
Jan. 20, 2015 08:49AM EST
Food
There's something faintly exotic about the pomegranate. At this time of year, there's usually an overflowing bin of them in the grocery produce department. Yet many people pass right by legendary fruit, unfamiliar with how to eat it or all the great health benefits it provides.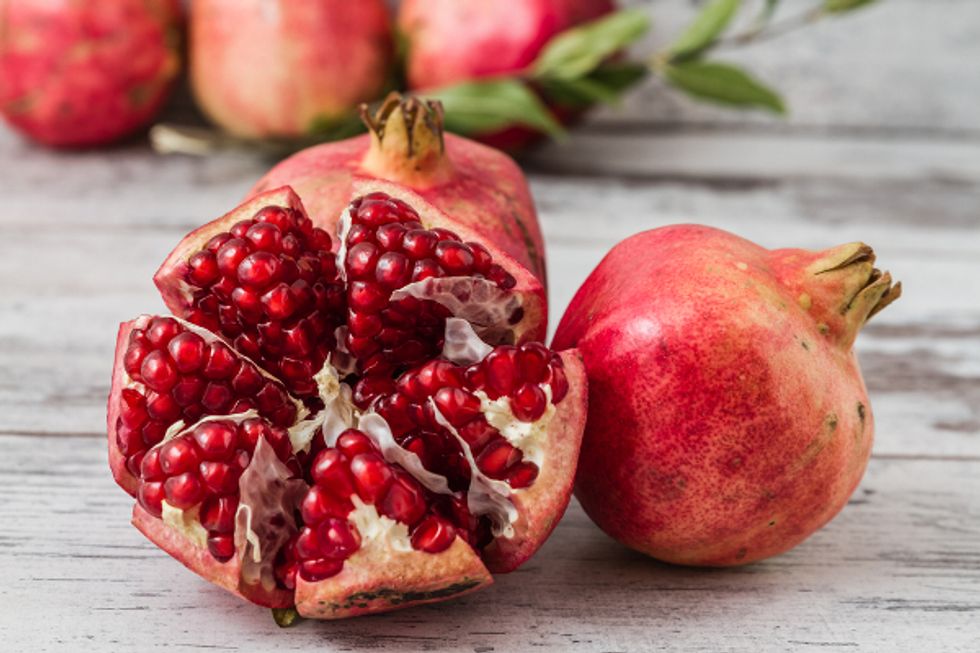 Photo credit: Shutterstock
A native of the Middle East, the pomegranate is mentioned in the Bible and the Koran. Some scholars believe that Eve's forbidden apple was really a pomegranate. It figures in Greek mythology in the story of Persephone and how her banishment to the underworld for six months of the year created the winter season. And they're a recurrent symbol in the art of many cultures from ancient Egypt through the present day.
But pomegranates are not a staple in most American diet, which is too bad. Widely available during the winter months in the U.S.—most coming from California—its hard, mottled, dark red shell makes it less appealing on display than an apple. If you have ever cut one open, you may have been put off by the mass of slippery wet seeds which need to be dug out from their surrounding membranes. They're not anything like most of the common fruits we eat—the apples and orange and pears and berries we all grew up with.
But give them a try—the work is worth it, and soaking the fruit will loosen the seeds to make them easier to eat. Those seeds have nice little crunch that explodes into a burst of moisture in your mouth. Their taste is smooth and mild with a little bit of a tart edge. And once you start to look at some of the health benefits they've been said in incur, you could become a really big fan.
For a start, pomegranates have been called the fruit of love, widely credited with being an aphrodisiac. There's some pretty good evidence that there's something to this. Pomegranate boosts testosterone levels and has been called "the natural Viagra." Women, don't worry: the effect isn't so strong that you'll start growing hair on your face.
In traditional medicine, pomegranate seeds were used as a digestive aid to cure diarrhea and other disruptions of the digestive system. Given that the seeds are an excellent source of fiber, that wasn't just folklore.
Nutrient-packed pomegranates are an excellent source of antioxidants, among the most of anything you can ingest included much-touted sources like blueberries and green tea. Their flavonoids and polyphenols have been credited with giving protection against an array of chronic aging diseases, including heart disease and cancer, and strengthening the immune system to fight off the bugs that are going around when pomegranates are in season.
There's another compound found only in pomegranates called punicalagin, which has a positive effect on heart health as well. It lowers cholesterol and blood pressure and some research has suggested that pomegranates keep blood vessels cleared of blockages from atherosclerotic plaque, a key factor in heart attacks.
There's a whole list of other health benefits that have been credited to pomegranates, and you may want to take some with a grain of salt. They include staving off a variety of cancers, including breast, prostate and colon cancer and leukemia, strengthening bones and preventing osteoporosis, and helping to overcome depression.
Whether or not pomegranates have all these miracle-working properties, they're still a healthy and tasty addition to any diet, an intriguing little treat to help lift the winter doldrums and take you away to exotic lands and ancient times through your taste buds.
YOU MIGHT ALSO LIKE
Why Antioxidants in Superfoods Are Essential to Your Diet
Cranberries: One of the World's Most Powerful Antioxidants
EcoWatch Daily Newsletter
A woman walks to her train in Grand Central Terminal as New York City attempts to slow down the spread of coronavirus through social distancing on March 27. John Lamparski / Getty Images
By Julia Conley
A council representing more than 800,000 doctors across the U.S. signed a letter Friday imploring President Donald Trump to reverse his call for businesses to reopen by April 12, warning that the president's flouting of the guidance of public health experts could jeopardize the health of millions of Americans and throw hospitals into even more chaos as they fight the coronavirus pandemic.
polaristest / Flickr / CC BY-NC-ND 2.0
By Melissa Kravitz Hoeffner
Over six gallons of water are required to produce one gallon of wine. "Irrigation, sprays, and frost protection all [used in winemaking] require a lot of water," explained winemaker and sommelier Keith Wallace, who's also a professor and the founder of the Wine School of Philadelphia, the largest independent wine school in the U.S. And water waste is just the start of the climate-ruining inefficiencies commonplace in the wine industry. Sustainably speaking, climate change could be problematic for your favorite glass of wine.
Pixabay
Spinach is a true nutritional powerhouse, as it's rich in vitamins, minerals, and antioxidants.
Pexels
By Jeff Turrentine
From day to day, our public health infrastructure — the people and systems we've put in place to keep populations, as opposed to individuals, healthy — largely goes unnoticed. That's because when it's working well, its success takes the form of utter normalcy.
By Eoin Higgins
A viral video showing cell phone data collected by location accuracy company X-Mode from spring break partiers potentially spreading the coronavirus around the U.S. has brought up questions of digital privacy even as it shows convincingly the importance of staying home to defeat the disease.