This website uses cookies to ensure you get the best experience while browsing it. By clicking 'Got It' you're accepting these terms.
'Out of Fashion' Campaign: Preserving the World's Endangered Forests
Sep. 05, 2014 03:40PM EST
As the lavish display of Fall Fashion Week gets under way this week in New York City, Rainforest Action Network (RAN) announced Out of Fashion: a campaign promoting forest friendly fabric.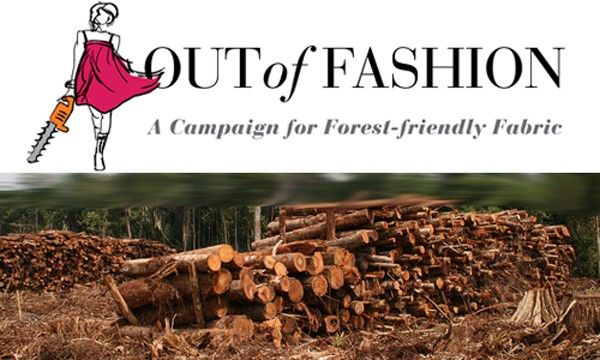 "Out of Fashion" is RAN's latest major effort to preserve the world's endangered forests. With this campaign, RAN is bringing attention to a growing global threat to forests, animals and Indigenous communities—a threat that has been hiding in plain sight for years: dissolving pulp. Dissolving pulp is a little-discussed yet highly influential commodity in today's marketplace. And the increased demand for this product is accelerating deforestation and exacerbating human rights abuses across the globe.
Big name fashion brands are complicit in the pulping of pristine forests—seizing Indigenous land, driving species loss and threatening the climate—all to manufacture a product that makes its way into the clothes we wear every day.
Over the next few days, RAN will introduce you to this destructive industry—and how Rainforest Action Network is planning to take it on.
The Context
Recently, RAN told you about the devastating impact that the production of wood pulp by paper giant Toba Pulp Lestari is having on the communities and forests of North Sumatra. Amazingly enough, this pulp makes its way into countless everyday products, like books, office paper and packaging.
But the production of dissolving wood pulp is an equally problematic issue. Dissolving pulp is an ingredient found in an even wider variety of products such as cosmetics, food, household product, sanitary products—and clothing that we wear every day.
So, wait. Trees are in my clothes?
Shockingly, yes, if you are wearing rayon, viscose, modal or tencel. The most prevalent type of this pulp is Rayon grade pulp, which is a core component of a textile called viscose staple fiber (VSF). This is what we'll be focusing on, since VSF represents a large market share—and the production of VSF is responsible for 90 percent of the dissolving pulp expansion.
This fiber can be found in blended fabrics or on its own and it has been slowly replacing cotton as a cheaper alternative. It can also be found in polyester to create a more "high-end" feel and is present in many best selling  brands.
What are the problems with dissolving pulp?
The quest for cheaply produced dissolving pulp is leaving an incredibly destructive footprint on the globe and has been a significant driver of human rights abuses, land grabbing, natural forest conversion, the development of carbon-emitting peatlands, climate change, biodiversity loss, and toxics pollution. Every year, more than 70 million trees are turned into clothing through the dissolving pulp process. And the process is almost criminally inefficient: only 30 percent of tree matter is actually useable for clothing. The other 70 percent becomes waste. With pulp mills all over the world, including in Indonesia, Canada and Brazil, the industry is diffuse and the supply chain difficult to pin down.
One of the challenges in confronting this problem is that dissolving pulp is very difficult to trace. When we launched our campaign to eliminate rainforest destruction from books and printed materials, we could perform independent fiber testing of books to determine the species of tree and country of origin. Since the production of dissolving pulp requires a much higher toxic chemical load the trees' DNA is virtually destroyed, making it practically impossible to pinpoint the origin of the fiber. This creates an "opaque"  supply chain, one in which the companies themselves must be active and responsible in policing to avoid contamination from conflict pulp and the timber used to produce it.
What's next? Join us on the journey to get rainforest destruction out of fashion.
Not sure if you're wearing rainforest destruction? Go ahead and look in your closet. And definitely have a look the next time you shop—do you see rayon or viscose on the label? Beware: you could be buying rainforest destruction.
RAN will be telling you more about dissolving pulp in the coming weeks and how this driver of rainforest destruction is making its way into your clothes. Join RAN in confronting this global threat to forests and sign the petition to send a clear message to fashion companies: We want deforestation and human rights abuses out of our clothing.
YOU MIGHT ALSO LIKE
Canadian Tycoon Clashes With Environmentalists in the Bahamas
Passenger Pigeons and the Destructive Power of Humans
Ocean Acidification Threatens Economies and Cultures Around the World
EcoWatch Daily Newsletter
Ryan Hagerty / USFWS
It's become a familiar story with the Trump administration: Scientists write a report that shows the administration's policies will cause environmental damage, then the administration buries the report and fires the scientists.
A coalition of some of the largest environmental groups in the country joined forces to file a lawsuit in federal court challenging the Trump administration's maneuver to weaken the Endangered Species Act.
beyond foto / Getty Images
By Kimberly Holland
Children who eat a lot of gluten in their earliest years may have an increased risk of developing celiac disease and gluten intolerance, according to a new study published in JAMATrusted Source.
Joe Raedle / Getty Images
By Jake Johnson
Calling the global climate crisis both the greatest threat facing the U.S. and the greatest opportunity for transformative change, Sen. Bernie Sanders unveiled today a comprehensive Green New Deal proposal that would transition the U.S. economy to 100 percent renewable energy and create 20 million well-paying union jobs over a decade.
The Parties to CITES agreed to list giraffes on Appendix II of the Convention on International Trade in Endangered Species (CITES) today at the World Wildlife Conference or CoP18 in Geneva. Such protections will ensure that all giraffe parts trade were legally acquired and not sourced from the poached giraffes trade and will require countries to make non-detriment findings before allowing giraffe exports. The listing will also enable the collection of international trade data for giraffes that might justify greater protections at both CITES and other venues in the future.

The WHO stressed that more research is needed on the potential health risks of microplastic ingestion. luchschen / iStock / Getty Images Plus
The UN's health agency on Thursday said that microplastics contained in drinking water posed a "low" risk at their current levels.
However, the World Health Organization (WHO) — in its first report on the potential health risks of microplastic ingestion — also stressed more research was needed to reassure consumers.
Brazil's right-wing President Jair Bolsonaro is giving President Trump a run for his money in the alternative facts department.
Washington Gov. Jay Inslee, who made solving the climate crisis the center of his presidential campaign, is dropping out of the 2020 Democratic primary race.