This website uses cookies to ensure you get the best experience while browsing it. By clicking 'Got It' you're accepting these terms.
Nation's Leading Yogurt Maker Will Remove GMO Ingredients and Source Milk From Non-GMO Fed Cows
Apr. 27, 2016 10:04AM EST
Two more major food companies, Dannon and Hershey Co., are making big changes to their ingredients in products sold nationwide as the July 1 deadline for Vermont's law—which requires the labeling of genetically modified (GMO) food products sold in the state—approaches.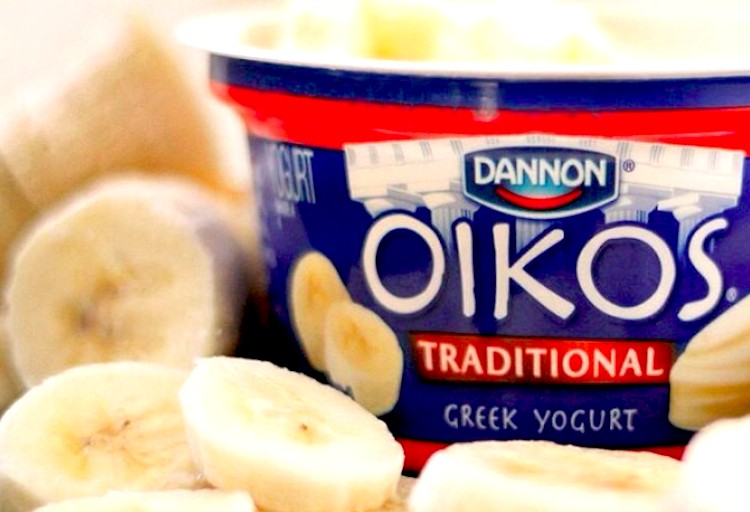 Yogurt maker Dannon is removing GMOs from its popular products. Photo credit: Instagram
The nation's leading yogurt maker announced today that its three flagship brands, Dannon, Oikos and Danimals, will move to more natural ingredients that are not synthetic and non-GMO. These brands represent 50 percent of the company's current volume.
Additionally, for these three brands, the feed of its farmers' cows will be non-GMO, as per the company announcement:
For the company's foundation ingredient—milk—Dannon is going one big step further. Starting in 2017 and completing the transformation by the end of 2018, Dannon will work with its farmer partners to ensure that the cows that supply Dannon's milk for these flagship products will be fed non-GMO feed, a first for a leading non-organic yogurt maker.
The New York Times reported that Dannon will set up a direct pipeline to some farms that supply the company with milk as well as a new supply system in which farmers in the program must follow Dannon-dictated animal welfare standards and work to improve and conserve soil on their farms.
"Engaging in this direct way with our milk suppliers allows us to join them in a journey to improve agricultural practices and reduce their footprint on the environment, which in turn reduces Dannon's footprint on the environment," Mariano Lozano, chief executive of the Dannon Company, told the newspaper.
"For the last many decades, we've had a system that encourages short-term efficiencies at the expense of soil health, animal welfare and biodiversity," Lozano continued. "We want to play a part in changing that system."
The White Plains, New York-based company, which sells more than 200 different flavors, styles and sizes of cultured refrigerated and frozen dairy products, has pledged to "evolve the remaining brands over time."
Dannon said its overall aim is to "increase transparency" in its products and "evolve to more natural and fewer ingredients for flagship brands."
Dannon has also committed to labeling all its products that contain GMO ingredients by December 2017 as it favors a nationwide labeling system.
Similarly, Hershey CEO Hershey CEO J.P. Bilbrey said in a Tuesday conference call that the chocolate-maker will also make changes to their products to comply with Vermont's label law.
"We will abide by what's happening in Vermont and label as appropriate," Reuters quoted him saying.
He added that he hopes "at federal level there is clarity brought to this [GMO labeling] question because it becomes an interstate commerce issue."
EcoWatch reported last year that the candy giant already committed to swapping GMO sugar beet for cane sugar and switching to non-GMO soy lecithin for their most popular chocolate brands, including Hershey's Kisses Milk Chocolates and Hershey's Milk Chocolate Bars.
Bilbrey also said that his company's sales in the most recent quarter declined 4.3 percent in North America, specifically pointing out that consumers are starting to prefer healthier ingredients and transparency, Fortune reported. Polls show that the vast majority of Americans, 89 percent, want the federal government to require labels on genetically engineered food.
Bilbrey pointed to Hershey's recent acquisition of non-GMO chocolate brand barkTHINS as an example that the iconic chocolate brand is changing with the times.
"Since its launch in 2013, barkTHINS has quickly become a favorite snack brand, due to its commitment to using simple ingredients, fair trade cocoa and non-GMO certification," Bilbrey said. "barkTHINS is a very attractive and uniquely crafted brand that essentially created the chocolate thins category, a new form of chocolate stacking."
Dannon and Hershey are following in the footsteps of other food giants. In recent months companies such as Campbell Soup, General Mills, Kellogg, Mars, ConAgra and Frito-Lay have voluntarily decided to disclose if their products contain GMOs. Following Vermont, many other states are also considering their own GMO label laws.
For such a tiny state, little Vermont's looming labeling mandate has sparked major controversy. EcoWatch reported previously that powerful food and beverage trade organizations have heavily lobbied and spent eye-popping sums to fight state-by-state labeling mandates to prevent a patchwork of different state labeling laws. Food organizations also argue that labeling specifically for GMOs will be costly to the consumer.
Big Food, however, was dealt a huge blow this past March when the Senate rejected Sen. Pat Roberts' (R-Kan.) Safe and Accurate Food Labeling Act (SAFE). The bill, dubbed by opponents as the Denying Americans the Right to Know Act or DARK Act, would have prevented states—namely Vermont—from requiring labeling of GMOs and stopped pending state laws that require labeling to go into effect.
YOU MIGHT ALSO LIKE
GMO Mushroom Sidesteps UDSA Regulations
150 European Parliament Members to Test Urine for Glyphosate
What Will Happen When Genetically Engineered Salmon Escape Into the Wild?
Africa's Traditional Crops Under Threat as Big Ag, Gates Foundation 'Donate' GMO Technology
Prince William and British naturalist David Attenborough attend converse during the World Economic Forum annual meeting, on January 22 in Davos, Switzerland. Fabrice Cofferini /AFP / Getty Images
Britain's Prince William interviewed famed broadcaster David Attenborough on Tuesday at the World Economic Forum's annual meeting in Switzerland.
During the sit-down, the 92-year-old naturalist advised the world leaders and business elite gathered in Davos this week that we must respect and protect the natural world, adding that the future of its survival—as well as humanity's survival—is in our hands.
Electric vehicle sales took off in 2018, with a record two million units sold around the world, according to a new Deloitte analysis.
What's more, the accounting firm predicts that another 21 million electric cars will be on the road globally over the next decade due to growing market demand for clean transportation, government subsidies, as well as bans on fossil fuel cars.
Teenager Alex Weber and friends collected nearly 40,000 golf balls hit into the ocean from a handful of California golf courses.
Alex Weber /
CC BY-ND
Southwest Greenland had the most consistent ice loss from 2003 to 2012. Eqalugaarsuit, Ostgronland, Greenland on Aug. 1, 2018.
Rob Oo / CC BY 2.0
Greenland is melting about four times faster than it was in 2003, a new study published Monday in the Proceedings of the National Academy of Sciences found, a discovery with frightening implications for the pace and extent of future sea level rise.
"We're going to see faster and faster sea level rise for the foreseeable future," study lead author and Ohio State University geodynamics professor Dr. Michael Bevis said in a press release. "Once you hit that tipping point, the only question is: How severe does it get?"
Finally, some good news about the otherwise terrible partial government shutdown. A federal judge ruled that the Trump administration cannot issue permits to conduct seismic testing during the government impasse.
The Justice Department sought to delay—or stay—a motion filed by a range of coastal cities, businesses and conservation organizations that are suing the Trump administration over offshore oil drilling, Reuters reported. The department argued that it did not have the resources it needed to work on the case due to the shutdown.
Most people have heard of the Amazon, South America's famed rainforest and hub of biological diversity. Less well known, though no less critical, is the Pantanal, the world's largest tropical wetland.
Like the Amazon, the Pantanal is ecologically important and imperiled. Located primarily in Brazil, it also stretches into neighboring Bolivia and Paraguay. Covering an area larger than England at more than 70,000 square miles, the massive wetland provides irreplaceable ecosystem services that include the regulation of floodwaters, nutrient renewal, river flow for navigability, groundwater recharge and carbon sequestration. The wetland also supports the economies of the four South American states it covers.
Demonstrators participate in a protest march over agricultural policy on Jan. 19 in Berlin, Germany. Carsten Koall / Getty Images Europe
By Andrea Germanos
Organizers said 35,000 people marched through the streets of the German capital on Saturday to say they're "fed up" with industrial agriculture and call for a transformation to a system that instead supports the welfare of the environment, animals and rural farmers.

The fire that erupted after a pipeline explosion in Mexico Friday. FRANCISCO VILLEDA / AFP / Getty Images
By Patrick Rogers
If you have ever considered making the switch to an environmentally friendly electric vehicle, don't drag your feet. Though EV prices are falling, and states are unveiling more and more public charging stations and plug-in-ready parking spots, the federal government is doing everything it can to slam the brakes on our progress away from gas-burning internal combustion engines. President Trump, likely pressured by his allies in the fossil fuel industry, has threatened to end the federal tax credits that have already helped put hundreds of thousands of EVs on the road—a move bound to harm not only our environment but our economy, too. After all, the manufacturing and sale of EVs, hybrids, and plug-in hybrids supported 197,000 jobs in 2017, according to the most recent U.S. Energy and Employment Report.