This website uses cookies to ensure you get the best experience while browsing it. By clicking 'Got It' you're accepting these terms.
Michael Moore: 10 Things They Won't Tell You About the Flint Water Tragedy, But I Will
Jan. 30, 2016 09:05AM EST
Popular
News of the poisoned water crisis in Flint has reached a wide audience around the world. The basics are now known: the Republican governor, Rick Snyder, nullified the free elections in Flint, deposed the mayor and city council, then appointed his own man to run the city. To save money, they decided to unhook the people of Flint from their fresh water drinking source, Lake Huron, and instead, make the public drink from the toxic Flint River.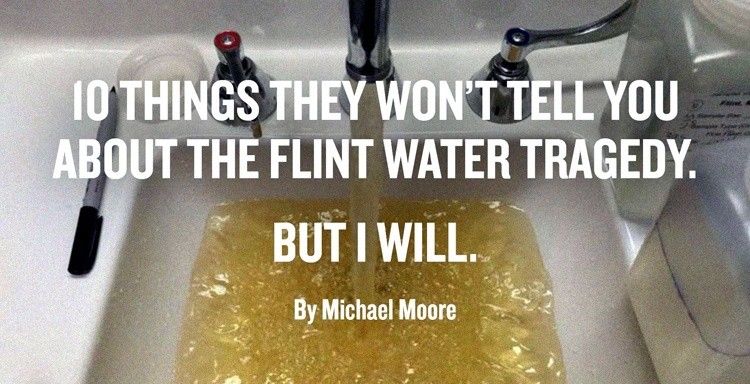 When the governor's office discovered just how toxic the water was, they decided to keep quiet about it and covered up the extent of the damage being done to Flint's residents, most notably the lead affecting the children, causing irreversible and permanent brain damage. Citizen activists uncovered these actions, and the governor now faces growing cries to resign or be arrested.
Here are 10 things that you probably don't know about this crisis because the media, having come to the story so late, can only process so much. But if you live in Flint or the State of Michigan as I do, you know all to well that what the greater public has been told only scratches the surface.
1. While the Children in Flint Were Given Poisoned Water to Drink, General Motors Was Given a Special Hookup to the Clean Water.
A few months after Gov. Snyder removed Flint from the clean fresh water we had been drinking for decades, the brass from General Motors went to him and complained that the Flint River water was causing their car parts to corrode when being washed on the assembly line. The governor was appalled to hear that GM property was being damaged, so he jumped through a number of hoops and quietly spent $440,000 to hook GM back up to the Lake Huron water, while keeping the rest of Flint on the Flint River water. Which means that while the children in Flint were drinking lead-filled water, there was one—and only one—address in Flint that got clean water: the GM factory.
2. For Just $100 a Day, This Crisis Could've Been Prevented.
Federal law requires that water systems which are sent through lead pipes must contain an additive that seals the lead into the pipe and prevents it from leaching into the water. Someone at the beginning suggested to the governor that they add this anti-corrosive element to the water coming out of the Flint River. "How much would that cost?" came the question. "$100 a day for three months," was the answer. I guess that was too much, so, in order to save $9,000, the state government said f*** it—and as a result the State may now end up having to pay upwards of $1.5 billion to fix the mess.
3. There's More Than the Lead in Flint's Water.
In addition to exposing every child in the city of Flint to lead poisoning on a daily basis, there appears to be a number of other diseases we may be hearing about in the months ahead. The number of cases in Flint of Legionnaires Disease has increased tenfold since the switch to the river water. Eighty-seven people have come down with it, and at least ten have died. In the five years before the river water, not a single person in Flint had died of Legionnaires Disease. Doctors are now discovering that another half-dozen toxins are being found in the blood of Flint's citizens, causing concern that there are other health catastrophes which may soon come to light.
4. People's Homes in Flint Are Now Worth Nothing Because They Cant Be Sold.
Would you buy a house in Flint right now? Who would? So every homeowner in Flint is stuck with a house that's now worth nothing. That's a total home value of $2.4 billion down the economic drain. People in Flint, one of the poorest cities in the U.S., don't have much to their name, and for many their only asset is their home. So, in addition to being poisoned, they have now a net worth of zero. (And as for employment, who is going to move jobs or start a company in Flint under these conditions? No one.) Has Flint's future just been flushed down that river?
5. While They Were Being Poisoned, They Were Also Being Bombed.
Here's a story which has received little or no coverage outside of Flint. During these two years of water contamination, residents in Flint have had to contend with a decision made by the Pentagon to use Flint for target practice. Literally. Actual unannounced military exercises—complete with live ammo and explosives – were conducted last year inside the city of Flint. The army decided to practice urban warfare on Flint, making use of the thousands of abandoned homes which they could drop bombs on. Streets with dilapidated homes had rocket-propelled grenades fired upon them. For weeks, an undisclosed number of army troops pretended Flint was Baghdad or Damascus and basically had at it. It sounded as if the city was under attack from an invading army or from terrorists. People were shocked this could be going on in their neighborhoods. Wait—did I say "people?" I meant, Flint people. As with the governor, it was OK to abuse a community that held no political power or money to fight back. BOOM!
EcoWatch Daily Newsletter
Extreme weather events supercharged by climate change in 2012 led to nearly 1,000 more deaths, more than 20,000 additional hospitalizations, and cost the U.S. healthcare system $10 billion, a new report finds.
Giant sequoia trees at Sequoia National Park, California. lucky-photographer / iStock / Getty Images Plus
A Bay Area conservation group struck a deal to buy and to protect the world's largest remaining privately owned sequoia forest for $15.6 million. Now it needs to raise the money, according to CNN.
This aerial view shows the Ogasayama Sports Park Ecopa Stadium, one of the venues for 2019 Rugby World Cup. MARTIN BUREAU / AFP / Getty Images
The Rugby World Cup starts Friday in Japan where Pacific Island teams from Samoa, Fiji and Tonga will face off against teams from industrialized nations. However, a new report from a UK-based NGO says that when the teams gather for the opening ceremony on Friday night and listen to the theme song "World In Union," the hypocrisy of climate injustice will take center stage.
Vera_Petrunina / iStock / Getty Images Plus
By Wudan Yan
In June, New York Times journalist Andy Newman wrote an article titled, "If seeing the world helps ruin it, should we stay home?" In it, he raised the question of whether or not travel by plane, boat, or car—all of which contribute to climate change, rising sea levels, and melting glaciers—might pose a moral challenge to the responsibility that each of us has to not exacerbate the already catastrophic consequences of climate change. The premise of Newman's piece rests on his assertion that traveling "somewhere far away… is the biggest single action a private citizen can take to worsen climate change."

Volunteer caucasian woman giving grain to starving African children.
Bartosz Hadyniak / E+ / Getty Images
Food will be scarce, expensive and less nutritious," CNN warns us in its coverage of the UN's new "Climate Change and Land" report. The New York Times announces that "Climate Change Threatens the World's Food Supply."
By Adam Vaughan
Two-thirds of people in the UK think the amount people fly should be reined in to tackle climate change, polling has found.
Climate Week NYC
On Monday, Sept. 23, the Climate Group will kick off its 11th annual Climate Week NYC, a chance for governments, non-profits, businesses, communities and individuals to share possible solutions to the climate crisis while world leaders gather in the city for the UN Climate Action Summit.
By Pam Radtke Russell in New Orleans
Local TV weather forecasters have become foot soldiers in the war against climate misinformation. Over the past decade, a growing number of meteorologists and weathercasters have begun addressing the climate crisis either as part of their weather forecasts, or in separate, independent news reports to help their viewers understand what is happening and why it is important.