This website uses cookies to ensure you get the best experience while browsing it. By clicking 'Got It' you're accepting these terms.


The best of EcoWatch, right in your inbox. Sign up for our email newsletter!
I need one of you to help me. It might get dangerous. It may get us in trouble. But we're running out of time. We must act. It's our patriotic duty.

From the time you opened this letter to the time you get to the bottom of it, there's a decent chance that our president will have violated the constitution, obstructed justice, lied to the American people, encouraged or supported acts of violence or committed some horrible mistake that would've ended any other politician's career (or sent you or I to jail). And just like all the times he's done so in the past, he will get away with it.
Illustration by Dayanita Ramesh
In 2016, major environmental crises that disproportionately affect people of color—such as the Flint water crisis and the fight over the location of the Dakota Access Pipeline—were under-covered by the national media for long periods, despite being reported by local and state media early on. The national media's failure to spotlight these environmental issues as they arise effectively shuts the people in danger out of the national conversation, resulting in delayed political action and worsening conditions.
EcoWatch Daily Newsletter
By Kevin Kalhoefer and Andrew Seifter

Donald Trump and the presidential election dominated news coverage in 2016. But talking heads still found plenty of time to make jaw-dropping comments about climate change, energy and the environment. This year's list of ridiculous claims includes a dangerous conspiracy theory about Hurricane Matthew, over-the-top worship of fracking and coal and absurd victim-blaming around the Flint water crisis.
By Nadia Prupis
A Reuters investigation this week uncovered nearly 3,000 different communities across the U.S. with lead levels higher than those found in Flint, Michigan, which has been the center of an ongoing water contamination crisis since 2014.
The investigation found that many of the hot-spots are receiving little attention or funding. Local healthcare advocates said they hope the reporting will spur action from influential community leaders.
All of the communities Reuters investigated had lead levels at least two times higher than Flint's; more than 1,000 were four times higher. In most cases, the local data covered a 5- to 10-year period through 2015, the analysis states.
Areas affected by lead poisoning populate the map from Texas to Pennsylvania, reported Reuters' M.B. Pell and Joshua Schneyer. The available data charts 21 states that are home to about 61 percent of the U.S. population.

Despite the massive drop in lead poisoning rates since the 1970s—when heavy metals were phased out of paint and gasoline—many communities throughout the country are still at risk.
"The national mean doesn't mean anything for a kid who lives in a place where the risks are much higher," said Dr. Helen Egger, chair of Child and Adolescent Psychiatry at NYU Langone Medical Center's Child Study Center.
Like Flint, many of the communities are mired in "legacy lead," Reuters reported—old industrial waste, crumbling paint or corrosive pipes. But few have received help or attention.

Contamination in children can cause cognitive difficulties, which in turn can lead to low school performance, few job opportunities and trouble with the law. That cycle was examined last year when 25-year-old Baltimore resident Freddie Gray died after his spine was severed in police custody. Amid protests against brutality and racism, many noted that Gray experienced lead poisoning as a child while living in an area with persistently high exposure levels.
But the problem is nationwide and affects a vast spectrum of communities, Reuters writes. Milwaukee, Wisconsin still has "135,000 prewar dwellings with lead paint and 70,000 with lead water service lines" and $50 million has already been spent to protect the city's children. Many families do not have the funds to make the repairs themselves and laws requiring owners to remove lead from their properties are not consistent state by state.
"Reporters visited several of the trouble spots: a neighborhood with many rundown homes in South Bend, Indiana; a rural mining town in Missouri's Lead Belt; the economically depressed North Side of Milwaukee," Pell and Schneyer write. "In each location, it was easy to find people whose lives have been impacted by lead exposure. While poverty remains a potent predictor of lead poisoning, the victims span the American spectrum—poor and rich, rural and urban, black and white."

In St. Joseph, Missouri, one of the most contaminated neighborhoods included in the study, even a local pediatrician's children had lead poisoning.
Earlier this month, the U.S. Senate approved a $170 million aid package to repair Flint's corrosive pipes and fund recovery efforts. But that is 10 times the budget the U.S. Centers for Disease Control and Prevention (CDC) allotted for lead poisoning assistance this year, Reuters notes.
"I hope this data spurs questions from the public to community leaders who can make changes," epidemiologist Robert Walker, co-chair of the CDC's Lead Content Work Group, told Reuters. "I would think that it would turn some heads."
Reposted with permission from our media associate Common Dreams.
Noam Chomsky speaks in Buenos Aires, Argentina, on March 12, 2015.
By C.J. Polychroniou
On Nov. 8, Donald Trump managed to pull the biggest upset in U.S. politics by tapping successfully into the anger of white voters and appealing to the lowest inclinations of people in a manner that would have probably impressed Nazi propagandist Joseph Goebbels himself.
But what exactly does Trump's victory mean and what can one expect from this megalomaniac when he takes over the reins of power on Jan. 20, 2017? What is Trump's political ideology, if any and is "Trumpism" a movement? Will U.S. foreign policy be any different under a Trump administration? Some years ago, public intellectual Noam Chomsky warned that the political climate in the U.S. was ripe for the rise of an authoritarian figure. Now, he shares his thoughts on the aftermath of this election, the moribund state of the U.S. political system and why Trump is a real threat to the world and the planet in general.
Q. Noam, the unthinkable has happened: In contrast to all forecasts, Donald Trump scored a decisive victory over Hillary Clinton, and the man that Michael Moore described as a "wretched, ignorant, dangerous part-time clown and full-time sociopath" will be the next president of the U.S. In your view, what were the deciding factors that led American voters to produce the biggest upset in the history of U.S. politics?
A. Noam Chomsky
Before turning to this question, I think it is important to spend a few moments pondering just what happened on Nov. 8, a date that might turn out to be one of the most important in human history, depending on how we react.
No exaggeration.
The most important news of Nov. 8 was barely noted, a fact of some significance in itself.
On Nov. 8, the World Meteorological Organization (WMO) delivered a report at the international conference on climate change in Morocco (COP22) which was called in order to carry forward the Paris agreement of COP21. The WMO reported that the past five years were the hottest on record. It reported rising sea levels, soon to increase as a result of the unexpectedly rapid melting of polar ice, most ominously the huge Antarctic glaciers. Already, Arctic sea ice over the past five years is 28 percent below the average of the previous 29 years, not only raising sea levels, but also reducing the cooling effect of polar ice reflection of solar rays, thereby accelerating the grim effects of global warming. The WMO reported further that temperatures are approaching dangerously close to the goal established by COP21, along with other dire reports and forecasts.
Another event took place on Nov. 8, which also may turn out to be of unusual historical significance for reasons that, once again, were barely noted.

On Nov. 8, the most powerful country in world history, which will set its stamp on what comes next, had an election. The outcome placed total control of the government—executive, Congress, the Supreme Court—in the hands of the Republican Party, which has become the most dangerous organization in world history.
Apart from the last phrase, all of this is uncontroversial. The last phrase may seem outlandish, even outrageous. But is it? The facts suggest otherwise. The party is dedicated to racing as rapidly as possible to destruction of organized human life. There is no historical precedent for such a stand.
Is this an exaggeration? Consider what we have just been witnessing.
During the Republican primaries, every candidate denied that what is happening is happening—with the exception of the sensible moderates, like Jeb Bush, who said it's all uncertain, but we don't have to do anything because we're producing more natural gas, thanks to fracking. Or John Kasich, who agreed that global warming is taking place, but added that "we are going to burn [coal] in Ohio and we are not going to apologize for it."
The winning candidate, now the president-elect, calls for rapid increase in use of fossil fuels, including coal; dismantling of regulations; rejection of help to developing countries that are seeking to move to sustainable energy; and in general, racing to the cliff as fast as possible.
Trump has already taken steps to dismantle the U.S. Environmental Protection Agency (EPA) by placing in charge of the EPA transition a notorious (and proud) climate change denier, Myron Ebell. Trump's top adviser on energy, billionaire oil executive Harold Hamm, announced his expectations, which were predictable: dismantling regulations, tax cuts for the industry (and the wealthy and corporate sector generally), more fossil fuel production, lifting Obama's temporary block on the Dakota Access Pipeline.
The market reacted quickly. Shares in energy corporations boomed, including the world's largest coal miner, Peabody Energy, which had filed for bankruptcy, but after Trump's victory, registered a 50 percent gain.
The effects of Republican denialism had already been felt. There had been hopes that the COP21 Paris agreement would lead to a verifiable treaty, but any such thoughts were abandoned because the Republican Congress would not accept any binding commitments, so what emerged was a voluntary agreement, evidently much weaker.

By Lauren McCauley
The state of Michigan has reportedly issued preliminary approval for bottled water behemoth Nestlé to nearly triple the amount of groundwater it will pump, to be bottled and sold at its Ice Mountain plant, which lies roughly 120 miles northwest of the beleaguered community of Flint.
"Nestlé Waters North America is asking the Michigan Department of Environmental Quality (DEQ) for permission to increase allowed pumping from 150 to 400 gallons-per-minute at one of its production wells north of Evart," MLive reported on Monday.
"The issue is the privatization of a critical resource. How much is too much?" said Jeff Ostahowski, vice president of the Michigan Citizens for Water Conservation. Steven Depolo / Flickr
"The DEQ Water Resources Division conducted a site review and signed-off on the pumping increase in January, but the Office of Drinking Water and Municipal Assistance is approving the permit," the report continued. The agency is accepting public comment on the proposal until Thursday, Nov. 3.

While Nestlé and other bottled water companies have rankled many communities for privatizing their public water supply, the news particularly stung in Michigan, where citizens have faced a years-long nightmare over lead contamination in their drinking water. Many residents of Flint are still forced to rely on bottled water for cleaning, cooking and bathing as government delays have hampered efforts to replace the corroded pipes.
Meanwhile, the report notes that company representatives defended the need to expand the facility because "U.S. market for bottled water in general is driving the bid for more Michigan groundwater."
What's more, Nestlé, the biggest food company in the world, gets to pump that water at no cost. As MLive reports, "Michigan law allows any private property owner to withdraw from the aquifer under their property for free, subject only to a nominal $200 annual paperwork fee. The interstate Great Lakes compact prohibits water diversions outside of the Great Lakes basin, but a bottling exemption within the law allows water to be sold outside the region if it's shipped in bottles smaller than 5.7 gallons."
"The issue is the privatization of a critical resource. How much is too much?" said Jeff Ostahowski, vice president of the Michigan Citizens for Water Conservation, which for years fought against Nestlé's expansion in the state.
When contacted by MLive for comment, Ostahowski said he wasn't even aware of the new proposal. But as news spread on social media, the outrage was palpable:
Reposted with permission from our media associate Common Dreams.
[Editor's note: So you want to watch Trumpland? You can now watch it via iTunes, by clicking here.]
By Sydney Robinson

On Tuesday, we shared that filmmaker and social commentator Michael Moore had just released a surprise film, Michael Moore in Trumpland.
Coming on the tail of his exploration of U.S. foreign relations and our history of war, Moore released Where to Invade Next earlier this year. But apparently that wasn't enough to keep Moore busy, so he released this second film.
When we first reported on this story, we didn't have any details as to how a regular Joe Schmo in any place other than New York City could see the film. With less than three weeks until the election, time is clearly running out for Americans to see the film and allow it to shape their political views before they head to the ballot box.

But now, Moore has teased on his Twitter account Wednesday that the film will be accessible to everyone in the U.S. in 48 hours, meaning that by Friday, everyone should know the score.
Our guess is that Moore will release it onto one of the many popular streaming sites like Netflix, Amazon or even Hulu. He also might just post it publicly to YouTube or onto a website of his own. Either way, he had better prepare for some high volume users as everyone is dying to know what this secret film contains.

[Editor's note: At EcoWatch, where dying to know what Michael Moore's secret film contains. We are crossing our fingers it hits on climate change, since future generations lost again at last night's presidential debate.]
Reposted with permission from our media associate The Ring of Fire.
Nearly 20 percent of the water fountains in Chicago parks tested positive for excess levels of lead in the water and have been shut down by the Chicago Park District.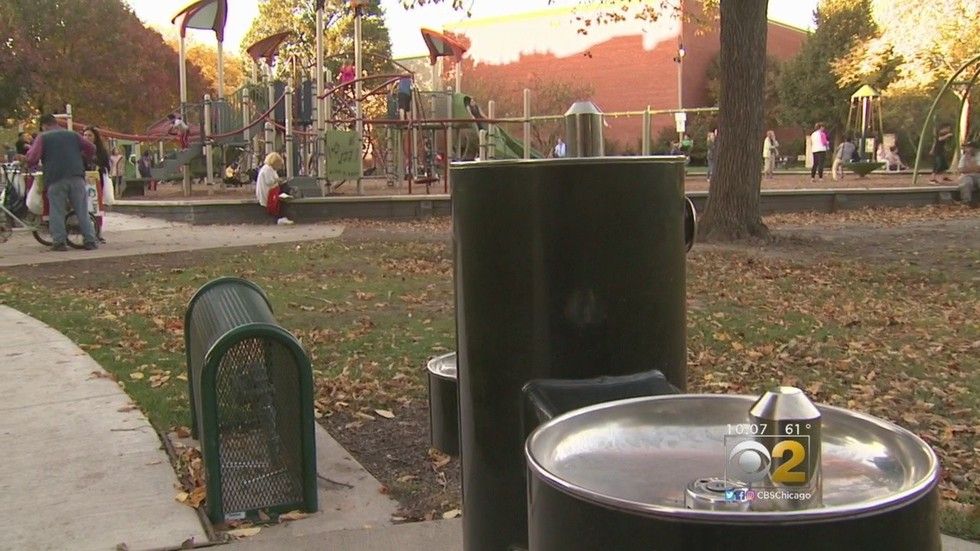 Hundreds of drinking fountains in Chicago parks have been shut off after testing revealed high levels of lead in the water.CBS Chicago
Of the 1,891 outdoor fountains in city parks, 445 exceeded the U.S. Environmental Protection Agency's (EPA) action level of 15 parts per billion. Another 14 of 544 indoor water fountains were contaminated as well. However, the EPA's Lead and Copper Rule refers primarily to municipal water systems, not single source supplies. The rule requires that action be taken if more than 10 percent of the taps tested exceed the 15 parts per billion standard.
Just weeks before the U.S. presidential election, filmmaker Anthony Baxter will release a sequel to his award-winning film, You've Been Trumped.
You've Been Trumped Too, shot in Scotland and the U.S., features the real-life stories of Molly and Michael Forbes, who became nationally-recognized Scottish folk heroes after opposing a controversial Trump golf development in their pristine coastal village.
In the new film, Baxter followes Michael Forbes—who Trump branded "a pig" and his farm "a slum"—to the Republican National Convention in Cleveland, Ohio, where Forbes attempts to find out why some Americans are backing the man he blames for his family's misfortune.
"I was amazed to observe the consequences of Donald Trump's actions in Scotland, at the very same time he was running for president," Baxter said, who was once jailed after investigating why the Trump organization had cut off water supplies to local residents.
"I felt it was a story American voters needed to hear before November 8th."
If you want to be one of the first to see the entire film, check out this Kickstarter page and be among the more than 580 people supporting this film.
The film will debut in New York City and London in late October before being distributed worldwide on other platforms.
In Monday's debate, Hillary Clinton pledged to spend $275 billion investing in America's infrastructure. Donald Trump doubled down, promises lots more. On Tuesday the Senate failed to pass a bill to keep the government open because Democrats insisted—and Republicans rejecting—inclusion of a modest $220 million to repair the toxic contamination in the Flint, Michigan public water system.
The 35W bridge in Minneapolis, Minnesota, which collapsed during rush hour on Aug. 1, 2007.
Where the disconnect? That's a small example of the big question at the heart of Upgrading America, today's DC summit on American infrastructure. Everyone agrees our infrastructure is a shambles—D+ according to the Academy of Engineering. Almost everyone agrees that a lot of this infrastructure is essential for a strong America, and requires a federal role. But, as we are reminded today, for the past 30-40 years, we have systematically starved the critical systems that make our country safe, liveable, competitive—and yes, Donald, great. (Trump is right about the third world condition of our airports etc. He is wrong in refusing to support anything that would plausibly pay for improving them.)
A few painful reminders of how bad we have allowed things to get:
We have stored 727 million barrels of oil in the Strategic Petroleum Reserve, our insurance policy in case, say, a Middle Eastern crisis shut down Persian Gulf oil. We couldn't get it out as fast as we might need it, Energy Secretary Moniz tells us, because we don't have enough loading docks.
We have 200,000 water mains break in the U.S. every year. The average water pipe in Washington DC is 79 years old, meaning half are past their useful life. Cities as diverse as Washington, DC, Philadelphia, Atlantic City and Cleveland have suffered lead poisoning from water just like Flint.
Enough natural gas leaks from our pipeline system every year to power 7 million homes. Every year we have a major natural gas explosion or leak that kills people or drives them from their homes.
Most of America's railway bridges cannot handle double stacked loads. But all our planning for handling the 45 percent increase we expect in goods movement requires such double stacking.
There are new challenges as well. Every year, there are now 150 cyber attacks on the U.S. energy system. The system is simply not hardened against such threats, much less against a massive electro-magnetic pulse that a single high altitude nuclear explosion might unleash.
And some economic realities, that should, but won't, sober up Trump:
The old way of doing things is getting steadily more expensive. A single new substation in New York City can cost a billion dollars, even thought it is needed only half the time.
Cities like Baltimore, after decades of not investing in their water systems, are now raising rates at 10 percent a year—their citizens will soon not be able to pay for water.
Even at our present replacement rate, ½ of 1 percent a year, it will cost us $650 billion every ten years to maintain our water and sewer systems. At the end of that time, the average water main will be 200 years old.
The wholesale price of electricity has fallen by 30 percent over the last eight years. But the cost of the wires and poles that distribute electricity has increased so fast that the retail price of electricity is up 20 percent.
Adding new highway improvements in Washington State at a cost of $2.5 billion are considered a "success" if they cut 90 seconds off the average commute time.
But we have some stunning opportunities if we start thinking systemically, rather than clinging to mid-twentieth century approaches and mind-sets. Efficiency, substituting data for raw materials, and renewables for fossils, are the keys.
If we replaced outmoded, leaky water mains, we would immediately recapture 1.7 trillion gallons of water, 25 percent of the treated water we feed into them, water which after collection and treatment at great expense now leaks into the ground.
That same $1 billion NY substation became completely unnecessary when ConEdison invested $200 million in modern load smoothing strategies like energy efficiency and demand management.
Utilities are currently rewarded for wastefully investing more capital in power plants, wires and poles. Yet we have huge surplus capacity in our system already—New York State uses its power plants only 54 percent of the time. Using new technology to shift demand by only a few hours using energy storage could postpone the need for new capital investment.
The cost of renewable power continues to plummet. Over the last eight years prices fell from 41 percent (wind) to 90 percent (LED bulbs). Unsubsidized solar power in the best locations now cost a trivial 2.4 cents a kwh.
New prototype Class 8 trucks can save 88 percent of the fuel used by today's models, meaning we won't need as many pipelines to deliver diesel.
And these solutions, thoughtfully designed, can have a phenomenally positive impact on our economy, inequality and our sense of national dignity and unity.
Accelerating the repairs on our natural gas pipeline system to eliminate leaks and explosions would generate 300,000 jobs.
Restoring high quality public water systems may cost more than we are used to paying—but it would cost perhaps 1/1000 of our current work-around, bottled water. And we would all be equally well served.
In California, which has put in place climate policies that generate revenues and discourage pollution, the clean energy sector is now the state's largest single employer, with 500,000 jobs. The sector is growing six times as fast as the state's overall economy, which in turn is growing faster than the U.S. economy.
Finally, replacing wasteful consumption of fossil fuels, leaky gas and water mains, and outmoded electrical infrastructure with knowledge driven, higher performance, low carbon infrastructure and technology is, quite simply, the single most powerful economic development strategy available to us. To cite one example, (probably the biggest, but only one), there was tremendous excitement last month at the news that the economic recovery was finally reaching the average American. Median family incomes increased by 5.2 percent. But it turns out that if energy prices in 2015 had tracked the rest of the consumer price index, instead of falling 17 percent, the household benefit would have been only 3.4 percent. And if the U.S. had not invested in more efficient cars and trucks beginning in 2007, if renewables and efficiency weren't displacing natural gas and coal, then that fall in energy prices would not have occurred—and household income would have grown far less rapidly.

Investing in innovative and less wasteful, less carbon and resource intensive infrastructure, does have an upfront cost: but it pays off in so many ways that voters ought to be doubling down on Donald Trump's bid. America ought to set a goal—improving our infrastructure from D- to B+ say—and make sure that politicians of both parties get it done.
Watch John Oliver as he discusses "America's crumbling infrastructure: It's not a sexy problem, but it is a scary one":