This website uses cookies to ensure you get the best experience while browsing it. By clicking 'Got It' you're accepting these terms.
Make Sure the Products You're Putting on Your Body Are Not Toxic
Mar. 08, 2016 02:49PM EST
Health + Wellness
By Cassidy Randall, MADE SAFE
Products with a new certification that aims to solve the chemical conundrum for consumers are hitting store shelves this spring. The MADE SAFE (Made with Safe Ingredients) seal empowers shoppers to find and purchase items for use on their bodies, for their babies and in their homes that have been screened for known toxic chemicals.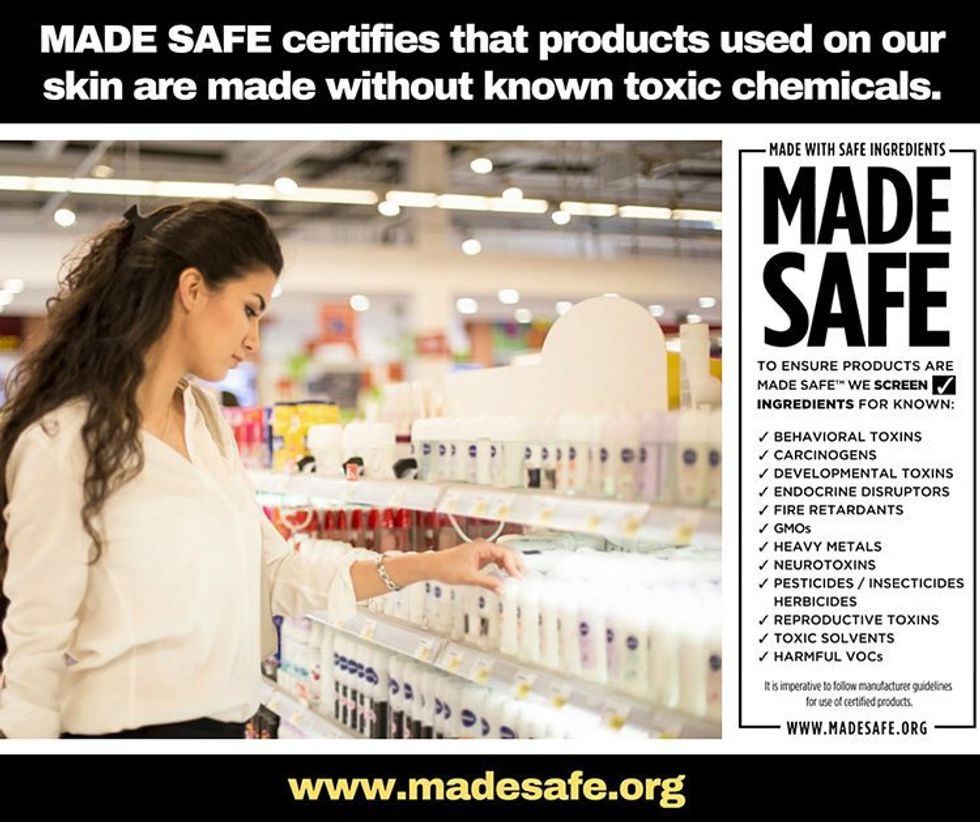 Studies show that everyday exposure to personal care and household products are linked to some serious human health harm, from styrene in Always pads, halogenated flame retardants in popular car seats and the Teflon chemical in L'Oreal anti-aging creams. Studies also show that people can actively improve their health by decreasing exposures—and for the most vulnerable populations of pregnant women, babies and young children, reducing exposures can mean the difference between a healthy life and one filled with disease and/or mental challenges.
But it's hard to reduce exposures when people have no idea what's safe and what's not. MADE SAFE changes that. As America's first human health-focused seal to cross consumer product categories, certified products can be found across store aisles, from baby to personal care to household. For the first time, people know at the point of purchase which products aren't made with toxic chemicals known to harm human health.
MADE SAFE literally means made with safe ingredients not known to harm human health. The process runs ingredients through its Toxicant Database, made up of scientifically authoritative lists from organizations and agencies from around the world, of known harmful chemicals that includes known carcinogens, behavioral, reproductive and neuro toxins, hormone disruptors, heavy metals, pesticides, insecticides, flame retardants, toxic solvents and harmful VOCs.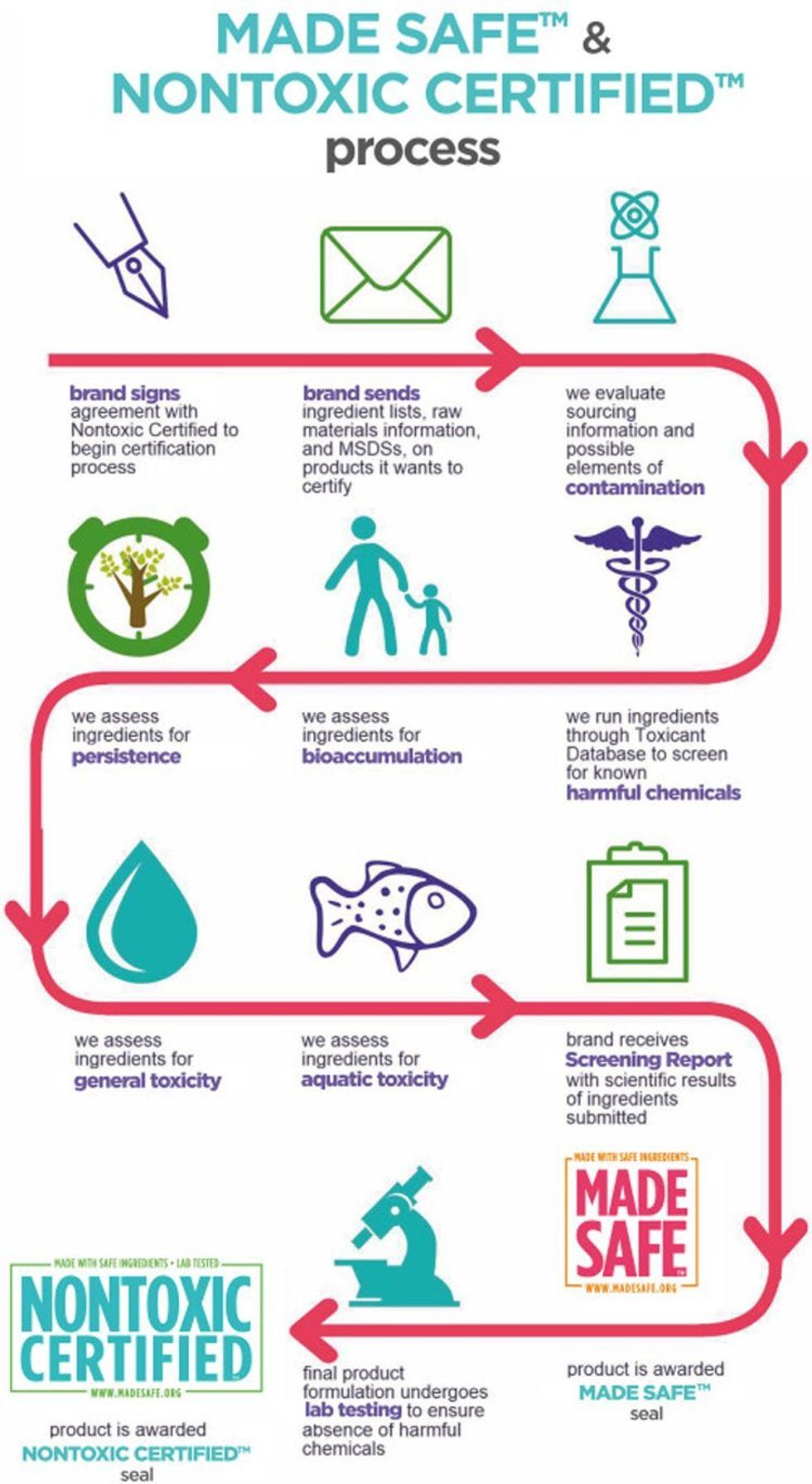 With more than 84,000 chemicals in use today and little to no public data on their impact to human health, MADE SAFE goes beyond "red lists" to look at ingredients for bioaccumulation (builds up in our bodies), persistence (builds up in the environment) and for general as well as aquatic toxicity using modeling, predictive analysis and available science. With these steps, the certification goes beyond standard practice with an aim to alter the way products are made in this country.
Founding brands of the MADE SAFE seal include Naturepedic for baby, kids and adult mattresses; Alaffia, Annmarie Skin Care, Just So Natural Products, SW Basics and True Nature Botanicals for personal care; Rejuva Minerals for cosmetics; Good Clean Love and Sustain Naturals for sexual health; and healthy hoohoo for feminine care.
Products that have passed MADE SAFE will have the option of moving on to NONTOXIC CERTIFIEDTM, in which they're lab-tested in totality to ensure that no new toxins are formed in mixture, there's no supply chain contamination and to validate the screening in a lab environment. Pura Stainless (baby, kids and sport bottles) is pioneering this certification.
MADE SAFE is designed as a market tool to eliminate toxic chemicals by making it easy for people to find and buy products made without known toxic chemicals, giving companies a road map to making safer products and making it easy for retailers to select the safer products their customers want.
YOU MIGHT ALSO LIKE
Are You Drinking Teflon Contaminated Water?
Organic Panty Liners Pulled From Shelves After Traces of Glyphosate Found
11 Ways You Could Be Exposed to Lead in Your Everyday Life
Johnson & Johnson to Pay $72 Million in Lawsuit Linking Talcum Powder to Ovarian Cancer
EcoWatch Daily Newsletter
A new report spotlights a U.N. estimate that at least 275 million people rely on healthy coral reefs. A sea turtle near the Heron Island in the Great Barrier Reef is seen above. THE OCEAN AGENCY / XL CATLIN SEAVIEW SURVEY
In a new report about how the world's coral reefs face "the combined threats of climate change, pollution, and overfishing" — endangering the future of marine biodiversity — a London-based nonprofit calls for greater global efforts to end the climate crisis and ensure the survival of these vital underwater ecosystems.
Half of the extracted resources used were sand, clay, gravel and cement, seen above, for building, along with the other minerals that produce fertilizer. Cavan Images / Cavan / Getty Images
The world is using up more and more resources and global recycling is falling. That's the grim takeaway from a new report by the Circle Economy think tank, which found that the world used up more than 110 billion tons, or 100.6 billion metric tons, of natural resources, as Agence France-Presse (AFP) reported.
By Gero Rueter
Heating with coal, oil and natural gas accounts for around a quarter of global greenhouse gas emissions. But that's something we can change, says Wolfgang Feist, founder of the Passive House Institute in the western German city of Darmstadt.

By George Citroner
Recent research finds that official government figures may be underestimating drug deaths by half.
Researchers estimate that 142,000 people died due to drug use in 2016.
Drug use decreases life expectancy after age 15 by 1.4 years for men and by just under 1 year for women, on average.
Government records may be severely underreporting how many Americans die from drug use, according to a new study by researchers from the University of Pennsylvania and Georgetown University.
Water coolers in front of shut-off water fountains at Center School in Stow, MA on Sept. 4, 2019 after elevated levels of PFAS were found in the water. David L. Ryan / The Boston Globe via Getty Images
In a new nationwide assessment of drinking water systems, the Environmental Working Group found that toxic fluorinated chemicals known as PFAS are far more prevalent than previously thought.