This website uses cookies to ensure you get the best experience while browsing it. By clicking 'Got It' you're accepting these terms.
Make Sure the Products You're Putting on Your Body Are Not Toxic
Mar. 08, 2016 02:49PM EST
Health + Wellness
By Cassidy Randall, MADE SAFE
Products with a new certification that aims to solve the chemical conundrum for consumers are hitting store shelves this spring. The MADE SAFE (Made with Safe Ingredients) seal empowers shoppers to find and purchase items for use on their bodies, for their babies and in their homes that have been screened for known toxic chemicals.
Studies show that everyday exposure to personal care and household products are linked to some serious human health harm, from styrene in Always pads, halogenated flame retardants in popular car seats and the Teflon chemical in L'Oreal anti-aging creams. Studies also show that people can actively improve their health by decreasing exposures—and for the most vulnerable populations of pregnant women, babies and young children, reducing exposures can mean the difference between a healthy life and one filled with disease and/or mental challenges.
But it's hard to reduce exposures when people have no idea what's safe and what's not. MADE SAFE changes that. As America's first human health-focused seal to cross consumer product categories, certified products can be found across store aisles, from baby to personal care to household. For the first time, people know at the point of purchase which products aren't made with toxic chemicals known to harm human health.
MADE SAFE literally means made with safe ingredients not known to harm human health. The process runs ingredients through its Toxicant Database, made up of scientifically authoritative lists from organizations and agencies from around the world, of known harmful chemicals that includes known carcinogens, behavioral, reproductive and neuro toxins, hormone disruptors, heavy metals, pesticides, insecticides, flame retardants, toxic solvents and harmful VOCs.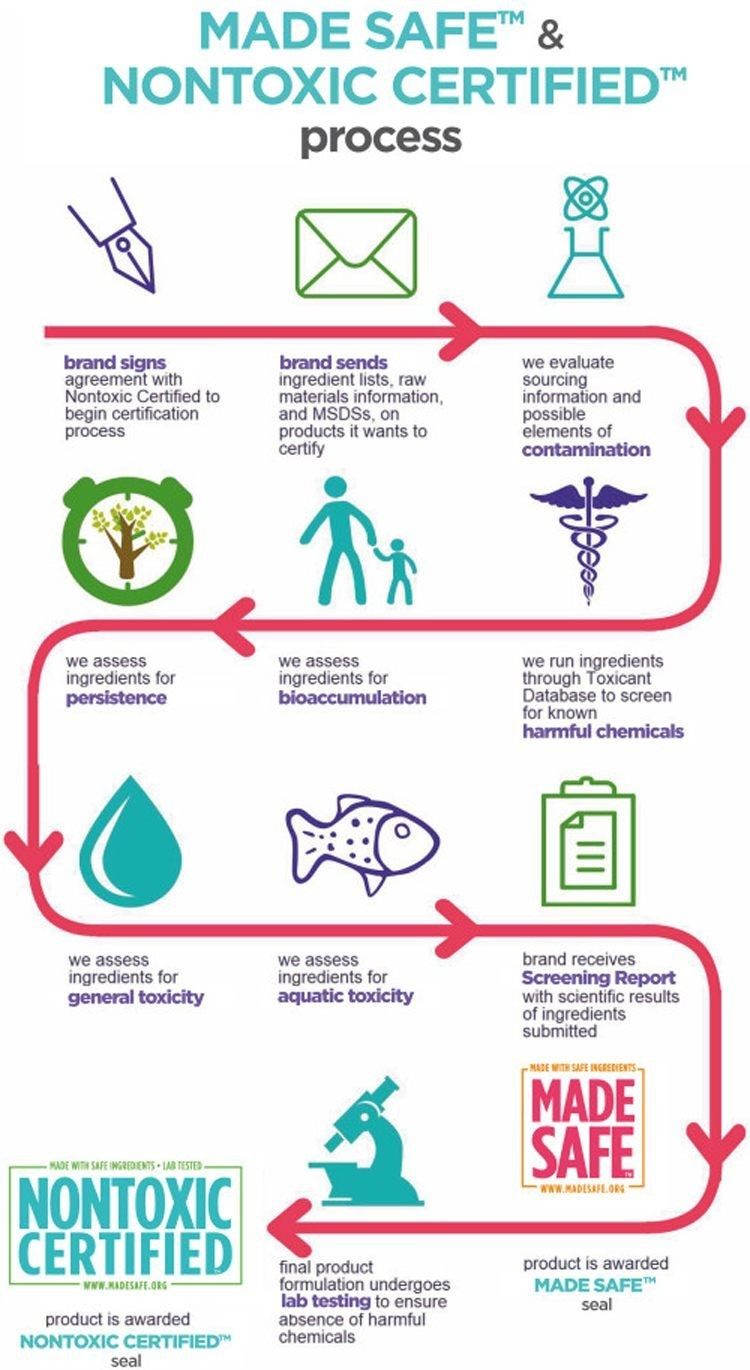 With more than 84,000 chemicals in use today and little to no public data on their impact to human health, MADE SAFE goes beyond "red lists" to look at ingredients for bioaccumulation (builds up in our bodies), persistence (builds up in the environment) and for general as well as aquatic toxicity using modeling, predictive analysis and available science. With these steps, the certification goes beyond standard practice with an aim to alter the way products are made in this country.
Founding brands of the MADE SAFE seal include Naturepedic for baby, kids and adult mattresses; Alaffia, Annmarie Skin Care, Just So Natural Products, SW Basics and True Nature Botanicals for personal care; Rejuva Minerals for cosmetics; Good Clean Love and Sustain Naturals for sexual health; and healthy hoohoo for feminine care.
Products that have passed MADE SAFE will have the option of moving on to NONTOXIC CERTIFIEDTM, in which they're lab-tested in totality to ensure that no new toxins are formed in mixture, there's no supply chain contamination and to validate the screening in a lab environment. Pura Stainless (baby, kids and sport bottles) is pioneering this certification.
MADE SAFE is designed as a market tool to eliminate toxic chemicals by making it easy for people to find and buy products made without known toxic chemicals, giving companies a road map to making safer products and making it easy for retailers to select the safer products their customers want.
YOU MIGHT ALSO LIKE
Are You Drinking Teflon Contaminated Water?
Organic Panty Liners Pulled From Shelves After Traces of Glyphosate Found
11 Ways You Could Be Exposed to Lead in Your Everyday Life
Johnson & Johnson to Pay $72 Million in Lawsuit Linking Talcum Powder to Ovarian Cancer
EcoWatch Daily Newsletter
Tuna auctions are a tourist spectacle in Tokyo. Outside the city's most famous fish market, long queues of visitors hoping for a glimpse of the action begin to form at 5 a.m. The attraction is so popular that last October the Tsukiji fish market, in operation since 1935, moved out from the city center to the district of Toyosu to cope with the crowds.

gmnicholas / E+ / Getty Images
Kristan Porter grew up in a fishing family in the fishing community of Cutler, Maine, where he says all roads lead to one career path: fishing. (Porter's father was the family's lone exception. He suffered from terrible seasickness, and so became a carpenter.) The 49-year-old, who has been working on boats since he was a kid and fishing on his own since 1991, says that the recent warming of Maine's cool coastal waters has yielded unprecedented lobster landings.
Aerial view of lava flows from the eruption of volcano Kilauea on Hawaii, May 2018. Frizi / iStock / Getty Images
Hawaii's Kilauea volcano could be gearing up for an eruption after a pond of water was discovered inside its summit crater for the first time in recorded history, according to the AP.
The Eqip Sermia Glacier is seen behind a moraine left exposed by the glacier's retreat during unseasonably warm weather on Aug. 1 at Eqip Sermia, Greenland. Sean Gallup / Getty Images
hadynyah / E+ / Getty Images
By Johnny Wood
The Ganges is a lifeline for the people of India, spiritually and economically. On its journey from the Himalayas to the Bay of Bengal, it supports fishermen, farmers and an abundance of wildlife.
The river and its tributaries touch the lives of roughly 500 million people. But having flowed for millennia, today it is reaching its capacity for human and industrial waste, while simultaneously being drained for agriculture and municipal use.
Here are some of the challenges the river faces.
By Jake Johnson
As a growing number of states move to pass laws that would criminalize pipeline protests and hit demonstrators with years in prison, an audio recording obtained by The Intercept showed a representative of a powerful oil and gas lobbying group bragging about the industry's success in crafting anti-protest legislation behind closed doors.
Reposted with permission from our media associate Common Dreams.

DESIREE MARTIN / AFP / Getty Images
Wildfires raging on Gran Canaria, the second most populous of Spain's Canary Islands, have forced around 9,000 people to evacuate.