By John R. Platt
As I sat in a pharmacy chair for the required 15 minutes after my first vaccine dose, my mind turned to animals.
There weren't any animals nearby, of course — the buzzing fluorescent lighting of the run-down drugstore wasn't anyone's natural habitat, including mine. And that very absence of visible sky and wildlife — a change from the past 15 months, much of which I'd spent watching the world go by through my home-office window — served to remind me how easily we can lose sight of it.
I returned home, rushed to the back window and the birdfeeders beyond, and randomly pulled a new book out of a pile of review copies. Sure enough, its subject was animals.
And it wasn't alone. In recent months publishers have released a bevy of new books about birds, bears, koalas and other creatures. These hefty tomes do more than just celebrate our furry, feathery or chitinous friends; they also examine our relationships with them, for better or worse.
Here are publishers' descriptions of 10 of the best new wildlife-related books of 2021 so far. The books come from a long list of celebrated authors, scientists and journalists and cover species from several continents. They'll help give you a dose of the wild — and a window into other parts of the world — that will hold you over until it's safe to travel again to see loved ones. Human and otherwise.
1. Animals' Best Friends: Putting Compassion to Work for Animals in Captivity and in the Wild by Barbara J. King
An uplifting new book from the author of How Animals Grieve.
"As people come to understand more about animals' inner lives — the intricacies of their thoughts and the emotions that are expressed every day by whales and cows, octopus and mice, even bees — we feel a growing compassion, a desire to better their lives. But how do we translate this compassion into helping other creatures, both those that are and are not our pets?"
2. The Bedside Book of Birds: An Avian Miscellany by Graeme Gibson
Margaret Atwood provides the foreword to this new edition of her late partner's classic book.
"In this stunning assemblage of words and images, novelist and avid birdwatcher Graeme Gibson offers an extraordinary tribute to the venerable relationship between humans and birds."
4. Flames of Extinction: The Race to Save Australia's Threatened Wildlife by John Pickrell
Signs of hope amidst and after apocalyptic wildfires.
"In the early months of 2020, the world's attention was riveted on Australia, where the nation's iconic wildlife fought for survival in the face of unprecedented wildfires. Images of koalas drinking from firefighters' water bottles went viral and became the global face of a catastrophe that would kill as many as three billion animals. Known as the Black Summer, the fire season was responsible for more wildlife deaths and near-extinctions than any other single event in Australian history. Flames of Extinction, written by a journalist at the heart of this news coverage, is the first book to tell the stories of Australia's record-setting fires, focusing on the wild animals and plants that will be forever changed." (Read an exclusive excerpt.)
5. How to Talk to a Tiger … And Other Animals: How Critters Communicate in the Wild by Jason Bittel; illustrated by Kelsey Buzzell
A kids' book that's about a lot more than growling.
"Ever wanted to talk to a tiger? Or chatter with a cheetah? Or yak with a yak? This book brings together a babble of more than 100 beasties and explores the amazing ways they talk to each other. From fish that fart to alligators that dunk to fire worms that flash, you'll discover that wildlife have the strangest ways of sending a message…"
6. The Glitter in the Green: In Search of Hummingbirds by Jon Dunn
A worldwide travelogue examining some of the world's most charismatic and mysterious migrators.
"Hummingbirds are a glittering, sparkling collective of over 300 wildly variable species. For centuries, they have been revered by Indigenous Americans, coveted by European collectors, and admired worldwide for their unsurpassed metallic plumage and immense character. Yet they exist on a knife-edge, fighting for survival in boreal woodlands, dripping cloud forests and subpolar islands. They are, perhaps, the ultimate embodiment of evolution's power to carve a niche for a delicate creature in even the harshest of places."
7. The Grizzly in the Driveway: The Return of Bears to a Crowded American West by Rob Chaney
Can we relearn how to live with returning megafauna?
"Montana journalist Robert Chaney chronicles the resurgence of this charismatic species against the backdrop of the country's long history with the bear. Chaney captures the clash between groups with radically different visions: ranchers frustrated at losing livestock, environmental advocates, hunters, and conservation and historic preservation officers of tribal nations. Underneath, he probes the balance between our demands on nature and our tolerance for risk."
8. Beloved Beasts: Fighting for Life in an Age of Extinction by Michelle Nijhuis
An illuminating history of the conservation movement.
"In the late nineteenth century, as humans came to realize that our rapidly industrializing and globalizing societies were driving other animal species to extinction, a movement to protect and conserve them was born. In Beloved Beasts, acclaimed science journalist Michelle Nijhuis traces the movement's history: from early battles to save charismatic species such as the American bison and bald eagle to today's global effort to defend life on a larger scale."
9. Florida Scrub-Jay: Field Notes on a Vanishing Bird by Mark Jerome Walters
A portrait of the last-ditch efforts to save the final few dozen birds of a critically endangered species.
"The only bird species that lives exclusively in Florida, the Florida scrub-jay was once common across the peninsula. But as development over the last 100 years reduced the habitat on which the bird depends from 39 counties to three, the species became endangered. With a writer's eye and an explorer's spirit, Mark Walters travels the state to report on the natural history and current predicament of Florida's flagship bird."
10. Empire of Ants: The Hidden Worlds and Extraordinary Lives of Earth's Tiny Conquerors by Susanne Foitzik and Olaf Fritsche
An intimate portrait accompanied by amazing photographs.
"Inside an anthill, you'll find high drama worthy of a royal court; and between colonies, high-stakes geopolitical intrigue is afoot. Just like us, ants grow crops, raise livestock, tend their young and infirm, and make vaccines. And, just like us, ants have a dark side: They wage war, despoil environments, and enslave rivals — but also rebel against their oppressors."
11. Gone: A Search for What Remains of the World's Extinct Creatures by Michael Blencowe
Examining the scars left behind on an emptying Earth.
"Inspired by his childhood obsession with extinct species, Blencowe takes us around the globe — from the forests of New Zealand to the ferries of Finland, from the urban sprawl of San Francisco to an inflatable crocodile on Brighton's Widewater Lagoon. Spanning five centuries, from the last sighting of New Zealand's upland moa to the 2012 death of the Pinta Island giant tortoise, Lonesome George, his memoir is peppered with the accounts of the hunters and naturalists of the past as well as revealing conversations with the custodians of these totemic animals today."
Visit the Revelator Reads archives for hundreds of additional book recommendations.
John R. Platt is the editor of The Revelator. An award-winning environmental journalist, his work has appeared in Scientific American, Audubon, Motherboard, and numerous other magazines and publications. His "Extinction Countdown" column has run continuously since 2004 and has covered news and science related to more than 1,000 endangered species. He is a member of the Society of Environmental Journalists and the National Association of Science Writers. John lives on the outskirts of Portland, Ore., where he finds himself surrounded by animals and cartoonists.
Reposted with permission from The Revelator.
From Your Site Articles
Related Articles Around the Web
EcoWatch Daily Newsletter
istetiana / Moment / Getty Images
By Amanda Fong
Eating produce with the seasons can help consumers access fresher, more nutritious while directly supporting their local farmers and economies.
Eating seasonally often coincides with eating locally, Jerusha Klemperer, FoodPrint director, tells Food Tank. "Local shopping and eating is more likely to be seasonal shopping and eating."
This also comes with a number of benefits. According to FoodPrint, seasonal foods can be fresher, tastier, and more nutritious than out of season produce because it is likely picked at its nutrient-dense peak, rather than harvested early and transported elsewhere.
Buying locally also helps lower consumers' carbon footprint, because there are fewer carbon emissions associated with transporting that food shorter distances.
Money spent on local food also supports local farmers and farmland and contributes to the local economy. Through farmer's markets and Community Supported Agriculture (CSA), consumers can help local farmers.
To help everyone eat with the seasons and access local distributors, Food Tank is highlighting educational guides for consumers.
1. The Agricultural Market Information System (AMIS) Crop Calendar
First published by the Mexican Agri-food and Fishery Information Service in collaboration with AMIS, this online resource provides an in-depth report of wheat, rice, maize, and soybeans around the world. For each crop, the report provides a table for the seasonality of planting and harvesting across two years. The report includes information on each crop as well and has a secondary resource formatted in a table.
2. Cuerpomente Seasonal Calendar (Spain)
Cuerpomente is a Spain-based health and wellness community with a website and magazine. The seasonal calendar shows what fruits and vegetables are in season by each month, and even differentiates produce that is generally in season and produce that is at its peak The calendar comes with illustrated digital graphics and a user-friendly table. Users can also visit web pages for each month that provide more information about the in-season produce and its health benefits.
3. Das Bundeszentrum für Ernährung (BZfE) – Germany's Seasonal Calendar (Central and Northern Europe)
BZfE, the Federal Center for Nutrition in Germany, provides a Seasonal Calendar of produce that can also be downloaded as a mobile application. The information of the foods provided also applies to most of central and northern Europe. While the website is available in German, English speakers can also find an illustrated version with translations in a drawing series here.
4. Eat Seasonably UK (United Kingdom)
The Eat Seasonably campaign, based in the United Kingdom (U.K.), is a nationwide campaign to promote the consumption of seasonal food. They offer an interactive, online calendar and free, downloadable calendar poster that contains all the seasonal information of produce in the U.K. The Eat Seasonable campaign also has online profiles of the current in-season produce and tips to help growers determine what plant that month.
5. FAO Ethiopia Crop Calendar for (Ethiopia)
The U.N. Food and Agriculture Organization(FAO) country profile on Ethiopia's agriculture system also features a crop calendar. It includes the major types of cereals and Meher crops — those grown during the main crop season. The full agricultural profile on Ethiopia also includes data on vegetation and precipitation indicators and threats to crops. Users can search the website's country profiles for any country's agricultural data.
6. FAO's Searchable Crop Calendar Database (International)
The FAO's information tool for seed security acts as a searchable database for different crops and countries around the world. Users can search the database by crop, category of crop, or country. The results even differentiate between agro-ecological zones. The database incorporates information on 44 countries and more than 130 different types of crops. It also provides information on the sowing rates of seed and planting material and the main agricultural practices.
7. The FoodPrint Seasonal Food Guide (U.S.)
FoodPrint's Seasonal Food Guide draws from a database of more than 140 types of fruits, veggies, legumes, nuts, and herbs. The Guide allows users to search for produce by location in the United States time of year or food item. It also includes information about each produce item including its nutritional value, environmental impact, appearance when most ripe, and length of peak freshness. Access the Seasonal Food Guide online or via a phone app.
8. Harvest – Select the Best Produce‬ (U.S.)
Harvest is an iPhone application that allows users to see what produce is currently in-season by inputting a location and month. It then provides a guide for selecting the freshest, ripest, healthiest, and best-tasting produce using visual, touch- or feel-based cues. Harvest also provides tips on how to best store the produce and how long it will stay fresh. Finally, the application provides estimated pesticide levels in popular fruits and vegetables.
9. El Libro Sabio de Las Frutas y Las Verduras (Spain)
The Spanish Government 's Ministerio de Agricultura, Pesca, y Alimentación, created El Libro Sabio de Las Frutas y Las Verduras, which translates to "The Wise Book of Fruits and Vegetables." This resource provides a look into 24 fruits and 29 vegetables in an easy-to-read, family-friendly format. The book provides information about the produce, its production in Spain, its nutrition, and its seasonality.
10. LocalHarvest's Community Supported Agriculture (CSA), Farms, and Farmers Markets National Directory (U.S.)
LocalHarvest provides online tools to connect people looking for local food with the farmers who produce it. Their National Directory provides a search tool that allows users to search for CSAs, local farms, farmers markets, farm stands, U-Picks, grocery co-ops, and more, by inputting their zip code. The directory contains over 40,000 entries and is used by over 7 million people each year.
11. "Por Precio y Sabor, Prefiera Frutas y Verduras de Estación" Campaign by the Chilean Government (Chile)
This health campaign, translated to "For Price and Flavor, Choose Seasonal Fruits and Vegetables," was promoted by the Ministerio de Agricultura for World Food Day. The campaign includes four graphs of of seasonal produce by geographical area of Chile: Norte Grande (Arica-Parinacota, Tarapacá and Antofagasta), Norte Chico (Atacama and Coquimbo), Central (from Valparaíso to Maule) and South (from Biobío to Magallanes).
12. SeasonEats (U.S. and U.K.)
SeasonEats is a mobile application providing seasonal data for more than 130 items of produce in all 50 U.S. states and the United Kingdom. Its design allows users to search by location and month, sort by location or produce, or view by the whole year. It is iOS supported and also has an Apple Watch App for searching on the go.
13. South Africa Seasonal Calendar (South Africa)
EatOut provides a visual infographic calendar of the seasonality of produce in South Africa. The printable calendar is beautifully illustrated and provides a month-by-month look at what produce is in season, in addition to a section dedicated to a list of produce that is in-season year-round. The guide contains 54 different types of produce grown in South Africa.
14. Supplemental Nutrition Assistance Program Education (SNAP-Ed) Seasonal Produce Guide (U.S.)
SNAP-Ed is a national grant program aimed at increasing nutrition education, social marketing, and policy, systems, and environmental change, and it can help people stretch their SNAP dollars further. The SNAP-Ed Seasonal Produce Guide provides an overview of the more commonly eaten produce sorted by season. The website allows the viewer to explore the different major fruits and vegetables through nutrition fact labels and external links to recipes, and other educational resources.
15. Union Fresh's Seasonal Charts (Thailand)
Based in the Chiang Mai Province of Thailand, Union Fresh sources and distributes traditional Thai vegetables and tropical fruits. They provide a seasonal chart for both Thai Vegetables and Tropical Fruit for viewers all over the world. The color-coded chart features produce like carambola, mangosteen, rambutan, and durian.
16. U.S. Department of Agriculture (USDA) National Farmers Market Directory (U.S.)
Maintained by the Agricultural Marketing Service, the USDA National Farmers Market Directory is designed to provide customers with updated listings of farmers markets across the U.S. The directory can be searched within an adjustable radius around the user's zip code. The directory provides farmer's market information like market locations, directions, operating times, product offerings, and accepted forms of payment. Each listing has an external link to the website.
Amanda is passionate about helping organizations drive social impact and health equity on local and international levels. After earning a Bachelor's degree in Biology from Willamette University, she taught English in Thailand at a primary school and saw up close how food moved from farms to local markets to plates. Currently, she is serving a Fulbright grant as an English Teaching Assistant in Andorra. With a background working in multicultural settings in the U.S. and abroad, Amanda hopes to bring a global lens to her writing. She plans to pursue a Master's in Public Health with an emphasis in global health and sustainability to bring change directly to communities.
Reposted with permission from Food Tank.
From Your Site Articles
Related Articles Around the Web
There are many different CBD oil brands in today's market. But, figuring out which brand is the best and which brand has the strongest oil might feel challenging and confusing. Our simple guide to the strongest CBD oils for pain, anxiety, and sleep will point you in the right direction.
More and more people are looking to boost their health with CBD oil. The rise in CBD's popularity shows that many people are experiencing positive outcomes through the regular use of CBD to help control and improve difficult health issues.
Our guide to the strongest CBD oils will help to point you in the right direction so that you can choose the best, most potent oil for your needs. We will also educate you about the best CBD oils along the way, while also discussing how we chose our top brands and why.
Does Strength of CBD Oil Matter?
The strength of an oil does matter. The more potent a CBD oil is, the stronger effects it will create. To that end, full spectrum oils are the best oils to go with because CBD isolates do not have all of the other vitamins, terpenes, compounds, and phytonutrients that full spectrum oils have. So, not only will you be getting all the positive effects that a strong oil has to offer, you'll also be able to receive the vast therapeutic benefits that the many compounds, terpenes, and phytonutrients bring to the table.
The strength or concentration of a CBD oil is measured in milligrams of CBD, both per bottle and per serving. For many brands, a serving is considered 1 mL of the oil tincture. The best way to evaluate the strength of a CBD oil by how many milligrams of CBD you will get with each 1 mL dropper.
6 Strongest CBD Oil Brands of 2021
Each product featured here has been independently selected by the writer. You can learn more about our review methodology here. If you make a purchase using the links included, we may earn commission.
How We Chose the Strongest CBD Oil Brands
When it comes to choosing a CBD oil brand, you need to take the time and put in the research to ensure that you are getting the strongest, and best quality product you can purchase.
We've put the time and effort into selecting the top brands that we feel have the strongest CBD oil, the best reputation, and the cleanest, most effective products. When it came to selecting our top strongest CBD oils, we looked at six key categories:
Type of CBD - We looked to see whether the CBD oil was full spectrum, broad spectrum, or CBD isolate.
Strength - We compared the oil strength and purity versus other available options. All of our recommendations offer a concentration of at least 50 mg of CBD per serving.
Source - Where does the brand source its hemp from, and is it grown organically?
Flavor - We looked for oil flavors and the ingredients used in the oil.
Transparency - A key consideration is whether a third-party lab was used to test the products and if those results are easy for customers to find
Customer experience - We also read verified customer reviews to see what actual users had to say.
Based on these factors, here are the brands that made our list of strongest CBD oils.
6 Strongest CBD Oils of 2021
Research on CBD Oil and Potency
CBD oil is created when cannabidiol, or CBD, is infused into a fat-based carrier oil such as hempseed oil, coconut oil, grapeseed oil, or olive oil. Carrier oils are usually medium-chain triglycerides that are easily digested by the body. The very basic oils will only have CBD and the carrier oil, however, some can also contain other compounds such as tetrahydrocannabinol, or THC, flavonoids, phytonutrients, and terpenes. Some brands will also infuse various natural flavors or essential oils into the final products.
CBD oil can vary in color, flavor, and consistency depending on its makeup. Likewise, the strength also depends on the oil's formulation. CBD oils can be isolates, broad spectrum, or full spectrum. In CBD isolates, only pure CBD is used. These oils are usually 99 percent pure. CBD isolates are typically made solely from the hemp plant.
Broad spectrum and full spectrum oils, on the other hand, are typically sourced from the cannabis plant and have had minimal processing and purification. These oils have a large amount of cannabinoids, terpenes, nutrients, vitamins, and phytonutrients. The difference between the two is that broad spectrum CBD products contain zero THC.
Along with CBD, one of the main compounds in full spectrum oils is THC. In large amounts, THC causes feelings of euphoria. However, legally, all CBD crafted and sold within the United States must contain less than 0.3% THC. When CBD and THC are combined, an entourage effect occurs. In the entourage effect, the compounds work together to dampen each other's negative side effects while amplifying each other's best qualities. For example, too much THC can cause feelings of nausea or dizziness. However, when THC is combined with CBD, the THC enables those with sleep issues to finally get some rest, and helps those with extreme nausea, due to cancer treatment, finally get some much-needed nourishment by increasing appetite. Put simply, the cannabinoids bind with cell receptors in the human endocannabinoid system to create therapeutic effects.
How to Choose the Right CBD Oil and Potency for You
There are several key factors to take into consideration when choosing the strongest CBD oil for pain, sleep, or anxiety. One of the first things to look at is the concentration of CBD within the product. Next, take a look at the milligrams of CBD that are in a single serving. The best quality products clearly have all the facts and information laid out on their labels. In reading the labels, you should be able to tell exactly how much CBD you are getting per serving. How much CBD you need to be taking depends on how your body reacts to the product over time.
What to Look For
Here are the primary things to look for when comparing the strongest CBD oil options.
CBD Spectrum - Make sure you know whether you are getting a full spectrum, broad spectrum, or CBD isolate oil. This is especially important if you are concerned about THC content.
Concentration - When looking for the strongest CBD oils, you need to be certain of how many milligrams of CBD are contained in each bottle and each 1 mL serving.
Lab Testing - For any CBD product, it's vital that you look for brands who ensure their CBD undergoes independent third-party lab testing for purity and safety.
How to Read Labels
Make sure that you know what to look for on the label of any CBD oil or product. Here are the key things to know.
Type of CBD - The label should clearly indicate the spectrum of CBD in the oil. If it is a broad spectrum or CBD isolate, it will usually say that it is "THC-Free."
Dosage Guide - Some brands include a dosage guide on the label to help you measure the appropriate amount of CBD per serving. This is important with higher potency oils.
Test Results - Look for proof that the CBD has undergone third-party lab testing. Many brands include a QR code or link on the label to the test results for that product.
How to Use
Everyone's body is different, so what works well for one person might not work for another. Smaller individuals might need less CBD than larger individuals based on body size and overall mass. Along with body size, the reason you are taking CBD is another consideration in purchasing strong CBD oil.
Whatever oil strength you choose, you should first start low and go slow when it comes to dosing. For example, begin by taking half of a serving of CBD once a day for one week. If you are not feeling any benefits, then go ahead and take half a dose twice a day. Continue increasing the dosage slowly until you are achieving the desired effects. Always check in with yourself to see how you are feeling along the way. This will help you to determine if you should increase the dosage at all. As with any other medication or holistic supplement, your body will need adequate time to get used to a new CBD dosage, and CBD typically works best as it builds up in your system over time.
Safety & Side Effects
There are very few minor side effects associated with CBD. To date, a great number of studies have been done on CBD showing that it is generally well-tolerated and safe for adults.
Some of the most common side effects associated with CBD include:
Dry mouth
Dizziness
Nausea
Changes in weight
Diarrhea
Drowsiness
Changes in appetite
CBD may also interact with certain prescription medications. If you are on any prescription drugs, or have questions about CBD and your health, be sure to consult with your doctor before taking CBD.
Takeaway
Those suffering from chronic pain or increased stress may benefit from stronger CBD oil tinctures that can provide a more potent dose of cannabinoids. CBD oil can be a great addition to any natural healthcare routine. Just make sure you are putting in the time and effort to find the product and the brand that is best suited to your own unique needs, condition, and lifestyle.
Anthony Quintano / CC BY 2.0
By Rich Collett-White
Facebook is "fuelling climate misinformation" through its failure to get to grips with misleading content, according to a new report that calls on companies to boycott the platform until significant action is taken.
Campaign group Stop Funding Heat, which produced the report, warns that the problem is likely to escalate in the coming months as the next major UN climate summit, COP26, approaches and wants to see action taken against "repeat offenders."
The social media giant recently announced its operations were now running on 100 percent renewable energy and it had reached "net zero" emissions. But the new report argues this counts for far less than the role Facebook plays in allowing climate misinformation to spread on its platform.
Bringing together existing research on the issue, the report calls on the company to incorporate climate misinformation into its policies governing use of the social media platform, which do not make explicit mention of climate change currently.
Lead Researcher Sean Buchan told DeSmog: "This year sees the most important UN climate summit since the Paris Agreement in 2015. Important events like this have been derailed by disinformation campaigns before — as seen with "climategate" in 2009 and the recent UN Compact for Migration. Facebook needs to take action before misinformation escalates on its platform at this crucial time."
"People should certainly be free to say and post what they want, but freedom of speech does not equate to freedom of reach. Facebook has control of how much it spreads harmful content and our recommendations all focus on reduction, not censorship. The exception is paid adverts, because we firmly believe that no organization, Facebook included, should directly receive money to spread climate misinformation," he added.
Last year, DeSmog revealed a Facebook page called Eco Central, linked to a number of pro-Brexit Conservative MPs, had been running paid adverts claiming climate change was a "hoax."
'Insufficient' Efforts
Stop Funding Heat, a spin-off from the Stop Funding Hate campaign, which aims to pressure companies into pulling its adverts from papers spreading "hate and division," says there has been a disproportionately small amount of attention paid to misleading climate-related content on the platform, compared with other forms of "false news" — Facebook's term for misinformation.
A petition has been launched based on the report calling on the platform to ban climate denialist pages from running paid adverts, close "fact-checking loopholes" whereby politicians are exempt from climate-related fact-checks, and open up its internal research on climate misinformation to researchers and journalists.
The report also argues that efforts to tackle the problem so far by Facebook, the world's largest social media company, are "insufficient". It argues that despite the use of third-party fact-checkers to add labels to misleading content and the launch of a "Climate Science Information Centre," people exposed to climate misinformation are not always guided to a relevant fact-check.
When the center was launched last year, Facebook's Vice President of Global Affairs and former UK Deputy Prime Minister Nick Clegg said the company only removed content when there was an "obvious link to immediate and impending real world harm," which did not apply to climate change.
Taking Action
Facebook has hit back at the criticism, however, pointing to the work it has already done to tackle the problem.
Speaking to DeSmog, a company spokesperson said:
"We combat climate change misinformation by connecting more than 100,000 people every day to reliable information from leading organizations through our Climate Science Information Center and working with a global network of independent fact-checking partners to review and rate content."
"When they rate this content as false, we add a warning label and reduce its distribution so fewer people see it. We also take action against Pages, Groups, and accounts that continue to share false claims about climate science."
Facebook also said its own analysis had found that misinformation makes up a small proportion of the overall content about climate change on its platforms and that it did not allow adverts rated false by its fact-checkers.
It rejected a claim in the report that its "machine-learning" models do not help identify new forms of climate misinformation for its fact-checking partners to review.
Rich Collett-White is Deputy Editor of DeSmog. He joined the organisation in December 2018 as a UK researcher and reporter, having previously worked in communications for the climate charity Operation Noah.
Reposted with permission from DeSmog.
People swim at the west side of Sandy Point National Wildlife Refuge where hundreds of oil deposit substance from an oil spill washed up on the beach in St. Croix, Virgin Islands, Saturday, March 20, 2021. Salwan Georges / The Washington Post / Getty Images
By Reynard Loki
A controversial oil refinery on St. Croix, one of the U.S. Virgin Islands, is in the government's crosshairs after a third incident in just three months has sickened people. On May 5, after gaseous fumes were released from one of the oil refining units of Limetree Bay Refining, residents of the unincorporated Caribbean territory reported a range of symptoms, including burning eyes, nausea and headaches, with at least three people seeking medical attention at the local hospital. At its peak in 1974, the facility, which opened in 1966, was the largest refinery in the Americas, producing some 650,000 barrels of crude oil a day. It restarted operations in February after being shuttered for the past decade.
A Limetree spokesperson said that there was a release of "light hydrocarbon odors" resulting from the maintenance on one of the refinery's cokers, high heat level processing units that upgrade heavy, low-value crude oil into lighter, high-value petroleum products. The noxious odor stretched for miles around the refinery, remaining in the air for days and prompting the closure of two primary schools, a technical educational center and the Bureau of Motor Vehicles (BMV), which local officials said was shuttered because its employees "are affected by the strong, unpleasant gas like odor, in the atmosphere."
Limetree and the U.S. government conducted their own air quality testing, with different results. The National Guard found elevated levels of sulfur dioxide, while the company said it detected "zero concentrations" of the chemical just hours later. "We will continue to monitor the situation, but there is the potential for additional odors while maintenance continues," said Limetree, which is backed by private equity firms EIG and Arclight Capital, the latter of which has ties to former President Donald Trump. "We apologize for any impact this may have caused the community."
Pollution control: The U.S. Coast Guard conducted an oil spill response exercise at the Limetree Bay refinery in St. Croix on March 17, 2021. Coast Guard News / Flickr
The May 5 incident follows two similar incidents in April at the refinery that the Virgin Islands Department of Planning and Natural Resources (DPNR) concluded were caused by the emission of excess sulfur dioxide from the burning of hydrogen sulfide, one of the impurities in petroleum coke, a coal-like substance that accounts for nearly a fifth of the nation's finished petroleum product exports, mainly going to China and other Asian nations, where it is used to power manufacturing industries like steel and aluminum. Days after the U.S. Environmental Protection Agency (EPA) told the company that it was violating the Clean Air Act after the April incidents, Limetree agreed to resume sulfur dioxide monitoring, while contesting the violation. "If EPA makes a determination that the facility's operations present an imminent risk to people's health, consistent with its legal authorities, it will take appropriate action to safeguard public safety," the agency said in a statement. The Biden EPA withdrew a key federal pollution permit for Limetree on March 25, but stopped short of shutting down the facility altogether.

Care2 has launched a public petition—already signed by more than 98,000 people—urging President Biden to shut down the Limetree Bay Refining facility. The petition also notes the risk that the refinery poses to the island's biodiverse wildlife, saying that "turtles, sharks, whales, and coral reefs… [are] threatened by the Limetree Bay Refining plant—both by what it's done in the past, and by what it's spewing right now." The group also frames the human rights and environmental justice aspect of the ongoing public health situation on the island in historical terms: "On top of the obvious problem that no person should be poisoned with oil, St. Croix is an island with a highly disenfranchised population. The vast majority of residents are Black, the [descendants] of enslaved Africans brought to work on sugar and cotton plantations. For generations, the U.S. government has cared little about the well-being of people there." (One recent example happened in the wake of Hurricanes Irma and Maria, which landed on the island in September of 2017. Even two months after the storms hit, many residents of St. Croix who were evacuated to Georgia were unable to return home, and felt abandoned by the government. "I feel like we are the forgotten people and no one has ever inquired how do we feel," said one of the St. Croix evacuees at the time.)
After the May 5 incident, Limetree said, "Our preliminary investigations have revealed that units are operating normally." Perhaps it is normal for such facilities to emit toxic fumes. But what's not normal is the fact that such fumes should present a constant threat to people and the environment, and that, according to the environmental group Earthjustice, about 90 million Americans live within 30 miles of at least one refinery. Adding insult to injury is the fact that Black people are 75 more likely to live near toxic, air-polluting industrial facilities, according to Fumes Across the Fence-Line, a report produced by the NAACP and the Clean Air Task Force, an air pollution reduction advocacy group. That report also found that more than 1 million African Americans face a disproportionate cancer risk "above EPA's level of concern" due to the fact that they live in areas that expose them to toxic chemicals emanating from natural gas facilities.
You don't need to live next door to a refinery to feel its impact on your health; in fact, you can be several miles away. A study conducted last year by researchers at the University of Texas Medical Branch (UTMB) found an increased risk of multiple cancer types associated with living within 30 miles of an oil refinery. "Based on U.S. Census Bureau data, there are more than 6.3 million people over 20 years old who reside within a [30-mile] radius of 28 active refineries in Texas," said the study's lead author, Dr. Stephen B. Williams, chief of urology and a tenured professor of urology and radiology at UTMB. "Our team accounted for patient factors (age, sex, race, smoking, household income and education) and other environmental factors, such as oil well density and air pollution and looked at new cancer diagnoses based on cancers with the highest incidence in the U.S. and/or previously suspected to be at increased risk according to oil refinery proximity."
In granting Limetree's permit in 2018—a move that E&E News reported was made to "cash in on an international low-sulfur fuel standard that takes effect in January [2020]"—Trump's EPA said that the refinery's emissions simply be kept under "plantwide applicability limit." But then in a September 2019 report on Limetree—which has been at the center of several pollution debacles and Clean Air Act violations for decades—the agency said that "[t]he combination of a predominantly low income and minority population in [south-central] St. Croix with the environmental and other burdens experienced by the residents is indicative of a vulnerable community," and added the new requirement of installing five neighborhood air quality monitors. "[G]iven several assumptions and approximations... and the potential impacts on an already overburdened low income and minority population, the ambient monitors are necessary to assure continued operational compliance with the public health standards once the facility begins to operate," the agency stated. Limetree has appealed this ruling with the EPA's Environmental Appeals Board, arguing that "the EPA requirements are linked to environmental justice concerns that are unrelated to operating within the pollution limits of the permit."
"It is unclear when the EPA's appeals board will rule on the permit dispute. The Biden-run EPA could withdraw the permit, and it is also reviewing whether the refinery is a new source of pollution that requires stricter air pollution controls," reports Reuters, adding that the White House declined to comment.
President Biden has made environmental justice a central part of his policy, including the overhaul of the EPA External Civil Rights Compliance Office, which is responsible for enforcing civil rights laws that prohibit discrimination on the basis of race, color, national origin, sex or disability. "For too long, the EPA External Civil Rights Compliance Office has ignored its requirements under Title VI of the 1964 Civil Rights Act," states Biden's environmental justice plan. "That will end in the Biden Administration. Biden will overhaul that office and ensure that it brings justice to frontline communities that experience the worst impacts of climate change and fenceline communities that are located adjacent to pollution sources."
Now it is time for Biden to make good on his campaign promise. John Walke, senior attorney and director of clean air programs with the Natural Resources Defense Council, told Reuters in March that the situation in St. Croix "offers the first opportunity for the Biden-Harris administration to stand up for an environmental justice community, and take a strong public health and climate… stance concerning fossil fuels."
Earth | Food | Life contributor Sharon Lavigne has previously written about a similar issue in another region before. Lavigne is the founder and president of RISE St. James, a grassroots faith-based organization dedicated to opposing the siting of new petrochemical facilities in a heavily industrialized area along the Mississippi River between Baton Rouge and New Orleans known as "Cancer Alley." Writing in Truthout in October 2020 about St. James Parish, Louisiana, the predominantly Black and low-income community where she lives, Lavigne pointed out that "Democratic presidential nominee Joe Biden mentioned St. James Parish in his clean energy plan speech because we're notorious for having the country's highest concentration of chemical plants and refineries, [one of] the highest cancer rates, the worst particulate pollution and one of the highest mortality rates per capita from COVID-19 in the nation," She added, "For those of us living here, it's not just Cancer Alley; it's death row."
The stated mission of the EPA is "to protect human health and the environment." When so many Americans face a disproportionate cancer risk simply by living near toxic industrial sites such as oil and gas refineries, the EPA is derelict in its duty. The Limetree Bay Refining facility has presented President Biden with an early test of his commitment to environmental justice. Considering the facility's terrible legacy of ecological and civil rights violations, three new public health incidents in just the past two months, and the disproportionate and ongoing health risks faced by the community's predominantly Black and low-income population, it is finally time for the federal government to revoke Limetree's license to operate on St. Croix. This is a perfect chance for President Biden to show the country and the world just how serious he is about environmental justice.

Reynard Loki is a writing fellow at the Independent Media Institute, where he serves as the editor and chief correspondent for Earth | Food | Life. He previously served as the environment, food and animal rights editor at AlterNet and as a reporter for Justmeans/3BL Media covering sustainability and corporate social responsibility. He was named one of FilterBuy's Top 50 Health & Environmental Journalists to Follow in 2016. His work has been published by Yes! Magazine, Salon, Truthout, BillMoyers.com, AlterNet, Counterpunch, EcoWatch and Truthdig, among others.
This article was produced by Earth | Food | Life, a project of the Independent Media Institute.
A woman offers prayers for one of the 18 elephants found dead in Assam, India. Anuwar Ali Hazarika / Barcroft Media via Getty Images
Authorities in India are investigating after at least 18 Asian elephants died mysteriously in a protected area in the northeastern state of Assam.
Authorities believe a lightning strike is to blame for the deaths which mark the first time in 20 years that so many elephants have died in Assam at once, as BBC News reported.
"Deeply pained by the death of 18 elephants last night due to massive thunderstorm under Kothiatoli Range in Nagaon," Assam Minister of Excise, Forest & Environment and Fisheries Parimal Suklabaidya tweeted in response to the deaths.
Deeply pained by the death of 18 elephants last night due to massive thunderstorm under Kothiatoli Range in Nagaon.… https://t.co/C0wKSn3lQr

— Parimal Suklabaidya (@Parimal Suklabaidya)1620915650.0
The mystery began Thursday when villagers found 14 elephants dead in the Kundoli reserve forest, as Al Jazeera reported. The bodies of four additional elephants were found scattered around the foothills of the reserve, local wildlife official MK Yadava said. Five of the elephants killed were calves, wildlife official Jayanta Goswami told The AP.

The deaths followed lightning strikes late Wednesday, and a local forest ranger said he had seen burnt trees in the area, according to Al Jazeera. Veterinarians on the scene also said that lightning was the likely cause of death, The AP reported.
However, not all wildlife advocates agree, and officials say they are conducting an autopsy to make sure.
Conservationist Soumyadeep Datt, who works for the organization Nature's Beckon, said that the images posted on social media made him think it was unlikely that the elephants were killed by lightning.
"Poisoning could be behind the death of the elephants," Datta told AFP news agency, as Al Jazeera reported. "We have to wait for the autopsy report, which the forest department will do soon."
In a later tweet, Suklabaidya said that a committee had been formed to look into the deaths, and that it would submit a detailed report within 15 days.
"We will unravel the exact reason behind their tragic death soon," he said.
(2/2)The preliminary report of enquiry has been asked to be submitted within 3 days & a detailed investigation repo… https://t.co/9zgNUojyRp

— Parimal Suklabaidya (@Parimal Suklabaidya)1620974422.0
Asian elephants are considered an endangered species by the International Union for Conservation of Nature Red List. There are an estimated 48,323 to 51,680 of these animals in the wild, and around 6,000 of them live in Assam, according to The AP. Sometimes, the animals come out of the forest for food, and this can lead to conflict between humans and animals. Conservationists have urged the government to take steps to prevent people from encroaching on the elephants' habitat, and to create wildlife corridors so that the animals can pass safely between forested areas.

From Your Site Articles
Related Articles Around the Web
The Sydney Opera House has had an Environmental Sustainability Plan in place since 2010.
Johnny Bhalla /
Unsplash
Iconic venues around the world have taken advantage of pandemic shutdowns to boost already-existing sustainability efforts and to create new environmental awareness. Their motivation, many observers say, is the planet and how everyone must do their part to create a better world before it is too late.
Dominique Meyer, CEO of the famed opera house Teatro alla Scala in Milan, Italy, noted the important role that opera houses can and should play, especially in mobilizing the younger generation. He told The New York Times, "Everyone observes what La Scala does or doesn't do," he said. "It is a duty to commit oneself — for all theaters."
As such, the "flagship" of Italian culture has worked to reduce its carbon emissions by over 630 tons since 2010, the Times reported. The most recent shift was to LED bulbs and smart lighting, accomplished during the shutdowns. La Scala also plans to install solar panels on its new office tower roof in Dec. 2022 and to digitize operations — saving at least 10 tons of paper annually, the news report said. The house has also selected partner vendors that prioritize recycling, including a water company with its own certified plastic recycling system and a coffee company that uses recycled filters, the Times reported. And costume designers are being asked to work with recyclable fabrics.
La Scala is not alone in targeting sustainability: the Sydney Opera House in Australia is green-certified and has been a "front-runner" in the green and sustainable opera space, the Times reported. Since its launch in 2010, the opera house's ambitious Environmental Sustainability Plan (ESP) has guided many decisions which have resulted in climate and environmental wins, Connect4Climate reported. Some of these have included saving $1 million in electricity through increased energy efficiency, ensuring large festivals are certified carbon-neutral and increasing waste recycling and food recycling, Connect4Climate reported. The World Heritage-listed building already succeeded in becoming carbon-neutral three years ago and even built an artificial reef alongside the venue's sea wall in 2019, the Times reported. Upcoming goals include recycling more construction materials, energy efficiency shifts and increasing their green star rating, the Times reported.
At the launch of the ESP, Sydney Opera House CEO Louise Herron AM said, "The Opera House was conceived with very broad ambitions in mind, as then-NSW Premier JJ Cahill said in 1954 'to help mould a better and more enlightened community,'" and noted that their sustainability efforts were "part of achieving that ambition," reported Connect4Climate.
Then-CEO of Green Building Council Australia Romilly Madew said, "The Sydney Opera House has shown the world that even the most challenging, iconic and historic buildings can be sustainable… If the Opera House can go green, anything can go green," reported Connect4Climate.
The current movement is not the first time that the lines between art and advocacy have blurred during the pandemic. In June 2020, the Barcelona opera house reopened with a concert for 2,292 plants that were then donated to frontline workers.
"Nature advanced to occupy the spaces we snatched from it," Eugenio Ampudio, the conceptual artist behind the unique concert, told Reuters. "Can we extend our empathy? Let's begin with art and music, in a great theatre, by inviting nature in."
Similarly, in March 2021, the Sydney Symphony Orchestra performed a modernized version of Vivaldi's classic ode, "Four Seasons." Called "The [Uncertain] Four Seasons," the remake actually changes based on where it is played to highlight the most pressing changes local ecosystems will face due to climate change. For example, light rains in Vivaldi's original become raging storms in the modern version; birdsong disappears as species will likely go extinct; and silence replaces the music in places like Shanghai where sea level rise threatens continued human presence.
Tim Devine, executive creative director of AKQA, the design firm that masterminded the project, told EcoWatch, "The challenge is not awareness of climate change. We're all aware of the science. The challenge is action. What are we doing? What are our governments and businesses doing?"
For the time being, it seems that opera houses are ready and willing to lead the way towards a more sustainable culture and way of life.
From Your Site Articles
Related Articles Around the Web
Dry conditions across the West follow a hot, dry year of record-setting wildfires in 2020. Communities were left with scenes like this, from California's Creek Fire. Amir AghaKouchak / University of California Irvine
By Mojtaba Sadegh, Amir AghaKouchak and John Abatzoglou
Just about every indicator of drought is flashing red across the western U.S. after a dry winter and warm early spring. The snowpack is at less than half of normal in much of the region. Reservoirs are being drawn down, river levels are dropping and soils are drying out.
It's only May, and states are already considering water use restrictions to make the supply last longer. California's governor declared a drought emergency in 41 of 58 counties. In Utah, irrigation water providers are increasing fines for overuse. Some Idaho ranchers are talking about selling off livestock because rivers and reservoirs they rely on are dangerously low and irrigation demand for farms is only just beginning.
Scientists are also closely watching the impact that the rapid warming and drying is having on trees, worried that water stress could lead to widespread tree deaths. Dead and drying vegetation means more fuel for what is already expected to be another dangerous fire season.
U.S. Interior Secretary Deb Haaland and Agriculture Secretary Tom Vilsack told reporters on May 13, 2021, that federal fire officials had warned them to prepare for an extremely active fire year. "We used to call it fire season, but wildland fires now extend throughout the entire year, burning hotter and growing more catastrophic in drier conditions due to climate change," Vilsack said.
As climate scientists, we track these changes. Right now, about 84% of the western U.S. is under some level of drought, and there is no sign of relief.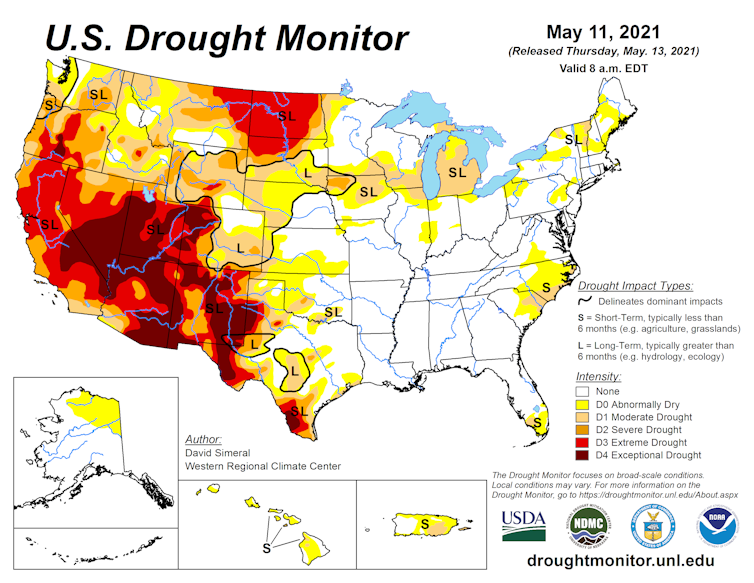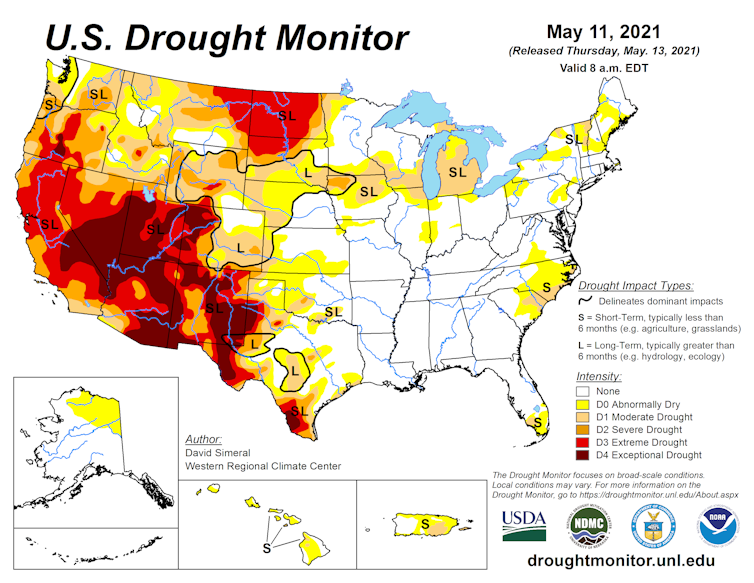 The U.S. Drought Monitor for mid-May shows nearly half of the West in severe or extreme drought. National Drought Mitigation Center/USDA/NOAA
The Many Faces of Drought
Several types of drought are converging in the West this year, and all are at or near record levels.
When too little rain and snow falls, it's known as meteorological drought. In April, precipitation across large parts of the West was less than 10% of normal, and the lack of rain continued into May.
Rivers, lakes, streams and groundwater can get into what's known as hydrological drought when their water levels fall. Many states are now warning about low streamflow after a winter with less-than-normal snowfall and warm spring temperatures in early 2021 speeding up melting. The U.S. Bureau of Reclamation said Lake Mead, a giant Colorado River reservoir that provides water for millions of people, is on pace to fall to levels in June that could trigger the first federal water shortage declaration, with water use restrictions across the region.
Dwindling soil moisture leads to another problem, known as agricultural drought. The average soil moisture levels in the western U.S. in April were at or near their lowest levels in over 120 years of observations.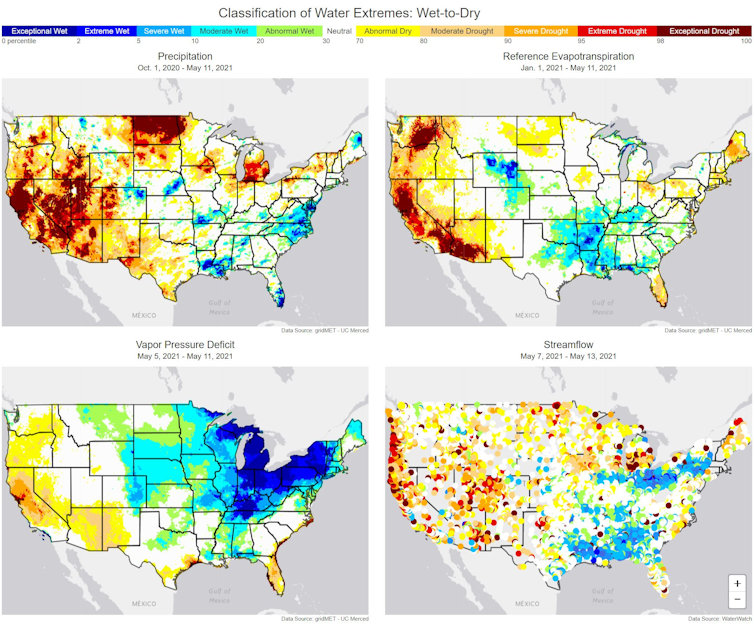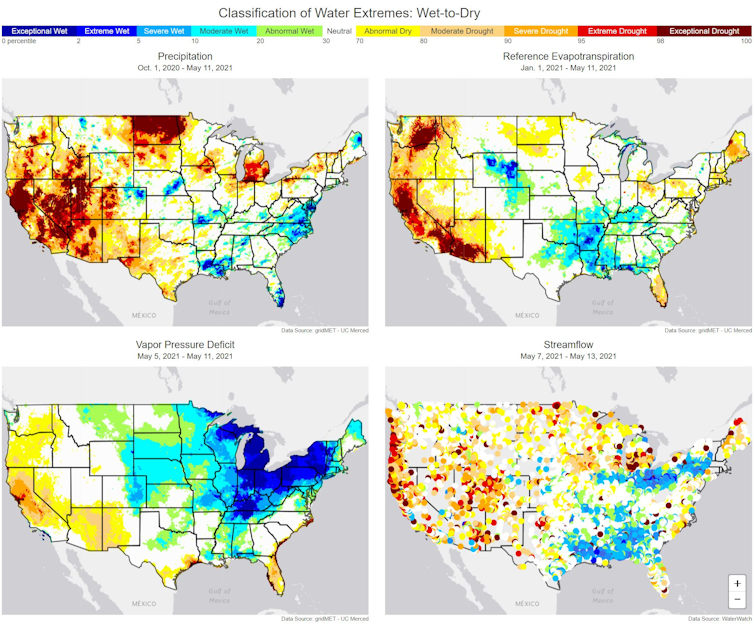 Four signs of drought. Climate Toolbox
These factors can all drive ecosystems beyond their thresholds – into a condition called ecological drought – and the results can be dangerous and costly. Fish hatcheries in Northern California have started trucking their salmon to the Pacific Ocean, rather than releasing them into rivers, because the river water is expected to be at historic low levels and too warm for young salmon to tolerate.
Snow Drought
One of the West's biggest water problems this year is the low snowpack.
The western U.S. is critically dependent on winter snow slowly melting in the mountains and providing a steady supply of water during the dry summer months. But the amount of water in snowpack is on the decline here and across much of the world as global temperatures rise.
Several states are already seeing how that can play out. Federal scientists in Utah warned in early May that more water from the snowpack is sinking into the dry ground where it fell this year, rather than running off to supply streams and rivers. With the state's snowpack at 52% of normal, streamflows are expected to be well below normal through the summer, with some places at less than 20%.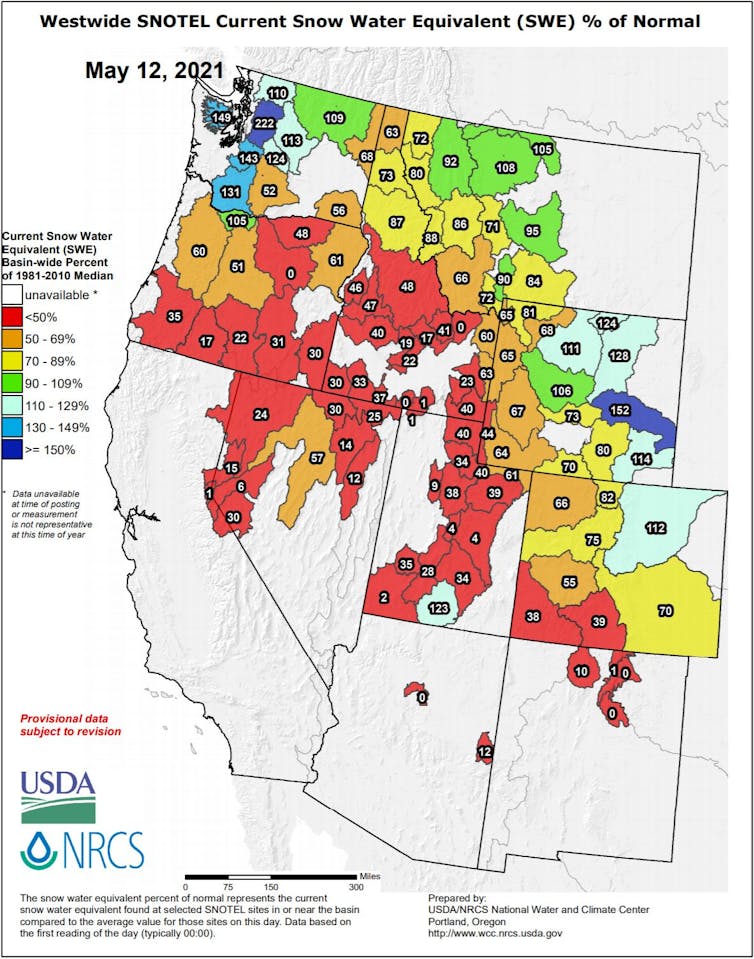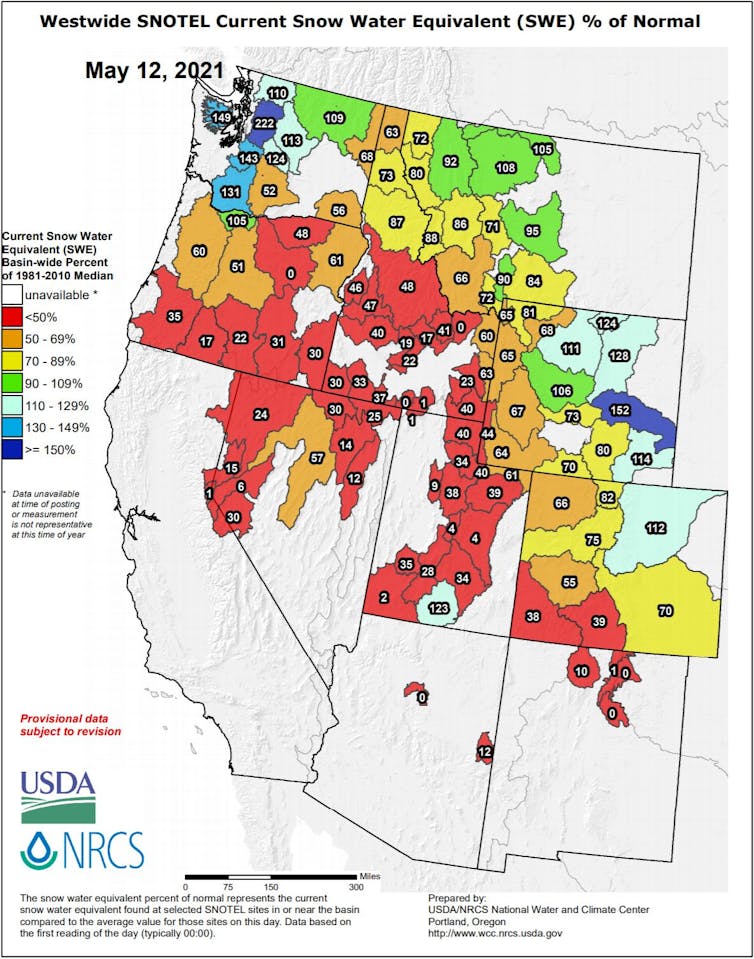 Snowpack is typically measured by the amount of water it holds, known as snow water equivalent. National Resource Conservation Service
Anthropogenic Drought
It's important to understand that drought today isn't only about nature.
More people are moving into the U.S. West, increasing demand for water and irrigated farmland. And global warming – driven by human activities like the burning of fossil fuels – is now fueling more widespread and intense droughts in the region. These two factors act as additional straws pulling water from an already scarce resource.
As demand for water has increased, the West is pumping out more groundwater for irrigation and other needs. Centuries-old groundwater reserves in aquifers can provide resilience against droughts if they are used sustainably. But groundwater reserves recharge slowly, and the West is seeing a decline in those resources, mostly because water use for agriculture outpaces their recharge. Water levels in some wells have dropped at a rate of 6.5 feet (2 meters) per year.
The result is that these regions are less able to manage droughts when nature does bring hot, dry conditions.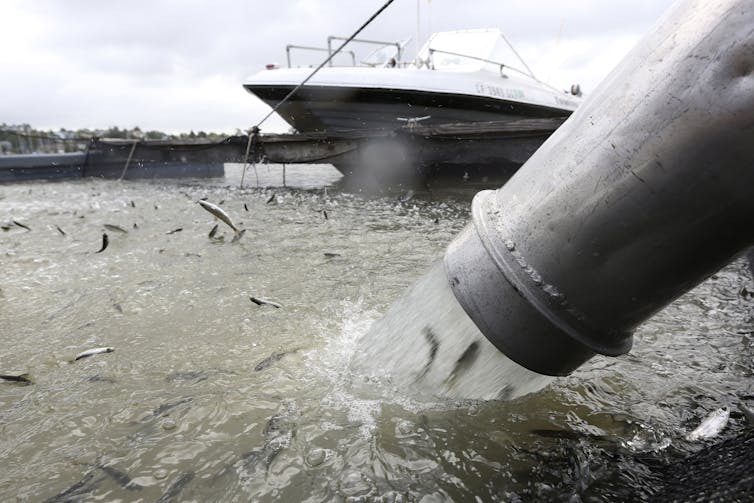 California fish hatcheries have started trucking their salmon to the Pacific Ocean because the rivers they are usually released into are too low and warm. AP Photo / Rich Podroncelli
Rising global temperatures also play several roles in drought. They influence whether precipitation falls as snow or rain, how quickly snow melts and, importantly, how quickly the land, trees and vegetation dry out.
Extreme heat and droughts can intensify one another. Solar radiation causes water to evaporate, drying the soil and air. With less moisture, the soil and air then heat up, which dries the soil even more. The result is extremely dry trees and grasses that can quickly burn when fires break out, and also thirstier soils that demand more irrigation.
Alarmingly, the trigger for the drying and warming cycle has been changing. In the 1930s, lack of precipitation used to trigger this cycle, but excess heat has initiated the process in recent decades. As global warming increases temperatures, soil moisture evaporates earlier and at larger rates, drying out soils and triggering the warming and drying cycle.
Fire Warnings Ahead
Hot, dry conditions in the West last year fueled a record-breaking wildfire season that burned over 15,900 square miles (41,270 square kilometers), including the largest fires on record in Colorado and California.
As drought persists, the chance of large, disastrous fires increases. The seasonal outlook of warmer and drier-than-normal conditions for summer and fire season outlooks by federal agencies suggest another tough, long fire year is ahead.
Mojtaba Sadegh is an assistant professor of civil engineering at Boise State University.
Amir AghaKouchak is an associate professor of civil & environmental engineering at the University of California, Irvine.
John Abatzoglou is an associate professor of engineering at the University of California, Merced.
Disclosure statement: Mojtaba Sadegh receives funding from the National Science Foundation. Amir AghaKouchak receives funding from National Science Foundation, National Oceanic and Atmospheric Administration and National Aeronautics and Space Administration. John Abatzoglou receives funding from the National Oceanic and Atmospheric Administration and the National Science Foundation.
Reposted with permission from The Conversation.
Cocos Island Atoll in the Indian Ocean, part of the Cocos (Keeling) Islands group. PalawanOz / Wikimedia Commons
The Australian government has moved to create two new marine protected areas that cover an expanse of ocean twice the size of the Great Barrier Reef Marine Park.
The two parks will be established around Christmas Island and the Cocos (Keeling) Islands in the Indian Ocean to the northwest of continental Australia. The new parks cover 740,000 square kilometers (286,000 square miles) of ocean.
The decision was immediately welcomed by conservation groups.

"Christmas and Cocos (Keeling) Islands are uniquely Australian and globally significant – there's nowhere like them on Earth," said Michelle Grady, director of The Pew Charitable Trusts, in a statement. "Most famous for its annual red crab migration, Christmas Island was referred to as one of the 10 natural wonders of the world by David Attenborough himself. Its thriving rainforests, deserted beaches and fringing reef provide a haven for unique and rare seabirds, land crabs and marine life."
"Christmas and the Cocos (Keeling) Islands are recognized as globally significant standout natural wonders," added Darren Kindleysides, CEO of the Australian Marine Conservation Society, in a statement. "Oceans across the globe are in deep trouble from pollution, overfishing, habitat loss and the very real and immediate impacts of climate change. Establishing marine parks to provide a safe haven for our marine life is critical in helping stop our oceans reaching a tipping point."
Satellite image of Cocos (Keeling) IslandsMaxar Technologies
Christabel Mitchell, director of the Save Our Marine Life Alliance, applauded the move but urged the Australian government to work "collaboratively" with local communities to "co-design" the protected areas.

"Healthy oceans and sustainable fishing are central to the Christmas and Cocos Islanders' way of life, their culture and their livelihoods," said Mitchell in a statement.
"Creating world-class marine parks for this region will provide crucial protection for a wealth of marine life, make a significant global contribution to the health of our oceans and support the local communities' culture and aspirations," said Mitchell. "We look forward to working with the government and the island communities to preserve this unique part of Australia, for our marine life and future generations."
The new parks will bring the percentage of Australian waters under protection from 37% to 45%. Conservation groups around the world are pushing for the protection of 30% of global oceans and land mass by 2030.
Reposted with permission from Mongabay.
From Your Site Articles
Related Articles Around the Web
Enbridge's Line 5 pipeline passes under the environmentally-sensitive Straits of Mackinac.
Michael Barera / Wikimedia Commons
Enbridge continued operating its Line 5 oil pipeline through the environmentally ultra-sensitive
Straits of Mackinac
, defying an order by Michigan Gov. Gretchen Whitmer to shut down the pipeline.
The Canadian pipeline company's defiance of the order is a dramatic development in a long-running showdown between it and Michigan. Enbridge, which is also seeking to build the controversial Line 3 pipeline in Minnesota, said it would halt operations if a court told it to do so. Whitmer's office said the continued operation of the pipeline constitutes "intentional trespass" and that the state of Michigan will seize all profits Enbridge makes from operating the pipeline after the May 12 deadline.
Earlier this week, Bay Mills Indian Community tribal council voted to banish Enbridge's Line 5 pipelines from the reservation, citing the Treaty of 1836, which they say guarantees them the permanent right to hunt and fish in the territory. In addition to the environmental risks posed by the Line 5 pipeline, Whitmer's office said the shutdown of the Colonial Pipeline, "shows the danger of relying on a single energy supply" and emphasized the need for expanding renewable energy.
For a deeper dive:
Detroit Free Press, Earther, AP, Michigan Live, Detroit News, The Guardian, WXYZ, OilPrice, UP Matters, 9and10 News; Political and international implications: New York Times, E&E; Bay Mills banishment: Indian Country Today; Canadian press: The Globe and Mail, CBC, CTV News
For more climate change and clean energy news, you can follow Climate Nexus on Twitter and Facebook, sign up for daily Hot News, and visit their news site, Nexus Media News.
From Your Site Articles
Related Articles Around the Web
Dobrila Vignjevic / E+ / Getty Images
By Reynard Loki
A federal appeals court has ruled that unless the Environmental Protection Agency (EPA) can prove that the pesticide chlorpyrifos is safe, it must be banned. The chemical, which has been widely used on agricultural crops for more than 50 years, has been linked to neurological development issues in children, with mounting evidence implicating its role in autism, ADHD, motor skills and loss of IQ. In the 2-to-1 ruling on April 29, judges on the U.S. Court of Appeals for the 9th Circuit gave the federal government 60 days to either rescind all uses of chlorpyrifos related to food or to show evidence that in certain cases it is safe for public health.
In the majority opinion in the case League of United Latin American Citizens v. Regan, which was filed in 2007, Judge Jed Rakoff, a Clinton appointee, wrote, "[T]he EPA has spent more than a decade assembling a record of chlorpyrifos's ill effects and has repeatedly determined, based on that record, that it cannot conclude, to the statutorily required standard of reasonable certainty, that the present tolerances are causing no harm," adding that "EPA's egregious delay exposed a generation of American children to unsafe levels of chlorpyrifos." Rakoff was joined by Judge Jacqueline Nguyen, an Obama appointee.
"Yet, rather than ban the pesticide or reduce the tolerances to levels that the EPA can find are reasonably certain to cause no harm, the EPA has sought to evade, through one delaying tactic after another, its plain statutory duties," Rakoff wrote in the opinion, in which he stopped short of requiring the agency to ban the chemical, but left little room to keep it on the market. "The EPA must act based upon the evidence and must immediately revoke or modify chlorpyrifos tolerances." Pregnant women and their fetuses, young children and farmworkers are particularly at risk from chlorpyrifos, which was first registered for use in 1965.
"There are numerous studies showing that exposure to chlorpyrifos in the womb harms children's brain development," said Dr. Warren Seigel, chair of New York State American Academy of Pediatrics. "The science is clear, and this pesticide should have been banned years ago."
The ruling "virtually guarantees" that the EPA will revoke food-related applications of chlorpyrifos, according to dissenting Judge Jay Bybee, a George W. Bush appointee, who argued that his colleagues overreached and "misread" the agency's obligations to review specific uses of the chemical that it had previously determined were safe. He criticized the majority, saying that it "substituted its own judgment for EPA's decision."
The EPA is reviewing the ruling, saying in a statement that the agency is "committed to helping support and protect farmworkers and their families while ensuring pesticides are used safely among the nation's agriculture. … EPA will continue to use sound science in the decision-making process under the Federal Insecticide, Fungicide and Rodenticide Act" (FIFRA).
The ruling comes nearly two years after the Trump administration rejected a proposed Obama-era ban of the controversial pesticide, keeping it on the market despite aggressive calls against its continued use by public health and environmental groups. The Trump EPA decision, made in July of 2019, was a major gift to Dow Chemical, the maker of the pesticide, in what appeared as an act of quid pro quo. On December 6, 2016, less than a month after Trump's election, the agrochemical giant donated $1 million to his inaugural committee. Then, on January 17, 2017, just three days before Trump was sworn into the Oval Office, Dow filed a petition with the EPA to reject the Obama-era proposal to ban the pesticide. On March 29, 2017, then-EPA administrator Scott Pruitt announced his decision to cancel the proposed ban.
"This is what we now know is the modus operandi of Trump and his EPA: corruption couched as policy," said Ken Cook, president of the nonprofit Environmental Working Group, following Pruitt's decision. "Trump and his political appointees at the agency show nearly every day that they are not there to protect Americans' health but to cater to the whims of polluters. If you're looking for evidence of corrupt collusion with sinister interests, here it is in plain view."
What a difference a new administration makes. On his first day in office, President Joe Biden signed an executive order directing the EPA to review the Trump administration's decision to deny the 2007 petition to ban food-related chlorpyrifos. It is unlikely that the Biden EPA will fight the appellate court ruling.
Environmental and farmworker groups applauded the court's decision. "Today, we celebrate this huge victory alongside the men and women who harvest our food, who have waited too long for a ban on this pesticide," said Teresa Romero, president of United Farm Workers, in a statement. "We are relieved that farmworkers and their families will no longer have to worry about the myriad of ways this pesticide could impact their lives."
The ruling could bring more attention to the public health and environmental risks of other harmful pesticides, such as neonicotinoids, which are deadly to bees and other pollinators that are key to crop pollination. Friends of the Earth, a nonprofit, has launched a public petition urging Americans to tell their congressional representatives to co-sponsor the Protect America's Children from Toxic Pesticides Act, introduced in 2020 by Sen. Tom Udall (D-N.M.) and Rep. Joe Neguse (D-Colo.).
The bill seeks to strengthen the EPA's authority under FIFRA to regulate the distribution, sale and use of pesticides, and ban some of the most toxic pesticides used across the nation, including all neonicotinoids, organophosphates (a class of phosphorus-based insecticides that includes chlorpyrifos) and paraquat, an herbicide that has been linked to renal, hepatic and respiratory damage, and which is already banned in 32 countries.
Are pesticides even necessary? Some experts believe that, while there are obvious trade-offs to spraying toxic chemicals on crops, using pesticides properly can actually protect some parts of the environment. Pesticides "allow us to maximize production on the smallest footprint of land. This is called 'land sparing,'" said Tim Durham, a professor of agronomy and agricultural sciences at Ferrum College in Ferrum, Virginia. "If we decided to [forgo] pesticides, we'd need to appropriate a much larger chunk of land to do the same job and land that happens to be the most biodiverse and at-risk." Durham, who is also part of his family's vegetable farm on Long Island, New York, adds, "Pesticides provide some measure of predictability in the otherwise unpredictable world of farming, helping to stabilize commodity prices and keeping prices low in the grocery aisle."
However, some advocates of organic farming, which is committed to zero pesticides, or limited pesticide use under National Organic Program standards, say that conventional industrial farming that is heavily reliant on chemical use isn't necessary to feed the world's population.
"The myth that organic food can't feed the world isn't just wrong, it's downright counterproductive," according to the Rodale Institute, a nonprofit based in Kutztown, Pennsylvania, that supports organic agriculture research. "Organic can compete with conventional yields and outperform conventional in adverse weather. Small farmers using organic methods have huge potential to expand global food production. And only organic methods actively regenerate resources and protect the environment from pollution and toxic waste. For a healthy future, we can't afford anything less."
Reynard Loki is a writing fellow at the Independent Media Institute, where he serves as the editor and chief correspondent for Earth | Food | Life. He previously served as the environment, food and animal rights editor at AlterNet and as a reporter for Justmeans/3BL Media covering sustainability and corporate social responsibility. He was named one of FilterBuy's Top 50 Health & Environmental Journalists to Follow in 2016. His work has been published by Yes! Magazine, Salon, Truthout, BillMoyers.com, Counterpunch, EcoWatch and Truthdig, among others.
This article was produced by Earth | Food | Life, a project of the Independent Media Institute.
From Your Site Articles
Related Articles Around the Web
Forever chemicals are present in breast milk, a new study has found. SDI Productions / E+ / Getty Images
Forever chemicals are everywhere, even in breast milk.
A study published in Environmental Science and Technology Thursday tested the milk of 50 U.S. mothers and found that every sample was contaminated with per- and polyfluoroalkyl substances (PFAS). What's more, the chemicals were found at nearly 2,000 times the levels considered safe by environmental health groups, The Guardian reported.
"The study shows that PFAS contamination of breast milk is likely universal in the U.S., and that these harmful chemicals are contaminating what should be nature's perfect food," study co-author and Toxic-Free Future science director Erika Schreder told The Guardian.
PFAS are a class of chemicals that are used in a variety of consumer products because they are stain, grease, and water resistant, a Safer Chemicals, Healthy Families press release explained. They turn up in everything from food packaging to clothing to carpeting and have been linked to cancer, high cholesterol, liver damage, pregnancy-induced hypertension, fertility problems, thyroid disease and a weakened immune system.
Companies have begun to phase out older PFAS and replace them with newer versions that they say do not build up in the human body. The new study gives the lie to those claims.
The research was the first to analyze U.S. breast milk for PFAS since 2005. It tested for 39 different chemicals, including nine that are currently in use, and found that both newer and phased-out chemicals were present in the samples. PFAS were found at levels ranging from 52 parts per trillion (ppt) to more than 500 ppt. To put that in perspective, the Environmental Working Group (EWG) recommends a limit of one ppt in drinking water while the Department of Health and Human Services' Agency for Toxic Substances and Disease Registry suggests 14 ppt for children's drinking water, The Guardian pointed out.
"These findings make it clear that the switch to newer PFAS over the last decade didn't solve the problem," study co-author and Indiana University associate research scientist Dr. Amina Salamova said in the press release. "This study provides more evidence that current-use PFAS are building up in people. What this means is that we need to address the entire class of PFAS chemicals, not just legacy-use variations."
Further, the study also found that PFAS contamination is increasing around the world. The international breast milk data from 1996 to 2019 shows that, while the concentration of older chemicals is decreasing, the incidence of newer chemicals is doubling every 4.1 years.
To protect themselves and their children, the study authors recommend that pregnant people avoid grease-proof take-out containers, cleaners like Scotchgard, waterproof clothing that contains PFAS and non-stick cooking equipment that uses Teflon, according to The Guardian.
However, the researchers also acknowledged that the industry does not always disclose the use of these chemicals, and their ubiquity makes them difficult to avoid.
"Moms work hard to protect their babies, but big corporations are putting these, and other toxic chemicals that can contaminate breast milk, in products when safer options are available," Schreder said in the press release.
Toxic-Free Future, a Seattle-based nonprofit that contributed to the study, is therefore calling for state and federal laws prohibiting the use of these substances. They cited as a positive example a Washington state law that requires policy makers to identify products containing harmful chemicals and phase them out when healthier alternatives are available.
"If a harmful chemical can end up in breast milk due to its persistence or ability to bioaccumulate, it should be prohibited in everyday products we are constantly exposed to," Toxic-Free Future executive director Laurie Valeriano said in the press release. "It's time for more states and the federal government to follow the lead of Washington state and ban PFAS and other equally dangerous classes of chemicals in products, especially when safer alternatives are found. Prevention-based policies are critical to ending this harmful and unnecessary contamination of our most precious resources — from breast milk to drinking water."
A Tesla car in Dublin, Ireland on Feb. 27, 2021. Artur Widak / NurPhoto via Getty Images
The U.S. electric car manufacturer Tesla suspended its plans to accept Bitcoin as a payment method, CEO Elon Musk announced in a Twitter statement late Wednesday.
Musk, who has become notorious for moving the price of cryptocurrencies via tweets, cited the massive amount of energy required to keep Bitcoin running and its environmental impacts as the reasoning behind Tesla's turnaround.
"We are concerned about rapid increasing use of fossil fuels for Bitcoin mining and transactions, especially coal, which has the worst emissions of any fuel," the statement said.
While cryptocurrency is a "good idea on many levels," it comes at a "great cost to the environment," Musk said.
The price of Bitcoin dropped nearly 13% late Wednesday after Tesla's announcement, according to Coin Metrics. The cryptocurrency website coindesk showed Bitcoin's dollar value dipped to a 24-hour low of just above $46,000, before rebounding slightly to hover around $50,000.
What Relationship Does Tesla Have to Bitcoin?
Tesla sparked a Bitcoin boom in February, after announcing it would invest some $1.5 billion in the cryptocurrency with the intention to allow customers to buy their e-cars with it.
The fair market value of Tesla's Bitcoin by the end of March was $2.48 billion, securities filings showed. Tesla said it was not planning to sell its Bitcoin holdings.
"Tesla will not be selling any Bitcoin and we intend to use it for transactions as soon as mining transitions to more sustainable energy," the statement said.
The company was also looking into other cryptocurrency options without Bitcoin's environmental impacts, it said.
What Is Bitcoin's Impact on the Environment?
Bitcoin is mined by computers solving complex puzzles. As more Bitcoin is mined, the more complex the puzzles become, thus requiring more computational energy.
A 2019 study from researchers at the Technical University of Munich and MIT found that the CO2 emissions for the entire Bitcoin network amounted to up to 22.9 million tons in 2018.

At such a rate, the carbon emissions connected to Bitcoin resemble those of a large city in a rich country or an entire developing country such as Sri Lanka.
Musk has shown enthusiasm to make electric cars, such as those produced by Tesla, mainstream, enticing drivers away from vehicles with combustion engines that contribute to climate change.
Reposted with permission from DW.
From Your Site Articles
Related Articles Around the Web