This website uses cookies to ensure you get the best experience while browsing it. By clicking 'Got It' you're accepting these terms.
Lowe's to Stop Selling Bee-Killing Pesticides to Protect Pollinators
Apr. 10, 2015 09:01AM EST
Food
After two years of pressure by the hard-hitting campaign by Friends of the Earth and partners, Lowe's Home Improvement announced yesterday it will begin to eliminate neonicotinoid pesticides—a leading contributor to global bee declines—from its stores. This public commitment is the most significant announcement so far for a retailer of its size.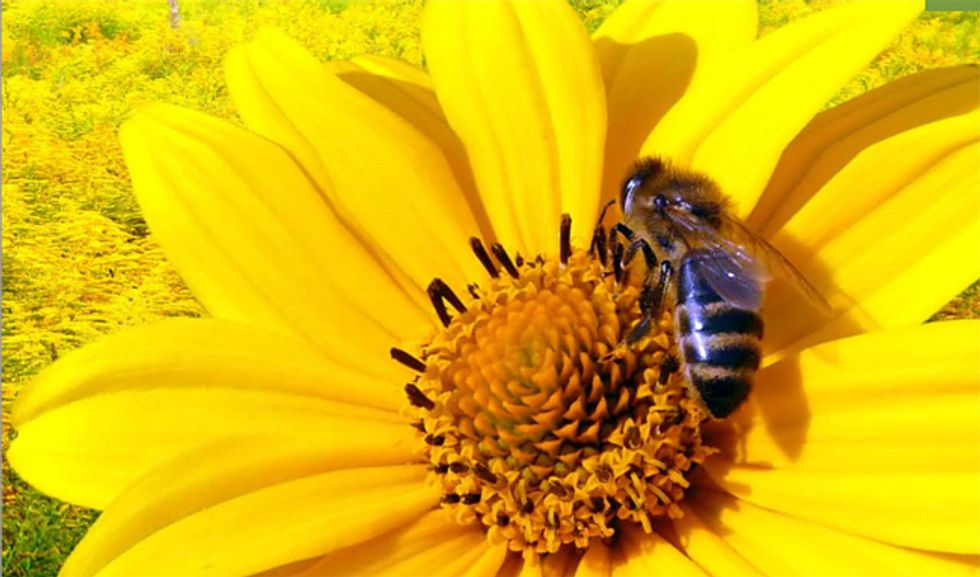 Lowe's said it will phase out neonicotinoids ("neonics") as suitable alternatives become available, redouble existing integrated pest management practices for suppliers and provide additional material educating customers about pollinator health.
"We commend Lowe's for taking a leadership position on this critical issue," said Adam Kanzer, managing director and director of corporate engagement at Domini Social Investments. "Sales of neonic-containing products may be exacerbating a critical systemic risk—alarming declines in honeybees and wild pollinators that support our food systems. As investors and as human beings, we all depend upon pollinators. We believe Lowe's actions will help protect an irreplaceable resource."
Lowe's commitments include:
A time-bound phase out

of

neonicotinoid ("neonics") containing products in shelf products and plants, to be completed by

the

Spring

of

2019, as suitable alternatives become available. For nurseries, Lowe's will phase-out neonics for bee-attractive plants, and plants where regulatory requirements do not require

the

application

of

neonics (certain states require

the

application

of

neonics on certain plants and nursery material). Lowe's plans to implement this phase-out as soon as is practicable.

Redoubling pesticide management efforts and

the

addition

of

an application reduction plan with plant suppliers, including

the

collection and sharing

of

growers' best practices around use

of

biological controls and integrated pest management ("IPM") practices, and research into best alternatives. Nurseries will be required to disclose to Lowe's

the

amount

of

pesticides used per acre, or a similar metric.

Increased focus on consumer education initiatives including in-store distribution

of

EPA and Pollinator Partnership pesticide brochures and product tags which will highlight

the

health

of

bees and other pollinators.

Funding

of

pollinator gardens through

the

company's philanthropic and volunteer programs.

Disclosure

of

these efforts in its 2014 Corporate Social Responsibility Report.

Continued dialogue with Domini, Trillium and

Friends

of

the

Earth

focused on implementation and public reporting

of

these commitments.
"We are pleased Lowe's is listening to consumer concerns and to the growing body of science telling us we need to move away from bee-toxic pesticides by taking steps to be part of the solution to the bee crisis," said Lisa Archer, Food & Technology program director at Friends of the Earth. "Bees are canaries in the coal mine for our food system and everyone, including the business community, must act fast to protect them."
According to a study released by Friends of the Earth and Pesticide Research Institute, Gardeners Beware 2014, 51 percent of garden plants purchased at Lowe's, Home Depot (NYSE: HD), and Walmart (NYSE: WMT) in 18 cities in the U.S. and Canada contained neonicotinoid pesticides at levels that could harm or even kill bees.
In the past year, more than twenty nurseries, landscaping companies and retailers—including Home Depot, Whole Foods (NASDAQ: WFM) and BJ's Wholesale Club have taken steps to eliminate bee-killing pesticides from their stores. The UK's top garden retailers includingHomebase, B&Q and Wickes, have also stopped selling neonicotinoids, according to Friends of the Earth.
"Lowe's public commitment will better position the company to meet the demands of an increasingly environmentally-conscious consumer base. And, it sends an important market signal that restricting the use of bee-harming pesticides is essential to tackling bee declines," said Susan Baker, vice president, Trillium Asset Management. "We applaud the company's positive steps on this issue."
This announcement comes eight months, after a meta-analysis of 1,121 peer-reviewed studies by the task force on Systemic Pesticides concluded neonicotinoids are a leading factor of bee declines and are harming birds, earthworms, butterflies and other wildlife. The task force concluded that immediate regulatory action was needed.
In October, 2014, the Council on Environmental Quality issued guidance for federal facilities and federal lands which included acquiring seeds and plants from nurseries that do not treat these items with systemic insecticides.
On April 2, the U.S. Environmental Protection Agency announced a moratorium on new or expanded uses of neonicotinoids while it evaluates the risks posed to pollinators. This past June, the Obama administration established the Pollinator Health Task Force charged with improving pollinator health, and assessing the impacts of pesticides, including neonicotinoids, on pollinators.
More than one million people have signed petitions and thousands of activists delivered letters directly to Lowe's stores in cities across the U.S. and Canada asking for this change.
"While there is still a lot of work left to do reduce bees' exposure to these harmful chemicals, this is a major step," said Larissa Walker, pollinator campaign director at Center for Food Safety, one of the partnering organizations. "The public has been calling for stronger protections for bees and other pollinators, and Lowe's has finally listened to its customers to do just that."
YOU MIGHT ALSO LIKE
19 Students Arrested by Yale Police at Fossil Fuel Divestment Sit-In
10 Reasons Why You Should Eat Local
One Simple Thing You Can Do Today to Stop Global Climate Change
EcoWatch Daily Newsletter
The staircase to a subway station in SOHO with a temporary closure, flood control installation sign. Jeffrey Greenberg / Universal Images Group / Getty Images
The Metropolitan Transit Authority in New York City tested out a new system designed to protect its subways stations from flooding when another super storm hits, creating a bizarre sight on Wednesday, as The Verge reported.
Flat-lay of friends eating vegan and vegetarian Thanksgiving or Friendsgiving dinner with pumpkin pie, roasted vegetables, fruit and rose wine. Foxys_forest_manufacture / Royalty-free / iStock / Getty Images
Thanksgiving can be a tricky holiday if you're trying to avoid animal products — after all, its unofficial name is Turkey Day. But, as more and more studies show the impact of meat and dairy consumption on the Earth, preparing a vegan Thanksgiving is one way to show gratitude for this planet and all its biodiversity.
Residents wear masks for protection as smoke billows from stacks in a neighborhood next to a coal fired power plant on Nov. 26, 2015 in Shanxi, China. Kevin Frayer / Getty Images
By Matt Berger
It's not just kids in the United States.
Children worldwide aren't getting enough physical activity.
That's the main conclusion of a new World Health Organization (WHO) study released Wednesday.
By Tim Ruben Weimer
Tanja Diederen lives near Maastricht in the Netherlands. She has been suffering from Hidradenitis suppurativa for 30 years. Its a chronic skin disease in which the hair roots are inflamed under pain — often around the armpits and on the chest.