This website uses cookies to ensure you get the best experience while browsing it. By clicking 'Got It' you're accepting these terms.
KFC's Secret Recipe for Rainforest Destruction
May. 23, 2012 06:00AM EST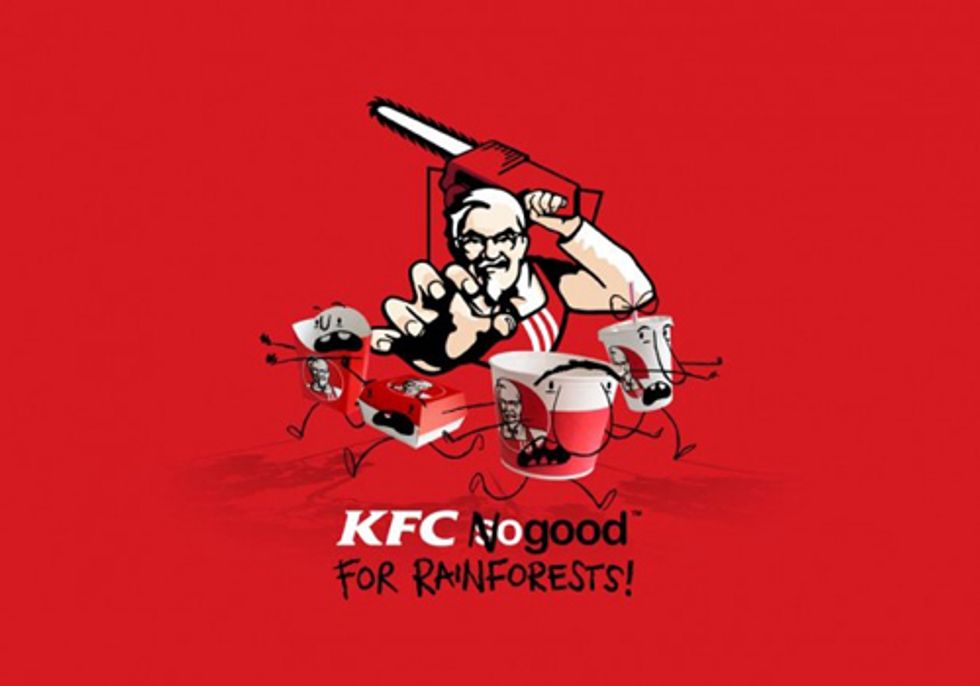 Greenpeace International today released evidence that Kentucky Fried Chicken (KFC) has been using product packaging sourced from rainforests, supplied by Asia Pulp and Paper (APP). Forensic testing in three markets—UK, China and Indonesia—repeatedly confirmed the presence of rainforest fiber in numerous packaging products, including the famous chicken bucket.
The report, How KFC is Junking the Jungle1, exposes how some KFC packaging was produced using timber from the rainforests of Indonesia, home to endangered wildlife such as the Sumatran tiger. It shows how neither KFC nor its parent company Yum! Brands have safeguards in place to prevent products from deforestation entering their supply chains.
"KFC is the latest big brand to be caught trashing rainforests and pushing endangered animals, like the Sumatran tiger, towards extinction. KFC customers worldwide will be horrified to learn that packaging destined for the trash comes from trashed rainforests," said Bustar Maitar, head of Greenpeace's campaign to save the forests in Indonesia.
In Louisville, Ky. today, activists deployed a giant banner depicting a Sumatran tiger on the front pillars of the KFC headquarters, which read: "KFC Stop Trashing My Home." The building, nick-named "the White House" because of its resemblance to the U.S. presidential residence, looks out on a lake where more activists deployed an aerial banner with a similar message. The activities in Louisville mark the start of a worldwide Greenpeace campaign to persuade KFC and Yum! Brands to stop driving rainforest destruction through their sourcing practices.2
Greenpeace investigators combined forensic testing and supply chain research to show how some of KFC's packaging comes from Indonesian rainforests. Some packaging products tested contained more than 50 percent rainforest fiber.3 The company's packaging includes paper products that come from APP, which continues to rely on rainforest clearance and was recently exposed for using illegal timber at its main pulp mill in Sumatra.4
"KFC must stop buying from APP, a notorious rainforest destroyer which has been repeatedly exposed for wrecking Indonesia's rainforests to make products like throw-away packaging. APP treats Indonesia as little more than a vast disposable asset, destroying rainforests that are vital to forest communities," said Maitar.
Indonesia's President Susilo Bambang Yudhoyono has committed to a 41 percent reduction in greenhouse gas (GHG) emissions by 2020. The country is one of the world's largest GHG emitters, largely due to deforestation. For Indonesia to succeed in reaching these emissions reduction targets, companies like APP must be stopped from destroying peatlands and cutting down rainforests. Just last week APP confirmed that it would continue to use timber from forest clearance for at least another two and a half years.5
Greenpeace is calling for KFC, and its parent company Yum! Brands to immediately drop APP and create strong policies to rid their supply chains of deforestation. The environment group has launched an online campaign with a KFC parody website asking people to help save the forests and endangered Sumatran tigers. Visit www.KFC-secretrecipe.com for details.
More than 60 companies around the world have now suspended purchases from APP including Kraft, Adidas, Hasbro, Mattel, Staples, Unilever, Nestle and many more.6
For more information, click here.
—————
1. A full report outlining the role of APP and KFC in rainforest destruction is available here: www.greenpeace.org/international/KFCreport
2. The 'Secret Recipe for Destruction' animation can be viewed here: www.KFC-secretrecipe.com
3. These products included the KFC streetwise lunch box and KFC popcorn box, purchased in the UK.
4. A Greenpeace investigation into APP's use of illegal timber can be viewed here: www.greenpeace.org/ramintrail
5. APP claimed it would conduct high conservation value assessments prior to further forest clearance, but for less than 50 percent of its supply chain. Greenpeace response here: http://www.greenpeace.org/international/en/news/Blogs/makingwaves/nothing-very-new-in-apps-newforest-protection/blog/40440/
6. See page 14 of Junking the Jungle for more information. Available here: www.greenpeace.org/international/KFCreport
EcoWatch Daily Newsletter
Traffic moves across the Brooklyn Bridge on Aug. 2, 2018 in New York City. Drew Angerer / Getty Images
The Trump administration is expected to unveil its final replacement of Obama-era fuel-efficiency standards for cars and light trucks Tuesday in a move likely to pump nearly a billion more tons of carbon dioxide into the atmosphere over the lifetime of those less-efficient vehicles.
U.S. President Donald Trump listens as Anthony Fauci, Director of the National Institute of Allergy and Infectious Diseases speaks in the Rose Garden for the daily coronavirus briefing at the White House on March 29 in Washington, DC. Tasos Katopodis / Getty Images
By Jake Johnson
Just over a month after proclaiming that the number of coronavirus cases in the U.S. would soon "be down to close to zero," President Donald Trump said during a press briefing on the White House lawn Sunday that limiting U.S. deaths from the pandemic to between 100,000 and 200,000 people would mean his administration and the country as a whole did "a very good job."
Dicamba is having a devastating impact in Arkansas and neighboring states. A farmer in Mississippi County, Arkansas looks at rows of soybean plants affected by dicamba. The Washington Post / Getty Images
Documents unearthed in a lawsuit brought by a Missouri farmer who claimed that Monsanto and German chemical maker BASF's dicamba herbicide ruined his peach orchard revealed that the two companies knew their new agricultural seed and chemical system would likely damage many U.S. farms, according to documents seen by The Guardian.
Washington State Governor Jay Inslee and other leaders speak to the press on March 28, 2020 in Seattle. Karen Ducey / Getty Images
A bushfire burns outside the Perth Cricket Stadium in Perth, Australia on Dec. 13, 2019. PETER PARKS / AFP via Getty Images

By Albert Van Dijk, Luigi Renzullo, Marta Yebra and Shoshana Rapley
2019 was the year Australians confronted the fact that a healthy environment is more than just a pretty waterfall in a national park; a nice extra we can do without. We do not survive without air to breathe, water to drink, soil to grow food and weather we can cope with.