This website uses cookies to ensure you get the best experience while browsing it. By clicking 'Got It' you're accepting these terms.
It's Time to Break Saudi's Oil Monopoly and Embrace Clean Transportation
May. 31, 2016 08:15AM EST
Insights + Opinion
Oil touched $50 last week, close to double its slump price earlier this year, before falling slightly below that benchmark. Short-term impacts—the wildfire in Canada and outages in Nigeria—helped reduce stocks and drive up the price; then Iraq production increases stalled the rally. The market seemed to have averted the risk of an extended period of $20-30 prices, unsustainable for oil dependent nations, even the richest like the Saudis, whose "pump and dump" strategy lies behind the current low-price environment.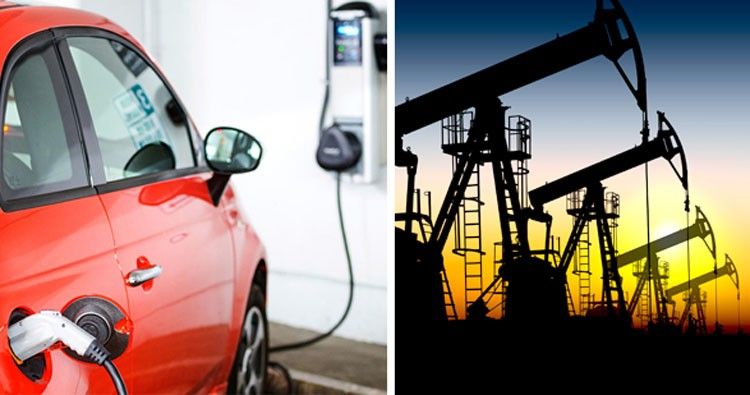 At $40-60/barrel, however, the Saudis can stay the course. They can afford that price in terms of their budget deficit, if not easily. Some U.S. shale plays come back into production, but the capital heavy projects in the Arctic, ultra-deep ocean or Canadian tar sands are still off the table as prudent investments. Medium term, as non-OPEC [Organization of the Petroleum Exporting Countries], non-shale production falls, with no new big ticket projects coming on-line to replace depleted wells, reserves fall. Increasing demand will then require increasing dependence on OPEC and soaring prices. Even if U.S. shale roars back in response, it can't make up for an investment slump everywhere else. The Saudis can then set the price they want.
Western governments know this. They treat the Kingdom with kid gloves. In Kossovo, even while it was effectively an American protectorate, the Saudis were allowed to implant jihadi mullahs to create an ideological base for their Wahhabi Islam. In the process they "transformed this once-tolerant Muslim society at the hem of Europe into a font of Islamic extremists and a pipeline for jihadists." Kossovo now sends more recruits to ISIS than any nation in Europe: 314 identified to date from a tiny country.
Kossovo is not alone. Wiki-Leaks found that the Saudi consulate in New Delhi had 140 imams on its payroll—and Indian Muslims lament the erosion of the tolerant Islam that was indigenous to their country.
In Washington, efforts to disclose the role of the Saudis in the 9-11 attacks, laid out in 28 still secret pages of the 9-11 Commission Report, are still stalled by counter-lobbying from the Saudi Government—although some of its representatives have previously asserted they have nothing to hide and would welcome the release of the documents.
So cheaper oil, even oil below $50, has not freed the U.S. from the security threats of oil's monopoly over global transportation, while it has threatened to continue (or even exacerbate) the escalating disruption of global climate stemming from continued reliance on oil and other fossil fuels.
The Saudi Strategy to extend oil's hegemony seems to be gathering steam.
But technology and politics are hinting there is a pathway to a world Beyond Oil. Recent months have been full of breakthroughs among advocates of clean transportation technologies like EV's. The biggest splash was Elon Musk's staggering 400,000 early orders for the launch of his Model 3. But significant new opportunities for EV's were also signaled by the declaration by Indian Energy Minister Piyush Goyal that he wanted a national goal of complete electrification of the Indian motor vehicle fleet by 2030! The German government, its market lagging the rest of Europe in EU sales, committed $1.4 billion to catch up. The Austrian Ministry of Agriculture and Environment is working on a plan that would ban the sale of new gas and diesel cars by 2020. Lawmakers in the lower house of the Dutch Parliament approved a motion in March that would ban the sale of new gas and diesel cars five years later.
These kinds of policy support for a more rapid transition to cleaner, non-petroleum based transportation choices matter—a lot. Indeed, even if clean transportation vehicles have higher sticker prices than diesel or gasoline engines, their positive impact on future oil prices makes them a very good deal for oil importers like the EU, the U.S., India and China. A recent study by Cambridge Econometrics, Oil Market Futures, concluded that investing in clean transportation could help head off the next oil price spike. It also found that without such leadership, oil prices could easily reach $130 by 2050, even though most of the U.S. shale reserves would become profitable again once prices reach $80. Importantly, it estimated public policies to encourage reduced reliance on oil could save $33 trillion in transportation spending over the decade from 2020-2030.
What is lacking, particularly in the U.S., is a robust public conversation about breaking oil's monopoly and replacing it with cleaner transportation. While states on the West Coast and in the Northeast push for lower oil dependence and the Obama Administration works on fuel economy standards, the oil and auto industries are gearing up a massive political assault on these efforts. Oil companies are pouring tens of millions of dollars in campaign contributions into California legislative efforts. The President has done little to make the fight to get off oil a clear priority for his final year in office. Donald Trump, of course, thinks the answer is simply to drill even more wells, precisely the strategy that has left us vulnerable to the Russians and Saudis today.
But one intriguing idea has been offered up—that the next president should set up a National Commission to investigate the manipulation of the global oil market by exporters like Saudi Arabia, Russia and Iran. The idea was offered by Securing America's Future Energy (SAFE), a coalition of business and national security leaders. SAFE's goal is not so much to discover new conspiracies—OPEC conducts its market manipulation in the broad light of day and economists have agreed for decades that in a competitive oil market, prices would be far lower.
But what has been lacking is a mechanism to focus public attention on the problem and the solution—ensuring that Americans have genuine transportation choices rather than being forced to fuel up with gasoline, diesel or jet fuel all derived from crude oil. SAFE's proposed OPEC Commission could serve that function, forcing Washington to address the problem. The first Congressional support for the idea came from some interesting sources: Arizona Republican Congressman Trent Franks, Minnesota Democrat Colin Peterson and Donald Trump's own energy advisor, North Dakota Congressman Kevin Cramer. (Trump himself did not embrace the idea, nor have either of the Democratic Presidential candidates).
So right now the Saudi bet is paying off—now it's up to oil importing nations like the U.S. to decide if they want to be whipsawed by $100 oil (or higher) yet one more time—or if they will embrace clean transportation, save trillions, defang Russia and the Wahhabis, with pollution free alternatives to oil.
YOU MIGHT ALSO LIKE
Ready to Buy an Electric Vehicle? Here's What You Need to Know
Shell Pipeline Leaks 20,000 Gallons of Oil in California's Central Valley
Granddaughter of Exxon Scientist Confronts CEO Over Funding Climate Denial
5 Things You Need to Know About Donald Trump's Pitiful Plan for the Planet
EcoWatch Daily Newsletter
Sen. Michael Bennet (D-CO) speaks during the North American Building Trades Unions Conference at the Washington Hilton April 10, 2019 in Washington, DC. Zach Gibson / Getty Images
Colorado senator and 2020 hopeful Michael Bennet introduced his plan to combat climate change Monday, in the first major policy rollout of his campaign. Bennet's plan calls for the establishment of a "Climate Bank," using $1 trillion in federal spending to "catalyze" $10 trillion in private spending for the U.S. to transition entirely to net-zero emissions by 2050.
When Trump's Environmental Protection Agency (EPA) announced its replacement for the Obama-era Clean Power Plan in August 2018, its own estimates said the reduced regulations could lead to 1,400 early deaths a year from air pollution by 2030.
Now, the EPA wants to change the way it calculates the risks posed by particulate matter pollution, using a model that would lower the death toll from the new plan, The New York Times reported Monday. Five current or former EPA officials familiar with the plan told The Times that the new method would assume there is no significant health gain by lowering air pollution levels below the legal limit. However, many public health experts say that there is no safe level of particulate matter exposure, which has long been linked to heart and lung disease.
A crate carrying one of the 33 lions rescued from circuses in Peru and Columbia is lifted onto the back of a lorry before being transported to a private reserve on April 30, 2016 in Johannesburg, South Africa. Dan Kitwood / Getty Images
By Andrea Germanos
Animal welfare advocates are praising soon-to-be introduced legislation in the U.S. that would ban the use of wild animals in traveling circuses.
A tornado Monday in Union City, Oklahoma.
TicToc by Bloomberg / YouTube screenshot
A woman walks in front of her water-logged home in Sriwulan village, Sayung sub-district of Demak regency, Central Java, Indonesia on Feb. 2, 2018. Siswono Toyudho / Anadolu Agency /Getty Images
Matt Cardy / Stringer / Getty Images
The Guardian is changing the way it writes about environmental issues.
Blueberry yogurt bark. SEE D JAN / iStock / Getty Images Plus
Having nutritious snacks to eat during the workday can help you stay energized and productive.

A 2017 flood in Elk Grove, California. Florence Low / California Department of Water Resources
By Tara Lohan
It's been the wettest 12 months on record in the continental United States. Parts of the High Plains and Midwest are still reeling from deadly, destructive and expensive spring floods — some of which have lasted for three months.
Mounting bills from natural disasters like these have prompted renewed calls to reform the National Flood Insurance Program, which is managed by Federal Emergency Management Agency and is now $20 billion in debt.