Is the Keystone XL Pipeline the 'Stonewall' of the Climate Movement?
Apr. 08, 2013 06:57AM EST
Climate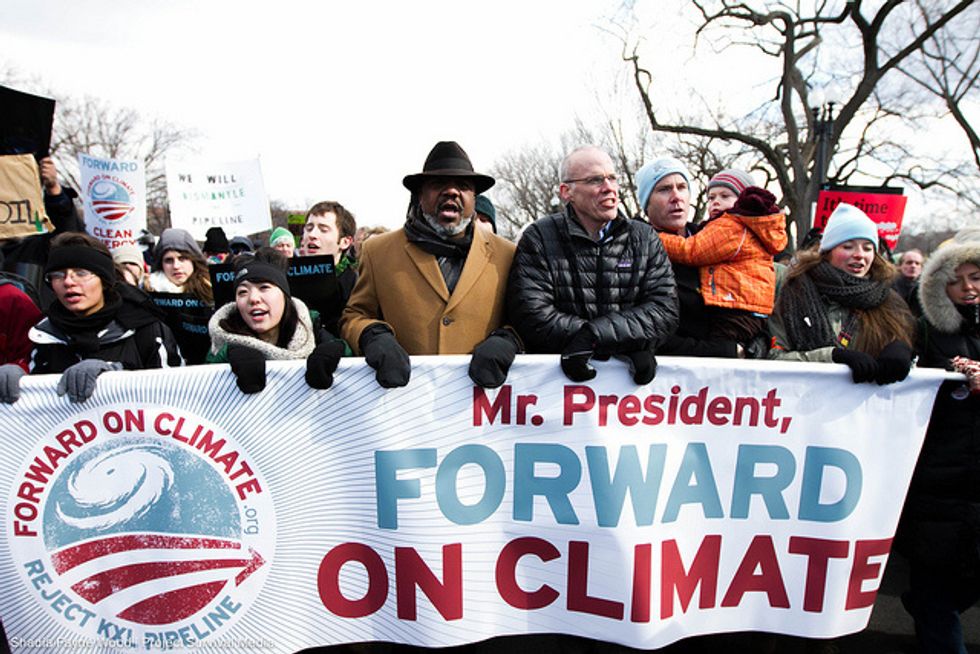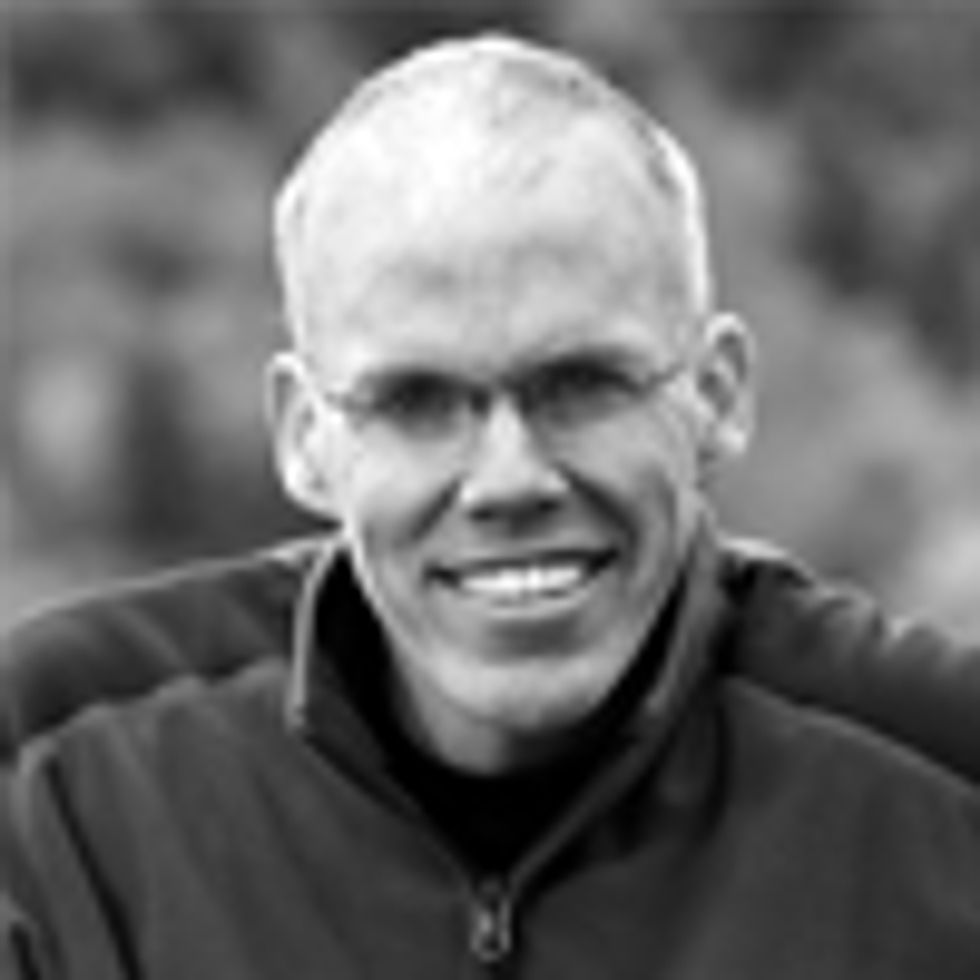 A few weeks ago, Time magazine called the fight over the Keystone XL pipeline that will bring some of the dirtiest energy on the planet from Alberta, Canada, to the U.S. Gulf Coast the "Selma and Stonewall" of the climate movement.
Which, if you think about it, may be both good news and bad news. Yes, those of us fighting the pipeline have mobilized record numbers of activists: the largest civil disobedience action in 30 years and 40,000 people on the mall in February for the biggest climate rally in American history. Right now, we're aiming to get a million people to send in public comments about the "environmental review" the State Department is conducting on the feasibility and advisability of building the pipeline. And there's good reason to put pressure on. After all, it's the same State Department that, as on a previous round of reviews, hired "experts" who had once worked as consultants for TransCanada, the pipeline's builder.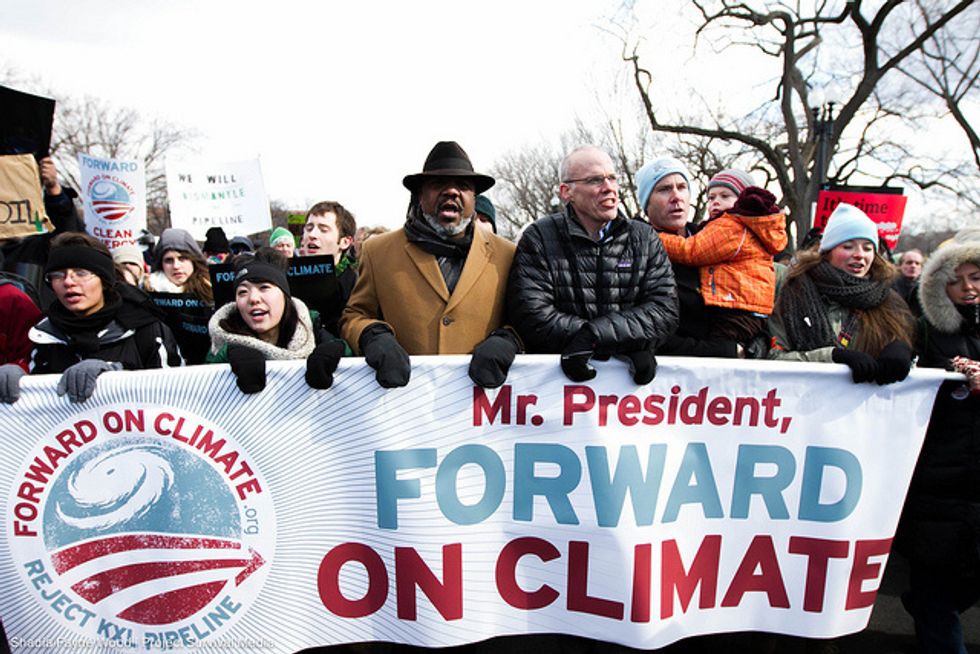 Still, let's put things in perspective: Stonewall took place in 1969, and as of last week the Supreme Court was still trying to decide if gay people should be allowed to marry each other. If the climate movement takes that long, we'll be rallying in scuba masks. (I'm not kidding. The section of the Washington Mall where we rallied against the pipeline this winter already has a big construction project underway: a flood barrier to keep the rising Potomac River out of downtown DC.)
It was certainly joyful to see marriage equality being considered by our top judicial body. In some ways, however, the most depressing spectacle of the week was watching Democratic leaders decide that, in 2013, it was finally safe to proclaim gay people actual human beings. In one weekend, Democratic Senators Mark Warner of Virginia, Claire McCaskill of Missouri, Tim Johnson of South Dakota and Jay Rockefeller of West Virginia figured out that they had "evolved" on the issue. And Bill Clinton, the greatest weathervane who ever lived, finally decided that the Defense of Marriage Act he had signed into law, boasted about in ads on Christian radio, and urged candidate John Kerry to defend as constitutional in 2004, was, you know, wrong. He, too, had "evolved," once the polls made it clear that such an evolution was a safe bet.
Why recite all this history? Because for me, the hardest part of the Keystone pipeline fight has been figuring out what in the world to do about the Democrats.
Fiddling While the Planet Burns
Let's begin by stipulating that, taken as a whole, they're better than the Republicans. About a year ago, in his initial campaign ad of the general election, Mitt Romney declared that his first act in office would be to approve Keystone and that, if necessary, he would "build it myself." (A charming image, it must be said). Every Republican in the Senate voted on a nonbinding resolution to approve the pipeline—every single one. In other words, their unity in subservience to the fossil fuel industry is complete, and almost compelling. At the least, you know exactly what you're getting from them.
With the Democrats, not so much. Seventeen of their Senate caucus—about a third—joined the GOP in voting to approve Keystone XL. As the Washington insider website Politico proclaimed in a headline the next day, "Obama's Achilles Heel on Climate: Senate Democrats."
Which actually may have been generous to the president. It's not at all clear that he wants to stop the Keystone pipeline (though he has the power to do so himself, no matter what the Senate may want), or for that matter do anything else very difficult when it comes to climate change. His new secretary of state, John Kerry, issued a preliminary environmental impact statement on the pipeline so fraught with errors that it took scientists and policy wonks about 20 minutes to shred its math.
Administration insiders keep insisting, ominously enough, that the president doesn't think Keystone is a very big deal. Indeed, despite his amped-up post-election rhetoric on climate change, he continues to insist on an "all of the above" energy policy which, as renowned climate scientist James Hansen pointed out in his valedictory shortly before retiring from NASA last week, simply can't be squared with basic climate-change math.
All these men and women have excuses for their climate conservatism. To name just two: the oil industry has endless resources and they're scared about reelection losses. Such excuses are perfectly realistic and pragmatic, as far as they go: if you can't get re-elected, you can't do even marginal good and you certainly can't block right-wing craziness. But they also hide a deep affection for oil industry money, which turns out to be an even better predictor of voting records than party affiliation.
Anyway, aren't all those apologias wearing thin as Arctic sea ice melts with startling, planet-changing speed? It was bad enough to take four decades simply to warm up to the idea of gay rights. Innumerable lives were blighted in those in-between years, and given long-lasting official unconcern about AIDS, innumerable lives were lost. At least, however, inaction didn't make the problem harder to solve: if the Supreme Court decides gay people should be able to marry, then they'll be able to marry.
Unlike gay rights or similar issues of basic human justice and fairness, climate change comes with a time limit. Go past a certain point, and we may no longer be able to affect the outcome in ways that will prevent long-term global catastrophe. We're clearly nearing that limit and so the essential cowardice of too many Democrats is becoming an ever more fundamental problem that needs to be faced. We lack the decades needed for their positions to "evolve" along with the polling numbers.  What we need, desperately, is for them to pitch in and help lead the transition in public opinion and public policy.
Instead, at best they insist on fiddling around the edges, while the planet prepares to burn. The newly formed Organizing for Action, for instance—an effort to turn Barack Obama's fundraising list into a kind of quasi-official MoveOn.org—has taken up climate change as one of its goals. Instead of joining with the actual movement around the Keystone pipeline or turning to other central organizing issues, however, it evidently plans to devote more energy to house parties to put solar panels on people's roofs. That's great, but there's no way such a "movement" will profoundly alter the trajectory of climate math, a task that instead requires deep structural reform of exactly the kind that makes the administration and Congressional "moderates" nervous.
Energy Independence: Last Century's Worry
So far, the Democrats are showing some willingness to face the issues that matter only when it comes to coal. After a decade of concentrated assault by activists led by the Sierra Club, the coal industry is now badly weakened: plans for more than 100 new coal-fired power plants have disappeared from anyone's drawing board. So, post-election, the White House finally seems willing to take on the industry at least in modest ways, including possibly with new Environmental Protection Agency regulations that could start closing down existing coal-fired plants (though even that approach now seems delayed).
Recently, I had a long talk with an administration insider who kept telling me that, for the next decade, we should focus all our energies on "killing coal." Why? Because it was politically feasible.
And indeed we should, but climate-change science makes it clear that we need to put the same sort of thought and creative energy into killing oil and natural gas, too. I mean, the Arctic—from Greenland to its seas—essentially melted last summer in a way never before seen. The frozen Arctic is like a large physical feature. It's as if you woke up one morning and your left arm was missing. You'd panic.
There is, however, no panic in Washington. Instead, the administration and Democratic moderates are reveling in new oil finds in North Dakota and in the shale gas now flowing out of Appalachia, even though exploiting both of these energy supplies is likely to lock us into more decades of fossil fuel use. They're pleased as punch that we're getting nearer to "energy independence." Unfortunately, energy independence was last century's worry. It dates back to the crises set off by the Organization of the Petroleum Exporting Countries in the early 1970s, not long after … Stonewall.
So what to do? The narrow window of opportunity that physics provides us makes me doubt that a third party will offer a fast enough answer to come to terms with our changing planet. The Green Party certainly offered the soundest platform in our last elections, and in Germany and Australia the Greens have been decisive in nudging coalition governments towards carbon commitments. But those are parliamentary systems. Here, so far, national third parties have been more likely to serve as spoilers than as wedges (though it's been an enlightening pleasure to engage with New York's Working Families Party, or the Progressives in Vermont). It's not clear to me how that will effectively lead to changes during the few years we've got left to deal with carbon. Climate science enforces a certain brute realism.  It makes it harder to follow one's heart.
Along with some way to make a third party truly viable, we need a genuine movement for fundamental governmental reform—not just a change in the Senate's filibuster rules, but publicly funded elections, an end to the idea that corporations are citizens, and genuine constraints on revolving-door lobbyists. These are crucial matters, and it is wonderful to see broad new campaigns underway around them. It's entirely possible that there's no way to do what needs doing about climate change in this country without them. But even their most optimistic proponents talk in terms of several election cycles, when the scientists tell us that we have no hope of holding the rise in the planetary temperature below two degrees unless global emissions peak by 2015.
Of course, climate change activists can and should continue to work to make the Democrats better. At the moment, for instance, the 350.org action fund is organizing college students for the Massachusetts primary later this month. One senatorial candidate, Steven Lynch, voted to build the Keystone pipeline, and that's not okay. Maybe electing his opponent, Ed Markey, will send at least a small signal. In fact, this strategy got considerably more promising in the last few days when California hedge fund manager and big-time Democratic donor Tom Steyer announced that he was not only going to go after Lynch, but any politician of any party who didn't take climate change seriously. "The goal here is not to win. The goal here is to destroy these people," he said, demonstrating precisely the level of rhetoric (and spending) that might actually start to shake things up.
It will take a while, though. According to press reports, Obama explained to the environmentalists at a fundraiser Steyer hosted that "the politics of this are tough," because "if your house is still underwater," then global warming is "probably not rising to your number one concern."
By underwater, he meant: worth less than the mortgage. At this rate, however, it won't be long before presidents who use that phrase actually mean "underwater." Obama closed his remarks by saying something that perfectly summed up the problem of our moment. Dealing with climate change, he said, is "going to take people in Washington who are willing to speak truth to power, are willing to take some risks politically, are willing to get a little bit out ahead of the curve—not two miles ahead of the curve, but just a little bit ahead of it."
That pretty much defines the Democrats: just a little bit ahead, not as bad as Bush, doing what we can.
And so, as I turn this problem over and over in my head, I keep coming to the same conclusion: we probably need to think, most of the time, about how to change the country, not the Democrats. If we build a movement strong enough to transform the national mood, then perhaps the trembling leaders of the Democrats will eventually follow. I mean, "evolve." At which point we'll get an end to things like the Keystone pipeline, and maybe even a price on carbon. That seems to be the lesson of Stonewall and of Selma. The movement is what matters; the Democrats are, at best, the eventual vehicle for closing the deal.
The closest thing I've got to a guru on American politics is my senator, Bernie Sanders. He deals with the Democrat problem all the time. He's an independent, but he caucuses with them, which means he's locked in the same weird dance as the rest of us working for real change.
A few weeks ago, I gave the keynote address at a global warming summit he convened in Vermont's state capital, and afterwards I confessed to him my perplexity. "I can't think of anything we can do except keep trying to build a big movement," I said. "A movement vast enough to scare or hearten the weak-kneed."
"There's nothing else that's ever going to do it," he replied.
And so, down to work.
Visit EcoWatch's KEYSTONE XL and CLIMATE CHANGE pages for more related news on this topic.
——–
SIGN THIS PETITION TODAY!
Recycling and general waste plastic wheelie bins awaiting collection for disposal in Newport, Rhode Island. Tim Graham / Getty Images
Reduce. Reuse. Recycle. According to The National Museum of American History, this popular slogan, with its iconic three arrows forming a triangle, embodied a national call to action to save the environment in the 1970s. In that same decade, the first Earth Day happened, the EPA was formed and Congress passed the Resource Conservation and Recovery Act, encouraging recycling and conservation of resources, Enviro Inc. reported.
According to Forbes, the Three R's sustainability catch-phrase, and the recycling cause it bolstered, remain synonymous with the U.S. environmental movement itself. There's only one problem: despite being touted as one of the most important personal actions that individuals can take to help the planet, "recycling" – as currently carried out in the U.S. – doesn't work and doesn't help.
Turns out, there is a vast divide between the misleading, popular notion of recycling as a "solution" to the American overconsumption problem and the darker reality of recycling as a failing business model.
Tiffany Duong is an avid ocean advocate. She holds degrees from UCLA and the University of Pennsylvania Carey Law School and is an Al Gore Climate Reality Leader and student member of The Explorer's Club.
She spent years as a renewable energy lawyer in L.A. before moving to the Amazon to conduct conservation fieldwork (and revamp her life). She eventually landed in the Florida Keys as a scientific scuba diver and field reporter and writes about the oceans, climate, and the environment from her slice of paradise. Follow her on Twitter/Instagram @lilicedt.
EcoWatch Daily Newsletter
The coal-fired Huaneng Power Plant in Huai 'an City, Jiangsu Province, China on Sept. 13, 2020. Costfoto / Barcroft Media via Getty Images
Overall energy demand is expected to rise 4.6 percent this year compared to 2020 and 0.5 percent compared to 2019, according to the IEA's Global Energy Review 2021. Demand for fossil fuels is expected to jump to such an extent that emissions will rise by nearly five percent in 2021. This will reverse 80 percent of the emissions decline reported in 2020, to end emissions just 1.2 percent below 2019 emissions levels. Because the lockdown saw the biggest drop in energy demand since World War II, the projected increase in carbon dioxide emissions will still be the second-highest on record, BBC News pointed out.
"This is a dire warning that the economic recovery from the COVID crisis is currently anything but sustainable for our climate," IEA Executive Director Fatih Birol said in a statement reported by AFP.
Birol said much of that increase was being driven by the resurgence of coal use. In fact, coal demand is expected to increase by 60 percent more than all forms of renewable energy, according to the report. Overall coal demand is expected to increase by 4.5 percent in 2021. More than 80 percent of that growth is in Asia, and more than 50 percent is in China. While coal use is expected to increase in the U.S. and Europe as well, it will remain far below pre-pandemic levels. Still, global coal use is expected to rise to nearly its 2014 peak, BBC News reported.
Natural gas demand is also expected to rise by 3.2 percent in 2021, to put it more than one percent above 2019 levels, according to the report.
There are, however, two bright spots in the report from a climate perspective. The first is that oil demand, while up 6.2 percent from 2020, is still expected to remain around 3 percent below 2019 levels. This is because oil use for ground transportation is not expected to recover until the end of 2021, and oil use for air travel is expected to remain at 20 percent below 2019 levels by December of 2021.
"A full return to pre-crisis oil demand levels would have pushed up CO2 emissions a further 1.5%, putting them well above 2019 levels," the report authors wrote.
The second bright spot is that renewable energy demand is set to rise in all sectors in 2021. In power, where its rise is the greatest, it is set to increase by more than eight percent. This is "the largest year-on-year growth on record in absolute terms," the report authors wrote.
Renewable energy will provide 30 percent of electricity overall, BBC News reported, which is the highest percentage since the industrial revolution. The problem is that the increase in renewables is running parallel to an increase in fossil fuels in some places. China, for example, is also expected to account for almost half of the rise in renewable electricity.
"As we have seen at the country-level in the past 15 years, the countries that succeed to cut their emissions are those where renewable energy replaces fossil energy," energy expert and University of East Anglia professor Corinne Le Quéré told BBC News. "What seems to be happening now is that we have a massive deployment of renewable energy, which is good for tackling climate change, but this is occurring alongside massive investments in coal and gas. Stimulus spending post-Covid-19 worldwide is still largely funding activities that lock us into high CO2 emissions for decades."
To address this issue, Birol called on the world leaders gathering for U.S. President Joe Biden's climate summit Thursday and Friday to pledge additional action before November's UN Climate Change Conference, according to AFP.
"Unless governments around the world move rapidly to start cutting emissions, we are likely to face an even worse situation in 2022," said Birol.
From Your Site Articles
Related Articles Around the Web
A grizzly bear killed an outdoor guide in a rare attack near Yellowstone Park. William Campbell / Corbis / Getty Images
Representative Alexandria Ocasio-Cortez (D-NY) re-introduces the Green New Deal in Washington, D.C. on April 20, 2021. Mandel Ngan / AFP / Getty Images
By Brett Wilkins
In the latest of a flurry of proposed Green New Deal legislation, Reps. Cori Bush and Alexandria Ocasio-Cortez on Monday introduced the Green New Deal for Cities Act of 2021, a $1 trillion plan to "tackle the environmental injustices that are making us and our children sick, costing us our homes, and destroying our planet."
Offshore oil and gas drillers have left more than 18,000 miles of pipelines at the bottom of the Gulf of Mexico. Drew Angerer / Getty Images
Offshore oil and gas drillers have discarded and abandoned more than 18,000 miles of pipelines on the floor of the Gulf of Mexico since the 1960s, a report from the Government Accountability Office says.
The industry has essentially recovered none of the pipelines laid in the Gulf in the last six decades; the abandoned infrastructure accounts for more than 97% of all of the decommissioned pipelines in the Gulf.
The pipelines pose a threat to the habitat around them, as maritime commerce and hurricanes and erosion can move sections of pipeline.
The Bureau of Safety and Environmental Enforcement does not conduct undersea inspections even though surface monitoring is "not always reliable for detecting ruptures," according to the GAO.
For a deeper dive:
For more climate change and clean energy news, you can follow Climate Nexus on Twitter and Facebook, sign up for daily Hot News, and visit their news site, Nexus Media News.