This website uses cookies to ensure you get the best experience while browsing it. By clicking 'Got It' you're accepting these terms.
Chimneys and cooling tower of a coal fired power station in in dramatic sunset light.
Schroptschop / E+ / Getty Images
New research has shown that just 20 fossil fuel companies have allowed their relentless greed to ignore decades of warnings about what their practices were doing to the world, as The Guardian reported. Their exploitation of the world's oil, gas and coal reserves is directly linked to more than one-third of the planet's carbon emissions.
By Cole Taylor
Storytelling is the heart of activism and community building. Part of my story is standing on the Fred Hartman Bridge and blocking the Houston Ship Channel for 18 hours on Sept. 12. Why did I feel compelled to do something like this? It really comes down to the many stories that make up my life, community and passion.
EcoWatch Daily Newsletter
Polar bear cub in the snow at the Arctic National Wildlife Refuge in Alaska. P. de Graaf / Moment / Getty Images
It was early in the morning last Thursday, and Jonathan Butler was standing on the Fred Hartman Bridge, helping 11 fellow Greenpeace activists rappel down and suspend themselves over the Houston Ship Channel. The protesters dangled in the air most of the day, shutting down a part of one of the country's largest ports for oil.
Greenpeace flew its thermal airship this morning over the Denver and Boulder area urging Coloradans to vote no on Amendment 71 or "Raise the Bar," which benefits wealthy interests while shutting those without significant funds out of the ballot initiative process. "Raise the Bar" is largely funded and promoted by the oil and gas industry and is opposed by a broad and unlikely coalition.
The Greenpeace Thermal Airship A.E. Bates takes to the skies over Boulder on Oct. 20 urging Coloradans to Vote No Initiative 71 or Raise the Bar, which would place a cumbersome burden on citizens wishing to participate in the ballot initiative process. Bob Pearson / Greenpeace
The airship messages read "Vote no 71" on one side and "Don't let BIG $ rig our democracy" on the other.

"Big corporations and industries hungry for more political power are trying to rig our democracy. If Amendment 71 passes, it will become much more difficult for everyday Coloradans to put forward ballot initiatives on everything from education to healthcare to protecting the natural beauty of our state," said Diana Best, a Denver-based senior campaigner for Greenpeace USA's Climate and Energy team.
"The oil and gas industry and other wealthy interests, who are bankrolling Amendment 71, are hoping to take people's voices out of our democracy, but Coloradans won't easily be silenced."
Amendment 71 would change the way Colorado's ballot process has functioned for the last 100 years, requiring 2 percent approval in each of the 35 state Senate districts for an initiative to qualify for the ballot and raising the minimum voter approval to 55 percent of votes cast. The Denver Post, which has come out in opposition to 71, estimates that it takes about $1 million for an initiative to make it on the Colorado ballot. "Raise the Bar" would increase that amount significantly, creating a barrier to entry that keeps most Coloradans shut out of the process.
The airship messages read "Vote no 71" on one side and "Don't let BIG $ rig our democracy" on the other.Bob Pearson / Greenpeace
"Colorado voters have seen how big money can drown out of the voices of the people in the political process," said Common Cause Colorado Executive Director Elena Nunez.
"When that happens, the ballot initiative process is an opportunity for the people to address important issues. We should be making it easier for people to have their voices heard, not putting the constitution off limits to all but the wealthiest special interests."

Amendment 71 was written by Vital for Colorado, a front group for the oil and gas industry with ties to the billionaire Koch Brothers, Americans for Prosperity, Anadarko Petroleum Corporation, Noble Energy and the Colorado Oil and Gas Association.
Greenpeace's 135-foot long thermal airship, named the "A.E. Bates" in honor of a dedicated volunteer, is one of the only aircraft of its kind in the U.S. The airship will continue to fly with this message throughout the next week in Denver, Boulder and Fort Collins, weather permitting.
This is not us trying to be The Onion. Oklahoma Gov. Mary Fallin has officially proclaimed Oct. 13 "Oilfield Prayer Day" to raise awareness for the state's declining oil industry. Here's her official signed proclamation.
Michael Vadon / State of Oklahoma Executive Department
The document states:

"Whereas Oklahoma is blessed with an abundance of oil and natural gas; and ... Christians acknowledge such natural resources are created by God ... Christians are invited to thank God for the blessings created by the oil and natural gas industry and to seek His wisdom and ask for protection."
A series of "Praying for the Patch" breakfasts will take place in other cities before culminating at the sixth annual Oilfield Prayer Breakfast on Oct. 13 in downtown Oklahoma City, an event that Fallin has made preliminary plans to attend.
Tom Beddow, coordinator of the Baptist General Convention of Oklahoma's Oil Patch Chaplains ministry, is one of the organizers of the Praying for the Patch initiative that was also created in partnership with the Oilfield Christian Fellowship.

The organizers have invited Oklahoma residents and churches to simultaneously pray for the state's energy industry, which directly or indirectly employs one-quarter of all job holders in the Sooner State.
"The oil field is hurting right now," Beddow told The Oklahoman. "We're asking churches all over Oklahoma to open their doors, put on a pot of coffee and pray for the oil field, and not only for the oil field but the state, because the economy of our state is so connected to the oil field."
According to The Oklahoman, Beddow is a former oil field welder who attends First Baptist Church of Ada. He wants churches to pray for people, schools, mental health agencies and other businesses and organizations affected by the energy industry's downturn.
"The faith community is experiencing the same economic disaster, and it seems to have the same need, the recovery from financial loss," Beddow also said, according to the The Baptist Messenger. "Once again, the need goes much deeper. The greatest need of the faith community is to develop a broken-hearted compassion for the oilfield and related industries. This is the type of compassion described in Neh. 1:1-5. Real compassion results in a more dynamic prayer life, which, in turn, leads to action."

Jeff Hubbard, with the Oilfield Christian Fellowship in Oklahoma City, told The Oklahoman he supports the prayer initiative.

"We have a saying: The oil field trickles down to everyone," he said.
He added that the prayer breakfasts bring together energy industry workers of all stripes.

"You've got guys in coveralls and guys in suits and ties," said Hubbard, who is also a senior account manager at Schlumberger oil field equipment supplier and member of Crossings Community Church.

Oklahoma's economy has indeed fallen on hard times partly due to cheap oil triggering energy industry losses. Not only that, the state's oil and gas production has also been tied to the state's alarming swarm of earthquakes.
Last month, a record-breaking 5.8-magnitude earthquake rattled the the city of Pawnee. Geologists are investigating whether the earthquake—which occurred 25 miles north of the world's largest oil-storage complex in Cushing—was triggered by wastewater fluid injection from oil and gas production in the area.
In the escalating ballot battle between the drilling industry and Colorado communities, new records show that energy companies are spending millions of dollars to stop anti-fracking measures in the state.
Environmental groups are currently gathering signatures on two statewide measures, 75 and 78, to appear on Colorado's November ballot. The first initiative would amend the state constitution to enable local governments the option to enact regulations more protective of health and safety than those required by the state, largely addressing the Colorado Supreme Court's recent decision to strike down fracking bans approved by voters in the cities of Fort Collins and Longmont. The other initiative would create 2,500-foot buffer zones between homes, schools and sensitive areas like playgrounds and water sources, and all new oil and gas development.
Active oil and gas wells in Colorado.Map: CPR/Nathaniel Minor | Data: COGCC
But in just the last three months, energy companies such as Anadarko Petroleum Corp, Noble Energy and Whiting Petroleum have funneled more than $6.7 million combined to Protect Colorado, an industry group that aims to defeat these measures, according campaign finance records reviewed by Reuters.
Protect Colorado argues that the initiatives threaten oil and natural gas development and would "devastate" the state's economy. The group raised concerns that these initiatives "would give local governments the sole power to regulate oil and natural gas activity in their jurisdictions, including the power to ban fracking."
"We are doing all that we can to defeat these measures because they would devastate Colorado's economic strength and competitiveness," Mike Kopp, executive director of Colorado Concern and former Colorado Senate minority leader, said. "Passage of these measures would mean—literally—that thousands of careers in a safe, environmentally-responsible industry would come to an abrupt halt, tax revenues that help fund schools and other important local projects would be cut off, and small towns around the state would suffer economically."
Colorado is the seventh-largest oil and gas producing state in the country. Reuters cited a study by the Colorado Oil and Gas Conservation Commission, which found that 90 percent of Colorado's surface acreage would be unavailable for oil and gas development if the setback law passes.

Yes For Health and Safety, a nonprofit pushing the two ballot initiatives, has raised concerns about the health risks of fracking operations and decried the state supreme court's decision to overturn local fracking bans in favor of Big Oil and Gas.
"Time and again, we've seen that this industry will say or do anything to mislead the public and protect their bottom line, but the scientific evidence speaks for itself: Fracking is a leading driver of climate change and destroys our most basic resources," Tricia Olson, executive director of Yes for Health and Safety Over Fracking, told EcoWatch.
"If we don't have clean air, water, soil and healthy bodies, how can our communities thrive? Big Oil and Gas may have billions of dollars, but we have passion, commitment and an historic opportunity to show communities everywhere that when people come together to protect their health and safety, anything is possible."
In an online petition, the group states:

With more than 73,000 fracking wells, many within walking distance of our homes and schools, Colorado has become ground zero for fracking in the U.S (watch a timelapse of wells spreading throughout our state here).
For years, Coloradans have demanded a stop to this dangerous extraction method. Despite being outspent 500-to-one by the oil and gas industry, five communities have successfully banned fracking in their backyards.
But the oil and gas industry refused to listen. With the support of our governor, the Colorado Oil and Gas Association (COGA) sued these communities, claiming that they have no right to participate in the decision of where and how they drill. In an outrageous rejection of democracy, the Colorado Supreme Court agreed and overturned community regulations and protections against fracking.
Time for a just transition: In response, communities across the state are taking to the streets rallying fiercely for protection of the health and safety of their neighborhoods and families with two state ballot initiatives (#75: Local Control and #78: 1/2-mile Setbacks) that would empower local communities to protect themselves against the hazardous impacts of hydraulic fracking.
In the video below, 16-year-old environmental activist Xiuhtezcatl Tonatiuh urges support for the measures.
"2016 is the year we that make a conscious decision to leave fracked oil in gas in the ground," the youth director of Earth Guardians says. "The Yes for Health and Safety initiatives, number 75 and 78, will protect the people of Colorado from the toxic fracking industry and keep climate-cooking methane out of our atmospheres. These initiatives mean protecting the people, protecting our water and our rights to a healthy atmosphere."
Watch here:
Inside Energy has called Colorado's ballot battle a David vs. Goliath fight pitting the ballot's supporters who have raised "just tens of thousands of dollars" against the deep-pocketed fossil fuels industry that can afford expensive advertisement. One of their television ads touts how "natural gas can help reduce our carbon footprint. We need natural gas, and fracking helps us get it."
Inside Energy reported that Protect Colorado has also bought billboards in Fort Collins and Denver metro with phrases such as, "Think before you ink, it's decline to sign."
Each initiative needs 98,492 signatures from registered voters before Aug. 8 to qualify for the November ballot. Organizers are busy collecting signatures throughout Colorado and will be attending the ARISE Music Festival in Loveland from Aug. 5 - 7 to get any final signatures needed. It is unknown how many signatures have been collected thus far but Lisa Trope of Food & Water Watch told Reuters she was optimistic the measures would get on the ballot.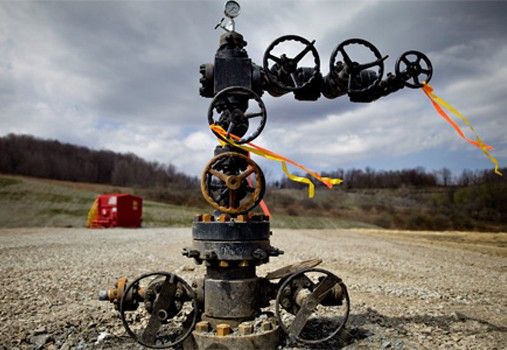 By Andy Rowell
In a decision that will both dismay and worry environmental campaigners and communities facing fracking across Europe, the European Commission has concluded that existing laws are adequate to cover the controversial drilling technique.
A new report undertaken for the European Commission by the Belgian law firm Philippe & Partners, argues that there is no need for more environmental legislation concerning fracking until it reaches commercial scale.
"Neither on the European level nor on the national level have we noticed significant gaps in the current legislative framework, when it comes to regulating the current level of shale gas activities," the study says.
However, in words that are meant to reassure people, the report continued: "However, this is no reason for complacency, since this assessment explicitly refers to the current level of experience and scale of operations as can be expected during the exploration phase."
Although the study was finished last November, it has only just been released by the commission. It also just covered four countries—Sweden, Poland, France and Germany.
But the report argues that activities relating to exploration of shale gas are already subject to EU and national laws and regulations, such as the Water Framework Directive, the Groundwater Directive and the Mining Waste Directive. The use of chemicals is covered by the REACH (Registration, Evaluation, Authorisation and Restriction of Chemical substances) regulation.
"It is a new technology and we do not have a specific legislation on shale gas, because it is so new," said Marlene Holzner, European commission spokesperson on energy. "So the study only says that the existing regulations are applicable for shale gas, that the tool is there and has only to be applied."
Ironically this report is at odds with another report submitted last summer to the commission, which was written for the European Parliament's Committee on Environment, Public Health and Food Safety.
That report called for "consideration to be given to developing a new directive at European level regulating all issues in this area comprehensively." The report, entitled Impacts of shale gas and shale oil extraction on the environment and human health also recommended that for fracking, "all chemicals to be used should be disclosed publicly, the number of allowed chemicals should be restricted and its use should be monitored."
But of course, by the time fracking gets to a commercial scale it could well be too late to monitor all the chemicals being used and to rush in EU-wide legislation, especially given the time it takes to draft legislation and then get it past the EU's various respective bodies.
Meanwhile, there would be huge financial and other pressure from the oil industry to carry on drilling without having to wait for further regulations. It is a scenario that many communities in America are finding to their cost.
The new report will be used by the oil industry as a green light to carry on fracking. Poland, where the fracking revolution is occurring full steam ahead, is planning to begin commercial shale gas production in two years' time. So if laws are to be implemented at the EU level to cover commercial drilling, that needs to happen now.
Not every country in the EU is fracking mad, though.
A couple of weeks ago, thousands of Bulgarians protested against fracking over fears it could poison underground water, trigger earthquakes and pose serious public health hazards. Protestors rallied in more than six Bulgarian cities calling for a fracking moratorium.
"I am opposed because we do not know what chemicals they will put in the ground. Once they poison the water, what shall we drink?" said Olga Petrova, 24, a student who attended a protest in Sofia.
Days later, Bulgaria's National Assembly voted to impose an indefinite fracking ban in the country. France also banned fracking last July, while in Britain fracking has caused minor earthquakes.
Who's going to draft a law to stop that happening again?
For more information, click here.