This website uses cookies to ensure you get the best experience while browsing it. By clicking 'Got It' you're accepting these terms.
How Cheap China-Manufactured Goods Impact U.S. Air Quality
Jan. 21, 2014 12:38PM EST
Cities like Los Angeles have been getting an extra smog-filled day per year, and a new study suggests that our demand for products made across the Pacific Ocean have a lot to do with it.
A study published by the U.S. National Academy of Sciences suggests that large amounts of pollution that travel from China—and the environmental and health issues they create—stem from our demand for cheap goods manufactured in China.
Written by nine scholars from three countries, the study is the first to quantify how much of the nitrogen oxide and carbon monoxide pollution that reaches the West Coast originates from the Chinese production of cellphones, televisions and other goods imported here and elsewhere.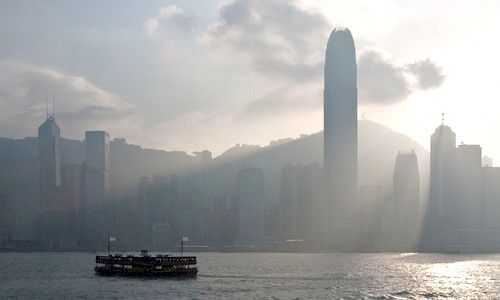 Photo courtesy of Shutterstock
"We've outsourced our manufacturing and much of our pollution, but some of it is blowing back across the Pacific to haunt us," co-author Steve Davis, a scientist at University of California Irvine, said in a statement about the study. "Given the complaints about how Chinese pollution is corrupting other countries' air, this paper shows that there may be plenty of blame to go around."
Aside from the extra day of smog, as much as one quarter of the sulfate pollution on the West Coast is tied to Chinese exports on some days. All the contaminants tracked in the study are key ingredients in smog and soot.
As much as 36 percent of various air pollutants in China in 2006 were related to the production of goods for export, according to the report. One-fifth of that pollution was specifically tied to trade between the U.S. and China.
"This is a reminder to us that a significant percentage of China's emissions of traditional pollutants and greenhouse gas emissions are connected to the products we buy and use every day in the U.S.," Alex L. Wang, a law professor at the University of California, Los Angeles, told The New York Times after looking at the study. We should be concerned, not only because this pollution is harming the citizens of China, but because it's damaging the air quality in parts of the U.S." 
The study's methodology examined China's economy as well as the Earth's atmosphere and weather patterns. The scholars analyzed at data from 42 sectors that contribute to emissions, including steel and cement production, power generation and transportation, according to The New York Times. Coal-burning factories were found to be the largest sources of pollutants and greenhouse gases.
"When you buy a product at Wal-Mart, it has to be manufactured somewhere," Davis said. "The product doesn't contain the pollution, but creating it caused the pollution.
"International cooperation to reduce trans-boundary transport of air pollution must confront the question of who is responsible for emissions in one country during production of goods to support consumption in another."
Visit EcoWatch's CLIMATE CHANGE page for more related news on this topic.

EcoWatch Daily Newsletter
Lara Hata / iStock / Getty Images
By SaVanna Shoemaker, MS, RDN, LD
Rice is a staple in many people's diets. It's filling, inexpensive, and a great mild-tasting addition to flavorful dishes.
An image of the trans-alaskan oil pipeline that carries oil from the northern part of Alaska all the way to valdez. This shot is right near the arctic national wildlife refuge. kyletperry / iStock / Getty Images Plus
The Trump administration has initialized the final steps to open up nearly 1.6 million acres of the protected Alaskan National Wildlife Refuge to allow oil and gas drilling.
Kaboompics / Pexels
Tensions between lawmakers and several large manufacturing companies came to a head on Capitol Hill this week during a hearing on toxic fluorochemicals in U.S. drinking water.
A male african lion plays with his 4 month old cub at Big Marsh in Serengeti National Park, Tanzania. Nick Garbutt / Barcroft Media / Getty Images
A Florida man has been allowed to import a Tanzanian lion's skin, skull, claws and teeth, a first since the animal was listed as threatened under the Endangered Species Act, according to US Fish and Wildlife Service records uncovered by the Center for Biological Diversity through the Freedom of Information Act.
A fracked natural gas well in northwest Louisiana has been burning for two weeks after suffering a blowout. A state official said the fire will likely burn for the next month before the flames can be brought under control by drilling a relief well.
The universe is expanding much quicker than previously thought, according to researchers in Germany, leading scientists to suggest it may be more than 2 billion years younger than past estimates.