This dip dye black fringe dress is sassy and classy! The short sleeves make it extremely unique as far as fringe dresss go but, the one button collar and the half way side zipper make it awesome. The sheer fabric makes it perfect for covering up that little mini dress until you get into the restaurant or bar on those cooler spring evenings. This is also cool enough that you can wear it over that little black dress at work and be ready to go out when the clock strikes five. It can be ordered in the two tone black and green that is pictured or you can go simple white or classic black. It doesn't matter because each one will look as great as the other. This is also a good cover for those beautiful, curvy ladies out there. You can order this in a small, medium, or large depending on your figure and shape.
EcoWatch Daily Newsletter
For almost 40 years, field scientists strapped on cross-country skis, shouldered backpacks with supplies and set out over three miles of snow and rocks to a field station near a meadow high in the Rocky Mountains as soon as the snow began melting. Every other day, they counted each flower they found, identified the plant it belonged to and kept meticulous records of their observations.
Over four decades, researchers have documented when flowers are in bloom at the Rocky Mountain Biological Laboratory. Photo credit: David Inouye
Those observations provide the longest-running scientific study of its kind and tell a story of biological change that teaches scientists new lessons about phenology—the timing of biological events—and how they shift under the influence of climate change.
Unlike previous phenological studies that relied mostly on documenting the first appearance of flowers, the new analysis is the first to not only look at when flowers first appear, but also at peak flowering—that is, the time of year when most flowers are blooming—and the last day of flowering in a season.
The study was led by Paul CaraDonna, a third-year doctoral student in the Department of Ecology and Evolutionary Biology at the University of Arizona, and Amy Iler, a postdoctoral researcher from the University of Maryland. The results are published this week in the journal Proceedings of the National Academy of Sciences.
The paper paints a much more complex picture than previous phenological studies on which ecologists have relied to gather clues about how climate change affects the timing of biological events like flower buds popping, animals emerging from hibernation, leaves turning in the fall or flocks of birds taking off for their seasonal migration.
"We already knew that the timing of biological events, such as emergence of the first flowers in a season, has been shifting toward earlier dates, but we show it's more complicated than that," said Iler, who is affiliated with the Rocky Mountain Biological Laboratory, where the research was carried out.
The study provides data that could inform algorithms used in simulations that model phenological change to help predict what the future might have in store.
Analyzing the long-term field records, CaraDonna's team discovered that over the course of 39 years, the flowering season at the study site has expanded by more than a month, driven by earlier snowmelt and a warming climate.
"In a high-mountain ecosystem that is hemmed in by snow for most of the year, a whole month is a big deal," said CaraDonna, who is a member in the lab of UA Distinguished Professor Judith Bronstein.
Shifts in flowering schedule caused by a changing climate can affect the relationships between plants and their pollinators. Photo credit: Paul CaraDonna
Located at 9,500 feet in Colorado, the study site at the Rocky Mountain Biological Laboratory encompasses meadows with wildflowers, aspen and conifer forests that are covered by a snowpack for the majority of the year. Once the snow melts in mid-May, flowers have only until early October to emerge, bloom, attract pollinators and disperse their seeds before the snow returns.
In many cases of recent studies, researchers relied on data sets collected by others instead of spending time actually looking at the plants and animals in nature, CaraDonna said.
"Because we have spent so much time outside gathering these phenological data, we began to realize that it's not as simple as the first observation," CaraDonna continued. "There is a lot more going on."
"Our observations over the entire course of the season allow us to determine the complete distribution of blooming plants over time, and from those distributions we can gather a much deeper ecological insight and better answers to questions that aim to link climate to biological events."
In addition, the study revealed that the degree to which plants flower at the same time changed over the course of the 39 years, potentially representing a shift in interactions among plants.
"Such interactions can be plants competing over nutrients or pollinators," CaraDonna explained. "For example, if plant species A used to flower all by itself, it used to have a monopoly on the pollinator market. But if plant species B now flowers earlier and overlaps with A, they now both compete for the same pollinator."
Phenological changes, the researchers say, can reshape the various aspects of biological systems across the world and potentially even affect agriculture and the global food supply.
"It's a cascading effect," CaraDonna said. "Climate changes not only how plants interact with each other but how they interact with animals like pollinators and seed eaters, too. Climate change is happening all over the world, and we can expect spillover effects that add up and may very well influence agricultural systems."
Over the course of 39 years, the flowering season at the study site has expanded by more than a month, driven by earlier snowmelt and a warming climate. Photo credit: David Inouye
Exactly how those changes reshape ecosystems will require more research, according to CaraDonna and his collaborators.
"We now know that first flowering advances the strongest under warming temperatures—the time of peak flowering a bit less, and the timing of last flowering varies quite a bit," Iler said. "Even if other scientists who are modeling phenological change for other systems may not be able to use our data directly, they can at least make educated decisions on how to weight these factors differently to make those models more realistic."
"We hope our study sets a new standard," Iler added. "It is exciting to see the USA National Phenology Network, which is based in Tucson, encourage citizen scientists help collect data, and they are starting to use this kind of information."
The paper was co-authored by David W. Inouye of the Rocky Mountain Biological Laboratory and the Department of Biology at the University of Maryland.
Visit EcoWatch's BIODIVERSITY and CLIMATE CHANGE pages for more related news on this topic.

Environmental advocacy groups this morning filed suit against the United Bulk coal export terminal in Davant, LA, for violating the federal Clean Water Act. Photographs, video footage and satellite imagery document piles of United Bulk coal and petroleum coke that generate highly polluting dust and debris.
The imagery shows plumes of coal-polluted water spreading into the Mississippi River from the United Bulk terminal. The terminal, owned by United Bulk Terminals Davant LLC, has operated for more than four decades, shipping millions of tons of coal and petcoke every year to overseas markets.
"The coal and petcoke sit in huge, open piles along the river," said Warren Lawrence, who lives in the neighboring community of Myrtle Grove. "So when there's rain and wind, it just blows right into the river and the wetlands. The natural environment is the reason people love this area, and the coal is destroying it."
Gulf Restoration Network, Louisiana Environmental Action Network (LEAN) and Sierra Club filed suit in New Orleans' U.S. District Court for the Eastern District of Louisiana. The groups, represented by Tulane University's Environmental Law Clinic, are members of the Clean Gulf Commerce Coalition, which is working to clean-up existing coal terminals in the Gulf Coast region, stop any new coal export terminals, and promote cleaner, safer industries and jobs.
The suit contends that United Bulk has illegally discharged coal and petcoke into the river every day that it has operated for at least five years. It points out that coal and petcoke—an oil-refining byproduct with high levels of arsenic, mercury and other toxins hazardous to human health and aquatic life—have been discharged into the river in enough quantities to produce visible spills on a regular basis. The suit also cites the U.S. Environmental Protection Agency's determination that stormwater runoff from coal piles "can flush heavy metals from the coal, such as arsenic and lead, into nearby bodies of water."
LEAN Executive Director Marylee Orr said that conservation groups and community residents hope that United Bulk will adopt a more environmentally responsible approach. "We're hopeful that we'll be able to work with the company to clean up the facility and make it safer for workers, communities and the environment."
Today's legal challenge follows the suit filed last fall by Clean Gulf Commerce Coalition organization against Louisiana's Department of Natural Resources for its illegal approval of a coastal use permit for the proposed RAM coal export terminal in Myrtle Grove in Plaquemines Parish. The suit argues that the RAM terminal conflicts with the state's master plan for restoring Louisiana's disappearing coastal wetlands.
"The expansion of coal exports and the associated pollution to the Mississippi and surrounding communities and wetlands flies in the face of Louisiana's coastal master plan," said Scott Eustis, Gulf Restoration Network's coastal wetland specialist. "The river is a valuable and limited resource for rebuilding our coastal wetlands, without which we cannot continue to live in Louisiana."
Louisiana is at particular risk from increased coal exports through the Mississippi River. Three terminals along the Lower Mississippi, including United Bulk, are seeking to dramatically expand exports, which would increase the amount of coal and petcoke stored in open piles, blanket nearby areas in dust and discharge more coal-polluted runoff into vital coastal wetlands.
The international market for U.S. coal has also grown increasingly volatile. Port authorities on the West Coast and in Corpus Christi, TX have concluded that the coal export market is simply too risky to invest significant sums in new or expanded shipping facilities.
"When you look at the big picture, the existing coal terminals in Louisiana are too dirty, and shipping more coal through Louisiana at new terminals is simply too risky," said Al Armendariz, senior campaign representative with Sierra Club's Beyond Coal campaign. "The international markets can't be counted on, the changing climate creates too many variables, and local communities don't want to be the coal pipeline to India and China. Louisiana leaders should focus on solutions that will help communities prosper—coastal restoration and tapping into the clean energy economy now."
Both Clean Gulf Commerce Coalition and the Power Past Coal coalition in the Pacific Northwest are focusing attention on health, safety and environmental impacts of existing coal export systems, including shipping coal by rail from mines to the ports.
The Clean Gulf Commerce Coalition includes: Air Alliance Houston, Gulf Restoration Network, Louisiana Environmental Action Network, Lower Mississippi River Keeper, Public Citizen, Sierra Club, Texas Environmental Justice Advocacy Services and Texas Organizing Project.
Visit EcoWatch's COAL page for more related news on this topic.

The heads of 16 national and regional climate advocacy groups don't see how exporting fracked and liquefied natural gas (LNG) fits into a climate change agenda.
The group says proposals to expand the country's fracking exports would undermine President Barack Obama's efforts to battle climate change. They let him know as much in a jointly signed letter Tuesday afternoon.
The leaders, including 350.org co-founder and President Bill McKibben and Waterkeeper Alliance Executive Director Marc Yaggi, want the president to guarantee a thorough, federal environmental impact review for Cove Point, a controversial liquefied natural gas export proposal from Dominion Resources less than 70 miles south of the White House.
People participate in the largest environmental protest in Baltimore history, opposing Cove Point, an approved fracked gas export terminal. Sixteen environmental organizations have formally opposed Cove Point in a letter to President Barack Obama. Photo credit: Chesapeake Climate Action Network on Facebook.
"President Obama, exporting LNG is simply a bad idea in almost every way. We again implore you to shift course on this disastrous push to frack, liquefy and export this climate-wrecking fossil fuel," the letter reads.
"As a first step, tell [the Federal Energy Regulatory Commission] to drop its shameful and unacceptably weak permitting process for Cove Point in Maryland. Demand a full Environmental Impact Statement [EIS] for this massive $3.8 billion project just a short drive from your house. An EIS will put more facts on the table and, we believe, will persuade you and the nation that a pell-mell rush to export gas is a pell-mell rush to global climate ruin."
Cove Point has already inspired the largest environmental protest in Baltimore's history and a few arrests outside a circuit court in Maryland. The group who issued the letter to Obama believes Cove Point represents the "fast-track strategy of the gas industry to export U.S. fracked gas and then ask questions later," according to the letter.
The groups used reports from the International Energy Agency and juxtaposed comments from U.S. Secretary of State John Kerry and Obama against the seemingly contradictory act of moving forward without an EIS on Cove Point.
"President Obama has told us many times that failure to address the climate crisis amounts to the betrayal of our children and future generations, so it would be contradictory for the president to allow the LNG export facility at Cove Point to start operating without a full environmental review," Sierra Club Executive Director Michael Brune said. "We can't cut climate pollution and simultaneously expand the use of dirty fossil fuels, and we must fully understand the consequences of liquefying fracked natural gas for export. Building new fossil fuel infrastructure keeps America tied to the past.
"We should be exporting clean energy innovation, not the dirty fuels of the 19th century."
In addition to Brune, Yaggi and McKibben, here are the cosignatories:
Visit EcoWatch's FRACKING page for more related news on this topic.

A new report shows that nearly all of the 1.1 million barrels a day of crude oil the proposed Energy East pipeline would carry would be exported unrefined. The report, TransCanada's Energy East Pipeline: For Export, Not Domestic Gain, shows eastern Canadian refineries would process only a small amount of crude from Energy East, given that they already rely substantially on two other North American sources, with a third source imminent.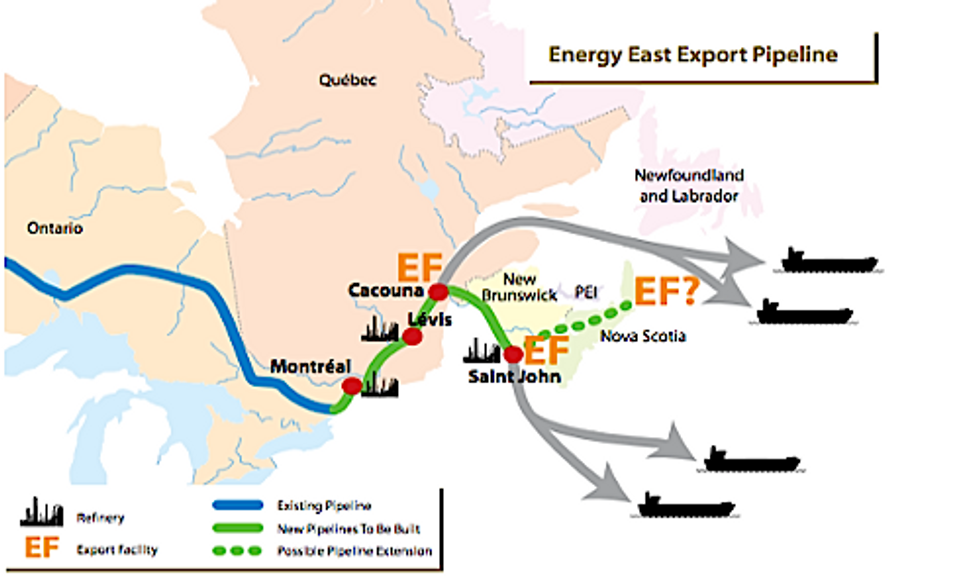 "Canadians are being misled about this risky project," said Adam Scott of Environmental Defence. "The evidence is clear that Energy East is primarily an export pipeline."
"Canadians would have all the risks of the pipeline, but little reward. Energy East threatens thousands of Canadians with the risk of a tar sands oil spill and only benefits the companies that want to export Canadian crude oil."
The report shows refineries located along the Energy East pipeline route can process up to 672,000 barrels of crude a day (combined). Much of that capacity is already being filled by Atlantic crude and U.S. crude, with Line 9 soon to become a third major supply source.
"Energy East is industry's desperate attempt to get landlocked Alberta tar sands to international markets for higher profits, not to help Canadians," said Andrea Harden of the Council of Canadians. "You could say the only oil we are going to get in Canada is that which will leak out, a major concern given the pipeline route crosses numerous significant sources of drinking water."
TransCanada has proposed export terminals for the port of Gros Cacouna, Quebec and in Saint John, New Brunswick. Another has been suggested by a third party. Of these three export points, only Saint John is located near a refinery, underscoring the purpose of Energy East is to export oil, not refine it.
TransCanada's proposed Energy East pipeline threatens the Bay of Funday in New Brunswick. Photo courtesy of Shutterstock
"Maritimers are not being told the truth," said Catherine Abreu of the Ecology Action Centre. "Energy East will not create jobs or prosperity in our region. It will only put jobs at risk as it threatens the Bay of Fundy and turns us into an export terminus rather than a hub of local investment and economic growth." 
Because the largest piece of new pipeline would pass through Quebec, Quebecers would have to bear a lot of risk with little in return.
"With the Quebec provincial election underway, we are asking all parties to support the need for an Environmental Impact Assessment as well as participatory hearings on Energy East in Quebec," said Steven Guilbeault d'Equiterre.
This report uses information from TransCanada, along with sources from industry, government reports and legal documents. The groups releasing the report are: Environmental Defence, Equiterre, Council of Canadians and Ecology Action Centre.
Visit EcoWatch's TAR SANDS page for more related news on this topic.

Waterkeeper Alliance released aerial surveillance photos taken from a fixed-wing aircraft last week showing Duke Energy workers pumping wastewater from two of Duke Energy's toxic coal ash lagoons into a canal that drains into the Cape Fear River.
The revelation comes less than two months after the Dan River disaster, where at least 30,000 tons of coal ash spilled from another of Duke Energy's toxic coal ash lagoons. The pumping also came just days before a federal grand jury convenes in Raleigh to hear evidence in a criminal investigation of Duke Energy, the North Carolina Dept. of Environment and Natural Resources (DENR) and the handling of coal ash.
In these revealing stories in Sunday's New York Times and Monday's Los Angeles Times, Duke Energy admitted its workers were pumping coal ash wastewater out of a toxic wastewater pond and into a canal which drains into the Cape Fear River. The Cape Fear River is a source of public drinking water for residents in Fayetteville, Sanford, Dunn, Harnett County, Fort Bragg and Wilmington.
Even more startling, Duke Energy described the pumping of coal ash wastewater into a watershed as part of "routine maintenance." The New York Times quoted Duke Energy spokesman Jeff Brooks as saying: "They're lowering the water to conduct the maintenance they need to." According to the New York Times, Duke claims it notified state regulators—a claim that was contradicted by officials with DENR.
Duke Energy cannot lawfully discharge any pollutant to a waterway without a proper permit in place.
"To label the secret, unmitigated, intentional discharge of untold amounts of highly toxic wastewater as 'routine maintenance' seems ludicrous," said Peter Harrison of the Waterkeeper Alliance. "Here, Duke Energy has admitted that it deliberately emptied the contents of its ash ponds into the Cape Fear River watershed, just weeks after decimating at least 70 miles of the Dan River with its coal ash, and just days before it will appear in front of a federal grand jury for its suspected criminal activity related to its coal ash."
DENR has indicated that Duke did not notify the agency prior to pumping the ponds, and that regulators noticed the pumping during a site visit on an unspecified day last week. "If DENR did not authorize Duke's pumping, it would show an appalling disregard for the law and the welfare of North Carolinians," Harrison added.
Cape Fear Riverkeeper Kemp Burdette said, "I am gravely concerned that neither Duke nor DENR gave any public notice that untold gallons of concentrated untreated coal ash waste was deliberately dumped into the Cape Fear watershed. Hundreds of thousands of North Carolinians rely on the Cape Fear river for drinking water, fishing and swimming. We do not want heavy metals from coal ash in our river."
Waterkeeper Alliance Global Coal Campaign Coordinator Donna Lisenby said, "Duke never obtained an official modification of its NPDES permit to allow the discharge the highly concentrated coal ash waste water from the bottom of their ponds into the Cape Fear river watershed—if it had happened through open channels, the public would have had a chance to object. This was either illegal, unilateral action by Duke—or a quiet backroom deal with DENR.  There is no evidence that any valid, publicly available permit allows them to discharge untold gallons of untreated concentrated coal ash waste water. Duke Energy should provide the specific language from the permit they claim allowed them to discharge highly concentrated untreated coal ash waste water into a standing body of water with almost no flow to dilute it."
The Public Needs Answers
In light of these startling photos and initial response from Duke Energy, Waterkeeper Alliance and Cape Fear Riverkeeper call on Duke Energy and North Carolina DENR to clarify answers to these questions for the public:
Precisely when did Duke notify DENR that they were going to pump coal ash water into the Cape Fear river watershed? Was it before or after Waterkeeper Alliance photos were provided to state regulators via a news reporter on March 11?
Precisely when did DENR discover the pumping activity on a site visit last week? When did it intend to inform the public that a potentially staggering volume of coal ash wastewater had been dumped into the river? DENR should describe exactly what transpired on this alleged site visit when staff discovered the discharges.
Has DENR actually issued a permit that allows Duke Energy to pump millions of gallons of concentrated untreated wastewater from two coal ash ponds simultaneously? If so, when was the permit issued? Was it before or after the Dan River spill? Was it before or after the criminal investigation was launched by federal investigators?
How much of Duke Energy's untreated coal ash wastewater entered the Cape Fear River? A "bathtub ring" visible in the aerial photos suggests the wastewater levels in both coal ash ponds had receded several feet by the time the photos were taken on Monday March 10. Given the size of the ponds, that means Duke potentially pumped millions of gallons of highly concentrated, untreated coal ash wastewater from two ponds prior to March 10. Did Duke measure the amount of wastewater pumped from the two coal ash lagoons? Did it test the untreated wastewater for the heavy metals commonly found in coal ash? If so, how much aluminum, arsenic, boron, cadmium, chromium, cobalt, iron, lead, manganese, selenium, thallium and zinc did they dump upstream of the drinking water intakes of Fayetteville, Sanford, Dunn, Harnett County, Fort Bragg and Wilmington?
Duke says this pumping was legal and permitted for "routine maintenance" by a permit. Can they provide a copy of the permit highlighting the specific language that allows them to pump millions of gallons of concentrated untreated coal ash wastewater from two coal ash ponds at the same time? Is pumping of coal ash wastewater using portable pumps a "routine?" How many times have they pumped coal ash water into public rivers from portable pumps? Can they provide a list of the locations of their other facilities in North Carolina that have used temporary pumps to dump untreated coal ash wastewater into waters of the state? Did they notify downstream drinking water providers and DENR before they did it? Did they measure the amount of untreated coal ash water they dumped into the public waters? Did they test it for heavy metals before they began pumping?
Has Duke Energy ever before publicly acknowledged that they use portable pumps to dump coal ash water into into public waters?
Visit EcoWatch's COAL and WATER pages for more related news on this topic.

Time-lapse photography from a camera strapped to a tree has captured a year's worth of images proving that dangerous coal ash wastewater from a plant owned by the utility company Louisville Gas & Electric (LG&E) is pouring unabated into the Ohio River.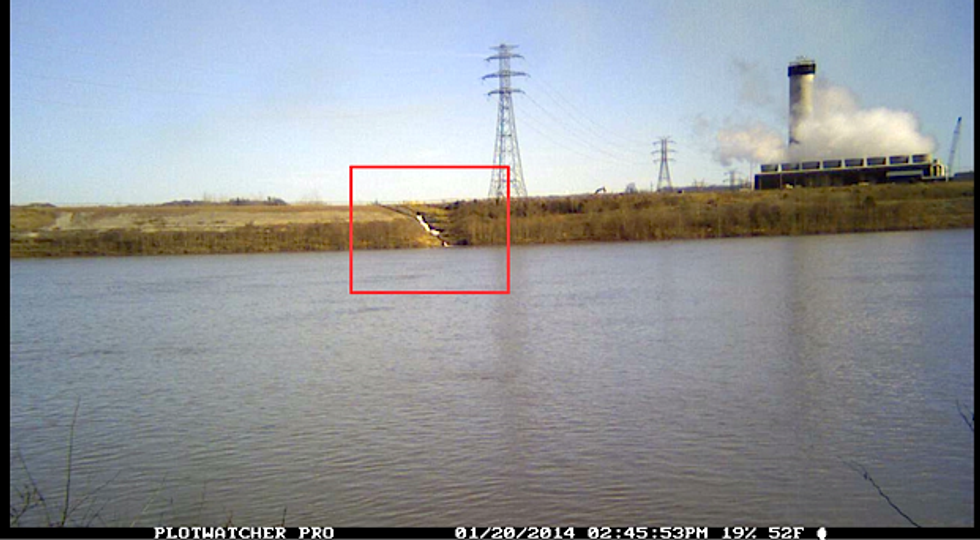 This photographic evidence, along with Google Earth satellite images from 1993 to present, support the Sierra Club and Earthjustice's notice of intent to sue LG&E for violating the federal Clean Water Act and the terms of the utility's own permit allowing only an "occasional" discharge into the river.
"It's devastating to think that this could have been going on for more than 20 years," said Sierra Club organizer Thomas Pearce, who helped install the hidden camera last year. "It's like the North Carolina or West Virginia spills but in slow motion, with no one to stop it."
A coal ash pond for LG&E's Mill Creek Generating Station, which sits on the Ohio River, is the source of the pollution. The U.S. Environmental Protection Agency (EPA) previously classified the pond as being "high hazard," meaning a failure or misoperation of the ash pond dam will likely result in fatalities and environmental damage.  
While the federal Clean Water Act does protect waterways from pollution, there are no federal safeguards specific to coal ash pollution. The Sierra Club is part of a legal agreement with 11 organizations compelling the EPA to finalize safeguards against coal ash pollution by Dec. 19.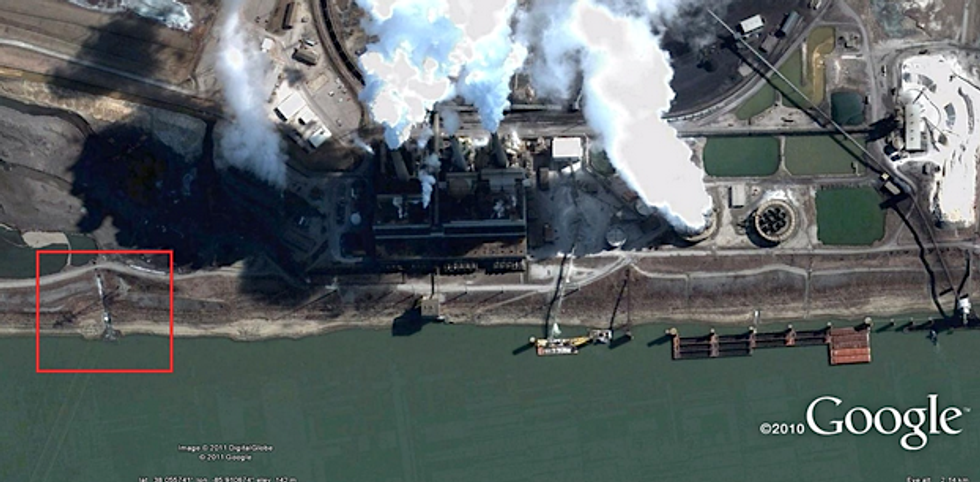 Coal ash is the toxic byproduct left over when coal is burned to generate electricity. It contains dangerous chemicals including mercury, arsenic (a known carcinogen), lead, selenium, cadmium and many other harmful metals and pollutants. These toxic metals build up in ecosystems and most are dangerous even in very small amounts.
According to a 2010 report to Congress on the condition of Kentucky waters submitted by the Kentucky Energy & Environmental Cabinet, the Ohio River is impaired by mercury pollution and is subject to a fish consumption advisory.
"LG&E is breaking the law, contaminating our water and deliberately putting us at risk for their own profit," said Louisville resident Mark Romines, whose home sits less than a quarter of a mile from the Mill Creek coal plant.
The Mill Creek coal plant and its associated coal ash pond are 500 feet from a large residential development and 1,000 feet from a middle school. Despite this close proximity, Kentucky law does not require LG&E to test its coal ash wastewater for toxic levels of pollution.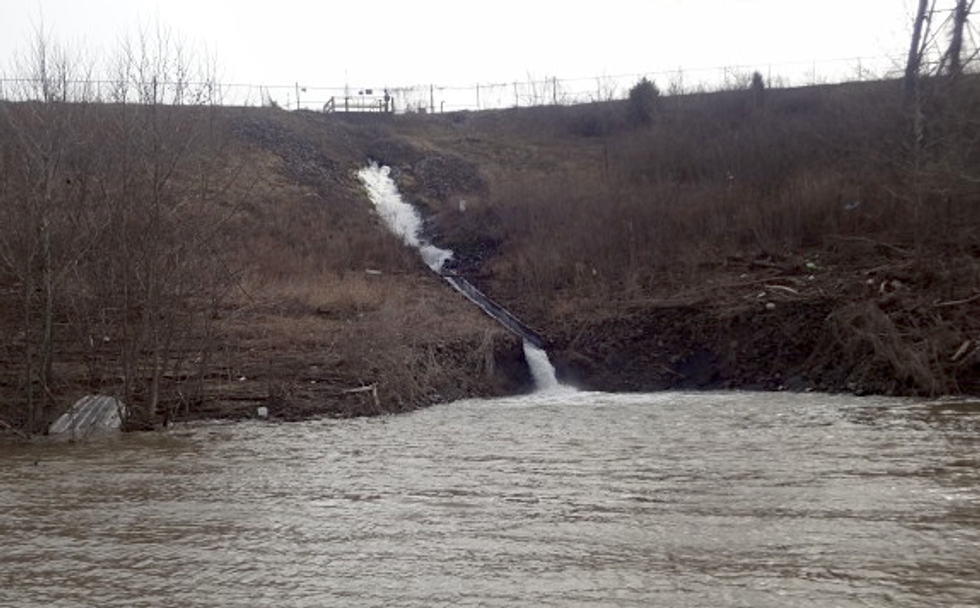 "Coal ash contamination is rampant across the country, and the evidence gathered at Mill Creek is unequivocal," said Earthjustice attorney Thom Cmar. "Coal ash has already polluted more than 200 lakes, rivers, streams and drinking waters. The problem continues to worsen, but no federal protections exist. Our household garbage is better regulated than this toxic waste."
Coal-fired power plants are some of America's biggest water polluters, dumping more toxic pollution into rivers and streams than any other industry in the U.S. Every year, the nation's coal plants produce 140 million tons of coal ash pollution—and those tons of toxic material are stored in unlined and unmonitored dumps, leaking into groundwater and streams that nearby communities often rely on for drinking water. At Mill Creek, the coal ash pond is also unlined and dumping directly into the Ohio River.
Visit EcoWatch's COAL page for more related news on this topic.

By Andy Rowell
They came in their thousands from across the Golden State. On Saturday, the largest anti-fracking rally and protest in California's history took place in the state capital of Sacramento.
The message to California Gov. Jerry Brown was simple: act now to ban fracking.
The rally, which was organized by Californians Against Fracking and some 80 environmental and health organizations, such as Oil Change International (OCI) and 350.org.
Protestors were young and old, united in their opposition to fracking. One group of grandmothers sang: "We don't want your fracking turning all our water brown, Take your freakin' frackin' drills or we will shut you down! Hydro-FRAC-turing just sucks."
"Governor Brown has positioned himself as a climate champion, and we want to make it clear that as he decides whether to green light a massive expansion of fracking in California, his legacy is on the line," said rally organizer Zack Malitz.
David Turnbull, campaigns director at OCI warned Gov. Brown he would be "foolish to ignore," the growing movement against fracking in the State. "The Governor can choose to stand with these concerned Californians and stop fracking in our state, or he can continue to stand with Big Oil," Turnbull said.
Two days previously environmental groups had released a report warning that oil companies are increasing California's earthquake risk by fracking, which is especially pertinent given the active fault lines of California.
The report concluded that a boom in fracking in California would worsen the danger of earthquakes, by greatly increasing oil wastewater production and underground injection. Extracting the Monterey Shale's oil in the state could produce almost 9 trillion gallons of contaminated wastewater, the report estimates. That could expose California to a surge in damaging earthquakes like those seen in other states. (Last week I blogged about how one frack well in Ohio has been suspended due to small quakes.)
"This isn't rocket science," said one of the report's authors, Jhon Arbelaez from EarthWorks. "We've known for decades that wastewater injection increases earthquake risk. Since Gov. Brown resolutely refuses to learn from other communities' experience with fracking across the country, our only option to protect California families is to prevent fracking altogether."
And that certainly was the message at Saturday's rally.
"People need to know what fracking looks like," said Rodrigo Romo, one activist from the heavily fracked region of Shafter, CA. "In the Central Valley there is no buffer between fracking sites and our community; there are wells next-door to schools and agricultural land. It is time for our decision makers to listen to us and stop fracking."
Visit EcoWatch's FRACKING pages for more related news on this topic.

Actors Robert Redford and Will Ferrell, along with professional surfer Kelly Slater, are part of a new project to support Raise the River, an initiative to breathe life back into the Colorado River Delta. Through humorous banter, Redford and Ferrell in a number of short video spots highlight the urgency to recreate lost habitat for fish, birds and other wildlife, as well as reignite communities along the riverbank.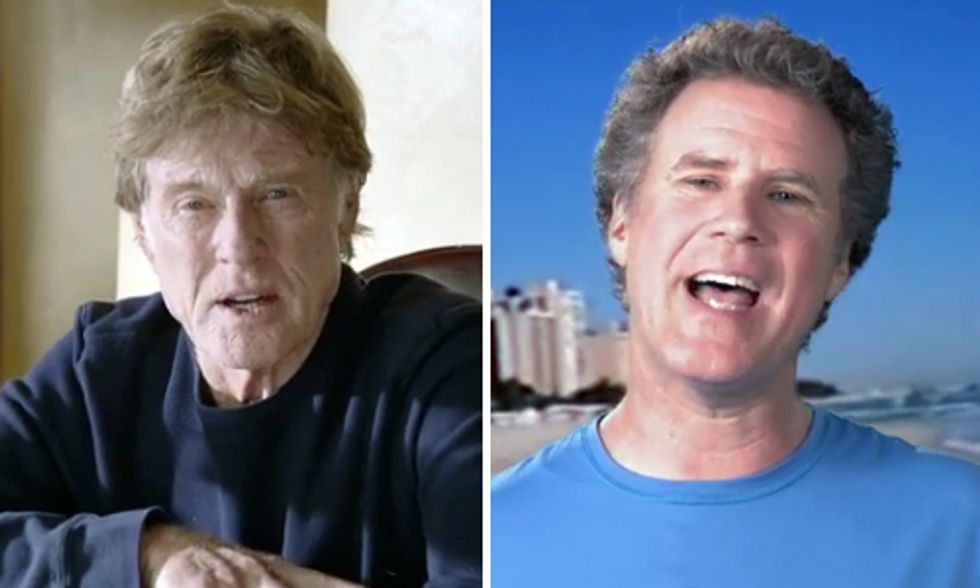 "The Colorado River is an American treasure, one of our great icons, but we've overused it. It hasn't regularly flowed to its natural end since the '60s," says Redford. "The good news is that there's a solution within our grasp. Both the U.S. and Mexican governments are involved in the effort and with a collective public commitment, we can implement the restoration plan and win this campaign."
In these hilarious videos, Redford and Ferrell debate whether it's best to restore the wetlands and the flows for the populations in the Delta region or move the ocean inland "a few hundred miles" to create more coastline for American surfers.
"As someone who has spent my entire life in and near the ocean, I know how important it is to protect its health and purity," said Slater. "Part of that is making sure that our rivers and streams are healthy, too. The Colorado River belongs to all of us, and I'm excited to help get the word out about this great cause."
The campaign hopes to raise $10 million by 2017 to restore a 70-mile stretch of river and wetland habitat, and to benefit the communities of the long-neglected delta. Currently, the Raise the River campaign is 75 percent funded, thanks in part to a generous grant from Keurig Green Mountain to support water rights acquisition and on-the-ground restoration. The six-million-year-old Colorado River is one of the hardest-working rivers on the planet supplying water to 40 million people, irrigating four million acres of farmland and serving as the lifeblood of native tribes, seven National Wildlife Refuges and 11 national parks. It deserves our support.
Visit EcoWatch's WATER page for more related news on this topic.

Johnson County, IL has oil and gas interests panicked about a local effort to stop fracking. They're spending tens of thousands of dollars in the rural county to defeat a referendum that opposes fracking and defends local rights.
The referendum reads:
"Shall the people's right to local self-government be asserted by Johnson County to ban corporate fracking as a violation of their rights to health, safety, and a clean environment?"
The industry and their cronies recently realized that voters are siding with local control instead of handing their future over to Kansas-based frackers Woolsey Energy. A front group for the oil industry started professional mailings and robo-calls possibly funded by the Illinois Petroleum Council which complain about "out-of-state" interests. Additionally, the Illinois Chamber of Commerce spent $23,500 to promote fracking. That's a huge cash dump in a county where less than 3,000 people cast ballots in the last primary election.
Here's a tip for the fracking forces: when you're doing a mailing that gripes about out-of state-agitators, mail it from in-state. They should fire the consultant who had the bright idea of mailing it from Iowa.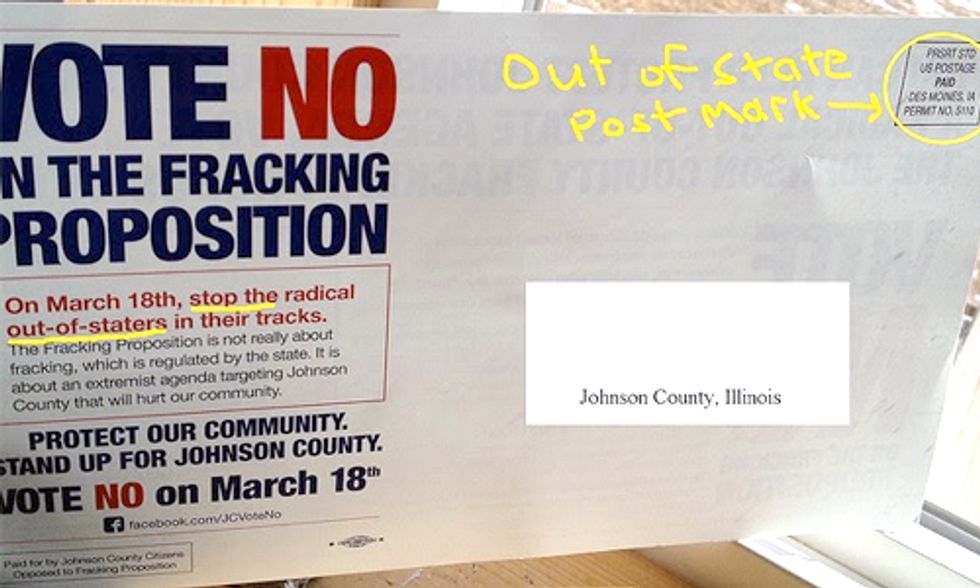 The irony would be funny if the fracking industry weren't pushing a community-killing agenda. It's locals (not Kansas-based Woolsey Energy) who will have to suffer the consequences of fracking. Woolsey's mansion won't suffer when Johnson county property values fall. Woolsey will be counting his profits when local residents are dealing with poisoned water. His workers will be on their way to another state when Johnson county is left picking up the pieces after their roads, community infrastructure and environment are wrecked.
The oil industry's inflammatory attacks are dividing the community. Since their campaign began, a local newspaper publisher now refuses to run ads or letters to the editor that oppose fracking. Pro-fracking politicians threaten that the county will be sued if the referendum passes. Locals who had permission to sit at an informational table at a local business for weeks suddenly had the police called to eject them without warning or provocation.
Johnson county resident Tony Gerard recorded a video to break through the newspaper blackout and defend locals who have been organizing to defend their property rights and community.
The oil industry is trying to buy democracy in Johnson county. Residents have the chance in Tuesday's election to decide they want control over their own future without more division and destruction by outside oil interests.
Visit EcoWatch's FRACKING pages for more related news on this topic.

On March 14, 1903 President Theodore Roosevelt established what is considered the first national wildlife refuge. Now, hundreds of refuges later, these protected areas are among the very best places to see rare wildlife.
President Roosevelt's creation of the Pelican Island National Wildlife Refuge in Florida enjoys a prominent place in conservation lore, both for the public lands precedent it set and the rather forthright way he did it. But beyond this, it paved the way for a popular movement that valued wildlife in its own right, encouraged curiosity about how different flora and fauna lived and sought to check the effects of habitat loss.
Today, under the authority of the U.S. Fish and Wildlife Service, the National Wildlife Refuge System has more than 560 units, protecting (and in some cases restoring) about 150 million acres as habitat for thousands of species, many threatened or endangered. National wildlife refuges can be found in every state, comprising a multi-billion dollar economic engine that draws tens of millions of visitors each year. More than 20 million acres of these incredible landscapes are also part of the National Wilderness Preservation System.
Recent hardships—exemplified by the cancellation of National Wildlife Refuge Week in 2013 due to the government shutdown, as well as chronic budget shortfalls—have only underscored the importance of these places for conservation and education. Here are 15 extraordinary animals from the USFWS database, iconic and obscure alike, and some of the refuges where you might be able to spot them (if you're lucky).
American crocodile
Status: Threatened in Florida, Endangered in other states.
Where to see it: J.N. "Ding" Darling National Wildlife Refuge (Florida), Crocodile Lake National Wildlife Refuge (Florida), Ten Thousand Islands National Wildlife Refuge (Florida).
Bigger and less-common than its cousin, the American alligator, the American crocodile is primarily found in South Florida, where a small population resides in swamps, coastal lagoons and estuaries. Some good news: though seldom seen and once very close to extinction, the prehistoric-looking giants have made a comeback in recent years. Despite their fearsome appearance, these reptiles, which grow up to 13 feet in length in the U.S., rarely attack humans (in fact, they tend to avoid us altogether). For fellow wildlife, it's a different story: their muscular jaws are suited for preying on most fish, turtles, birds and small mammals.
Red wolf
Status: Endangered
Where to see it: Alligator River National Wildlife Refuge (North Carolina), Pocosin Lakes National Wildlife Refuge (North Carolina), Cape Romain National Wildlife Refuge (South Carolina).
The red wolf, like many other threatened and endangered species, was once common in the U.S., but habitat loss and other factors during the early twentieth century took their toll, leaving the U.S. Fish and Wildlife Service to develop a last-ditch breeding program and bring the predators back from the brink of  dying out entirely The agency did this using a few red wolves recovered from Texas and Louisiana, eventually reintroducing the offspring to a national wildlife refuge in North Carolina. Now, more than 30 years after they were officially declared extinct, that state, part of the  historical range, contains more than 100 animals.
Hawaiian monk seal
Status: Endangered
Where to see it: Kilauea Point National Wildlife Refuge (Hawaii), Hawaiian Islands National Wildlife Refuge (Hawaii).
The beloved, besieged Hawaiian monk seal can grow to 450 pounds and has jaws suited to cracking crab shells with ease. However, it remains utterly at the whim of habitat loss and indiscriminate fishing operations, which have helped make it one of the most endangered marine mammals in the world. Found only in U.S. waters, the big predator is referred to as "Ilio holo I ka uaua," or "the dog that runs in the rough water," by native Hawaiians. Without a doubt, that vaguely canine appearance has helped buoy its public standing as a loveable beach-dweller.
Karner blue butterfly
Status: Endangered
Where to see it: Necedah National Wildlife Refuge (Wisconsin)
These butterflies' larvae feed only on the leaves of the wild lupine plant, greatly restricting their range. As a result, habitat loss has wreaked havoc on the species, its numbers dwindling nearly to extinction in the past 15 years. To compound that, the tiny, delicately-patterned adults are a coveted catch for butterfly collectors--and the collection of even a few can significantly impact the broader population. Recently, conservation measures in national wildlife refuges and zoos have helped reintroduce the Karner blue butterfly to its historic home range.
California Condor
Status: Endangered
Where to see it: Bitter Creek National Wildlife Refuge (California), Blue Ridge National Wildlife Refuge (California), Hopper Mountain National Wildlife Refuge (California).
A huge, regal bird whose name is almost synonymous with back-from-the-brink conservation success stories, the California condor is nonetheless perpetually on the brink of extinction, with only a few hundred birds left in the wild. National wildlife refuges and other protected public lands like Pinnacles National Park are especially important for their survival, as condors tend to do better in areas with controlled human intrusion and less development. Bald-headed and jowly, these scavengers are not conventionally beautiful, but their presence bespeaks a dinosaur-like mystique, and any birdwatcher would be extremely fortunate to see one in the flesh.
Humpback whale
Status: Endangered
Where to see it: Alaska Maritime National Wildlife Refuge (Alaska), Kodiak National Wildlife Refuge (Alaska).
Despite their massive bulk, humpback whales are closely associated with a penchant for moving—specifically, the annual migrations that take them thousands of miles from tropical or subtropical waters (their wintertime calving grounds) back north to feed. Though they can be found in every major ocean, the 25-to-40-ton filter-feeders face threats including whaling, accidental boat collision and entanglement in commercial fishing equipment. Fortunately, their numbers are increasing in much of their range, and with continuing conservation efforts, their eerie "songs," meant to attract mates or challenge rivals, will hopefully not be silenced any time soon.
Jaguarundi (Texas)
Status: Endangered (possibly extinct)
Where to see it: Lower Rio Grande Valley National Wildlife Refuge (Texas), Laguna Atascosa National Wildlife Refuge (Texas), Santa Ana National Wildlife Refuge (Texas).
You might catch a glimpse of the sinuous, dusky Jaguarundi somewhere in Florida, but any population there is thought to have originated from pets released in the 1940s. Jaguarundis found in the south of Texas are the real article, though even they are extremely rare, having dwindled over the course of several decades due to farming and other development in the mixed-brush landscapes of the Lower Rio Grande Valley. Some say the species is effectively extinct in America, with only unconfirmed sightings attesting to their presence since 1986. Recently, the U.S. Fish and Wildlife Service published a plan to formally reintroduce a population of the wild cats to Texas.
California red-legged frog
Status: Threatened
Where to see it: Guadalupe-Nipomo Dunes National Wildlife Refuge (California), San Diego National Wildlife Refuge (California)
Historically, these richly-colored frogs, the largest native to California, were found throughout the state, from Mendocino County in the north to Baja in the south, as well as in the eastern foothills of the Sierra Nevada. However, this range has been considerably reduced, and they remain at-risk due to invasive species and habitat loss from development and farming. The California red-legged frogs that remain can be found in slow or standing bodies of freshwater with plant cover. They have voracious appetites, and have been observed preying on fish, mice and fellow frogs in addition to the usual array of small invertebrates.
Gulf sturgeon
Status: Threatened
Where to see it: Bogue Chitto National Wildlife Refuge (Louisiana/Mississippi)
This subspecies of Atlantic sturgeon breeds in freshwater only after migrating upriver from marine and estuary habitat and is limited to a small area of the Gulf of Mexico from Tampa Bay, FL, to Lake Ponchartrain, LA. The gulf sturgeon is a fascinating example of a living fossil—an armored, torpedo-shaped fish that has been slow to evolve and doesn't look much different than when dinosaurs roamed the earth. These partly cartilaginous giants are known for leaping from the water without warning. Sadly, they are at-risk due to overfishing—widespread for nearly a century until fisheries were closed in the mid-1980s—water pollution, habitat destruction, dredging and dams.
Leatherback sea turtle
Status: Endangered
Where to see it: Merritt Island National Wildlife Refuge (Florida), Hobe Sound National Wildlife Refuge (Florida), Lower Rio Grande Valley National Wildlife Refuge (Texas), Breton National Wildlife Refuge (Louisiana), Fisherman Island National Wildlife Refuge (Virginia) and others.
Leatherback sea turtles can easily be distinguished from their flippered kin by the parallel ridges running down their stiff, rubber-like carapaces and their tremendous size and weight (sometimes exceeding one ton). But like other sea turtles, they are threatened by habitat loss, hunting, marine pollution and boat strikes. In U.S. waters, leatherbacks in the Atlantic Ocean have fared better than those in the Pacific. When unencumbered, these powerful swimmers thrive in the open sea, and, despite their sparse numbers, enjoy wider global distribution than any other reptile.
Spectacled eider
Status: Threatened
Where to see it: Yukon Delta National Wildlife Refuge (Alaska), Arctic National Wildlife Refuge (Alaska), Alaska Maritime National Wildlife Refuge (Alaska), Togiak National Wildlife Refuge (Alaska)
In winter and spring, the male spectacled eider in full breeding plumage resembles a sea duck from Mars, with its bright orange bill, bold white goggles and wig-like green feathers. Unfortunately, this exotic-looking bird has become extremely rare since the 1970s, prompting its "threatened" listing in 1993. Reasons for this decline are not well-understood, but pollution and lead poisoning from birdshot have been contributing factors. While they spend most of their time at sea feeding on mollusks and crustaceans, the ducks also depend on Alaska's Arctic coastal plain as breeding ground.
Audubon's crested caracara
Status: Threatened
Where to see it: Arthur R. Marshall Loxahatchee National Wildlife Refuge (Florida)
Audubon's crested caracara, a large, striking member of the falcon family, can be found in wet prairies and some wooded areas in Florida and the Gulf Coast region, but habitat loss and human interference (especially in the form of motor vehicle traffic) have made it a rarer sight than it used to be. It eats carrion and small animals, part of a diet that is unusually varied for a bird of prey. The way they get that food is pretty unique, too; caracaras have been reported stealing carrion from vultures and other birds, sometimes even in mid-flight.
Ozark big-eared bat
Status: Endangered
Where to see it: Ozark Plateau National Wildlife Refuge (Oklahoma).
Befitting its name, the Ozark big-eared bat's hearing organs can reach one-third the animal's total body length. Fewer than 2,000 of these tiny insectivores are thought to remain in the wild, and while conservationists have worked to restore the species since it was added to the federal endangered species list more than 30 years ago, cave vandalism and assorted human disturbance have made it an ongoing challenge. Oklahoma's Ozark Plateau National Wildlife Refuge was established in 1986 in large part to aid recovery of this and other cave-dwelling creatures.
West Indian manatee
Status: Endangered
Where to see it: J. N. "Ding" Darling National Wildlife Refuge (Florida), Pine Island National Wildlife Refuge (Florida), Ten Thousand Islands National Wildlife Refuge (Florida), Pelican Island National Wildlife Refuge (Florida), Savannah National Wildlife Refuge (Georgia/South Carolina) and others.
Whether or not this placid coastal river- and estuary-dweller is truly the inspiration for mermaid tales of yore, the West Indian manatee is uniquely beloved, a flagship species for conservationists and Floridians at-large. Like some human inhabitants, the "sea cow" typically spends winters in and around the state, straying west and north when it warms up (in one famous case, the same manatee was spotted in the Chesapeake Bay twice, 17 years apart). Resembling what could be loosely called a sport utility seal, the gentle, bulky creature has benefited greatly from conservation efforts since the 1970s, but is still vulnerable to human-caused habitat loss, boat collisions, entanglement in fishing gear and entrapment in flood gates and canal locks.
Higgins eye pearly mussel
Status: Endangered
Where to see it: Great River National Wildlife Refuge (Iowa/Illinois/Missouri), Upper Mississippi River National Wildlife and Fish Refuge (Iowa/Illinois/Minnesota/Wisconsin).
The Higgins eye is a freshwater mussel that likes deep, relatively gentle water. Though little-noticed, beds of these mussels serve many important roles, including as a food source for raccoons, otters and muskrats; filtering water to improve quality; and providing river-bottom microhabitats for other aquatic life. Populations on the Mississippi River and elsewhere are imperiled by invasive zebra mussels, pollution, dredging, boat traffic and other dangers. Let this serve as a reminder: national wildlife refuges don't only protect habitat for big or cuddly animals.
While our national wildlife refuges offer great opportunities to see rare plants and animals, preservation of these species for future generations requires that we take precautions not to interfere with them. This means keeping a respectful distance and maintaining healthy habitat by following "leave no trace" rules: never take anything out of a wildlife refuge or leave anything behind.
Visit EcoWatch's BIODIVERSITY page for more related news on this topic.

The Pacific Fishery Management Council—the 14 member voting body tasked with managing fisheries three to 200 miles off the coasts of California, Oregon and Washington—decided yesterday to cease consideration of a proposal to expand the use of deadly drift gillnets off California and instead requested extension of emergency regulations that went into effect last year to protect endangered sperm whales from entrapment in drift gillnets, until permanent protections are implemented.
The meeting in Sacramento, CA, drew unusually high numbers of public comments, including more than 40,000 written comments from Oceana supporters alone. Oceana provided testimony at the meeting and is co-sponsoring California state legislation, AB 2019, to eliminate these mile-long "walls of death" off California and replace them with cleaner and more selective gear types to ensure a vibrant, healthy, sustainable marine ecosystem and ocean-based economy into the future.
"The council took the right action by finally throwing out a proposal to expand the use of deadly drift gillnets into critical habitat for endangered Pacific leatherback sea turtles, a conservation area that is working," said Ben Enticknap, Oceana senior scientist. "However, the fact that these invisible nets still take these magnificent sea turtles—in addition to over a hundred marine mammals and thousands of other fish annually—means the real answer is getting these nets off the water altogether."
Drift gillnets, used to target swordfish and thresher sharks off California's coast, form dangerous underwater barriers that entangle a myriad of marine mammals, sea turtles, sharks and recreationally important fish. Once entangled in these nets, the animals become critically injured, often unable to surface for air, and most eventually drown. Between May 2007 to January 2012, the drift gillnet fishery discarded 63 percent of all marine animals it caught. Below, a Google map documents marine mammal, sea turtle, and seabird bycatch (click on image for interactive map):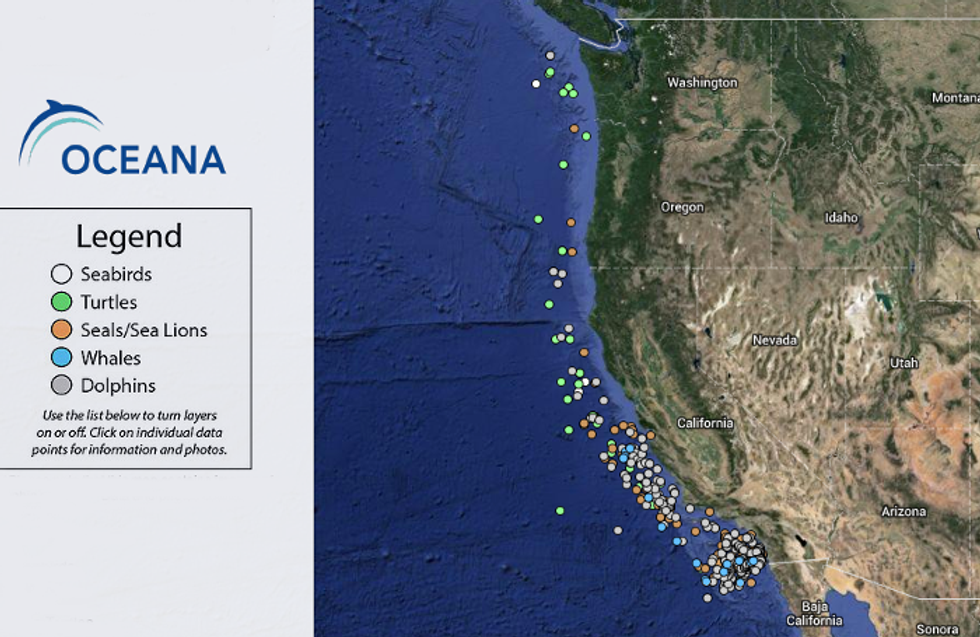 AB 2019 will prohibit the use of drift gillnets to take swordfish or sharks while allowing continued fishing for swordfish and sharks with hand-held hook and lines, harpoons and experimental gears. The bill also establishes a new state policy to support a federal prohibition on drift gillnets off the U.S. West Coast. This effort is long overdue. The legislation is joint-authored by Assemblymembers Paul Fong (D-San Jose) and Marc Levine (D-San Rafael), principle co-authored by Mark Stone (D-Monterey Bay), and co-authored by Anthony Rendon (D- Lakewood), Das Williams (D- Santa Barbara) and Lorena Gonzalez (D- San Diego).
Both Washington and Oregon have already prohibited their fishermen from using drift gillnets, and the U.S. has worked for more than two decades to eliminate drift gillnets from the high seas. Federal waters off California are the only place on the West Coast that drift gillnets can be used to catch swordfish and sharks.
"We are committed to ridding the California Current of this wasteful fishing gear that results in more marine animals being thrown overboard than fish retained," said Geoff Shester, California campaign director at Oceana. "The sooner these nets are off the water, the faster we can revitalize a sustainable swordfish fishery that is safe for California's treasured ocean wildlife."
In an effort to demonstrate the destructive nature of drift gillnet gear and to raise public awareness for the need to transition to cleaner alternatives, Oceana submitted a Freedom of Information Act Request to the National Marine Fisheries Service  requesting images of marine life injured and killed in drift gillnets off California. The slideshow included a sampling of some of these photos.
Visit EcoWatch's BIODIVERSITY page for more related news on this topic.

A coalition of tribal communities, ranchers, farmers, Canadian First Nations, environmental groups and communities along the Keystone XL pipeline route announced the new "Reject and Protect" campaign—a series of actions, tribal ceremonies and a march in Washington D.C. the week of April 22-27.
Reject and Protect is led by the Cowboy and Indian Alliance, from Nebraska and is supported by Bold Nebraska and several other organizations. Together, we will send a clear message to President Obama: "Reject Keystone XL."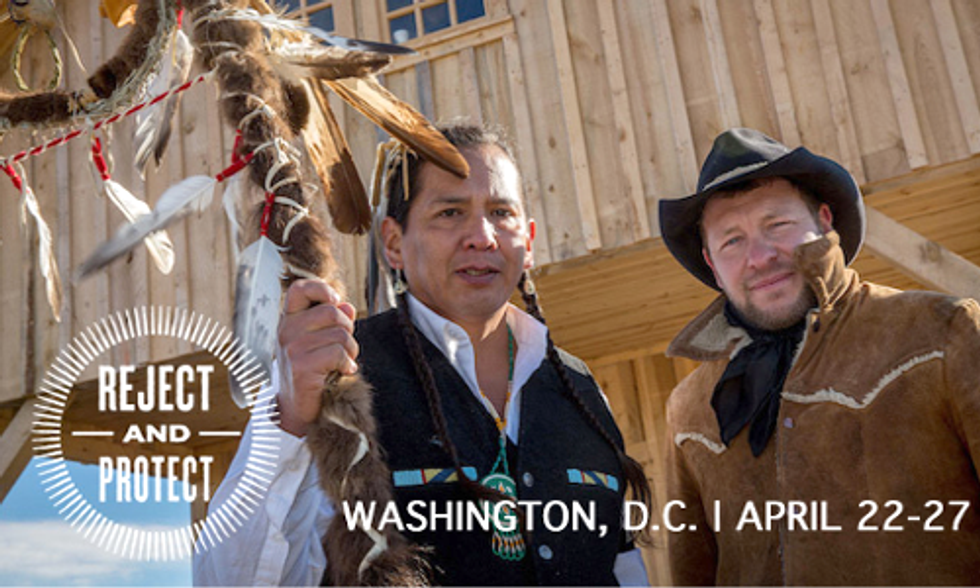 On April 26, thousands of people will join them to stand together for a final message that the Keystone XL pipeline and the tar sands must be rejected—to protect this, and future generations.
Below is the official invitation to join the action in Washington D.C. from the Cowboy Indian Alliance:
On April 22, our alliance of pipeline fighters—ranchers, farmers, tribal communities and their friends—called the Cowboy Indian Alliance, will ride to Washington for the next, and perhaps final, chapter in the fight against Keystone XL.
On that day, we will set up camp nearby the White House, lighting our fire and burning our sage, and for five days, we will bear proud witness to President Obama's final decision on Keystone XL, reminding him of the threat this tar sands pipeline poses to our climate, land, water and tribal rights. Throughout those five days, we will show the power of our communities with events ranging from prayers at Sec. Kerry's home and an opening ceremony of tribes and ranchers on horseback in front of the White House.
On April 26, we invite our friends and allies against the pipeline to join us as we conclude our camp and march once more to the White House for our final, unmistakable message to President Obama. Our community of pipeline fighters just sent 2 million comments against the pipeline in just 30 days. We must follow this up with action in the streets on April 26 as we march with tribal leaders and individuals currently living with the risk tar sands to show all the beauty and power we represent. Everyone is needed and everyone is welcome.
With his decision closer than ever, President Obama must know what is truly at stake, and see once more the power of the alliances that have turned Keystone XL into a turning point for our movements, and for our future.
The Cowboy and Indian Alliance brings together tribal communities with ranchers and farmers living along the Keystone XL pipeline proposed route. Farmers and ranchers know the risk first-hand. They work the land every day. Tribes know the risk first-hand. They protect the sacred water, and defend sacred sites of their ancestors every day. They have united out of love and respect for the land and water on which we all depend.
This is not the first time Cowboys and Indians have come together to stop projects that risk our land and water. In the 1980s, they came together to protect water and the Black Hills from uranium mining and risky munitions testing. In the American imagination, "cowboys and Indians" are still at odds. However, in reality, opposition to the Keystone XL tar sands pipeline has brought communities together like few causes in our history. Tribes, farmers and ranchers are all people of the land, who consider it their duty as stewards to conserve the land and protect the water for future generations.
The Alliance asks President Obama a simple question: Is an export pipeline for dirty tar sands worth risking our sacred land and water for the next seven generations?
On June 25, 2013, President Obama said, "Our national interest will be served only if this project does not significantly exacerbate the problem of carbon pollution." Anyone with common sense knows the Keystone XL pipeline would exacerbate the climate crisis: an 830,000 barrel per day pipeline filled with tar sands and chemicals like benzene will make it easier for tar sands companies to dig up and burn more of the world's dirtiest oil than they could with any other feasible alternative.
Our actions next month will show President Obama that we are living up to his call to "be the change we wish to see," and that we stand with him to say no to Big Oil. Together we will make a clear promise that if President Obama goes back on his word and approves the Keystone XL pipeline, he will be met with the fiercest resistance from our Alliance and our allies from all walks of life. Bryan Brewer, President of the Oglala Sioux, speaks for us when he says, "We are ready to fight the pipeline, and our horses are ready."
Please join us this April to tell President Obama to reject the Keystone XL tar sands pipeline, and protect our land, water and climate.
Supporting organizations: Oceti Sakowin People of the Seven Council Fires, Bold Nebraska, 350.org, CREDO, The Sierra Club, Center for Biological Diversity, Energy Action Coalition, Chesapeake Climate Action Network, Conservation Law Foundation, Environment Maine, Labor Network for Sustainability, Natural Resources Defense Council and Oil Change International 
Visit EcoWatch's KEYSTONE XL page for more related news on this topic.