This website uses cookies to ensure you get the best experience while browsing it. By clicking 'Got It' you're accepting these terms.
Half the World's Animal Population Vanished Since 1970
Sep. 30, 2014 01:36PM EST
Popular
The just-released tenth biennial edition of the World Wildlife Fund (WWF) Living Planet report found that between hunting, habitat destruction, environmental degradation and the effects of climate change, the world's animal populations of mammals, birds, reptiles, amphibians and fish has dropped 52 percent since 1970. The study, produced in partnership with the Zoological Society of London, Global Footprint Network and Water Footprint Network, measured 10,000 species.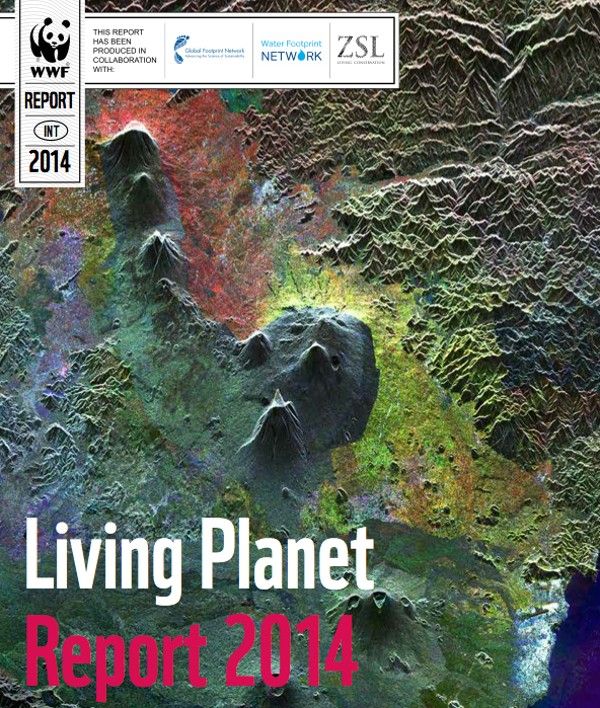 Freshwater species are particularly endangered, losing 72 percent of their numbers in that time. Tropic marine populations, including species of sharks and turtles, as well as seabirds such as petrels and albatross, are also in danger, primarily due to the impacts of overfishing. It found that animals like the African rhino were declining due to poaching for their valuable horn.
"We are using nature's gifts as if we had more than just one Earth at our disposal," said WWF International general director Marco Lambertini in the report's introduction. "By taking more from our ecosystems and natural processes than can be replenished, we are jeopardizing our very future. Nature conservation and sustainable development go hand-in-hand. They are not only about preserving biodiversity and wild places, but just as much about safeguarding the future of humanity—our well-being, economy, food security and social stability—indeed, our very survival.
The report discusses Earth's biocapacity and how we are overdrawing it, as well as "planetary boundaries"—thresholds beyond which we run the risk of catastrophic changes to life on the planet.
"Three of these nine planetary boundaries appear to have already been crossed: biodiversity is declining far faster than any natural rate; the concentration of carbon dioxide in the atmosphere is already causing significant changes to our climate and ecosystems; and—while converting nitrogen from the air into fertilizer has helped feed the world—nitrogen pollution has become a significant, if under-appreciated, environmental threat," the report says.
It also addressed the frequently heard assertion that addressing environmental issues carries a too-steep economic cost.
"People talk earnestly of the environmental, social and economic dimensions of development," it says. "Yet we continue to build up the economic component at considerable cost to the environmental one. We risk undermining social and economic gains by failing to appreciate our fundamental dependency on ecological systems. Social and economic sustainability are only possible with a healthy planet."
"The scale of biodiversity loss and damage to the very ecosystems that are essential to our existence is alarming," said professor Ken Norris, director of science at the Zoological Society of London. "This damage is not inevitable but a consequence of the way we choose to live. Although the report shows the situation is critical, there is still hope. Protecting nature needs focused conservation action, political will and support from businesses."
Programs to protect various ecosystems from environmental damage and their animal inhabitants from human predation—both those underway and those proposed—make up a significant part of the 168-page report, which is written in layman's terms and copiously illustrated. It found that areas of Nepal where they are protected, the tiger population rose 63 percent between 2009 and 2013. It describes how the rise of "gorilla tourism" in Uganda and Rwanda has caused their populations to rebound. It talks about working to establish a network of marine protected areas in Chile and programs for better wetland management in South Africa, as well as initiatives for environmental protection in Australia, Belize and Denmark.
Lambertini said that while we should "feel a strong sense of urgency," we should also "celebrate a number of positive elements."
"The planet has never been more aware of the problems and the solutions," said Lambertini. "We've never been able to engage so many people across the world. Particular sectors have shown incredible engagement, particularly the private business sector. But what really excites me most is the booming of civil society engagement across the whole world. That's particularly at the local level—community based, local NGOs, groups of concerned citizens are really coming together and creating a new global movement that I think has the potential to turn things around."
YOU MIGHT ALSO LIKE
illUmiNations: Exposing the Cause Behind the Extinction of Species
Shark Day: A Critical Turning Point for the Survival of Sharks
Ocean Acidification Threatens Economies and Cultures Around the World
EcoWatch Daily Newsletter
Smog over Los Angeles. Westend61 / Getty Images
After four decades of improving air quality, the U.S. has started to take a step backwards, as the number of polluted days has ticked upwards over the last two years, the Associated Press reported.
Photobos / iStock / Getty Images
Governors in Vermont and Maine signed bills on Monday that will ban plastic bags in their states next year, The Hill reported.
The Maine ban will go into effect next Earth Day, April 22, 2020. The Vermont ban, which extends beyond plastic bags and is the most comprehensive plastics ban so far, will go into effect in July 2020. The wait time is designed to give businesses time to adjust to the ban.
picture-alliance / AP Images / D. Goldman
By Daniel Moattar
Eastern Kentucky's hills are interrupted by jarring flats of bare rock: the aftermath of mountaintop removal mining, which uses explosives to destroy and harvest coal-rich peaks.
By Molly Taft
Lisa Marshall isn't your typical activist. For one thing, she's not into crowds. "I don't really like rallies," Marshall, a mom of three from upstate New York, said. "They're a little stressful — not my favorite thing."

An oil drilling site in a residential area of Los Angeles, California on July 16, 2014.
Faces of Fracking / Flickr
By Jake Johnson
A comprehensive analysis of nearly 1,500 scientific studies, government reports, and media stories on the consequences of fracking released Wednesday found that the evidence overwhelmingly shows the drilling method poses a profound threat to public health and the climate.

sonsam / iStock / Getty Images
By Grace Francese
A new Environmental Working Group (EWG) study published in Environmental Research found that nitrate, one of the most common contaminants of drinking water, may cause up to 12,594 cases of cancer per year, but that's not its only danger: It can pose unique health risks to children.
Melt water from Everest's Khumbu glacier. Ed Giles / Getty Images
EPA Administrator Andrew Wheeler signs his replacement for the Clean Power Plan. Win McNamee / Getty Images