This website uses cookies to ensure you get the best experience while browsing it. By clicking 'Got It' you're accepting these terms.
Fossil Fuel Leasing on Public Lands Must End to Prevent Global Climate Crisis, Report Finds
Aug. 19, 2015 10:01AM EST
Energy
Ending new fossil fuel leasing on lands and offshore areas controlled by the U.S. government would keep up to 450 billion tons of greenhouse gases (GHG) from polluting the atmosphere, according to a first-of-its-kind analysis by EcoShift on behalf of the Center for Biological Diversity and Friends of the Earth released today.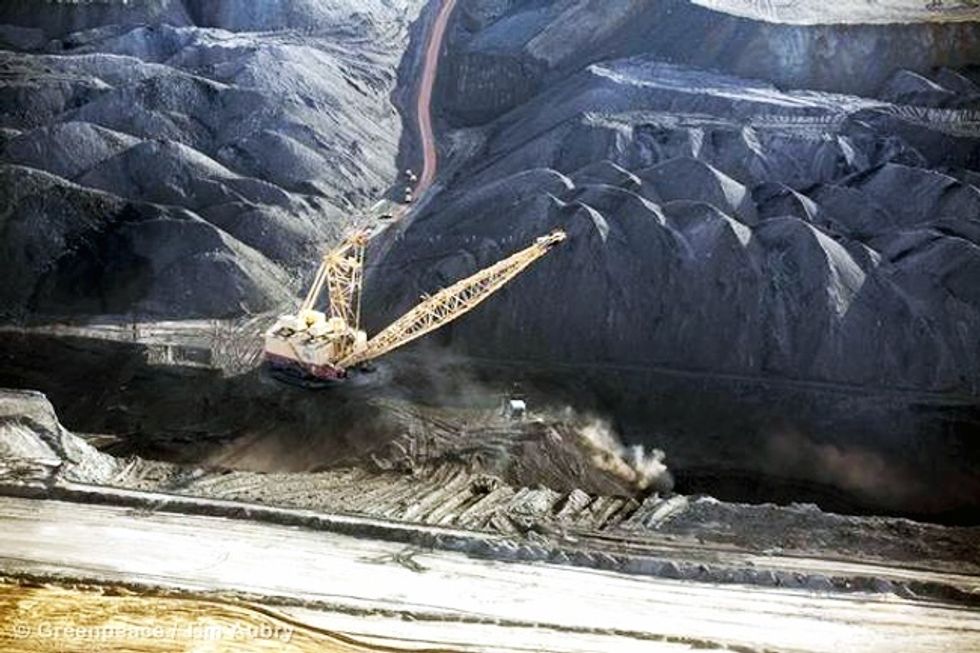 The Bureau of Land Management has leased 2.2 billion tons of publicly owned coal during the Obama administration, unlocking 3.9 billion metric tons of carbon pollution. Photo credit: Tim Aubry / Greenpeace
The analysis, The Potential Greenhouse Gas Emissions of U.S. Federal Fossil Fuels, models the life-cycle greenhouse gas pollution that would result from developing federally-controlled coal, oil shale, natural gas, crude oil and tar sands on public lands and offshore ocean areas under government control.
Allowing these publicly owned fossil fuels to be developed would cripple the U.S.' ability to meet its obligations to avert the worst effects of the global climate crisis, the report finds.
"The facts have been increasingly clear for a long time and we believe that this analysis finally puts the issue of continued development of federal fossil reserves to rest. We cannot afford to continue ignoring reality," said EcoShift Principal Dr. Alexander Gershenson.
Among the key findings:
Potential GHG emissions of federal fossil fuels (leased and unleased) if developed would release up to 492 gigatons (Gt) (one gigaton equals 1 billion tons) of carbon dioxide equivalent pollution (CO2e); representing 46 percent to 50 percent of potential emissions from all remaining U.S. fossil fuels.

Of that amount, up to 450 Gt CO2e have not yet been leased to private industry for extraction.

Releasing those 450 Gt CO2e (the equivalent annual pollution of more than 118,000 coal-fired power plants) would be incompatible with any U.S. share of global carbon limits that would keep emissions below scientifically advised levels.
"Our climate can't afford the pollution from more federal fossil fuel leasing," said Taylor McKinnon with the Center for Biological Diversity. "The natural place for President Obama to start leading the global fight to keep fossil fuels in the ground is on our public lands and oceans."
The Intergovernmental Panel on Climate Change projects that maintaining a good chance of avoiding 2°C warming by century's end requires limiting global emissions to about 1390 Gt CO2e (or 1000 Gt CO2). Emissions from unleased federal fossil fuels exceed U.S. emissions quotas for maintaining only a 50 percent chance of avoiding 2°C of warming. The potential emissions of unleased federal fossil fuels are entirely precluded after factoring in the emissions of developing non-federal and already leased federal fossil fuels.
"Our government has already leased more public fossil fuels than can safely be burned," said Marissa Knodel, climate campaigner at Friends of the Earth. "Each new lease puts us farther down the path toward climate catastrophe and is a direct contradiction to the president's pledge to attack the climate crisis head-on."
Federal agencies do not track or report the nationwide cumulative greenhouse gas emissions that result from federal leasing of fossil fuel reserves. Likewise, they do not assess the potential emissions of remaining fossil fuel resources and reserves.
"This analysis shows that the U.S.' remaining federal fossil fuels contain vast potential for greenhouse gas pollution," said EcoShift Principal Dr. Dustin Mulvaney. "To our knowledge, this is the first-ever attempt to understand the pollution potential of the publicly-owned fossil fuels that the federal government controls."
YOU MIGHT ALSO LIKE
Hillary Clinton: Arctic Drilling Is 'Not Worth the Risk'
EPA Proposes First Methane Cuts for Fracking Industry as Part of Obama's Climate Efforts
President Obama, Are You a Climate Champion or a Climate Hypocrite?
EcoWatch Daily Newsletter
U.S. President Donald Trump listens as Anthony Fauci, Director of the National Institute of Allergy and Infectious Diseases speaks in the Rose Garden for the daily coronavirus briefing at the White House on March 29 in Washington, DC. Tasos Katopodis / Getty Images
By Jake Johnson
Just over a month after proclaiming that the number of coronavirus cases in the U.S. would soon "be down to close to zero," President Donald Trump said during a press briefing on the White House lawn Sunday that limiting U.S. deaths from the pandemic to between 100,000 and 200,000 people would mean his administration and the country as a whole did "a very good job."
Dicamba is having a devastating impact in Arkansas and neighboring states. A farmer in Mississippi County, Arkansas looks at rows of soybean plants affected by dicamba. The Washington Post / Getty Images
Documents unearthed in a lawsuit brought by a Missouri farmer who claimed that Monsanto and German chemical maker BASF's dicamba herbicide ruined his peach orchard revealed that the two companies knew their new agricultural seed and chemical system would likely damage many U.S. farms, according to documents seen by The Guardian.
Washington State Governor Jay Inslee and other leaders speak to the press on March 28, 2020 in Seattle. Karen Ducey / Getty Images
A bushfire burns outside the Perth Cricket Stadium in Perth, Australia on Dec. 13, 2019. PETER PARKS / AFP via Getty Images

By Albert Van Dijk, Luigi Renzullo, Marta Yebra and Shoshana Rapley
2019 was the year Australians confronted the fact that a healthy environment is more than just a pretty waterfall in a national park; a nice extra we can do without. We do not survive without air to breathe, water to drink, soil to grow food and weather we can cope with.
By Fino Menezes
Everyone adores dolphins. Intelligent, inquisitive and playful, these special creatures have captivated humans since the dawn of time. But dolphins didn't get to where they are by accident — they needed to develop some pretty amazing superpowers to cope with their environment.