During Record Drought, Frackers Outcompete Farmers for Water Supplies
Jun. 21, 2013 12:28PM EST
Energy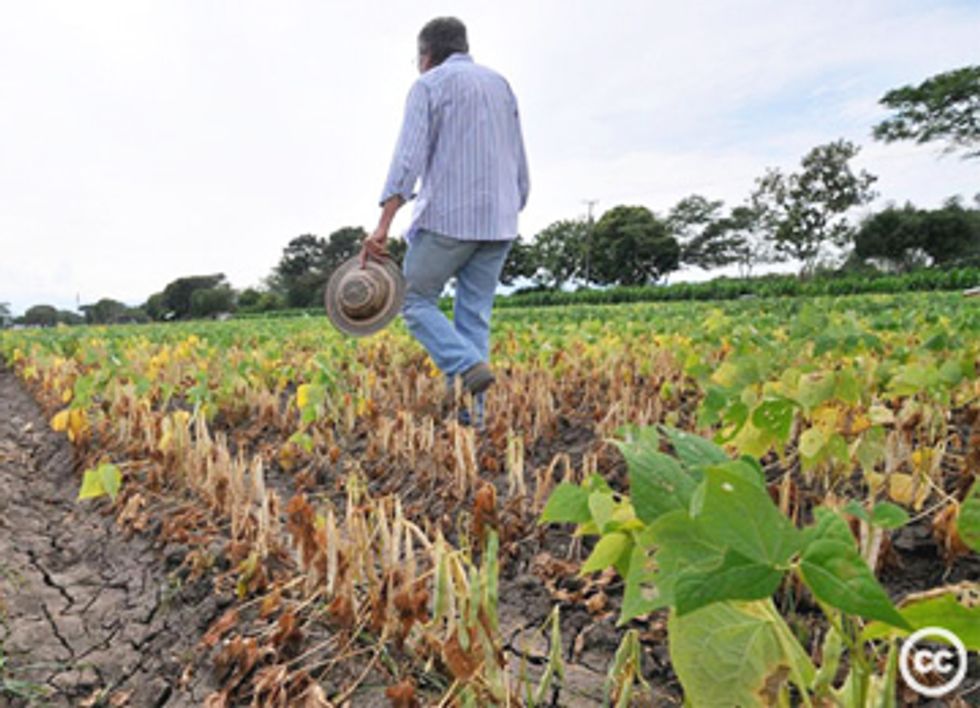 By Emily Saari
The impacts of 2013's severe drought are apparent across the nation in forests, on farms and on once snowy peaks. Meanwhile, the oil and gas industry is demanding unprecedented amounts of water for hydraulic fracturing, better known as fracking.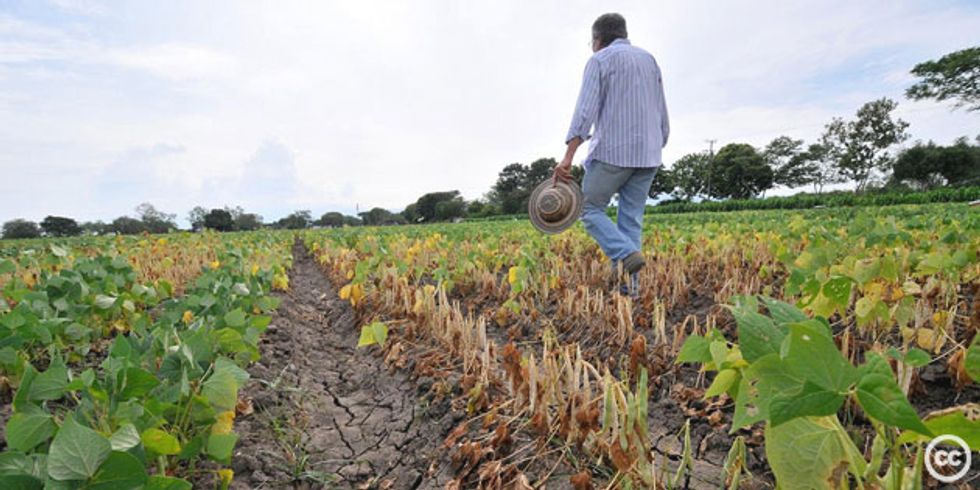 Fourth-generation Colorado farmer Kent Peppler told the Associated Press (AP) that he is fallowing some of his corn fields this year because he can't afford to irrigate the land for the full growing season, in part because deep-pocketed energy companies have driven up the price of water.
"There is a new player for water, which is oil and gas. And certainly they are in a position to pay a whole lot more than we are," Peppler said.
In a normal year, Peppler would pay anywhere from $9 to $100 for an acre-foot of water in auctions held by cities with excess supplies. But these days, energy companies are paying some cities $1,200 to $2,900 per acre-foot.
In seven states, including Colorado, Oklahoma, Texas and Wyoming, the vast majority of the counties where fracking is occurring are also suffering from drought, according to an AP analysis of industry-compiled fracking data and the U.S. Department of Agriculture's official drought designations.
The persistent U.S. drought wreaked havoc on American agriculture, raising food prices and forcing farmers to make record high insurance claims on lost profits for 2012.
As farmers struggle to make ends meet, limited fresh water reserves across the country are being diverted for fracking. The fossil fuel industry has identified deposits of oil and gas within shale rock formations deep underground, formerly inaccessible. In this new, "unconventional" drilling process, water mixed with sand and chemicals is injected into horizontal wells running through the shale. The injection cracks apart the rock, releasing the oil and gas and allowing it to rise to the surface for extraction.
Fracking requires enormous quantities of water. Estimates put water usage at between 3 and 5 million gallons per fracking of a single well, and each well can be fracked several times.
According to information accessed in 2012 from industry-backed FracFocus, a national fracking chemical registry managed by the Ground Water Protection Council and Interstate Oil and Gas Compact Commission, states have already seen more than 65 billion gallons of water used in 26,339 fracking operations.
In 2011, in a district in west Texas, the share of water resources used by fracking well sites jumped from 25 percent in 2010 to 40 percent in the first half of 2011. In Michigan, regulators granted a permit for a drilling company, Encana Oil and Gas, to use more than 21 million gallons of water at a single well in 2012. Repeatedly siphoning off these quantities of water for fracking can be a hardship for municipalities with limited capacity to augment their local water supplies—supplies that must also provide drinking and irrigation water for residents.
Water use by the fracking industry isn't comparable to water use by homeowners or farmers' agricultural needs. When used for household or agricultural purposes, often the water can eventually return to the ground to replenish aquifers, rivers and streams through the hydrological cycle.
On the other hand, after water has been used for fracking, much of it remains trapped deep underground in the wells. Wastewater that bubbles up to the surface is contaminated—both with the chemicals used in fracking and with heavy metals picked up from the shale rock formation—and must be stored away from drinking water sources.
The options for storage are limited: it can be impounded in reservoirs or injected underground. If it were to be treated and returned to the environment, it would need to be trucked to an industrial treatment facility, because municipal wastewater treatment facilities are not properly equipped to remove the chemicals in fracking wastewater. In reality, a large portion of the water used in fracking is left underground and becomes effectively lost.
Renewable energy sources don't have the same demands on water supplies. Solar and wind power use no water to capture energy and can peacefully coexist with agriculture. When it comes to generating electricity, for every 1,000 kilowatt-hours produced, solar thermal technology uses around 3,500 liters of water. In comparison, fossil fuels use 28,400 liters, more than eight times more. Solar photovoltaic and wind energy both consume less than 4 liters per kilowatt-hour of energy produced.
The nation faces a future made uncertain by the impacts of extreme heat, drought and wildfires exacerbated by climate change. Renewable energy generation not only cuts the greenhouse gas emissions that cause climate change, it doesn't tax water reserves, which are quickly becoming a limited and precious resource.
Visit EcoWatch's FRACKING page for more related news on this topic.
——–

Sign the petition today, telling President Obama to enact an immediate fracking moratorium:

A new report urges immediate climate action to control global warming. John W Banagan / Getty Images
A new report promoting urgent climate action in Australia has stirred debate for claiming that global temperatures will rise past 1.5 degrees Celsius in the next decade.
EcoWatch Daily Newsletter
Winegrowers check vines during the burning of anti-frost candles in the Luneau-Papin wine vineyard in Le Landreau, near Nantes, western France, on April 12, 2021. SEBASTIEN SALOM-GOMIS / AFP via Getty Images
French winemakers are facing devastating grape loss from the worst frost in decades, preceded by unusually warm temperatures, highlighting the dangers to the sector posed by climate change.
"An important share of the harvest has been lost. It's too early to give a percentage estimate, but in any case it's a tragedy for the winegrowers who have been hit," said Christophe Chateau, director of communications at the Bordeaux Wine Council, told CNN.
Climate change, caused by the extraction and combustion of fossil fuels, has pushed winegrowing seasons earlier, putting crops at higher risk of cold — and wildfires supercharged by climate change also threaten American vignerons and farmworkers as well.
"I think it's good for people to understand that this is nature, climate change is real, and to be conscious of the effort that goes into making wine and the heartbreak that is the loss of a crop," Jeremy Seysses of Domaine Dujac in Burgundy's Côte de Nuits told Wine Enthusiast.
As reported by Wine Enthusiast:
Last week, images of candlelit French vineyards flooded social media. Across the country, winemakers installed bougies, or large wax-filled metal pots, among the vines to prevent cold air from settling in during an especially late frost.

With temperatures in early April as low as 22°F, and following an unseasonably warm March, this year's frost damage may be the worst in history for French winegrowers. Every corner of France reports considerable losses, from Champagne to Provence, and Côtes de Gascogne to Alsace. As a result, there will likely be very little French wine from the 2021 vintage reaching U.S. shores.
For a deeper dive:

CNN, Wine Enthusiast, France24, Eater
For more climate change and clean energy news, you can follow Climate Nexus on Twitter and Facebook, sign up for daily Hot News, and visit their news site, Nexus Media News.
From Your Site Articles
Related Articles Around the Web
A recent study focused on regions in Ethiopia, Africa's largest coffee-producing nation. Edwin Remsberg / Getty Images
Climate change could make it harder to find a good cup of coffee, new research finds. A changing climate might shrink suitable areas for specialty coffee production without adaptation, making coffee taste blander and impacting the livelihoods of small farms in the Global South.
In "Weather," Jenny Offill tells the story of a librarian named Lizzie who prepares for a climate apocalypse. Andrew Merry / Getty Images
By Suzanne Cords
One day Lizzie, the first-person narrator of the novel, receives an old book as a gift, with a dedication wishing the reader to be among the survivors. Like the preppers who build bunkers and stockpile supplies in remote areas to be ready for the end of the world, Lizzie is convinced that the end of the world is definitely near in times of a threatening climate disaster.
Lizzie, who lives in New York with her husband and son, is a university campus librarian. She worries about almost everything: her brother, an ex-junkie, or her dental insurance and the future in the face of the apocalypse. She is obsessed with reading reference books and articles about climate change.
She also devours words of wisdom, including about Buddhist spirituality: "A visitor once asked the old monks on Mount Athos what they did all day, and was told: We have died and we are in love with everything." But nothing can lift her spirits.
'Lizzie Is Just Like Us'
Lizzie observes rich New Yorkers plan their move to regions that are less threatened by climate change, something she simply cannot afford. Sometimes she watches disaster movies, which lead her to worry even more.
Above all, she is a gifted observer of her fellow human beings. "Young person worry: What if nothing I do matters? Old person worry: What if everything I do, does?"
Lizzie, the U.S. author told DW, is a bit like the rest of us — well aware of the climate crisis, but because she cares and worries about so many other things, that awareness falls by the wayside. That's how she felt herself, Jenny Offill said, but the more she looked into the issue, the more she saw a need for action on her part, too.

"I also was trying to see if there was a way to make it funny, because, you know, so much of the world of prepping and imagining disaster is actually sort of strangely funny."
The novel was shortlisted for the 2020 UK's Women's Prize for Fiction and has now been released in German translation.
Climate Activist With a Vision
But then, there is also this serious, scientifically based concern about what climate change means. In the past, says Offill, artists were the ones who would predict disasters; today it's the experts, as well as the students she teaches. In the end, their fears and their justified anger motivated her to take a closer look at the issue. Today, she is a climate activist herself, and is involved in initiatives along with many other artists.
Lizzie, the heroine of Weather, hasn't gotten that far. But she voices her fears, and that's a start. "Of course, the world continues to end," says Sylvia, a mentor of Lizzie's, at one point — and commences to water her garden. There is hope after all.
Reposted with permission from Deutsche Welle.
A Shell oil drilling rig off the coast of Alaska in the Chukchi Sea on May 21, 2015. Orjan F. Ellingvag / Corbis via Getty Images
By Jake Johnson
A federal appeals court on Tuesday dealt the final blow to former President Donald Trump's attempt to open nearly 130 million acres of territory in the Arctic and Atlantic Oceans to oil and gas drilling.