This website uses cookies to ensure you get the best experience while browsing it. By clicking 'Got It' you're accepting these terms.
David Suzuki: How Nature Benefits Human Health
Aug. 26, 2015 11:19AM EST
Insights + Opinion

If a home is not cleaned and cared for, it will become rundown and less habitable or even unlivable. It's no different with our broader surroundings, from the immediate environment to the entire planet.
If we disconnect from the natural world, we become disconnected from who we are—to the detriment of our health and the health of the ecosystems on which our well-being and survival depend.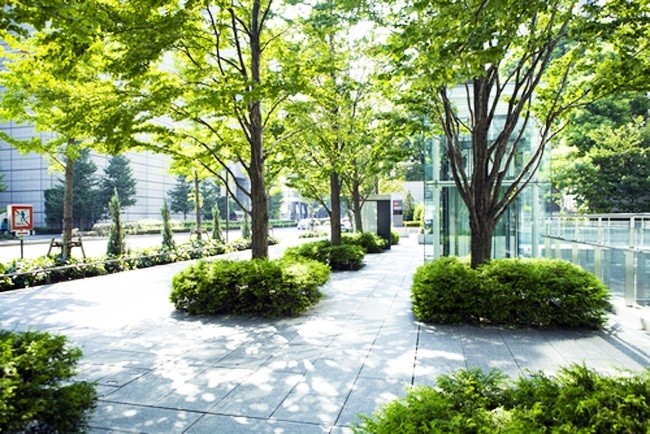 Adding 10 or more trees to a city block offered benefits to individuals equivalent to earning $10,000 more a year, moving to a neighborhood with $10,000 higher median income or being seven years younger. Photo credit: Shutterstock
Understanding that we're part of nature and acting on that understanding makes us healthier and happier and encourages us to care for the natural systems around us. A growing body of science confirms this, including two recent studies that explore the ways nature benefits human health.
A Toronto-based study, published in Nature and co-authored by a team including University of Chicago psychologists Omid Kardan and Marc Berman and David Suzuki Foundation scientist Faisal Moola, examined the relationship between urban trees and human health. According to "Neighborhood greenspace and health in a large urban center," people living in areas with many trees, especially large trees, report feeling healthier than people in areas with fewer trees.
The other study, published in Ecosystem Services and co-authored by scientists from the U.S. National Oceanic and Atmospheric Administration (NOAA), reviewed a range of previous research to explore "observed and potential connections among nature, biodiversity, ecosystem services and human health and well-being." The authors of "Exploring Connections Among Nature, Biodiversity, Ecosystem Services and Human Health and Well-being" concluded, "the significance of biodiversity to human welfare is immense."
According to the Toronto study, adding 10 or more trees to a city block offered benefits to individuals equivalent to earning $10,000 more a year, moving to a neighborhood with $10,000 higher median income or being seven years younger. As well as self-reporting of health and well-being, the study also found reduced rates of heart conditions, cancer, mental health problems and diabetes in areas with more trees.
10 more trees on your street could make you feel 7 years younger http://t.co/dFU2fnr6IC pic.twitter.com/LEWCXN4DGd

— Woodsy Owl -official (@WoodsyOwl) August 18, 2015
The NOAA study delved even deeper into specific physical and mental health outcomes, finding that people living in areas with abundant green space live longer and experience lower rates of "anxiety and depression (especially), upper respiratory tract infections, asthma, chronic obstructive pulmonary disorder (COPD), severe intestinal complaints and infectious disease of the intestine" than people deprived of nature.
The researchers concluded that increased exposure to nature "can have positive effects on mental/psychological health, healing, heart rate, concentration, levels of stress, blood pressure, behavior and other health factors."
They also found that, although evaluating nature according to the services it provides to humans "may lead to a human-centric view of the biosphere," preserving these ecosystems and natural biodiversity for our own benefit will improve ecosystem health and the natural services other species need to survive and thrive.
As noted in a Toronto Star article, the Toronto research also found that, "within cities, urban tree lines often follow the fault lines of social, economic, political and ecological disparity." In other words, protecting and increasing green spaces and improving access to them is a social justice as well as a health issue.
This isn't news to anyone who gets outside regularly. People who spend at least 30 minutes a day in nature for 30 consecutive days as part of the David Suzuki Foundation's annual 30X30 Nature Challenge report numerous benefits, including improved mood and vitality and a greater interest in the natural world. It's why the Foundation is launching the Back to School Superhero Challenge on Sept. 21 to encourage kids, families, students and teachers to get outdoors, learn about environmental issues and make a difference.
"We are capable of even greater things, to rediscover our home, to find ways to live in balance with the sacred elements" -David Suzuki

— David Suzuki FDN (@DavidSuzukiFDN) August 26, 2015
Science is giving us a better understanding of the many ways preserving, caring for and restoring natural spaces can improve the lives of humans and other beings—and how connecting with nature increases our desire to protect and reduce our negative impacts on our surroundings.
Earth is our only home. But it's more than that. We're a part of the natural systems that make up our planet and its atmosphere and what we do to the Earth, we do to ourselves—as I conveyed in my book The Sacred Balance: Rediscovering Our Place in Nature. It's our duty to care for our immediate environment and all of the planet. Doing so will make us healthier and happier.
YOU MIGHT ALSO LIKE
Happy 99th Birthday National Park Service
Two New Major Studies Link Pesticides to Decline of Honeybees
David Suzuki: How You Can Help Bring Monarch Butterflies Back from the Brink
EcoWatch Daily Newsletter
Ocean Heroes Bootcamp
By Coda Christopherson (11) and Lea Eiders (15)
Growing up in a plastic-free home, I was sheltered from the plastic waste crisis. I (Coda) went to a very progressive school that had vegan lunch items, farm animals and ran on solar power. My mom produces zero-waste events and my dad is a sailor, so we're very passionate about the ocean. When I was nine years old, we moved back to Manhattan Beach, California and I started 3rd grade in a public school. This was the first time I really understood that plastic-free living is not the norm; single-use plastics were everywhere, especially in the cafeteria. Once I recognized this problem, I knew I had to make a difference.
A major California avocado producer issued a voluntary recall of the popular fruit over concerns they could be contaminated with Listeria monocytogenes, USA Today reported.
Henry Avocado issued the recall Saturday after a routine government inspection at its California packing facility turned up positive test results for the bacteria on "environmental samples," the company said in a statement. No illnesses have been reported.
Acting Secretary David Bernhardt visited Watson Hopper Inc., a manufacturer of rigs and oil drilling equipment in Hobbs, New Mexico on Feb. 6, 2019.
Tami A. Heilemann / DOI
Oil executives gathered for a conference laughed about their "unprecedented" access to Trump administration officials, according to a recording obtained by Reveal from the Center for Investigative Reporting.
In the recording, taken at a June 2017 meeting of the Independent Petroleum Association of America (IPAA) at a Ritz-Carlton in Southern California, members expressed excitement about one official in particular: David Bernhardt, who had been nominated that April to be deputy secretary at the Department of Interior (DOI). Bernhardt would be confirmed the following month.
"We know him very well, and we have direct access to him, have conversations with him about issues ranging from federal land access to endangered species, to a lot of issues," IPAA political director Dan Naatz said in the recording.
Pixabay
Saw palmetto (Serenoa repens) is a type of palm native to the southeastern U.S.
Jeff K / Flickr / CC BY-NC 2.0
By Elizabeth Henderson
The certified organic label has helped save many generational farms and enabled people like me, who do not come from agricultural backgrounds, to become successful farmers. Organic farming has brought environmental benefits—healthier soils, freedom from toxic pesticides and herbicides—to 6.5 million acres in the U.S.
PhotoAlto / Laurence Mouton / Getty Images
By Ana Reisdorf, MS, RD
You've probably heard the buzz around collagen supplements and your skin by now. But is the hype really that promising? After all, research has pointed to both the benefits and downsides of collagen supplements — and for many beauty-conscious folk, collagen isn't vegan.
Pixabay
By Marlene Cimons
Neil Pederson's introduction to tree rings came from a "sweet and kindly" college instructor, who nevertheless was "one of the most boring professors I'd ever experienced," Pederson said. "I swore tree rings off then and there." But they kept coming back to haunt him.
Aerial view of the explosion site of a chemical factory on March 22 in Yancheng, Jiangsu Province of China. Caixin Media / VCG / Getty Images)
At least 47 people have died in an explosion at a plant in Yancheng, China Thursday run by a chemical company with a history of environmental violations, Sky News reported.