Climate Change Causes Spike in Coffee Prices
In recent days Arabica coffee beans—by far the most popular variety of coffee—have been fetching around $2 USD a pound on the world market. That's nearly double the price of a year ago.
Several factors seem to be driving the market upwards: in Central America, a significant production area, an outbreak of a disease called leaf rust—believed to be linked to changes in climate—has severely damaged the crop.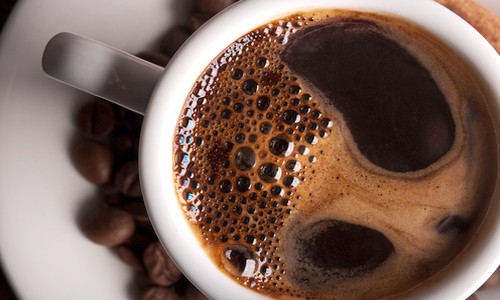 Photo courtesy of Shutterstock
A prolonged period of drought and some unseasonably cold weather in Vietnam—now the world's second biggest coffee-producer—has cut back crop forecasts for robusta beans, mainly used for instant coffee. A lack of rain has also hit coffee-producing areas in East Africa.
But it's climate-related events in Brazil, the world's biggest coffee grower—responsible for about 40 percent of global production—which seem to be causing the most froth amongst international market traders.
Minas Gerais state, in the south-east of Brazil, produces about 25 percent of the country's coffee crop. Rainfall during December, January and February—the usual period of most precipitation—was about 10 percent of normal, while temperatures rose well above average.
Coffee & Climate (C&C) helps coffee farmers around the world adapt to climate change. "Data from 68 meteorological stations and 264 rain gauges tell us that the climate in Minas Gerais is changing," it said in a recent report. "Nearly all parts of the state experienced significant warming over the 1960-2011 period, with warm extremes increasing and cold extremes decreasing."
Big Drops
Events in Minas Gerais over recent months have been exceptional, says C&C, with parts of the state experiencing mean maximum temperatures in January of between three and four degrees Celsius above the long-term average.
The result has been a disaster for many coffee growers. Without adequate water, berries have dried or have become so-called floaters—virtually empty husks.
In recent weeks the rains have arrived in the form of torrential downpours: that might do more harm than good with the harvest fast approaching, though coffee farmers are still hoping for a last-minute turnaround in fortunes.
Commodity experts say there's likely to be a drop of up to 35 percent in Minas Gerais production this year—and an overall drop of 18 percent in Brazil's output of Arabica beans.
As global demand for coffee has surged over recent years, farmers have rushed to plant more coffee trees. It is these young trees which are most susceptible to water shortages.
Coffee farmers and traders are also concerned that the quality, as well as the quantity, of the crop might be affected by the adverse weather.
Worse Than Thought
The pattern of Brazil's climate has been undergoing considerable change in recent years. A 2013 NASA-led study says the drought rate in Amazonia over the past decade is unprecedented over the past century.
The study also suggests that the effect of what scientists call a mega-drought in 2005 in an area of Amazon rainforest twice the size of California is far more serious than previously thought, with indications that the forest is taking many years to recover.
The fear is that drought conditions—and increasingly volatile weather patterns—will hit a large part of Brazil, one of the world's major agricultural producers.
In its latest report the Intergovernmental Panel on Climate Change says coffee production is likely to decrease worldwide as temperatures rise.
One possible bright spot for coffee drinkers is that prices are unlikely to rise this year—or by not much, at least. Most of the big coffee houses tend to buy on what's called the futures market—locking in a set price for their goods, often for years in advance. Traders are also holding large stockpiles of beans after a bumper harvest last year.
But there are signs that speculators are piling into the market, anxious not to miss out on what could be a big step up in prices. So the advice is: drink that coffee now. Don't wait any longer.
--------
YOU MIGHT ALSO LIKE
Canada Focuses on Food Security  With Seed Diversity Initiative 
Climate Change Will Make it Harder to Grow These 5 Foods
Climate Change Causes Chain Reaction in Ecosystems
-------- 
Jul. 21, 2017 01:50PM EST
Will Rose / Greenpeace
Eleven peaceful activists from the Greenpeace ship Arctic Sunrise have taken to the water in inflatable boats with handheld banners to oppose the Statoil Songa Enabler oil rig, 275 km North off the Norwegian coast, in the Arctic Barents sea.
The banners say: "People Vs. Arctic Oil" and are directed at Statoil and the Norwegian government, which has opened a new, aggressive search for oil in the waters of the Barents Sea.
Keep reading...
Show less
Jul. 21, 2017 10:34AM EST
Dominion Pipeline Monitoring Coalition
The Federal Energy Regulatory Commission (FERC) paved the way Friday for the 600-mile, 42-inch fracked gas Atlantic Coast Pipeline to proceed when it issued the final environmental impact statement (FEIS). A joint project of utility giants Duke Energy and Dominion Energy, the Atlantic Coast Pipeline would move fracked gas from West Virginia into Virginia and North Carolina.
In April, the Sierra Club submitted more than 500 pages of legal and technical comments on FERC's draft EIS, which were joined by more than 18,000 individual comments detailing opposition to the project. The pipeline has been met with widespread opposition, with more than 1,000 people participating in public hearings across the three affected states. The Sierra Club recently requested that FERC issue a new environmental review document analyzing information that came in after or late in, the public comment process.
Keep reading...
Show less
Jul. 21, 2017 08:25AM EST
Greenpeace / PolluterWatch
By Jessica Corbett
"It's time Rex Tillerson step down or be removed," said Gigi Kellett of Corporate Accountability International, following an announcement on Thursday that ExxonMobil will pay $2 million for violating U.S. sanctions against Russian officials while the now-secretary of state was the company's CEO.
"ExxonMobil demonstrated reckless disregard for U.S. sanction requirements," according to enforcement filing released by the Treasury Department's Office of Foreign Assets Control (OFAC), which issued the penalty. Though the fine is reportedly the maximum penalty allowed, it's pittance to one of the world's most profitable and powerful corporations, which last year reported a profit of $7.8 billion.
Keep reading...
Show less
Jul. 21, 2017 11:15AM EST
New analysis from Amory B. Lovins debunks the notion that highly unprofitable, economically distressed nuclear plants should be further subsi­dized to meet financial, security, reliability and climate goals. The analysis, which will appear shortly in The Electricity Journal, shows that closing costly-to-run nuclear plants and reinvesting their saved operating costs in energy efficiency provides cheaper elec­tricity, increases grid reliability and security, reduces more carbon, and preserves (not distorts) market integrity—all without subsidies.

Keep reading...
Show less
Jul. 21, 2017 08:44AM EST
Oil Change International / Twitter
By Christian Detisch and Seth Gladstone
In the wake of Senate Republicans' ever-deepening debacle over their flailing attempts to strip health insurance from 22 million people, Majority Leader Mitch McConnell is desperate to do something—anything—to show that he can get legislation passed. To this end, he's bypassing the standard committee review process to push a complex 850+ page energy bill straight to the full Senate floor. Perhaps not surprisingly, this legislation, the Energy and Natural Resources Act of 2017, would be a disaster for public health and our climate.
Keep reading...
Show less
Jul. 21, 2017 08:11AM EST
Rooftop solar panels on a beach house in southern Florida. TAI VIINIKKA / CC BY-NC-ND 2.0
A new law passed this week in South Miami will require all new homes built in the city to install solar panels. The measure, which was inspired by a proposal from a teenage climate activist, will go into effect in September.
The text of the ordinance details the climate impacts facing South Miami.
Keep reading...
Show less
Jul. 21, 2017 10:27AM EST
www.youtube.com
Keep reading...
Show less
Jul. 21, 2017 08:49AM EST
iStock
By Katherine Paul and Ronnie Cummins
A recent series of articles by a Washington Post reporter could have some consumers questioning the value of the U.S. Department of Agriculture's (USDA) organic seal. But are a few bad eggs representative of an entire industry?
Consumers are all for cracking down on the fraudulent few who, with the help of Big Food, big retail chains and questionable certifiers give organics a bad name. But they also want stronger standards, and better enforcement—not a plan to weaken standards to accommodate "Factory Farm Organic."
Keep reading...
Show less